Suzuki SV 650 – Louis Special Custom Bike
The best SV ever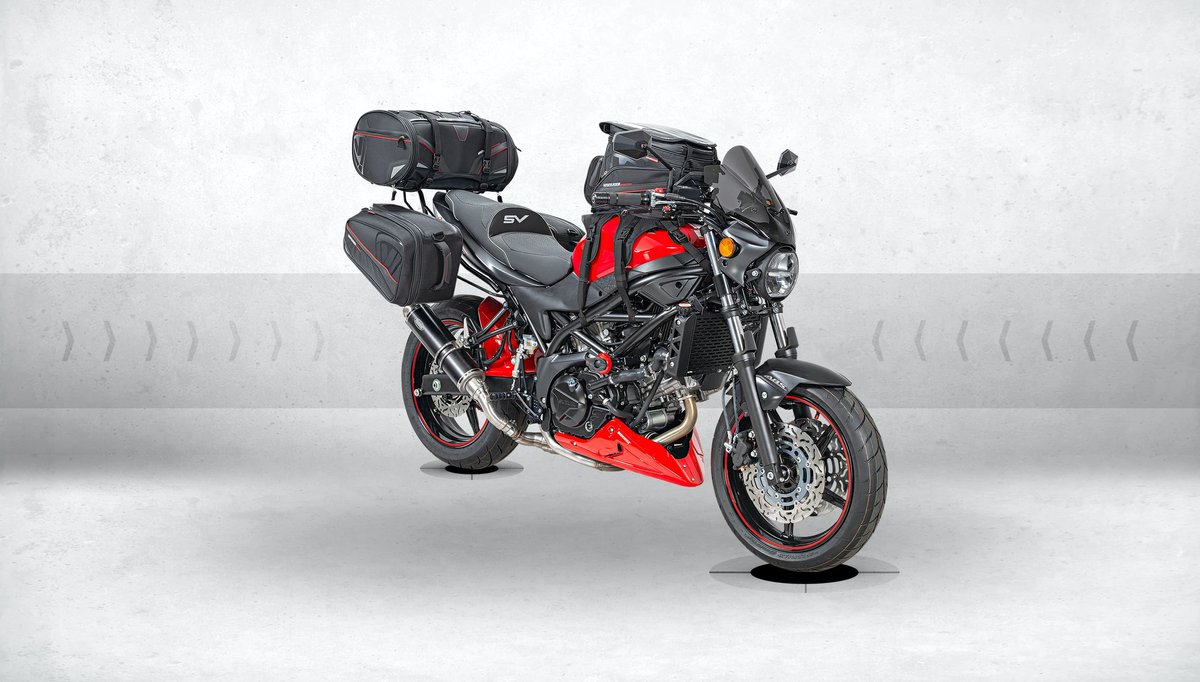 The popular Suzuki SV650 has become something of a cult bike on Europe's roads. It was first launched back in 1999, and in 2016 the manufacturer brought out a new version in response to popular demand. The new SV650 has a more aerodynamic design, is somewhat lighter and boasts a hint more engine power. This versatile V-Twin has plenty of character plus uncomplicated riding manners, which make it a pleasure to ride on the daily commute or for sporty weekend outings and lengthy touring holidays.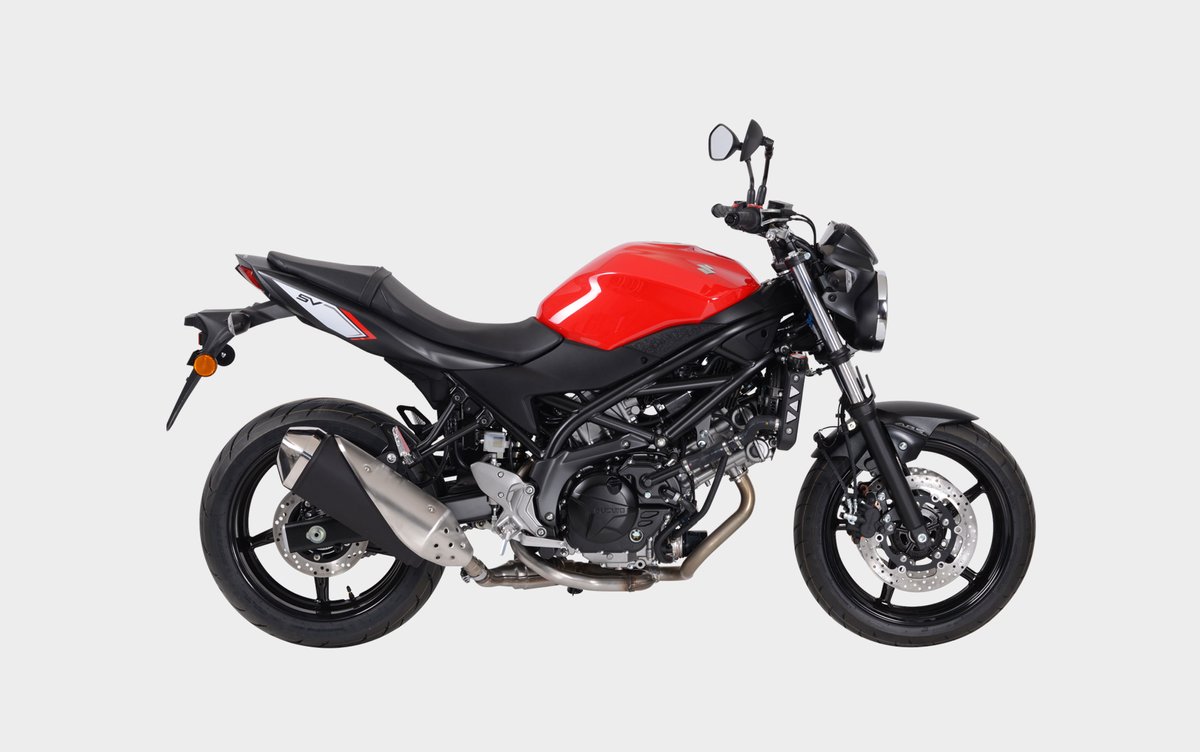 Suzuki SV 650
An Suzuki SV 650 in original condition.
Lots of visual potential
Our flame-red machine only reaches its full visual potential with the addition of a few parts from Bodystyle, already painted in the same colour. Belly pan, rear hugger and seat cowl give the bike much more complete lines, and inevitably evoke a certain cult car marque from the Italian town of Maranello… You can add even more colour the first time you change the chain, by fitting a red Enuma chain, red wheel stripes, red crash pads from LSL or a red anodised Gilles steering head nut. You might almost think the manufacturer was involved in the design of our high-quality Vanucci panniers because their contrast stripes go perfectly with the bike's colour scheme.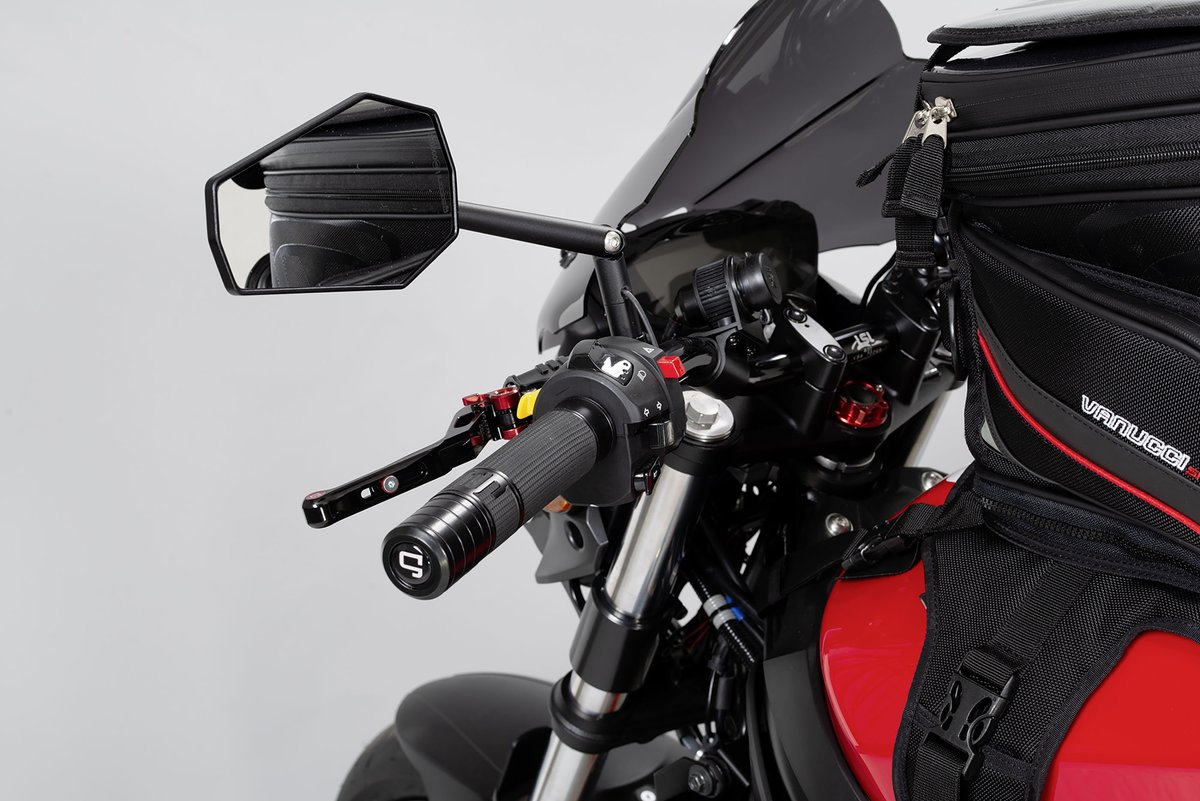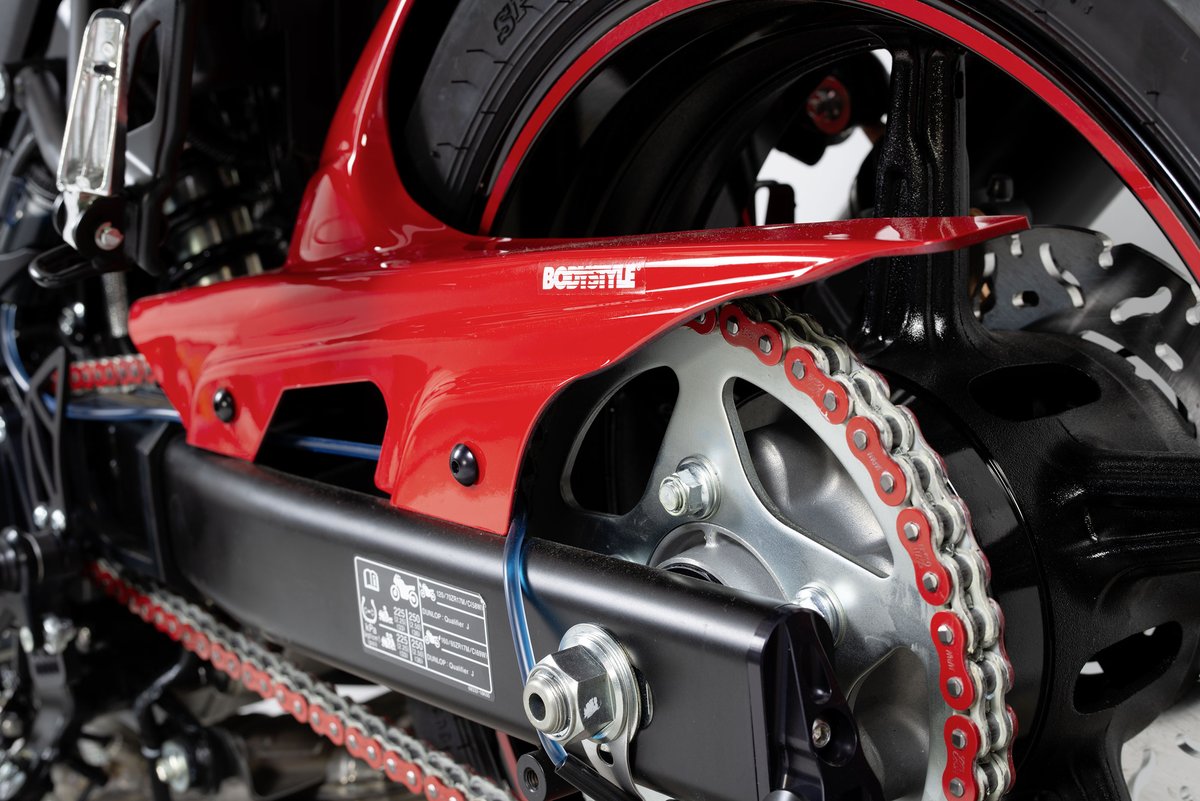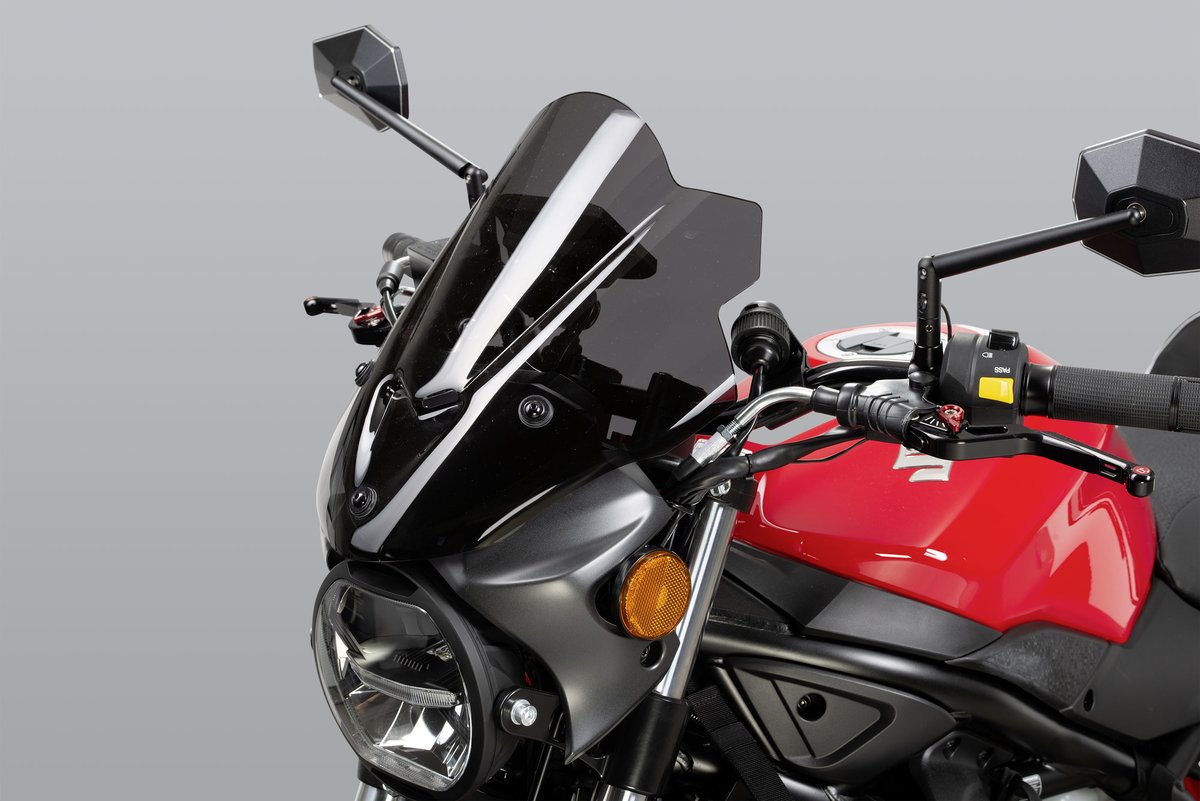 Sporty details
If you combine a black LSL superbike handlebar and a multi-adjustable TRW SP Edition Footrest System, positioned further back on the bike, you get the ideal posture for agile, sporty riding along twisty roads. A great way to upgrade your rider cockpit is with elegant Gazzini grips, CNC-machined Gazzini brake and clutch levers, and individually assembled Gazzini mirrors. Tiny but very powerful LED turn signals are incorporated in the mirror joints, and the correct flashing frequency is assured by a Koso flasher unit. The sporty tail deserves a really elegant license plate bracket from Protech, complemented by tiny, ultra-bright Gazzini power turn signals. They come with ready-crimped adapter cables, making them very easy to install. The OEM exhaust certainly isn't to the taste of bikers in this country. A street-legal Hurric Black Edition, on the other hand, offers a glorious sound and goes perfectly with the overall look of the bike.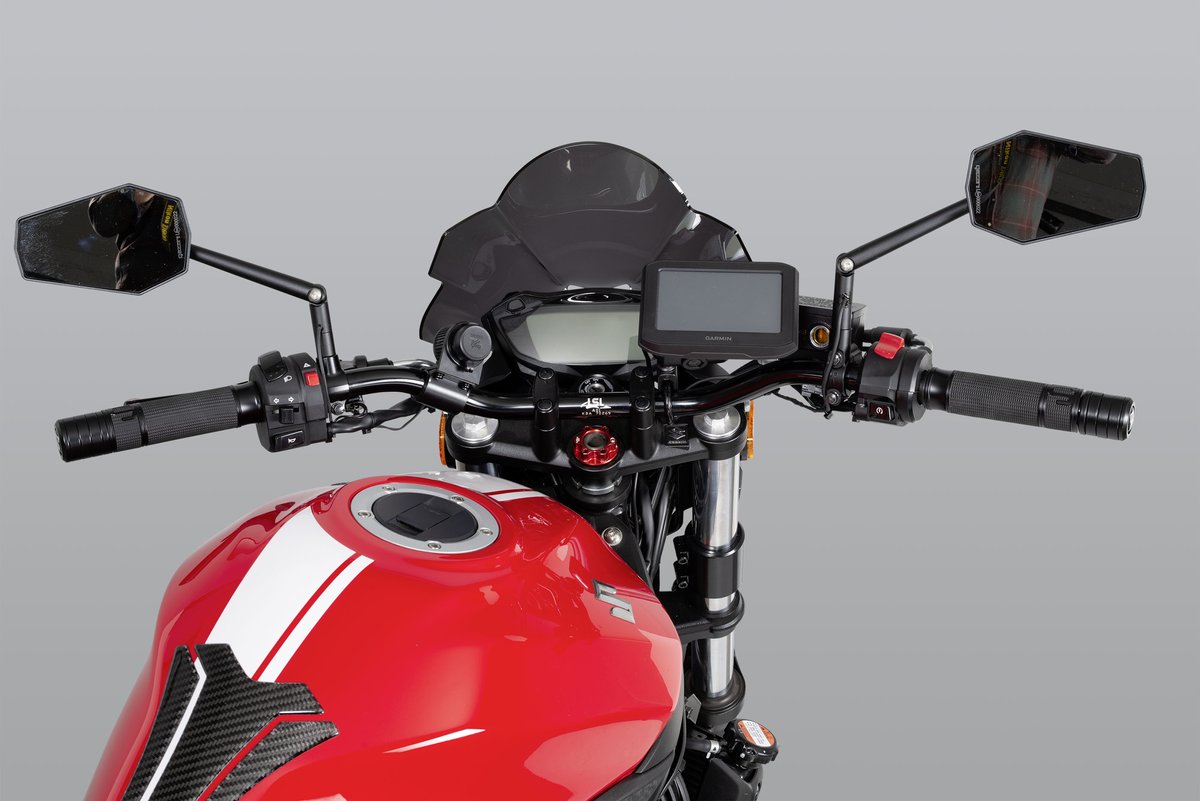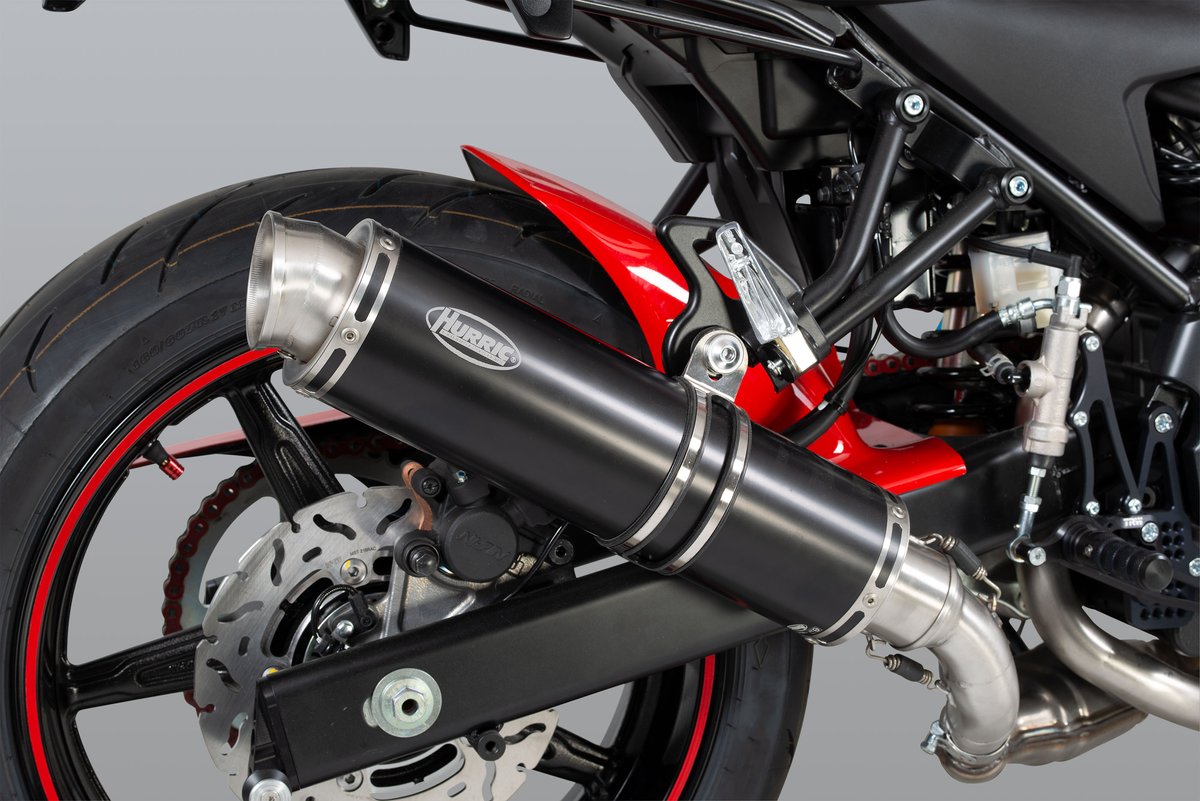 If you enjoy doing a bit of DIY on your machine, you'll want a rear paddock stand with bobbins to jack up the bike securely and without any risk of scratching the paintwork. No problem when you use Gilles chain adjusters on the SV because the requisite bobbins are included.
Fully equipped for touring and everyday trips
More light means greater safety. If you commute on your motorbike every day, you'll know just how valuable it is to have an LED headlight that illuminates the road properly. So doing this conversion is time well spent. The brakes fitted on the SV at the factory are fairly standard – for improved grip, speedy bikers should choose sinter pads and racing brake discs from TRW. You'll also feel the benefit of a little extra wind protection with the Ermax windshield, which blends with the bike's lines just like an OEM accessory. If you do a lot of long journeys, you can do yourself a big favour by investing in a comfort seat from Bagster – even after long hours in the saddle, it will still relieve the pressure and absorb the bumps. Oiling your chain while you're on the road is no fun at all. Apart from which, it's a job that often gets forgotten. A Scottoiler Type LSE is really easy to install, and takes a messy job off your hands. What's more it will extend the life of your drivetrain, which in turn saves you money. The problem of how to secure luggage to your motorbike is solved with a Hepco & Becker Alurack, and if you add an extension plate, you can also carry a large roll bag or sports bag. C-Bow saddlebag holders will give you even greater luggage capacity. The patented fastening system enables you to attach and remove C-Bow saddlebags individually in an instant. Of course, they can also be secured with a lock.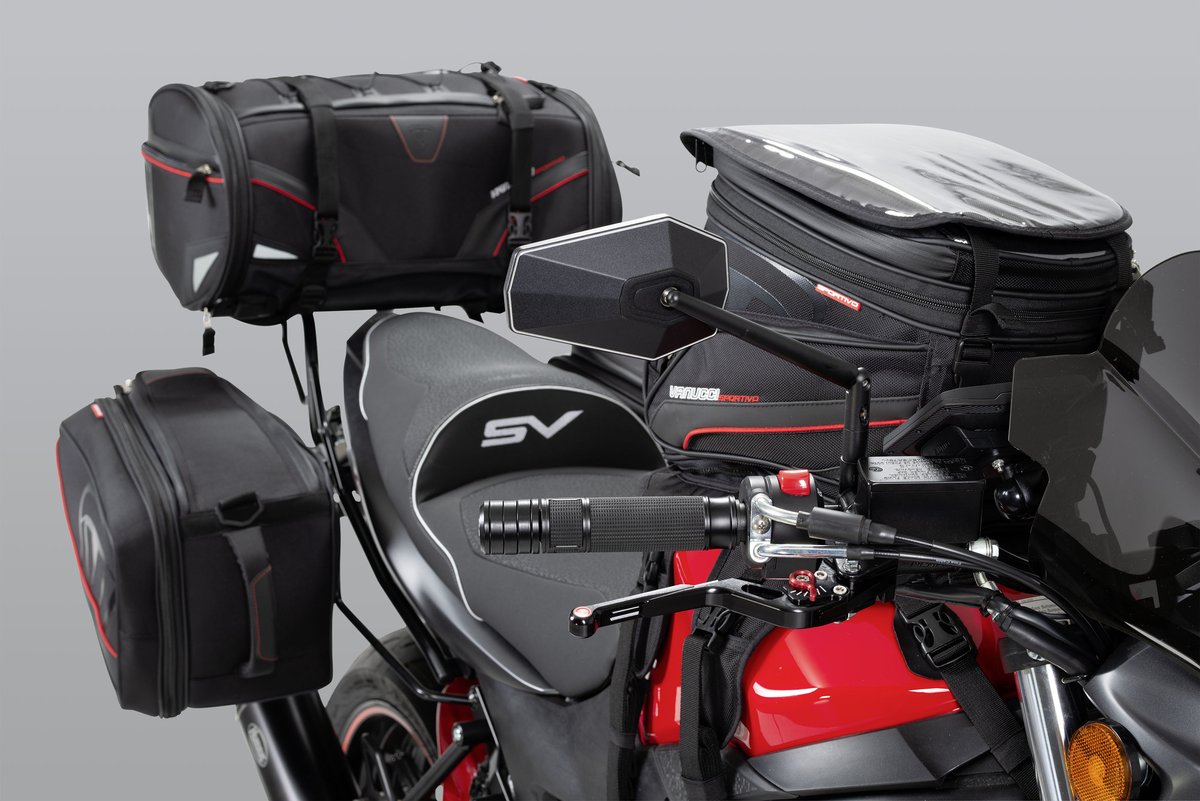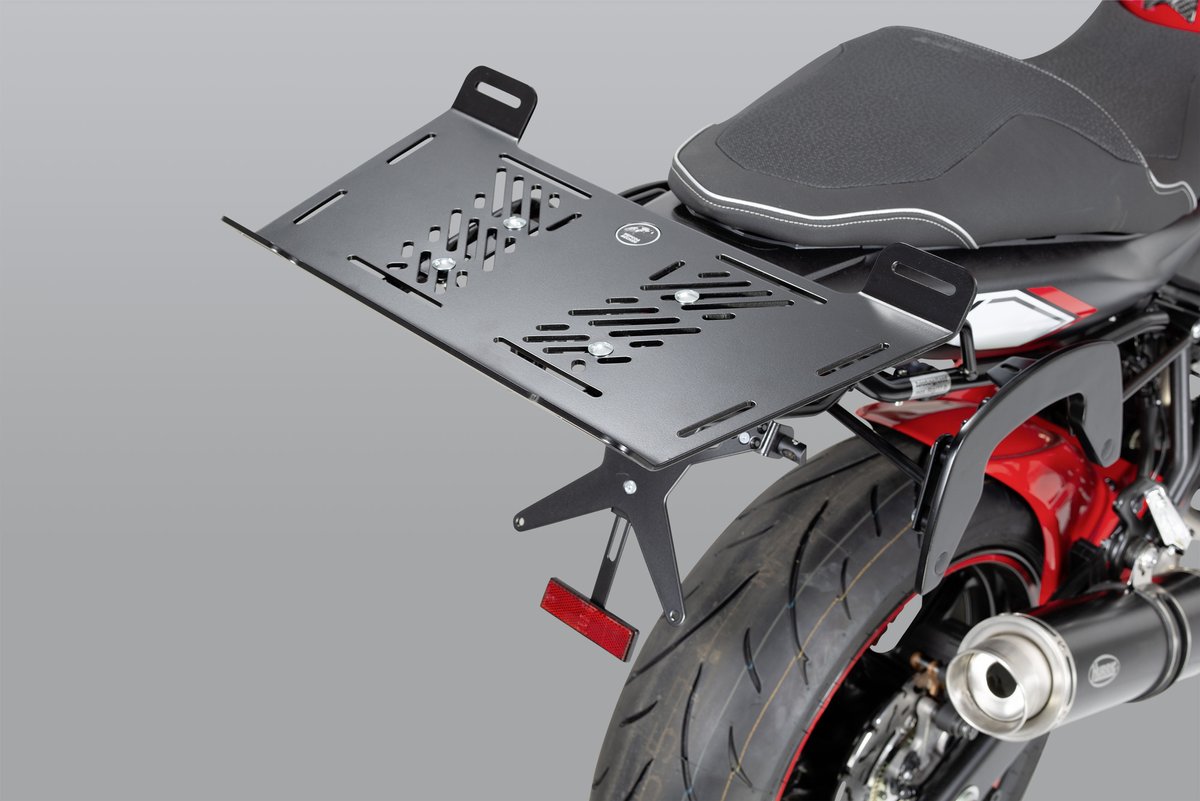 ---
---