Advice on buying a used motorcycle
Small budget, big dreams? Have you thought about a used motorcycle? Here we give you some useful tips on buying a second-hand bike.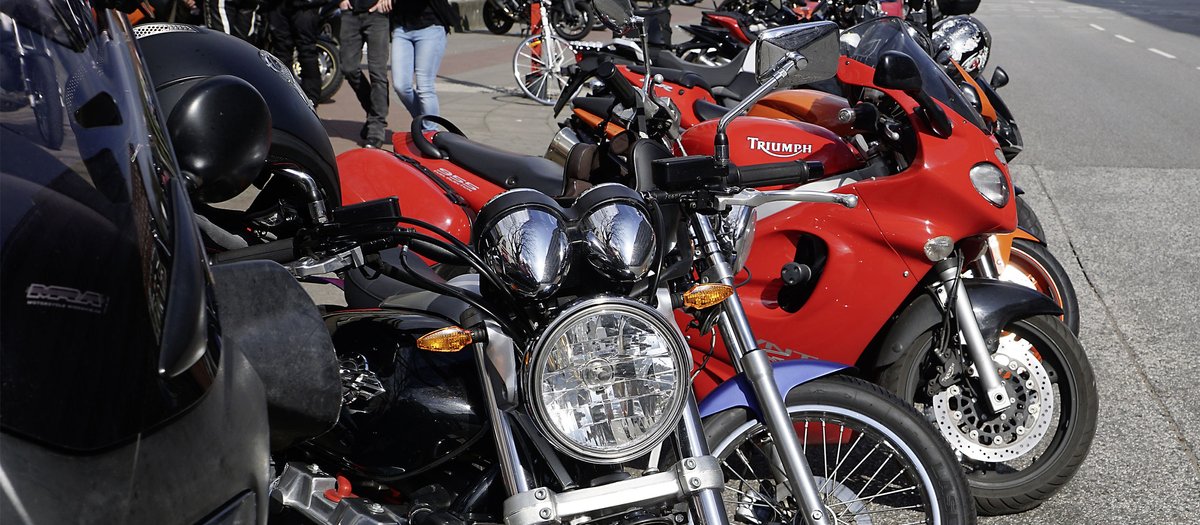 What to look out for when buying a used bike
The vast number and variety of used motorcycles on the market can make it difficult to choose the right one for you. And you can't always believe everything the seller tells you. So here's a guide to what you should look out for when buying a used bike.
Not everyone wants to buy a brand-new motorcycle. If your budget is limited, or if you've set your heart on a specific model or a certain classic or custom bike, then the private used bike market is the place to look. Even current models can usually be picked up at well below the showroom price, and often in top condition, after only a year.
---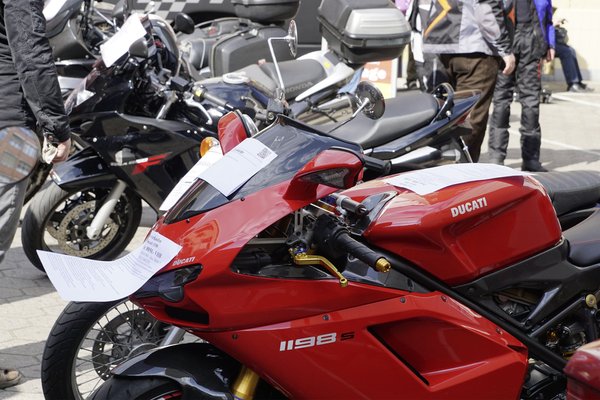 Looking for a used bike
The range of used bikes on offer is huge, and with a little patience everyone should be able to find exactly what they're looking for. So don't go rushing into anything – even if you think you've found "the one" for you, and you've instantly fallen in love with it. Take your time, check the bike over carefully and don't commit to buying it until you're really certain that it's what you're looking for. There are plenty of other fish in the sea if you do get pipped to the post!
With older bikes especially, you need to check carefully what you're actually getting for your money and whether you've got the technical skills to do any necessary repairs. Otherwise costs can mount up all too quickly. Be clear in your own mind what you're looking for, e.g. just a run-about, a used bike in good condition, specific features/components, perfect as-new condition, your dream conversion, or the basis for your own rebuild or restoration project.
Before buying a used bike, always think about what essential repairs it needs and what any modifications will cost.
If the look of the bike doesn't immediately grab you, and the technical features are only so-so, it's hardly likely to end up being your dream conversion. You should settle for nothing less than either great technical features or the perfect look. Or else you should be sure that the price is so low that a complete rebuild might be worth it. But a word of caution: almost all rebuilds end up over-budget.
Viewing and test driving
Decide exactly what your basic expectations are before going to see a motorcycle and, ideally, take a knowledgeable person with you – two pairs of eyes are always better than one! Even if you're only looking for an old bike to use for a conversion project, it's always a good idea to take it for a test ride before buying.
Not all problems with a bike are apparent when it's stationary (e.g. a notchy gearbox, warped brake discs, or a frame that tends to wobble at high speeds). Also, you should always check that the registration papers are in order and the frame and engine numbers are genuine. Has any welding been done on the chassis but not recorded in the documentation or not approved by a test centre? Is there a certificate for any modifications, or will any new parts at least pass the vehicle safety test? Has the motorcycle ever been involved in an accident? Are there any signs of accident damage? Are there scratches on the fairing or chassis? Will the seller give you written confirmation that the bike has never been in an accident?
You can find market prices by going to an online price guide for used motorcycles (such as the Schwacke Liste in Germany for motorcycles up to 10 years old). Older bikes are considered collector's items, so you need to check the going rate in the relevant magazines or online used vehicle marketplaces.

---
Good to know: In Germany, if a serious technical problem occurs within the first six months from the date of purchase, it can be treated as a defect already existing when the bike was handed over to the buyer. After six months, the buyer is required to demonstrate that the defect already existed at the time of purchase. For this reason, dealers generally check their used motorcycles before selling them, which makes it safer for you than buying privately.
---
Dealer or private?
Even though privately sold bikes tend to be the cheapest option, it's still worth taking a look at what the dealers have to offer, especially if you're not technically savvy. When you buy a bike from a dealer, it comes with the statutory 1-year warranty, and this applies even if the dealer gives an additional used motorcycle warranty.
Es ist aber auch zu klären, ob der Händler für ein eigenes Motorrad im Rahmen seines Gewerbes haftet, oder ein Motorrad im Auftrag eines privaten Eigentümers anbietet. Auch wenn die Vorschriften dafür sorgen, dass die Maschinen vorab gründlich gecheckt werden, ist blindes Vertrauen trotzdem nicht zu empfehlen. Eine ausgiebige Probefahrt ist auf jeden Fall ratsam.
The downside of this consumer-friendly legal situation is that you rarely find inexpensive or older bikes at a dealership because they involve too much risk for the seller.
---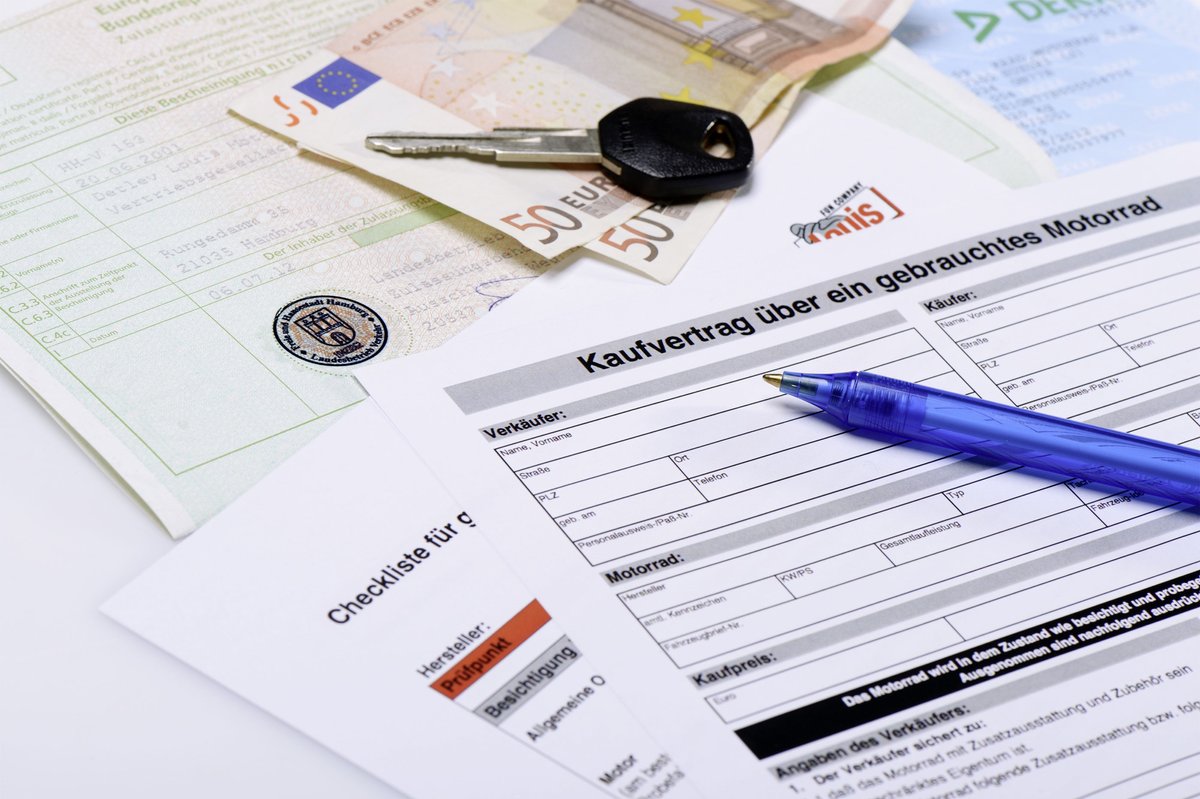 Contract of sale
If you do seal the deal, it's wise to have a proper contract of sale, especially if you're picking up the vehicle at a later date. Agree the terms of payment and what's included with the bike (accessories, spare parts etc.) exactly. Keep a record of the mileage, engine overhauls, etc., and ask for the service history log and any other papers. Also ask for the colour code if the motorcycle has a custom paint job – this will make it easier if you need to carry out any touch-up repairs later.
In the Service section of the website at www.louis.de there is a sample Contact of Sale and a comprehensive Checklist for you to print out. The Checklist (main headings: Stationary viewing, Test ride and Papers) will help you to spot and remember any defects the motorcycle may have. You can also use it as the basis for calculating what it would cost you in total.
---
Carefully compare the VIN
Lastly, carefully compare the VIN (vehicle identification number, which is also known as chassis or frame number), and possibly the engine number too, on the vehicle registration certificate, the contract of sale and the motorcycle itself.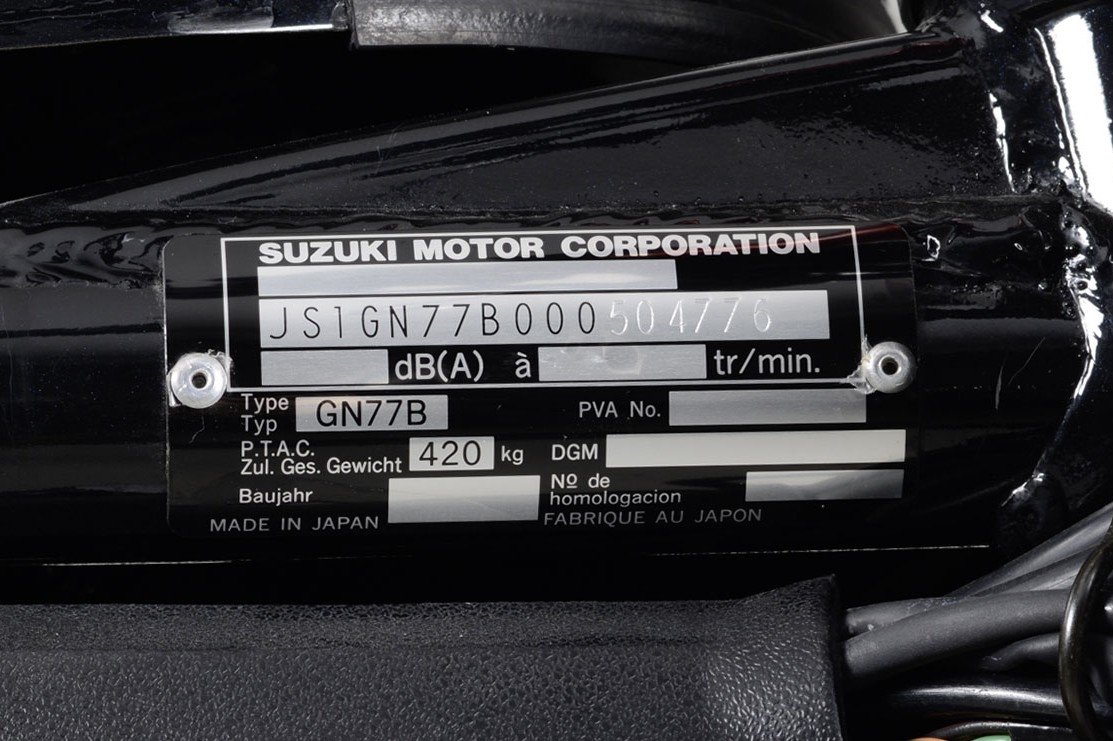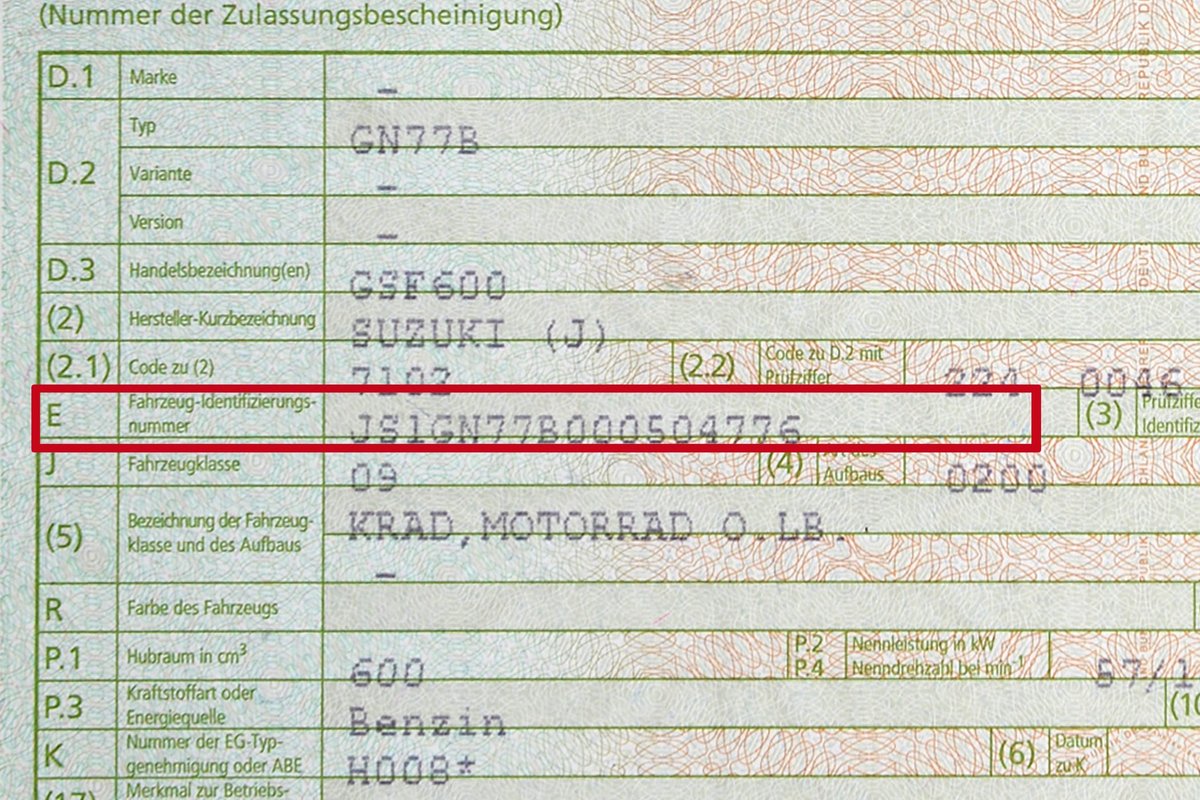 Recognising an import vehicle
If listed spare parts with the same model designation (e.g. SC 50, Honda Fireblade) are not compatible with your bike, one possible reason is that your bike is an import (also called a "grey import").
Import vehicles may have different lighting or tyres which are not available on the European market, so they have to be re-equipped. Important: Even motorcycles for the European market may not be road-legal in Germany, as they may not comply with the German Road Traffic Licensing Regulations (StVZO), e.g. front headlights for left-hand traffic. More information on this subject is given in our DIY tip Vehicle safety inspection and EU law.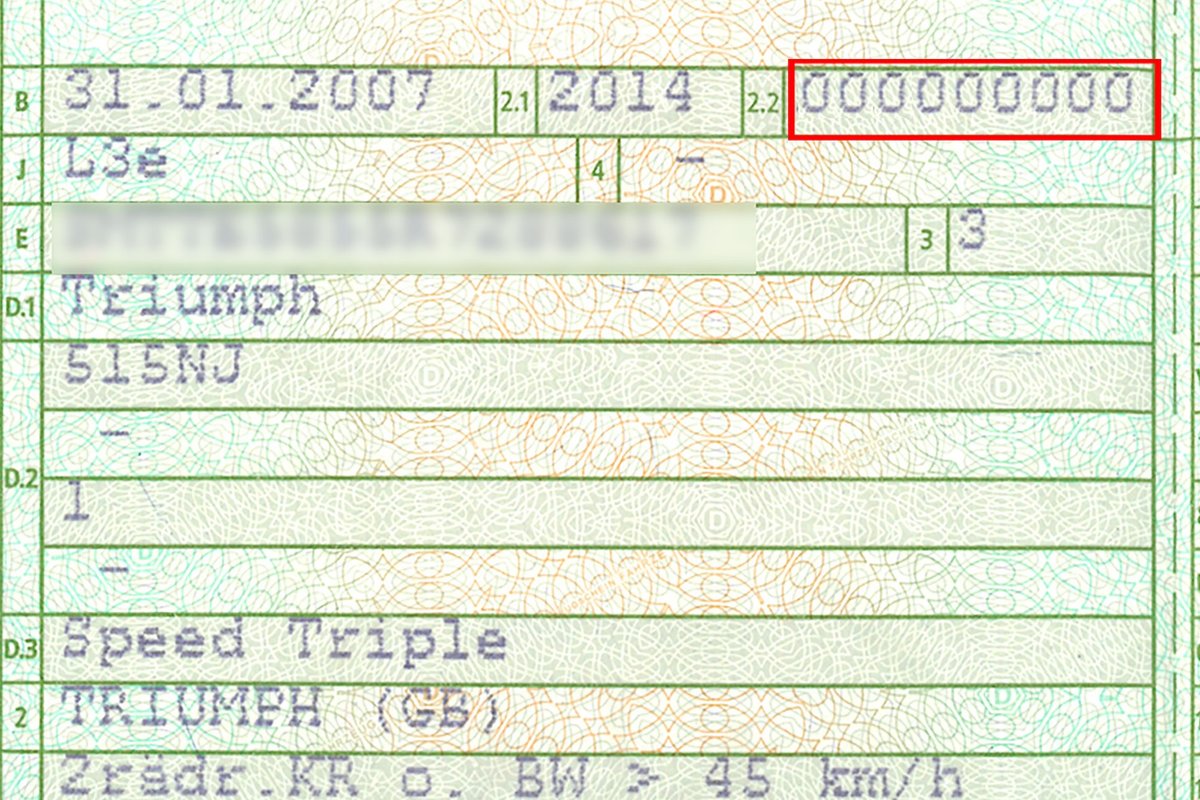 Import vehicle
If code number 2.2 in the vehicle registration certificate (code number 3 in the old-style vehicle registration certificate) contains only zeros, the vehicle is a "grey import".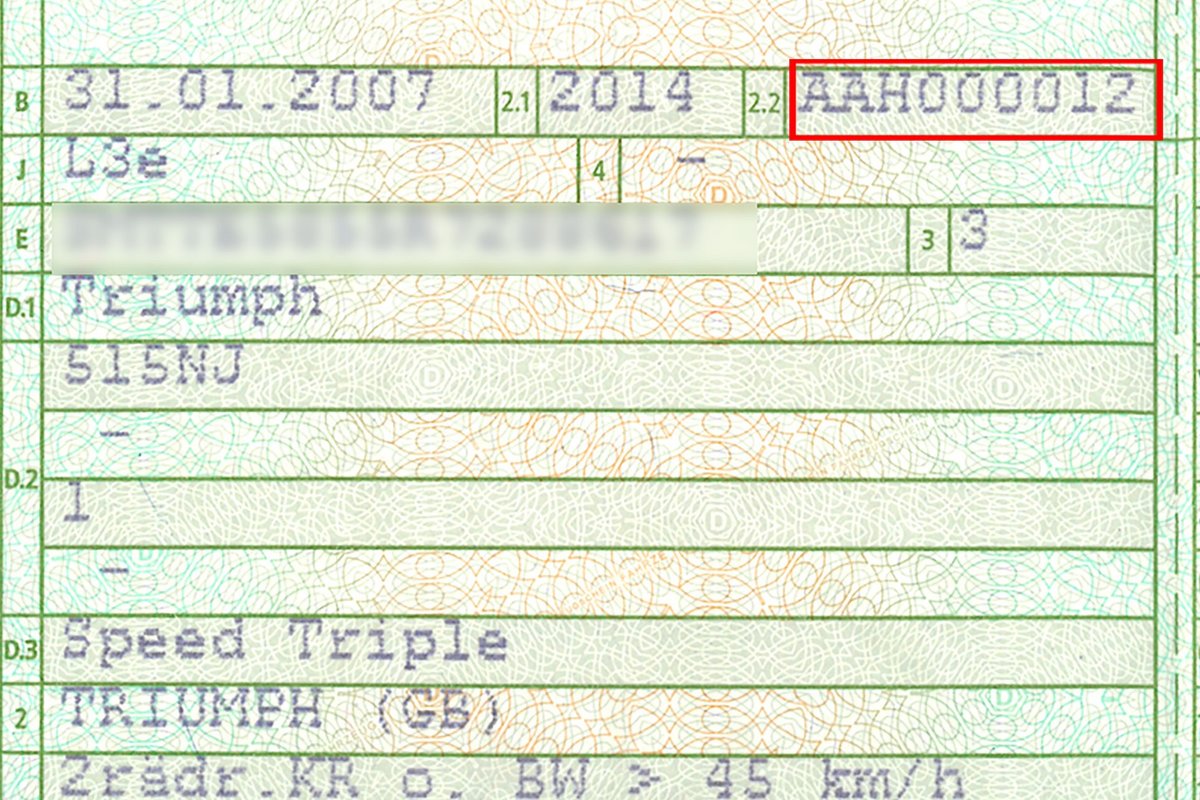 Vehicle for the European market
If code number 2.2 in the vehicle registration certificate (code number 3 in the old-style vehicle registration certificate) contains a multi-digit number (0–9), it's a vehicle for the European market!
---
The Louis Technical Centre
If you have a technical question about your motorbike, please contact our Technical Centre, where they have endless experience, reference books and contacts.
Please note!
These tips for DIY mechanics contain general recommendations that may not apply to all vehicles or all individual components. As local conditions may vary considerably, we are unable to guarantee the correctness of information in these tips for DIY mechanics.
Thank you for your understanding.