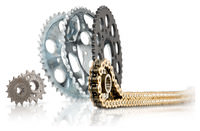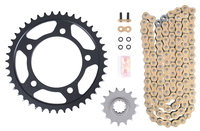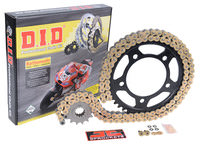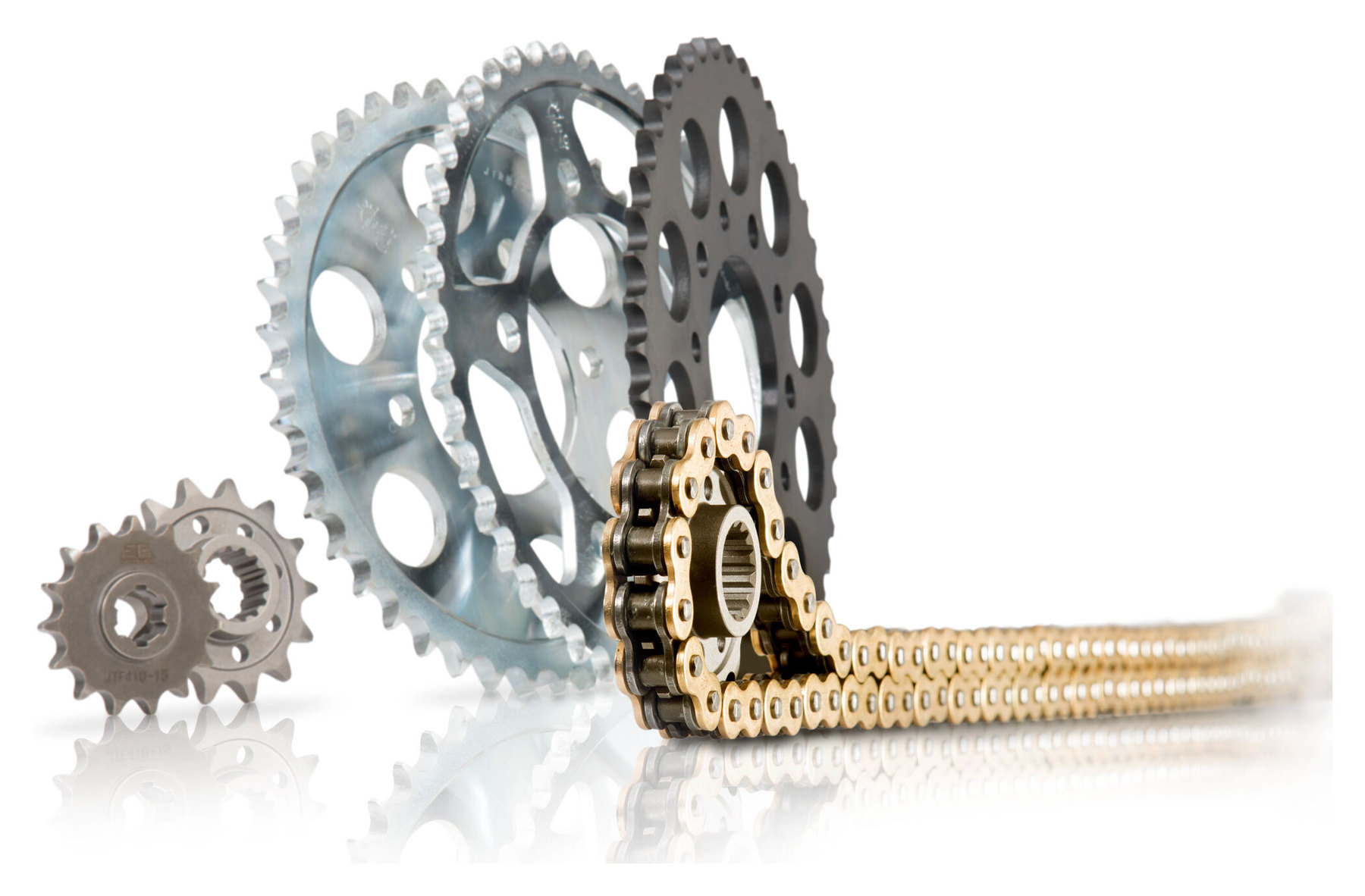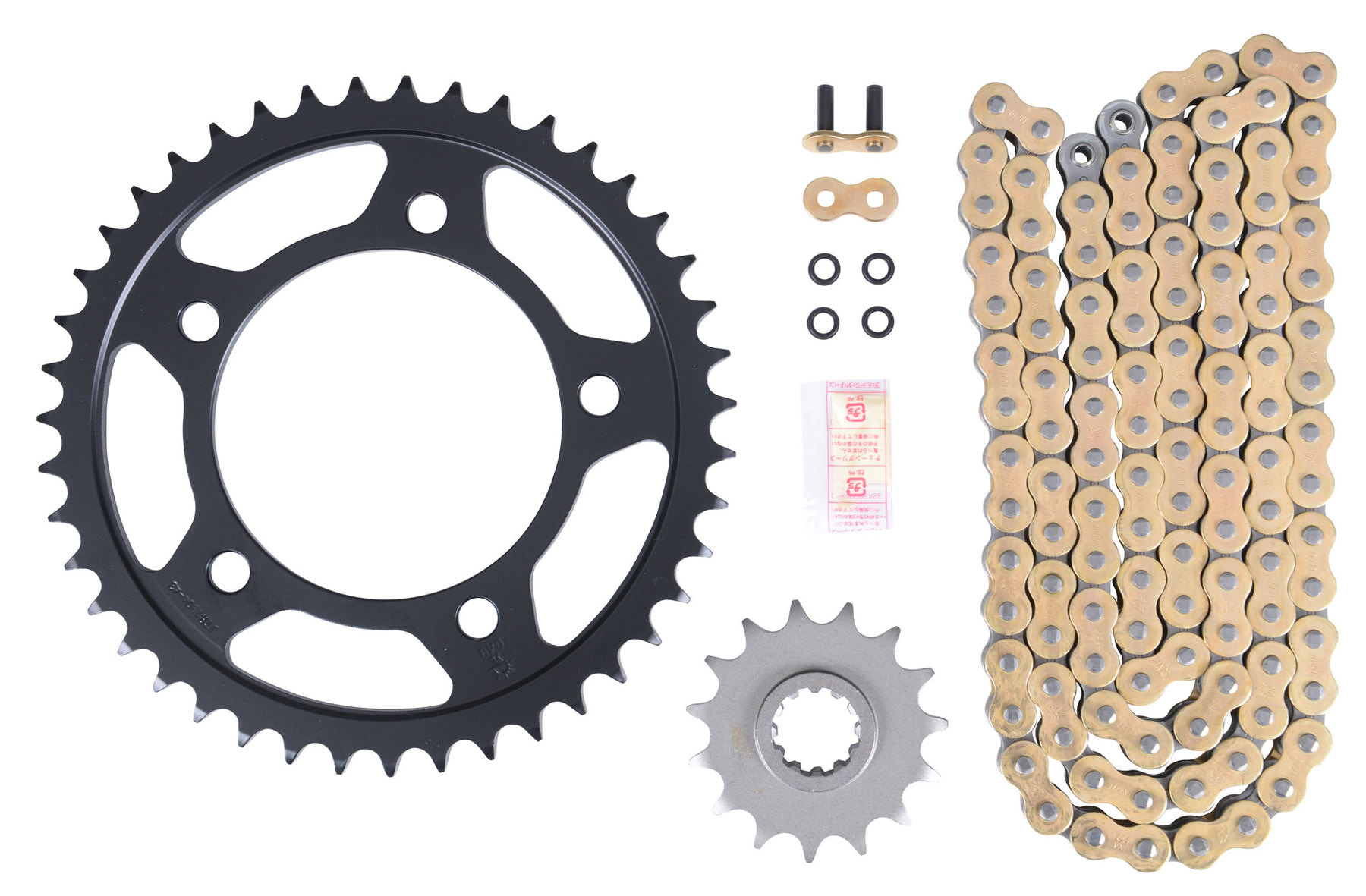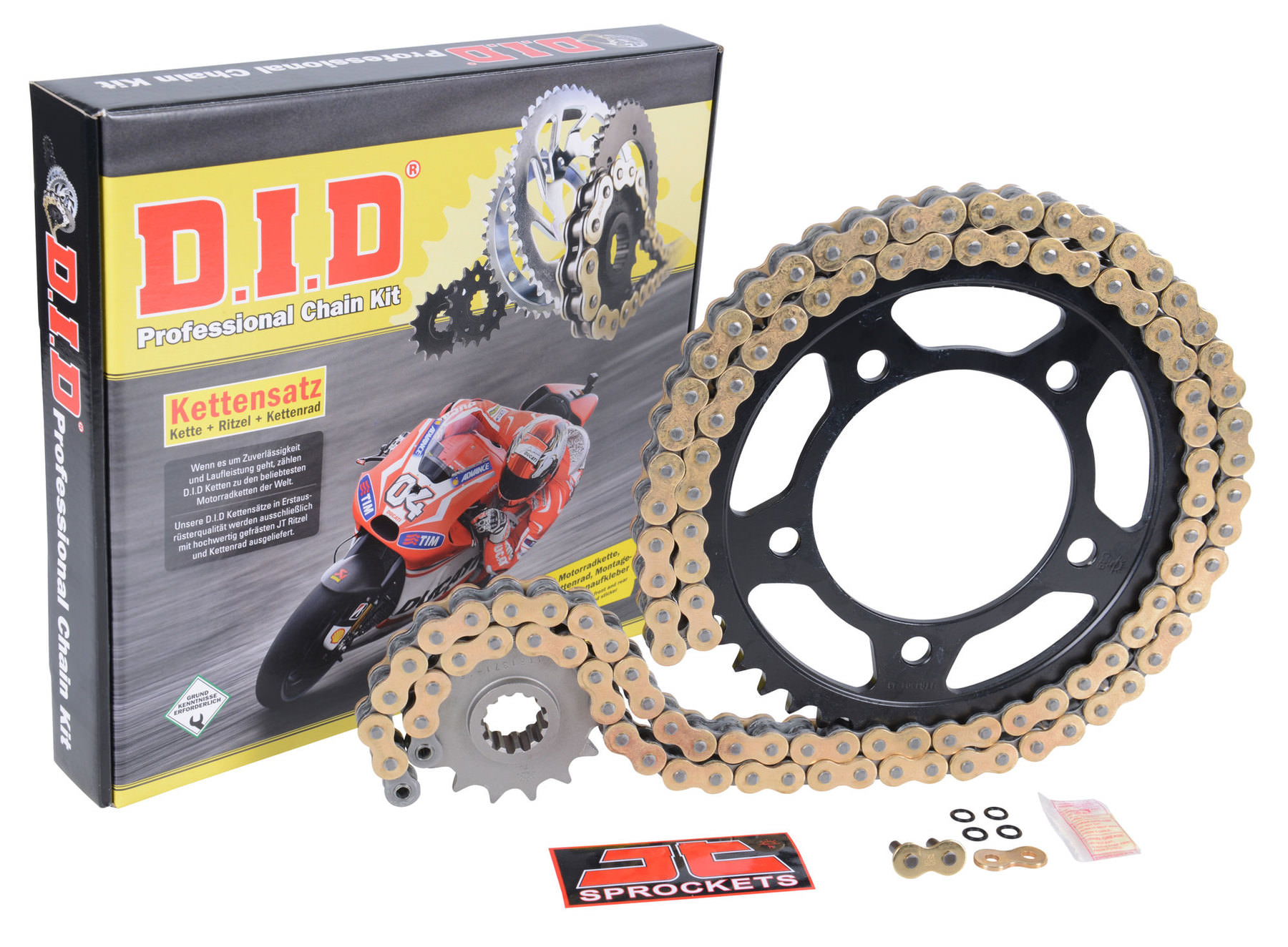 DID CHAIN-KIT 530VX3
VFR 800 02-12 110/16/43
Important notes
execution: chain with rivet-type connecting link
€

149.

99
2
€

111.991
(-25%)
The item is in stock and will be delivered in 2-5 working days. Note: Stocks are updated online every hour on working days from 7 a.m. to 8 p.m., so there is a good chance that the products are available if they appear online.
Available
2 Price comparison with current year's Louis price.
Free delivery on orders over €199.00
2 year return policy
Fast delivery
DID 428VX/CLIP CHAIN KIT
Chain, Pinion, Sprocket
Extremely strong, durable and efficient: the brand used by the Yamaha and Ducati MotoGP works teams. D.I.D chains are renowned for their high efficiency combined with smooth, fast reaction to load changes the result of years of development work for the race track plus state-of-the-art production methods and top-quality materials*.
Every D.I.D chain and sprocket set brings you:

The expertise of a worldwide original equipment manufacturer
Probably the most widely used motorcycle chain in the world
Front and rear sprockets made of high-grade steel from JT, the brand-name OEM, (Please note, however, that any rubber silencer pads on original sprockets are no longer required)
For 500cc or larger motorbikes, exclusively X-ring chains with gold-plated outer plates
The following types of D.I.D. chain are supplied by Louis, depending on the motorbike model.
ZVM-X:

The best D.I.D chain available today in terms of rigidity** (10% higher than its predecessor, the ZVM2),
with the highest wear resistance index to date
D.I.D X-ring seals*** halve the power loss due to friction compared to an O-ring chain
VX:

Best value for money of all the D.I.D chains
Higher rigidity** (7% higher than its predecessor, the VM),
Far superior service life compared to the VM.
* The secret behind the astonishing performance of these chains is D.I.D's exclusive hardening process for the pins. This special treatment produces an extremely hard surface layer, while maintaining a softer inner core. These chains combine extreme impact resistance with efficient shock absorption. In addition, they are well protected against rust.

** The rigidity of a chain means its ability to resist deformation and stretching. Higher rigidity means smoother handling, less power loss and faster reaction of the chain.

*** The specially shaped sealing rings significantly alter the friction area of the side plates. At the same time, doubling the number of sealing points from 2 to 4 has the effect of safeguarding far more effectively against lubricant loss, and also provides optimum protection against dirt.

Tips for choosing your D.I.D chain and sprocket set:
D.I.D. chains in the OEM kits are always supplied in accordance with the specifications from the motorcycle manufacturer and/or Daido Corp. Go to "Important information" (highlighted in red) to see whether the chain and sprocket kit comes with an endless chain or a chain with rivet or clip connecting link.
Manufacturer details: DID

Chain + Pinion + Sprocket

Motorcycle manufacturers look for chains with the best running characteristics and the longest service life - that often means chains from DID. Experience and engineering of the highest standard guarantee outstanding quality for your requirements, too. We supply what is surely the most widely used motorbike chain in the world, produced by state-of-the-art manufacturing methods from top-quality components - the "Professional Line" from DID. Extremely long life and noticeably smoother running will make this your chain of choice, as it is for many of the top motorcycle racers.
Product
Art. No.
Availability
Price
Actions
CHAIN&SPRO KIT DID 520VX3 - 390 DUKE 112/15/45

Important notes

execution: chain with rivet-type connecting link

10048752

The item is in stock and will be delivered in 2-5 working days. Note: Stocks are updated online every hour on working days from 7 a.m. to 8 p.m., so there is a good chance that the products are available if they appear online.

Available

€119.99

1 2 €89.99 1
DID 428VX CHAIN & SPR.KIT - YBR125 2007-16 118/14/45

Important notes

execution: chain with clip connecting link

10048414

The item is in stock and will be delivered in 2-5 working days. Note: Stocks are updated online every hour on working days from 7 a.m. to 8 p.m., so there is a good chance that the products are available if they appear online.

Available

€99.99

1 2 €74.99 1
DID 428VX CHAIN & SPR.KIT - YBR125 CUST 08- 118/14/43

Important notes

execution: chain with clip connecting link

10048776

The item is in stock and will be delivered in 2-5 working days. Note: Stocks are updated online every hour on working days from 7 a.m. to 8 p.m., so there is a good chance that the products are available if they appear online.

Available

€99.99

1 3 €74.99 1
DID 428VX/CLIP CHAIN KIT - APR.RS4 13-17 136-13-60

Important notes

execution: chain with clip connecting link

10048466

This product is available at week 45.
Current calendar week: 38

Available as of calendar week 45

€129.99

1 2 €96.99 1
DID 428VX/CLIP CHAIN KIT - CAPONORD 1200 112/17/42

Important notes

execution: chain with rivet-type connecting link

10048986

This product is available at week 43.
Current calendar week: 38

Available as of calendar week 43

€189.99

1 2 €141.99 1
DID 428VX/CLIP CHAIN KIT - CBF125 09- 118/16/42

Important notes

execution: chain with clip connecting link

10048019

The item is in stock and will be delivered in 2-5 working days. Note: Stocks are updated online every hour on working days from 7 a.m. to 8 p.m., so there is a good chance that the products are available if they appear online.

Available

€99.99

1 2 €74.99 1
DID 428VX/CLIP CHAIN KIT - CBR 125 11- 128/15/44

Important notes

execution: chain with clip connecting link

10048471

The item is in stock and will be delivered in 2-5 working days. Note: Stocks are updated online every hour on working days from 7 a.m. to 8 p.m., so there is a good chance that the products are available if they appear online.

Available

€99.99

1 2 €74.99 1
DID 428VX/CLIP CHAIN KIT - CBR125 04-10 124/15/42

Important notes

execution: chain with clip connecting link

10048022

The item is in stock and will be delivered in 2-5 working days. Note: Stocks are updated online every hour on working days from 7 a.m. to 8 p.m., so there is a good chance that the products are available if they appear online.

Available

€99.99

1 2 €74.99 1
DID 428VX/CLIP CHAIN KIT - DR 125 85- 134/16/53

Important notes

execution: chain with clip connecting link

10048144

The item is in stock and will be delivered in 2-5 working days. Note: Stocks are updated online every hour on working days from 7 a.m. to 8 p.m., so there is a good chance that the products are available if they appear online.

Available

€119.99

1 2 €89.99 1
DID 428VX/CLIP CHAIN KIT - DT 125 R/X 134/16/57

Important notes

execution: chain with clip connecting link

10048410

The item is in stock and will be delivered in 2-5 working days. Note: Stocks are updated online every hour on working days from 7 a.m. to 8 p.m., so there is a good chance that the products are available if they appear online.

Available

€119.99

1 2 €89.99 1
DID 428VX/CLIP CHAIN KIT - EN/SM 125 DD 118/16/42

Important notes

execution: chain with clip connecting link

10048483

The item is in stock and will be delivered in 2-5 working days. Note: Stocks are updated online every hour on working days from 7 a.m. to 8 p.m., so there is a good chance that the products are available if they appear online.

Available

€109.99

1 2 €81.99 1
DID 428VX/CLIP CHAIN KIT - GV 125 AQUILA 138/13/48

Important notes

execution: chain with clip connecting link

10048084

The item is in stock and will be delivered in 2-5 working days. Note: Stocks are updated online every hour on working days from 7 a.m. to 8 p.m., so there is a good chance that the products are available if they appear online.

Available

€119.99

1 2 €95.99 1
DID 428VX/CLIP CHAIN KIT - GZ125 98- 132/15/45

Important notes

execution: chain with clip connecting link

10048147

The item is in stock and will be delivered in 2-5 working days. Note: Stocks are updated online every hour on working days from 7 a.m. to 8 p.m., so there is a good chance that the products are available if they appear online.

Available

€114.99

1 2 €85.99 1
DID 428VX/CLIP CHAIN KIT - MT-10 / SP 114/16/43

Important notes

execution: chain with rivet-type connecting link

10048988

The product will be ordered from the manufacturer for you. Depending on availability, longer delivery times are also possible. We'll let you know if that's the case. You can of course cancel your delivery at any time free of charge.

Available in 7-21 days

€189.99

1 2 €141.99 1
DID 428VX/CLIP CHAIN KIT - MZ 125 SM 01- 132/16/49

Important notes

execution: chain with clip connecting link

10048481

The item is in stock and will be delivered in 2-5 working days. Note: Stocks are updated online every hour on working days from 7 a.m. to 8 p.m., so there is a good chance that the products are available if they appear online.

Available

€119.99

1 2 €89.99 1
DID 428VX/CLIP CHAIN KIT - RF 600/R 95-96 108/14/42

Important notes

execution: chain with rivet-type connecting link

10048994

The product will be ordered from the manufacturer for you. Depending on availability, longer delivery times are also possible. We'll let you know if that's the case. You can of course cancel your delivery at any time free of charge.

Available in 7-21 days

€199.99

1 2 €149.99 1
DID 428VX/CLIP CHAIN KIT - RV125VANVAN 03- 134/15/51

Important notes

execution: chain with clip connecting link

10048148

The item is in stock and will be delivered in 2-5 working days. Note: Stocks are updated online every hour on working days from 7 a.m. to 8 p.m., so there is a good chance that the products are available if they appear online.

Available

€109.99

1 2 €81.99 1
DID 428VX/CLIP CHAIN KIT - RV200 VAN 16- 114/15/46

Important notes

execution: chain with rivet-type connecting link

10048985

The item is in stock and will be delivered in 2-5 working days. Note: Stocks are updated online every hour on working days from 7 a.m. to 8 p.m., so there is a good chance that the products are available if they appear online.

Available

€129.99

1 2 €96.99 1
DID 428VX/CLIP CHAIN KIT - SPEED TRIPLE S 108/17/44

Important notes

execution: chain with rivet-type connecting link

10048992

The item is in stock and will be delivered in 2-5 working days. Note: Stocks are updated online every hour on working days from 7 a.m. to 8 p.m., so there is a good chance that the products are available if they appear online.

Available

€199.99

1 2 €149.99 1
DID 428VX/CLIP CHAIN KIT - SR125/SE 120/14/49

Important notes

execution: chain with clip connecting link

10048411

The item is in stock and will be delivered in 2-5 working days. Note: Stocks are updated online every hour on working days from 7 a.m. to 8 p.m., so there is a good chance that the products are available if they appear online.

Available

€99.99

1 2 €74.99 1
DID 428VX/CLIP CHAIN KIT - SR500 91- 130/20/55

Important notes

execution: chain with clip connecting link

10048418

The item is in stock and will be delivered in 2-5 working days. Note: Stocks are updated online every hour on working days from 7 a.m. to 8 p.m., so there is a good chance that the products are available if they appear online.

Available

€119.99

1 2 €89.99 1
DID 428VX/CLIP CHAIN KIT - SX125 18- 138/13/62

Important notes

execution: chain with clip connecting link

10048975

This product is available at week 42.
Current calendar week: 38

Available as of calendar week 42

€124.99

1 2 €92.99 1
DID 428VX/CLIP CHAIN KIT - VL125 DAYSTAR 146/14/42

Important notes

execution: chain with clip connecting link

10048015

The item is in stock and will be delivered in 2-5 working days. Note: Stocks are updated online every hour on working days from 7 a.m. to 8 p.m., so there is a good chance that the products are available if they appear online.

Available

€119.99

1 2 €89.99 1
DID 428VX/CLIP CHAIN KIT - VL125C 00- 142/14/56

Important notes

execution: chain with clip connecting link

10048149

The item is in stock and will be delivered in 2-5 working days. Note: Stocks are updated online every hour on working days from 7 a.m. to 8 p.m., so there is a good chance that the products are available if they appear online.

Available

€119.99

1 2 €89.99 1
DID 428VX/CLIP CHAIN KIT - VS 125 126/14/42

Important notes

execution: chain with clip connecting link

10048488

The item is in stock and will be delivered in 2-5 working days. Note: Stocks are updated online every hour on working days from 7 a.m. to 8 p.m., so there is a good chance that the products are available if they appear online.

Available

€99.99

1 2 €74.99 1
DID 428VX/CLIP CHAIN KIT - WR 125 132/14/53

Important notes

execution: chain with clip connecting link

10048480

The item is in stock and will be delivered in 2-5 working days. Note: Stocks are updated online every hour on working days from 7 a.m. to 8 p.m., so there is a good chance that the products are available if they appear online.

Available

€119.99

1 2 €89.99 1
DID 428VX/CLIP CHAIN KIT - XT 125 R 128/14/50

Important notes

execution: chain with clip connecting link

10048487

The item is in stock and will be delivered in 2-5 working days. Note: Stocks are updated online every hour on working days from 7 a.m. to 8 p.m., so there is a good chance that the products are available if they appear online.

Available

€109.99

1 2 €81.99 1
DID 428VX/CLIP CHAIN KIT - XVS 125 00-04 146/16/59

Important notes

execution: chain with rivet-type connecting link

10048993

The item is in stock and will be delivered in 2-5 working days. Note: Stocks are updated online every hour on working days from 7 a.m. to 8 p.m., so there is a good chance that the products are available if they appear online.

Available

€129.99

1 2 €96.99 1
DID 428VX/CLIP CHAIN KIT - YZF-R 125 08- 132/14/48

Important notes

execution: chain with clip connecting link

10048479

The item is in stock and will be delivered in 2-5 working days. Note: Stocks are updated online every hour on working days from 7 a.m. to 8 p.m., so there is a good chance that the products are available if they appear online.

Available

€114.99

1 2 €85.99 1
DID 428VX/CLIP CHAIN KIT - YZF-R125 19- 130/14/52

Important notes

execution: chain with clip connecting link

10048981

The item is in stock and will be delivered in 2-5 working days. Note: Stocks are updated online every hour on working days from 7 a.m. to 8 p.m., so there is a good chance that the products are available if they appear online.

Available

€114.99

1 2 €85.99 1
DID 428VX/CLIP CHAIN KIT - Z125/NINJA 18- 132/16/56

Important notes

execution: chain with clip connecting link

10048978

The item is in stock and will be delivered in 2-5 working days. Note: Stocks are updated online every hour on working days from 7 a.m. to 8 p.m., so there is a good chance that the products are available if they appear online.

Available

€119.99

1 2 €89.99 1
DID 428VX/CLIP CHAIN KIT - Z400/NINJA 400 106/14/41

Important notes

execution: chain with rivet-type connecting link

10048987

The item is in stock and will be delivered in 2-5 working days. Note: Stocks are updated online every hour on working days from 7 a.m. to 8 p.m., so there is a good chance that the products are available if they appear online.

Available

€99.99

1 2 €74.99 1
DID 428VX/CLIP CHAIN KIT - ZX-10R 16- 114/17/39

Important notes

execution: chain with rivet-type connecting link

10048990

The item is in stock and will be delivered in 2-5 working days. Note: Stocks are updated online every hour on working days from 7 a.m. to 8 p.m., so there is a good chance that the products are available if they appear online.

Available

€189.99

1 2 €141.99 1
DID 520VX3 CHAIN&SPR. KIT - 640 R ADVENTURE 110/16/42

Important notes

Design: Chain with hollow-rivet link

10049186

The product will be ordered from the manufacturer for you. Depending on availability, longer delivery times are also possible. We'll let you know if that's the case. You can of course cancel your delivery at any time free of charge.

Available in 7-21 days

€119.99

1 2 €89.99 1
DID 520VX3 CHAIN&SPR. KIT - 690 END.2008-17 116/15/45

Important notes

execution: chain with rivet-type connecting link

10048881

The item is in stock and will be delivered in 2-5 working days. Note: Stocks are updated online every hour on working days from 7 a.m. to 8 p.m., so there is a good chance that the products are available if they appear online.

Available

€129.99

1 2 €96.99 1
DID 520VX3 CHAIN&SPR. KIT - CB 500 X BJ.19- 112/15/41

Important notes

Design: Chain with hollow-rivet link

10049168

The product will be ordered from the manufacturer for you. Depending on availability, longer delivery times are also possible. We'll let you know if that's the case. You can of course cancel your delivery at any time free of charge.

Available in 7-21 days

€129.99

1 2 €96.99 1
DID 520VX3 CHAIN&SPR. KIT - CBF 500 116/15/41

Important notes

execution: chain with rivet-type connecting link

10048855

The item is in stock and will be delivered in 2-5 working days. Note: Stocks are updated online every hour on working days from 7 a.m. to 8 p.m., so there is a good chance that the products are available if they appear online.

Available

€144.99

1 3 €107.99 1
DID 520VX3 CHAIN&SPR. KIT - CBR 600F 01-10 108/16/45

Important notes

execution: chain with rivet-type connecting link

10048848

The item is in stock and will be delivered in 2-5 working days. Note: Stocks are updated online every hour on working days from 7 a.m. to 8 p.m., so there is a good chance that the products are available if they appear online.

Available

€139.99

1 3 €104.99 1
DID 520VX3 CHAIN&SPR. KIT - CBR 600FS SPORT 108/16/46

Important notes

execution: chain with rivet-type connecting link

10048849

The item is in stock and will be delivered in 2-5 working days. Note: Stocks are updated online every hour on working days from 7 a.m. to 8 p.m., so there is a good chance that the products are available if they appear online.

Available

€139.99

1 3 €104.99 1
DID 520VX3 CHAIN&SPR. KIT - CBR600 RR 03-06 112/16/42

Important notes

execution: chain with rivet-type connecting link

10048857

The item is in stock and will be delivered in 2-5 working days. Note: Stocks are updated online every hour on working days from 7 a.m. to 8 p.m., so there is a good chance that the products are available if they appear online.

Available

€144.99

1 3 €107.99 1
DID 520VX3 CHAIN&SPR. KIT - DL 650V-STR.07- 118/15/47

Important notes

execution: chain with rivet-type connecting link

10048871

The item is in stock and will be delivered in 2-5 working days. Note: Stocks are updated online every hour on working days from 7 a.m. to 8 p.m., so there is a good chance that the products are available if they appear online.

Available

€139.99

1 3 €104.99 1
DID 520VX3 CHAIN&SPR. KIT - DR650SE/SEU 110/15/41

Important notes

execution: chain with rivet-type connecting link

10048785

The item is in stock and will be delivered in 2-5 working days. Note: Stocks are updated online every hour on working days from 7 a.m. to 8 p.m., so there is a good chance that the products are available if they appear online.

Available

€134.99

1 3 €100.99 1
DID 520VX3 CHAIN&SPR. KIT - F650 GS 08-12 116/17/41

Important notes

execution: chain with rivet-type connecting link

Sprocket mount with 8.5 mm bolt

10048868

The item is in stock and will be delivered in 2-5 working days. Note: Stocks are updated online every hour on working days from 7 a.m. to 8 p.m., so there is a good chance that the products are available if they appear online.

Available

€149.99

1 3 €111.99 1
DID 520VX3 CHAIN&SPR. KIT - F650 GS 09-12 116/17/41

Important notes

execution: chain with rivet-type connecting link

Sprocket mount with 10.5 mm bolt

10048795

The item is in stock and will be delivered in 2-5 working days. Note: Stocks are updated online every hour on working days from 7 a.m. to 8 p.m., so there is a good chance that the products are available if they appear online.

Available

€149.99

1 3 €111.99 1
DID 520VX3 CHAIN&SPR. KIT - F800R 2015- 120/19/47

Important notes

Design: Chain with hollow-rivet link

10049165

The item is in stock and will be delivered in 2-5 working days. Note: Stocks are updated online every hour on working days from 7 a.m. to 8 p.m., so there is a good chance that the products are available if they appear online.

Available

€159.99

1 2 €119.99 1
DID 520VX3 CHAIN&SPR. KIT - GSX-R 600 98-00 108/16/46

Important notes

execution: chain with rivet-type connecting link

10048845

The item is in stock and will be delivered in 2-5 working days. Note: Stocks are updated online every hour on working days from 7 a.m. to 8 p.m., so there is a good chance that the products are available if they appear online.

Available

€134.99

1 3 €100.99 1
DID 520VX3 CHAIN&SPR. KIT - GSX-S 750 17- 114/17/43
10049893

The product will be ordered from the manufacturer for you. Depending on availability, longer delivery times are also possible. We'll let you know if that's the case. You can of course cancel your delivery at any time free of charge.

Available in 7-21 days

€139.99

1 2 €104.99 1
DID 520VX3 CHAIN&SPR. KIT - GSXR750 W 98-99 108/16/44

Important notes

execution: chain with rivet-type connecting link

10048901

The item is in stock and will be delivered in 2-5 working days. Note: Stocks are updated online every hour on working days from 7 a.m. to 8 p.m., so there is a good chance that the products are available if they appear online.

Available

€134.99

1 3 €100.99 1
DID 520VX3 CHAIN&SPR. KIT - MONSTER 1000SIE 100/15/39

Important notes

execution: chain with rivet-type connecting link

10048786

The item is in stock and will be delivered in 2-5 working days. Note: Stocks are updated online every hour on working days from 7 a.m. to 8 p.m., so there is a good chance that the products are available if they appear online.

Available

€129.99

1 3 €96.99 1
DID 520VX3 CHAIN&SPR. KIT - MONSTER 620 I.E 106/15/48

Important notes

Design: Chain with hollow-rivet link

10049185

The product will be ordered from the manufacturer for you. Depending on availability, longer delivery times are also possible. We'll let you know if that's the case. You can of course cancel your delivery at any time free of charge.

Available in 7-21 days

€119.99

1 2 €89.99 1
DID 520VX3 CHAIN&SPR. KIT - MULTISTR. 1100 106/15/42

Important notes

execution: chain with rivet-type connecting link

10044626

The item is in stock and will be delivered in 2-5 working days. Note: Stocks are updated online every hour on working days from 7 a.m. to 8 p.m., so there is a good chance that the products are available if they appear online.

Available

€209.99

1 3 €156.99 1
DID 520VX3 CHAIN&SPR. KIT - TDM850 91-95 114/16/44

Important notes

execution: chain with rivet-type connecting link

10048834

The item is in stock and will be delivered in 2-5 working days. Note: Stocks are updated online every hour on working days from 7 a.m. to 8 p.m., so there is a good chance that the products are available if they appear online.

Available

€139.99

1 3 €104.99 1
DID 520VX3 CHAIN&SPR. KIT - TRX850 96-98 110/17/39

Important notes

execution: chain with rivet-type connecting link

10048900

The item is in stock and will be delivered in 2-5 working days. Note: Stocks are updated online every hour on working days from 7 a.m. to 8 p.m., so there is a good chance that the products are available if they appear online.

Available

€139.99

1 3 €104.99 1
DID 520VX3 CHAIN&SPR. KIT - VT600C 89- 120/16/44

Important notes

execution: chain with rivet-type connecting link

10048899

The item is in stock and will be delivered in 2-5 working days. Note: Stocks are updated online every hour on working days from 7 a.m. to 8 p.m., so there is a good chance that the products are available if they appear online.

Available

€149.99

1 3 €111.99 1
DID 520VX3 CHAIN&SPR. KIT - W650 99- 104/15/39

Important notes

execution: chain with rivet-type connecting link

10048850

The item is in stock and will be delivered in 2-5 working days. Note: Stocks are updated online every hour on working days from 7 a.m. to 8 p.m., so there is a good chance that the products are available if they appear online.

Available

€129.99

1 3 €96.99 1
DID 520VX3 CHAIN&SPR. KIT - XRV750 90-92 124/16/46

Important notes

execution: chain with rivet-type connecting link

10048798

This product is available at week 45.
Current calendar week: 38

Available as of calendar week 45

€154.99

1 3 €115.99 1
DID 520VX3 CHAIN&SPR. KIT - YZF-R6 06- 114/16/45

Important notes

execution: chain with rivet-type connecting link

10048898

The item is in stock and will be delivered in 2-5 working days. Note: Stocks are updated online every hour on working days from 7 a.m. to 8 p.m., so there is a good chance that the products are available if they appear online.

Available

€144.99

1 3 €107.99 1
DID 520VX3 CHN & SPR.KIT - 200 DUKE 118/14/42

Important notes

execution: chain with rivet-type connecting link

10048763

The item is in stock and will be delivered in 2-5 working days. Note: Stocks are updated online every hour on working days from 7 a.m. to 8 p.m., so there is a good chance that the products are available if they appear online.

Available

€124.99

1 2 €92.99 1
DID 520VX3 CHN & SPR.KIT - 900SS 98- 96/15/40

Important notes

execution: chain with rivet-type connecting link

10048675

The item is in stock and will be delivered in 2-5 working days. Note: Stocks are updated online every hour on working days from 7 a.m. to 8 p.m., so there is a good chance that the products are available if they appear online.

Available

€119.99

1 2 €89.99 1
DID 520VX3 CHN & SPR.KIT - CB500F/X 13- 112/15/41

Important notes

execution: chain with rivet-type connecting link

10048732

The item is in stock and will be delivered in 2-5 working days. Note: Stocks are updated online every hour on working days from 7 a.m. to 8 p.m., so there is a good chance that the products are available if they appear online.

Available

€119.99

1 2 €89.99 1
DID 520VX3 CHN & SPR.KIT - EL250 88-96 114/14/44

Important notes

execution: chain with rivet-type connecting link

10048759

The item is in stock and will be delivered in 2-5 working days. Note: Stocks are updated online every hour on working days from 7 a.m. to 8 p.m., so there is a good chance that the products are available if they appear online.

Available

€129.99

1 2 €96.99 1
DID 520VX3 CHN & SPR.KIT - ER-5 TWISTER 106/17/42

Important notes

execution: chain with rivet-type connecting link

10048699

The item is in stock and will be delivered in 2-5 working days. Note: Stocks are updated online every hour on working days from 7 a.m. to 8 p.m., so there is a good chance that the products are available if they appear online.

Available

€119.99

1 2 €89.99 1
DID 520VX3 CHN & SPR.KIT - F650/ST 94- 110/16/47

Important notes

execution: chain with rivet-type connecting link

10048721

The item is in stock and will be delivered in 2-5 working days. Note: Stocks are updated online every hour on working days from 7 a.m. to 8 p.m., so there is a good chance that the products are available if they appear online.

Available

€119.99

1 2 €89.99 1
DID 520VX3 CHN & SPR.KIT - KLE300 17- 112/14/46

Important notes

execution: chain with rivet-type connecting link

10048974

The item is in stock and will be delivered in 2-5 working days. Note: Stocks are updated online every hour on working days from 7 a.m. to 8 p.m., so there is a good chance that the products are available if they appear online.

Available

€119.99

1 2 €89.99 1
DID 520VX3 CHN & SPR.KIT - KLR650 BJ.87-89 106/15/43

Important notes

execution: chain with rivet-type connecting link

10048697

The item is in stock and will be delivered in 2-5 working days. Note: Stocks are updated online every hour on working days from 7 a.m. to 8 p.m., so there is a good chance that the products are available if they appear online.

Available

€109.99

1 2 €81.99 1
DID 520VX3 CHN & SPR.KIT - KLR650 BJ.95-03 106/15/42

Important notes

execution: chain with rivet-type connecting link

10048692

The item is in stock and will be delivered in 2-5 working days. Note: Stocks are updated online every hour on working days from 7 a.m. to 8 p.m., so there is a good chance that the products are available if they appear online.

Available

€109.99

1 2 €81.99 1
DID 520VX3 CHN & SPR.KIT - KLR650 TENG.-94 106/15/43

Important notes

execution: chain with rivet-type connecting link

10048691

The item is in stock and will be delivered in 2-5 working days. Note: Stocks are updated online every hour on working days from 7 a.m. to 8 p.m., so there is a good chance that the products are available if they appear online.

Available

€119.99

1 2 €89.99 1
DID 520VX3 CHN & SPR.KIT - MONST.600 95-97 100/15/43

Important notes

execution: chain with rivet-type connecting link

10048681

The item is in stock and will be delivered in 2-5 working days. Note: Stocks are updated online every hour on working days from 7 a.m. to 8 p.m., so there is a good chance that the products are available if they appear online.

Available

€119.99

1 2 €89.99 1
DID 520VX3 CHN & SPR.KIT - MONSTER 620 I.E 106/15/46

Important notes

execution: chain with rivet-type connecting link

10048698

The item is in stock and will be delivered in 2-5 working days. Note: Stocks are updated online every hour on working days from 7 a.m. to 8 p.m., so there is a good chance that the products are available if they appear online.

Available

€119.99

1 2 €89.99 1
DID 520VX3 CHN & SPR.KIT - NSR125 98- 108/14/36

Important notes

execution: chain with rivet-type connecting link

10048708

The item is in stock and will be delivered in 2-5 working days. Note: Stocks are updated online every hour on working days from 7 a.m. to 8 p.m., so there is a good chance that the products are available if they appear online.

Available

€109.99

1 2 €81.99 1
DID 520VX3 CHN & SPR.KIT - PEGASO 650 110/16/47

Important notes

execution: chain with rivet-type connecting link

10048723

The item is in stock and will be delivered in 2-5 working days. Note: Stocks are updated online every hour on working days from 7 a.m. to 8 p.m., so there is a good chance that the products are available if they appear online.

Available

€119.99

1 2 €89.99 1
DID 520VX3 CHN & SPR.KIT - PEGASO 650 I.E. 110/16/46

Important notes

execution: chain with rivet-type connecting link

10048722

The item is in stock and will be delivered in 2-5 working days. Note: Stocks are updated online every hour on working days from 7 a.m. to 8 p.m., so there is a good chance that the products are available if they appear online.

Available

€119.99

1 2 €89.99 1
DID 520VX3 CHN & SPR.KIT - RS125 -05(15PS) 106/13/39

Important notes

execution: chain with rivet-type connecting link

10048693

The item is in stock and will be delivered in 2-5 working days. Note: Stocks are updated online every hour on working days from 7 a.m. to 8 p.m., so there is a good chance that the products are available if they appear online.

Available

€109.99

1 2 €81.99 1
DID 520VX3 CHN & SPR.KIT - SKORP.TOUR 660 110/15/43

Important notes

execution: chain with rivet-type connecting link

10048727

The item is in stock and will be delivered in 2-5 working days. Note: Stocks are updated online every hour on working days from 7 a.m. to 8 p.m., so there is a good chance that the products are available if they appear online.

Available

€119.99

1 2 €89.99 1
DID 520VX3 CHN & SPR.KIT - W800 2011- 104/15/37

Important notes

execution: chain with rivet-type connecting link

10048687

The item is in stock and will be delivered in 2-5 working days. Note: Stocks are updated online every hour on working days from 7 a.m. to 8 p.m., so there is a good chance that the products are available if they appear online.

Available

€109.99

1 2 €81.99 1
DID 520VX3 CHN & SPR.KIT - XJ600S/N 91- 110/16/48

Important notes

execution: chain with rivet-type connecting link

10048720

The item is in stock and will be delivered in 2-5 working days. Note: Stocks are updated online every hour on working days from 7 a.m. to 8 p.m., so there is a good chance that the products are available if they appear online.

Available

€119.99

1 2 €89.99 1
DID 520VX3 CHN & SPR.KIT - XT500 76-89 100/16/42

Important notes

execution: chain with rivet-type connecting link

10048679

The product will be ordered from the manufacturer for you. Depending on availability, longer delivery times are also possible. We'll let you know if that's the case. You can of course cancel your delivery at any time free of charge.

Available in 7-21 days

€99.99

1 2 €74.99 1
DID 525 ZVM-X CHAIN KIT - TRACER900/GT 18-118/16/45

Important notes

execution: chain with rivet-type connecting link

10048989

The item is in stock and will be delivered in 2-5 working days. Note: Stocks are updated online every hour on working days from 7 a.m. to 8 p.m., so there is a good chance that the products are available if they appear online.

Available

€189.99

1 2 €141.99 1
DID 525VX3 CHAIN&SPR. KIT - CRF 1100 20- 124/14/42
10049894

The product will be ordered from the manufacturer for you. Depending on availability, longer delivery times are also possible. We'll let you know if that's the case. You can of course cancel your delivery at any time free of charge.

Available in 7-21 days

€159.99 1
DID 525ZVMX CHAIN&SPR.KIT - PANIGALE 104/15/39

Important notes

execution: chain with rivet-type connecting link

10048594

The item is in stock and will be delivered in 2-5 working days. Note: Stocks are updated online every hour on working days from 7 a.m. to 8 p.m., so there is a good chance that the products are available if they appear online.

Available

€239.99

1 2 €179.99 1
DID 530VX3 CHAIN&SPR. KIT - VF750C 1993-95 118/16/40

Important notes

execution: chain with rivet-type connecting link

10048934

The item is in stock and will be delivered in 2-5 working days. Note: Stocks are updated online every hour on working days from 7 a.m. to 8 p.m., so there is a good chance that the products are available if they appear online.

Available

€149.99

1 3 €111.99 1
DID CHAIN-KIT 420D - DT 50 MX-S 112/10/48

Important notes

execution: chain with clip connecting link

10048573

The item is in stock and will be delivered in 2-5 working days. Note: Stocks are updated online every hour on working days from 7 a.m. to 8 p.m., so there is a good chance that the products are available if they appear online.

Available

€29.99

1 2 €21.99 1
DID CHAIN-KIT 420V - AFS110 12-16 104/14/37

Important notes

execution: chain with clip connecting link

Chain in black version

10048893

The item is in stock and will be delivered in 2-5 working days. Note: Stocks are updated online every hour on working days from 7 a.m. to 8 p.m., so there is a good chance that the products are available if they appear online.

Available

€69.99

1 2 €51.99 1
DID CHAIN-KIT 420V - MSX125 13- 106/15/34

Important notes

execution: chain with clip connecting link

Chain in black version

10048894

The item is in stock and will be delivered in 2-5 working days. Note: Stocks are updated online every hour on working days from 7 a.m. to 8 p.m., so there is a good chance that the products are available if they appear online.

Available

€69.99

1 2 €51.99 1
DID CHAIN-KIT 420V/CLIP - ANF 125 INNOVA 14/35/104

Important notes

execution: chain with clip connecting link

Chain in black version

10048018

The item is in stock and will be delivered in 2-5 working days. Note: Stocks are updated online every hour on working days from 7 a.m. to 8 p.m., so there is a good chance that the products are available if they appear online.

Available

€64.99

1 2 €47.99 1
DID CHAIN-KIT 420VX3 - G310 GS/R 112/16/40

Important notes

execution: chain with rivet-type connecting link

10048977

The item is in stock and will be delivered in 2-5 working days. Note: Stocks are updated online every hour on working days from 7 a.m. to 8 p.m., so there is a good chance that the products are available if they appear online.

Available

€124.99

1 2 €92.99 1
DID CHAIN-KIT 425VX3 - F750/850 GS 18- 122/17/44

Important notes

execution: chain with rivet-type connecting link

10048976

The item is in stock and will be delivered in 2-5 working days. Note: Stocks are updated online every hour on working days from 7 a.m. to 8 p.m., so there is a good chance that the products are available if they appear online.

Available

€159.99

1 2 €119.99 1
DID CHAIN-KIT 428D/CLIP - DT80LC2 85-96 126/15/51

Important notes

execution: chain with clip connecting link

Chain in black version

10048409

The item is in stock and will be delivered in 2-5 working days. Note: Stocks are updated online every hour on working days from 7 a.m. to 8 p.m., so there is a good chance that the products are available if they appear online.

Available

€42.99

1 2 €31.99 1
DID CHAIN-KIT 428HD - D-TRACKER 125 122/14/44

Important notes

execution: chain with clip connecting link

10048574

The item is in stock and will be delivered in 2-5 working days. Note: Stocks are updated online every hour on working days from 7 a.m. to 8 p.m., so there is a good chance that the products are available if they appear online.

Available

€59.99

1 2 €44.99 1
DID CHAIN-KIT 428HD - KLX 125 BJ.2010 124/14/47

Important notes

execution: chain with clip connecting link

10048585

The item is in stock and will be delivered in 2-5 working days. Note: Stocks are updated online every hour on working days from 7 a.m. to 8 p.m., so there is a good chance that the products are available if they appear online.

Available

€49.99

1 2 €36.99 1
DID CHAIN-KIT 428HD/CLIP - GN125 95-96 114/14/42

Important notes

execution: chain with clip connecting link

Chain in black version

10048145

The item is in stock and will be delivered in 2-5 working days. Note: Stocks are updated online every hour on working days from 7 a.m. to 8 p.m., so there is a good chance that the products are available if they appear online.

Available

€39.99

1 2 €29.99 1
DID CHAIN-KIT 428HD/CLIP - GN125 97- 124/14/41

Important notes

execution: chain with clip connecting link

Chain in black version

10048146

The item is in stock and will be delivered in 2-5 working days. Note: Stocks are updated online every hour on working days from 7 a.m. to 8 p.m., so there is a good chance that the products are available if they appear online.

Available

€49.99

1 2 €24.99 1
DID CHAIN-KIT 428VX - CB125F 15- 122/15/45

Important notes

execution: chain with clip connecting link

10048880

The item is in stock and will be delivered in 2-5 working days. Note: Stocks are updated online every hour on working days from 7 a.m. to 8 p.m., so there is a good chance that the products are available if they appear online.

Available

€109.99

1 2 €81.99 1
DID CHAIN-KIT 428VX - CB125R 18- 134/15/47

Important notes

execution: chain with clip connecting link

10048778

The item is in stock and will be delivered in 2-5 working days. Note: Stocks are updated online every hour on working days from 7 a.m. to 8 p.m., so there is a good chance that the products are available if they appear online.

Available

€114.99

1 3 €85.99 1
DID CHAIN-KIT 428VX - DR 125 SM BJ.09 130/16/50

Important notes

execution: chain with clip connecting link

10048571

The item is in stock and will be delivered in 2-5 working days. Note: Stocks are updated online every hour on working days from 7 a.m. to 8 p.m., so there is a good chance that the products are available if they appear online.

Available

€119.99

1 2 €89.99 1
DID CHAIN-KIT 428VX - GN 125 BJ.91-94 124/14/41

Important notes

execution: chain with clip connecting link

10048579

The item is in stock and will be delivered in 2-5 working days. Note: Stocks are updated online every hour on working days from 7 a.m. to 8 p.m., so there is a good chance that the products are available if they appear online.

Available

€99.99

1 2 €74.99 1
DID CHAIN-KIT 428VX - GSX-R/S125 17- 122/14/45

Important notes

execution: chain with clip connecting link

10048777

This product is available at week 45.
Current calendar week: 38

Available as of calendar week 45

€99.99

1 3 €74.99 1
DID CHAIN-KIT 428VX - GT 125R BJ.06 136/14/52

Important notes

execution: chain with clip connecting link

10048582

The item is in stock and will be delivered in 2-5 working days. Note: Stocks are updated online every hour on working days from 7 a.m. to 8 p.m., so there is a good chance that the products are available if they appear online.

Available

€119.99

1 2 €89.99 1
DID CHAIN-KIT 428VX - RR125AC 13-17 134/14/54

Important notes

execution: chain with clip connecting link

10048773

The item is in stock and will be delivered in 2-5 working days. Note: Stocks are updated online every hour on working days from 7 a.m. to 8 p.m., so there is a good chance that the products are available if they appear online.

Available

€124.99

1 3 €92.99 1
DID CHAIN-KIT 428VX - RR125LC 11- 140/14/63

Important notes

execution: chain with clip connecting link

10048774

This product is available at week 45.
Current calendar week: 38

Available as of calendar week 45

€129.99

1 3 €96.99 1
DID CHAIN-KIT 428VX - RR125SM 11- 136/14/56

Important notes

execution: chain with clip connecting link

10048775

The item is in stock and will be delivered in 2-5 working days. Note: Stocks are updated online every hour on working days from 7 a.m. to 8 p.m., so there is a good chance that the products are available if they appear online.

Available

€124.99

1 3 €92.99 1
DID CHAIN-KIT 428VX - VJ 125 F ROADW. 130/14/44

Important notes

execution: chain with clip connecting link

10048779

The item is in stock and will be delivered in 2-5 working days. Note: Stocks are updated online every hour on working days from 7 a.m. to 8 p.m., so there is a good chance that the products are available if they appear online.

Available

€109.99

1 3 €81.99 1
DID CHAIN-KIT 428VX - VJ 125 ROADWIN 130/14/42

Important notes

execution: chain with clip connecting link

10048652

The item is in stock and will be delivered in 2-5 working days. Note: Stocks are updated online every hour on working days from 7 a.m. to 8 p.m., so there is a good chance that the products are available if they appear online.

Available

€99.99

1 2 €59.99 1
DID CHAIN-KIT 428VX - XR 125 L 02-08 132/17/54

Important notes

execution: chain with clip connecting link

10048656

The item is in stock and will be delivered in 2-5 working days. Note: Stocks are updated online every hour on working days from 7 a.m. to 8 p.m., so there is a good chance that the products are available if they appear online.

Available

€119.99

1 2 €89.99 1
DID CHAIN-KIT 428VX - XT 125 X BJ.05 126/14/48

Important notes

execution: chain with clip connecting link

10048658

The item is in stock and will be delivered in 2-5 working days. Note: Stocks are updated online every hour on working days from 7 a.m. to 8 p.m., so there is a good chance that the products are available if they appear online.

Available

€109.99

1 2 €81.99 1
DID CHAIN-KIT 428VX - ZING 125 97-01 124/16/41

Important notes

execution: chain with clip connecting link

10048661

The item is in stock and will be delivered in 2-5 working days. Note: Stocks are updated online every hour on working days from 7 a.m. to 8 p.m., so there is a good chance that the products are available if they appear online.

Available

€99.99

1 2 €59.99 1
DID CHAIN-KIT 520 VX - KTM 1190 RC8 108/17/38

Important notes

execution: chain with rivet-type connecting link

10048550

The item is in stock and will be delivered in 2-5 working days. Note: Stocks are updated online every hour on working days from 7 a.m. to 8 p.m., so there is a good chance that the products are available if they appear online.

Available

€179.99

1 2 €134.99 1
DID CHAIN-KIT 520 VX3 - X-ADV 750 BJ 16 118/17/38

Important notes

execution: chain with rivet-type connecting link

10048769

The item is in stock and will be delivered in 2-5 working days. Note: Stocks are updated online every hour on working days from 7 a.m. to 8 p.m., so there is a good chance that the products are available if they appear online.

Available

€129.99

1 2 €96.99 1
DID CHAIN-KIT 520NZ/CLIP - VT125C 99-07 112/14/41

Important notes

execution: chain with clip connecting link

Chain in black version

10048494

The item is in stock and will be delivered in 2-5 working days. Note: Stocks are updated online every hour on working days from 7 a.m. to 8 p.m., so there is a good chance that the products are available if they appear online.

Available

€89.99

1 2 €66.99 1
DID CHAIN-KIT 520VX2 - CTX 700 N BJ.14 114/16/39

Important notes

execution: chain with rivet-type connecting link

10048567

The item is in stock and will be delivered in 2-5 working days. Note: Stocks are updated online every hour on working days from 7 a.m. to 8 p.m., so there is a good chance that the products are available if they appear online.

Available

€127.99 1
DID CHAIN-KIT 520VX2 - NX650 95-99 110/15/46

Important notes

execution: chain with rivet-type connecting link

10048046

The item is in stock and will be delivered in 2-5 working days. Note: Stocks are updated online every hour on working days from 7 a.m. to 8 p.m., so there is a good chance that the products are available if they appear online.

Available

€123.99

1 2 €89.99 1
DID CHAIN-KIT 520VX2 - XL 600 LM/RM 106/15/40

Important notes

execution: chain with rivet-type connecting link

10048655

The item is in stock and will be delivered in 2-5 working days. Note: Stocks are updated online every hour on working days from 7 a.m. to 8 p.m., so there is a good chance that the products are available if they appear online.

Available

Please remember that "Last chance" items can sell out fast, especially when the price has been slashed and the clothes sizes you are looking for are popular. "Last chance" items may no longer be available in all Louis stores!

€113.99

1 2 €99.99 1
DID CHAIN-KIT 520VX2 - XL125 VARADERO 14/44/110

Important notes

execution: chain with rivet-type connecting link

10048020

The item is in stock and will be delivered in 2-5 working days. Note: Stocks are updated online every hour on working days from 7 a.m. to 8 p.m., so there is a good chance that the products are available if they appear online.

Available

€117.99

1 2 €99.99 1
DID CHAIN-KIT 520VX3 - 690 DUKE 114/16/40

Important notes

execution: chain with rivet-type connecting link

10048754

The item is in stock and will be delivered in 2-5 working days. Note: Stocks are updated online every hour on working days from 7 a.m. to 8 p.m., so there is a good chance that the products are available if they appear online.

Available

€119.99

1 2 €89.99 1
DID CHAIN-KIT 520VX3 - 690 SMC R 116/16/42

Important notes

execution: chain with rivet-type connecting link

10048761

This product is available at week 41.
Current calendar week: 38

Available as of calendar week 41

€129.99

1 2 €96.99 1
DID CHAIN-KIT 520VX3 - 790 DUKE 18- 116/16/41

Important notes

execution: chain with rivet-type connecting link

10048979

The item is in stock and will be delivered in 2-5 working days. Note: Stocks are updated online every hour on working days from 7 a.m. to 8 p.m., so there is a good chance that the products are available if they appear online.

Available

€129.99

1 2 €96.99 1
DID CHAIN-KIT 520VX3 - 900SS 91-97 98/15/37

Important notes

execution: chain with rivet-type connecting link

10048676

The item is in stock and will be delivered in 2-5 working days. Note: Stocks are updated online every hour on working days from 7 a.m. to 8 p.m., so there is a good chance that the products are available if they appear online.

Available

€119.99

1 2 €89.99 1
DID CHAIN-KIT 520VX3 - BONNEVILLE 900 102/17/41

Important notes

execution: chain with rivet-type connecting link

10048883

The item is in stock and will be delivered in 2-5 working days. Note: Stocks are updated online every hour on working days from 7 a.m. to 8 p.m., so there is a good chance that the products are available if they appear online.

Available

€114.99

1 2 €85.99 1
DID CHAIN-KIT 520VX3 - CA 125 95- 112/13/39

Important notes

execution: chain with rivet-type connecting link

10048743

The item is in stock and will be delivered in 2-5 working days. Note: Stocks are updated online every hour on working days from 7 a.m. to 8 p.m., so there is a good chance that the products are available if they appear online.

Available

€119.99

1 2 €89.99 1
DID CHAIN-KIT 520VX3 - CBR250R 11-14 108/14/38

Important notes

execution: chain with rivet-type connecting link

10048882

The item is in stock and will be delivered in 2-5 working days. Note: Stocks are updated online every hour on working days from 7 a.m. to 8 p.m., so there is a good chance that the products are available if they appear online.

Available

€139.99

1 2 €104.99 1
DID CHAIN-KIT 520VX3 - CLASSIC 125 112/15/40

Important notes

execution: chain with rivet-type connecting link

10048747

The item is in stock and will be delivered in 2-5 working days. Note: Stocks are updated online every hour on working days from 7 a.m. to 8 p.m., so there is a good chance that the products are available if they appear online.

Available

€119.99

1 2 €89.99 1
DID CHAIN-KIT 520VX3 - CM400 TB/TC 81- 102/16/35

Important notes

execution: chain with rivet-type connecting link

10048682

The item is in stock and will be delivered in 2-5 working days. Note: Stocks are updated online every hour on working days from 7 a.m. to 8 p.m., so there is a good chance that the products are available if they appear online.

Available

€114.99

1 2 €85.99 1
DID CHAIN-KIT 520VX3 - CMX500 17- 112/15/40

Important notes

execution: chain with rivet-type connecting link

10048887

The item is in stock and will be delivered in 2-5 working days. Note: Stocks are updated online every hour on working days from 7 a.m. to 8 p.m., so there is a good chance that the products are available if they appear online.

Available

€119.99

1 2 €89.99 1
DID CHAIN-KIT 520VX3 - CTX 700 N BJ.14 114/16/39

Important notes

execution: chain with rivet-type connecting link

10048750

The item is in stock and will be delivered in 2-5 working days. Note: Stocks are updated online every hour on working days from 7 a.m. to 8 p.m., so there is a good chance that the products are available if they appear online.

Available

€129.99

1 2 €96.99 1
DID CHAIN-KIT 520VX3 - DIV. MODELLE 112/16/47

Important notes

execution: chain with rivet-type connecting link

10048746

The item is in stock and will be delivered in 2-5 working days. Note: Stocks are updated online every hour on working days from 7 a.m. to 8 p.m., so there is a good chance that the products are available if they appear online.

Available

€119.99

1 2 €89.99 1
DID CHAIN-KIT 520VX3 - DIV. SUZUKI 100/15/41

Important notes

execution: chain with rivet-type connecting link

10048680

The item is in stock and will be delivered in 2-5 working days. Note: Stocks are updated online every hour on working days from 7 a.m. to 8 p.m., so there is a good chance that the products are available if they appear online.

Available

€109.99

1 2 €81.99 1
DID CHAIN-KIT 520VX3 - DR350 S -93 108/14/43

Important notes

execution: chain with rivet-type connecting link

10048703

The item is in stock and will be delivered in 2-5 working days. Note: Stocks are updated online every hour on working days from 7 a.m. to 8 p.m., so there is a good chance that the products are available if they appear online.

Available

€119.99

1 2 €89.99 1
DID CHAIN-KIT 520VX3 - DR400Z 99- 112/14/47

Important notes

execution: chain with rivet-type connecting link

10048740

The item is in stock and will be delivered in 2-5 working days. Note: Stocks are updated online every hour on working days from 7 a.m. to 8 p.m., so there is a good chance that the products are available if they appear online.

Available

€119.99

1 2 €89.99 1
DID CHAIN-KIT 520VX3 - DR650RS 90-95 114/16/42

Important notes

execution: chain with rivet-type connecting link

10048756

The item is in stock and will be delivered in 2-5 working days. Note: Stocks are updated online every hour on working days from 7 a.m. to 8 p.m., so there is a good chance that the products are available if they appear online.

Available

€119.99

1 2 €89.99 1
DID CHAIN-KIT 520VX3 - DR800S 91-98 116/15/47

Important notes

execution: chain with rivet-type connecting link

10048762

The item is in stock and will be delivered in 2-5 working days. Note: Stocks are updated online every hour on working days from 7 a.m. to 8 p.m., so there is a good chance that the products are available if they appear online.

Available

€129.99

1 2 €96.99 1
DID CHAIN-KIT 520VX3 - DUKE 125 11-13 112/14/45

Important notes

execution: chain with rivet-type connecting link

10048674

The item is in stock and will be delivered in 2-5 working days. Note: Stocks are updated online every hour on working days from 7 a.m. to 8 p.m., so there is a good chance that the products are available if they appear online.

Available

€119.99

1 2 €89.99 1
DID CHAIN-KIT 520VX3 - EN 500 C 96-05 110/16/42

Important notes

execution: chain with rivet-type connecting link

10048719

The item is in stock and will be delivered in 2-5 working days. Note: Stocks are updated online every hour on working days from 7 a.m. to 8 p.m., so there is a good chance that the products are available if they appear online.

Available

€119.99

1 2 €89.99 1
DID CHAIN-KIT 520VX3 - ER-6/VERSYS 650 114/15/46

Important notes

execution: chain with rivet-type connecting link

10048755

The item is in stock and will be delivered in 2-5 working days. Note: Stocks are updated online every hour on working days from 7 a.m. to 8 p.m., so there is a good chance that the products are available if they appear online.

Available

€119.99

1 2 €89.99 1
DID CHAIN-KIT 520VX3 - FMX 650 05- 110/14/42

Important notes

execution: chain with rivet-type connecting link

10048724

The item is in stock and will be delivered in 2-5 working days. Note: Stocks are updated online every hour on working days from 7 a.m. to 8 p.m., so there is a good chance that the products are available if they appear online.

Available

€119.99

1 2 €89.99 1
DID CHAIN-KIT 520VX3 - G 650 XCOUNTRY 112/16/47

Important notes

execution: chain with rivet-type connecting link

10048744

This product is available at week 45.
Current calendar week: 38

Available as of calendar week 45

€119.99

1 2 €89.99 1
DID CHAIN-KIT 520VX3 - G 650 XMOTO 112/16/47

Important notes

execution: chain with rivet-type connecting link

10048745

The product will be ordered from the manufacturer for you. Depending on availability, longer delivery times are also possible. We'll let you know if that's the case. You can of course cancel your delivery at any time free of charge.

Available in 7-21 days

€129.99

1 2 €96.99 1
DID CHAIN-KIT 520VX3 - G650 XCHALLENGE 112/15/47

Important notes

execution: chain with rivet-type connecting link

10048739

The item is in stock and will be delivered in 2-5 working days. Note: Stocks are updated online every hour on working days from 7 a.m. to 8 p.m., so there is a good chance that the products are available if they appear online.

Available

€119.99

1 2 €89.99 1
DID CHAIN-KIT 520VX3 - GLADIUS SFV650 112/15/46

Important notes

execution: chain with rivet-type connecting link

10048741

The item is in stock and will be delivered in 2-5 working days. Note: Stocks are updated online every hour on working days from 7 a.m. to 8 p.m., so there is a good chance that the products are available if they appear online.

Available

€119.99

1 2 €89.99 1
DID CHAIN-KIT 520VX3 - GPZ500 S 87-93 104/16/42

Important notes

execution: chain with rivet-type connecting link

10048688

The item is in stock and will be delivered in 2-5 working days. Note: Stocks are updated online every hour on working days from 7 a.m. to 8 p.m., so there is a good chance that the products are available if they appear online.

Available

€109.99

1 2 €81.99 1
DID CHAIN-KIT 520VX3 - GPZ500 S 94- 104/16/41

Important notes

execution: chain with rivet-type connecting link

10048689

The item is in stock and will be delivered in 2-5 working days. Note: Stocks are updated online every hour on working days from 7 a.m. to 8 p.m., so there is a good chance that the products are available if they appear online.

Available

€109.99

1 2 €81.99 1
DID CHAIN-KIT 520VX3 - GS500 E 89-93 110/16/39

Important notes

execution: chain with rivet-type connecting link

10048718

The item is in stock and will be delivered in 2-5 working days. Note: Stocks are updated online every hour on working days from 7 a.m. to 8 p.m., so there is a good chance that the products are available if they appear online.

Available

€109.99

1 2 €81.99 1
DID CHAIN-KIT 520VX3 - GS500 E 94- 110/16/39

Important notes

execution: chain with rivet-type connecting link

10048730

The item is in stock and will be delivered in 2-5 working days. Note: Stocks are updated online every hour on working days from 7 a.m. to 8 p.m., so there is a good chance that the products are available if they appear online.

Available

€119.99

1 2 €89.99 1
DID CHAIN-KIT 520VX3 - INTEGRA 700 12- 112/16/39

Important notes

execution: chain with rivet-type connecting link

10048734

The item is in stock and will be delivered in 2-5 working days. Note: Stocks are updated online every hour on working days from 7 a.m. to 8 p.m., so there is a good chance that the products are available if they appear online.

Available

€119.99

1 2 €89.99 1
DID CHAIN-KIT 520VX3 - KLE500 -95 108/16/44

Important notes

execution: chain with rivet-type connecting link

10048704

The item is in stock and will be delivered in 2-5 working days. Note: Stocks are updated online every hour on working days from 7 a.m. to 8 p.m., so there is a good chance that the products are available if they appear online.

Available

€119.99

1 2 €89.99 1
DID CHAIN-KIT 520VX3 - KLE500 96- 110/17/46

Important notes

execution: chain with rivet-type connecting link

10048726

The item is in stock and will be delivered in 2-5 working days. Note: Stocks are updated online every hour on working days from 7 a.m. to 8 p.m., so there is a good chance that the products are available if they appear online.

Available

€119.99

1 2 €89.99 1
DID CHAIN-KIT 520VX3 - KLX650 93-95 112/15/43

Important notes

execution: chain with rivet-type connecting link

10048733

The item is in stock and will be delivered in 2-5 working days. Note: Stocks are updated online every hour on working days from 7 a.m. to 8 p.m., so there is a good chance that the products are available if they appear online.

Available

€119.99

1 2 €89.99 1
DID CHAIN-KIT 520VX3 - KTM DUKE/RC 125 112/14/45

Important notes

execution: chain with rivet-type connecting link

10048731

The item is in stock and will be delivered in 2-5 working days. Note: Stocks are updated online every hour on working days from 7 a.m. to 8 p.m., so there is a good chance that the products are available if they appear online.

Available

€119.99

1 2 €89.99 1
DID CHAIN-KIT 520VX3 - LC4-E 640 118/17/42

Important notes

execution: chain with rivet-type connecting link

10048764

The item is in stock and will be delivered in 2-5 working days. Note: Stocks are updated online every hour on working days from 7 a.m. to 8 p.m., so there is a good chance that the products are available if they appear online.

Available

€129.99

1 2 €96.99 1
DID CHAIN-KIT 520VX3 - MONST.600 98-01 102/15/46

Important notes

execution: chain with rivet-type connecting link

10048684

The item is in stock and will be delivered in 2-5 working days. Note: Stocks are updated online every hour on working days from 7 a.m. to 8 p.m., so there is a good chance that the products are available if they appear online.

Available

€129.99

1 2 €96.99 1
DID CHAIN-KIT 520VX3 - MONSTER 600 94 98/15/38

Important notes

execution: chain with rivet-type connecting link

10048677

The item is in stock and will be delivered in 2-5 working days. Note: Stocks are updated online every hour on working days from 7 a.m. to 8 p.m., so there is a good chance that the products are available if they appear online.

Available

€119.99

1 2 €89.99 1
DID CHAIN-KIT 520VX3 - MONSTER 696 108/15/45

Important notes

execution: chain with rivet-type connecting link

10048705

The item is in stock and will be delivered in 2-5 working days. Note: Stocks are updated online every hour on working days from 7 a.m. to 8 p.m., so there is a good chance that the products are available if they appear online.

Available

€129.99

1 2 €96.99 1
DID CHAIN-KIT 520VX3 - MONSTER 900 IE 098/15/38

Important notes

execution: chain with rivet-type connecting link

10048678

The item is in stock and will be delivered in 2-5 working days. Note: Stocks are updated online every hour on working days from 7 a.m. to 8 p.m., so there is a good chance that the products are available if they appear online.

Available

€124.99

1 2 €92.99 1
DID CHAIN-KIT 520VX3 - MONSTER S2R 104/15/41

Important notes

execution: chain with rivet-type connecting link

10048690

The item is in stock and will be delivered in 2-5 working days. Note: Stocks are updated online every hour on working days from 7 a.m. to 8 p.m., so there is a good chance that the products are available if they appear online.

Available

€199.99

1 2 €149.99 1
DID CHAIN-KIT 520VX3 - MT-03 06-13 112/15/47

Important notes

execution: chain with rivet-type connecting link

10048735

The item is in stock and will be delivered in 2-5 working days. Note: Stocks are updated online every hour on working days from 7 a.m. to 8 p.m., so there is a good chance that the products are available if they appear online.

Available

€119.99

1 2 €89.99 1
DID CHAIN-KIT 520VX3 - MX125 SUPERMOTO 112/15/45

Important notes

execution: chain with rivet-type connecting link

10048748

The item is in stock and will be delivered in 2-5 working days. Note: Stocks are updated online every hour on working days from 7 a.m. to 8 p.m., so there is a good chance that the products are available if they appear online.

Available

€119.99

1 2 €89.99 1
DID CHAIN-KIT 520VX3 - NC 700 S/X 12- 114/16/43

Important notes

execution: chain with rivet-type connecting link

10048751

The item is in stock and will be delivered in 2-5 working days. Note: Stocks are updated online every hour on working days from 7 a.m. to 8 p.m., so there is a good chance that the products are available if they appear online.

Available

€129.99

1 2 €96.99 1
DID CHAIN-KIT 520VX3 - NC 750 X/S 114/17/43

Important notes

execution: chain with rivet-type connecting link

10048753

The item is in stock and will be delivered in 2-5 working days. Note: Stocks are updated online every hour on working days from 7 a.m. to 8 p.m., so there is a good chance that the products are available if they appear online.

Available

€129.99

1 2 €96.99 1
DID CHAIN-KIT 520VX3 - NC 750(DCT) 14- 112/17/39

Important notes

execution: chain with rivet-type connecting link

10048737

The item is in stock and will be delivered in 2-5 working days. Note: Stocks are updated online every hour on working days from 7 a.m. to 8 p.m., so there is a good chance that the products are available if they appear online.

Available

€119.99

1 2 €89.99 1
DID CHAIN-KIT 520VX3 - NINJA 250 R 106/14/43

Important notes

execution: chain with rivet-type connecting link

10048700

The item is in stock and will be delivered in 2-5 working days. Note: Stocks are updated online every hour on working days from 7 a.m. to 8 p.m., so there is a good chance that the products are available if they appear online.

Available

€119.99

1 2 €89.99 1
DID CHAIN-KIT 520VX3 - NINJA 300/R 106/14/42

Important notes

execution: chain with rivet-type connecting link

10048701

The item is in stock and will be delivered in 2-5 working days. Note: Stocks are updated online every hour on working days from 7 a.m. to 8 p.m., so there is a good chance that the products are available if they appear online.

Available

€119.99

1 2 €89.99 1
DID CHAIN-KIT 520VX3 - NX 250 102/13/41

Important notes

execution: chain with rivet-type connecting link

10048685

The item is in stock and will be delivered in 2-5 working days. Note: Stocks are updated online every hour on working days from 7 a.m. to 8 p.m., so there is a good chance that the products are available if they appear online.

Available

€109.99

1 2 €81.99 1
DID CHAIN-KIT 520VX3 - NX 650 DOM. 88 108/15/45

Important notes

execution: chain with rivet-type connecting link

10048711

The item is in stock and will be delivered in 2-5 working days. Note: Stocks are updated online every hour on working days from 7 a.m. to 8 p.m., so there is a good chance that the products are available if they appear online.

Available

€119.99

1 2 €89.99 1
DID CHAIN-KIT 520VX3 - NX650 91-94 110/15/47

Important notes

execution: chain with rivet-type connecting link

10048715

The item is in stock and will be delivered in 2-5 working days. Note: Stocks are updated online every hour on working days from 7 a.m. to 8 p.m., so there is a good chance that the products are available if they appear online.

Available

€119.99

1 2 €89.99 1
DID CHAIN-KIT 520VX3 - NX650 95-99 110/15/46

Important notes

execution: chain with rivet-type connecting link

10048716

The item is in stock and will be delivered in 2-5 working days. Note: Stocks are updated online every hour on working days from 7 a.m. to 8 p.m., so there is a good chance that the products are available if they appear online.

Available

€119.99

1 2 €89.99 1
DID CHAIN-KIT 520VX3 - PEGASO 650 FACT 110/15/44

Important notes