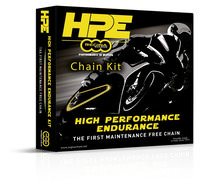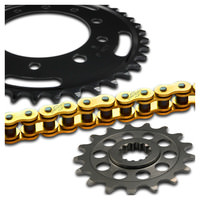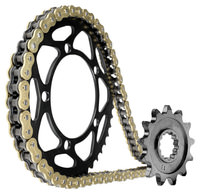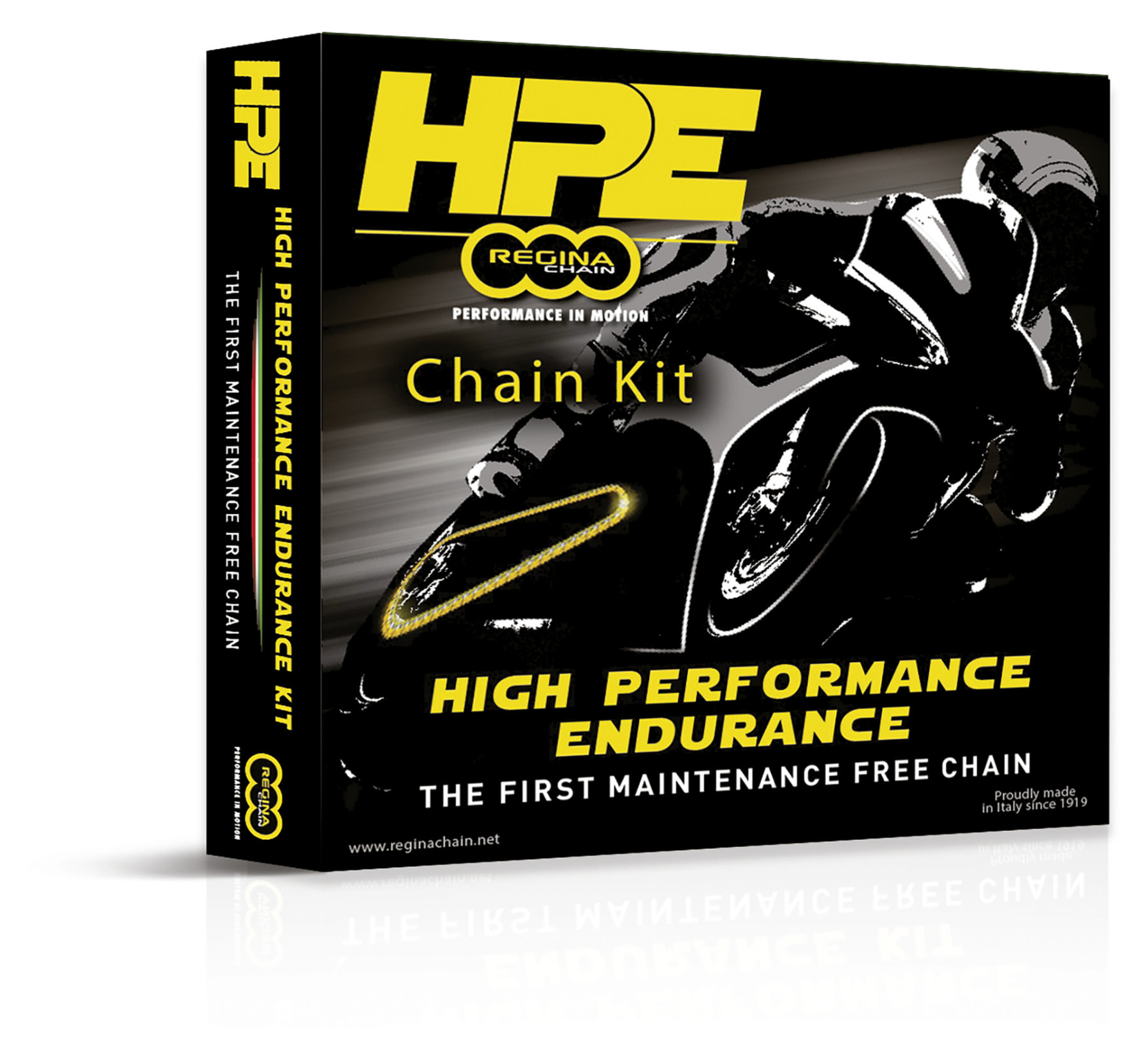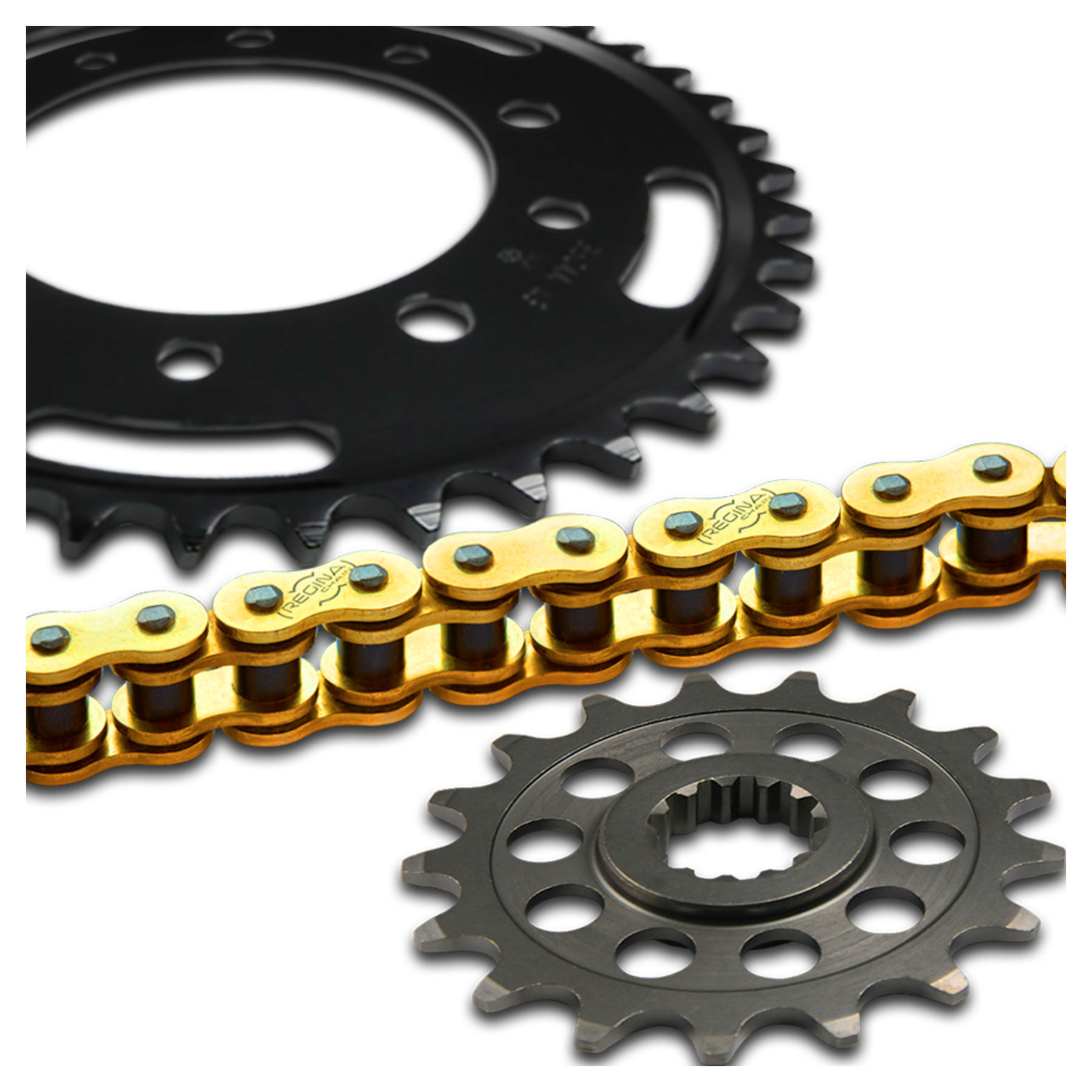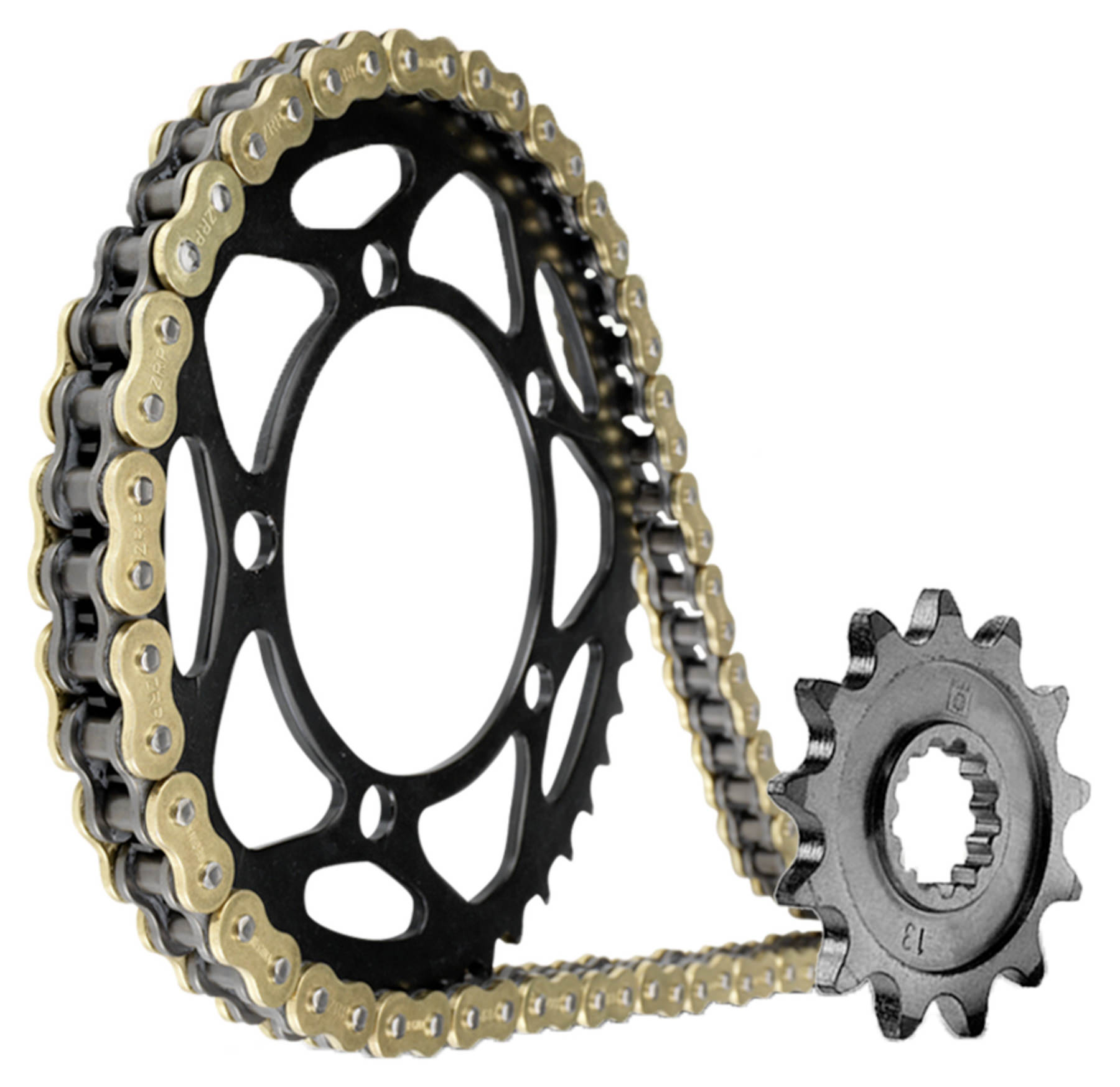 REGINA HPE - CHAIN KIT
DL1000V-STR.14-116/17/41
The item is in stock and will be delivered in 2-5 working days. Note: Stocks are updated online every hour on working days from 7 a.m. to 8 p.m., so there is a good chance that the products are available if they appear online.
Available
Free delivery on orders over €199.00
2 year return policy
Fast delivery
Regina HPE chain-kit chain, sprockets
and Sprocket
A world first for motorbikes with chain drive: the virtually maintenance-free motorbike drive chains from the Italian chain specialist Regina, the innovative *High Performance Endurance* (HPE) chains. And here as a complete chain set with sprocket and pinion in original equipment quality from gear professional ESJOT.

One thing is certain: probably the most annoying thing about a motorbike with chain drive is the recurring maintenance of the drive unit chain, sprocket and gear. And the rule is: it's better to clean once more and grease again. That way you'll get more out of your chain set - even if it's a pain.

It's different with the Regina *HPE* chain sets. The exceptional *HPE* chain is coated with hydrogen-free, amorphous, tetrahedral carbon (ta-C) on the surfaces of the rollers and bushings - also known as "industrial diamond". This coating reduces power loss and increases efficiency. In addition, the Regina *HPE* eliminates the need for chain cleaning and lubrication. This is not only less labour intensive, but also more environmentally friendly. But the best thing about this type of chain set is that it matches the durability of a well-maintained regular seal ring chain set.
innovative world first
chain sprocket and pinion in original equipment quality
no cleaning and lubrication
coating on rollers and bushes with ta-C
less power loss
long service life
environmentally friendly
You can find out which chain set is suitable for your vehicle under "All variants" and under "My bike".
Care instructions:
To guarantee the function and aesthetics, please follow 3 simple rules:
Clean and relubricate the chain:
after washing the motorbike
after a ride in wet and/or salty or dusty conditions
Before storing the motorbike at the end of the season (winter).
regrease the chain once a year
Check the chain tension every 3,000 km.
Manufacturer details: Regina

Chain-kit

Regina ? Queen. A fitting name for a chain that has played its part in many World Championships, spanning every motorcycle racing discipline. Since 1874 Regina, based in Merate, near Milan, has specialised in making drive chains. Legends such as Mike Hailwood and Giacomo Agostini benefited from the manufacturer's continuous pursuit of optimum function and maximum reliability. Joey Dunlop and Carl Fogarty rode to TT victory with Regina chains. To this day, ongoing development ensures that Regina chains hold pole position, both on and off the racetrack.
Product
Art. No.
Availability
Price
Actions
REGINA HPE - CHAIN KIT
10017686

The item is in stock and will be delivered in 2-5 working days. Note: Stocks are updated online every hour on working days from 7 a.m. to 8 p.m., so there is a good chance that the products are available if they appear online.

Available

€329.95 1
REGINA HPE - CHAIN KIT - 1098 STREETF. 102/15/38
10017638

The product will be ordered from the manufacturer for you. Depending on availability, longer delivery times are also possible. We'll let you know if that's the case. You can of course cancel your delivery at any time free of charge.

Available in 7-21 days

€358.95 1
REGINA HPE - CHAIN KIT - 1098/1198 08-12 98/15/38
10017639

The item is in stock and will be delivered in 2-5 working days. Note: Stocks are updated online every hour on working days from 7 a.m. to 8 p.m., so there is a good chance that the products are available if they appear online.

Available

€372.95 1
REGINA HPE - CHAIN KIT - 1190 RC8 2011- 108/17/38
10017671

The product will be ordered from the manufacturer for you. Depending on availability, longer delivery times are also possible. We'll let you know if that's the case. You can of course cancel your delivery at any time free of charge.

Available in 7-21 days

€318.95 1
REGINA HPE - CHAIN KIT - 1290 SUPER DUK. 112/17/38
10017673

The item is in stock and will be delivered in 2-5 working days. Note: Stocks are updated online every hour on working days from 7 a.m. to 8 p.m., so there is a good chance that the products are available if they appear online.

Available

€319.95 1
REGINA HPE - CHAIN KIT - 1290 SUPERAD.21-114/17/42
10017592

The product will be ordered from the manufacturer for you. Depending on availability, longer delivery times are also possible. We'll let you know if that's the case. You can of course cancel your delivery at any time free of charge.

Available in 7-21 days

€332.95 1
REGINA HPE - CHAIN KIT - 848 2008- 98/15/39
10017634

The product will be ordered from the manufacturer for you. Depending on availability, longer delivery times are also possible. We'll let you know if that's the case. You can of course cancel your delivery at any time free of charge.

Available in 7-21 days

€376.95 1
REGINA HPE - CHAIN KIT - 848 2012- 102/15/42
10017635

The product will be ordered from the manufacturer for you. Depending on availability, longer delivery times are also possible. We'll let you know if that's the case. You can of course cancel your delivery at any time free of charge.

Available in 7-21 days

€356.95 1
REGINA HPE - CHAIN KIT - 848 STREETF.12- 102/15/42
10017685

The item is in stock and will be delivered in 2-5 working days. Note: Stocks are updated online every hour on working days from 7 a.m. to 8 p.m., so there is a good chance that the products are available if they appear online.

Available

€356.95 1
REGINA HPE - CHAIN KIT - 916/996/998 94- 94/15/36
10017636

The product will be ordered from the manufacturer for you. Depending on availability, longer delivery times are also possible. We'll let you know if that's the case. You can of course cancel your delivery at any time free of charge.

Available in 7-21 days

€372.95 1
REGINA HPE - CHAIN KIT - 950 SUPEREND.06-118/17/45
10017666

The product will be ordered from the manufacturer for you. Depending on availability, longer delivery times are also possible. We'll let you know if that's the case. You can of course cancel your delivery at any time free of charge.

Available in 7-21 days

€345.95 1
REGINA HPE - CHAIN KIT - ADVENTURE MOD. 118/17/42
10017672

The item is in stock and will be delivered in 2-5 working days. Note: Stocks are updated online every hour on working days from 7 a.m. to 8 p.m., so there is a good chance that the products are available if they appear online.

Available

€342.95 1
REGINA HPE - CHAIN KIT - BONNEVILLE BOBB 108/17/37
10017595

The product will be ordered from the manufacturer for you. Depending on availability, longer delivery times are also possible. We'll let you know if that's the case. You can of course cancel your delivery at any time free of charge.

Available in 7-21 days

€299.95 1
REGINA HPE - CHAIN KIT - CAPONORD 1200 112/17/42
10017628

The item is in stock and will be delivered in 2-5 working days. Note: Stocks are updated online every hour on working days from 7 a.m. to 8 p.m., so there is a good chance that the products are available if they appear online.

Available

€332.95 1
REGINA HPE - CHAIN KIT - CB/CBR 650 14- 118/15/42
10017693

The item is in stock and will be delivered in 2-5 working days. Note: Stocks are updated online every hour on working days from 7 a.m. to 8 p.m., so there is a good chance that the products are available if they appear online.

Available

€329.95 1
REGINA HPE - CHAIN KIT - CB1000R 2018- 116/15/44
10017651

The item is in stock and will be delivered in 2-5 working days. Note: Stocks are updated online every hour on working days from 7 a.m. to 8 p.m., so there is a good chance that the products are available if they appear online.

Available

€337.95 1
REGINA HPE - CHAIN KIT - CB600 HOR. 98 - 110/15/42
10017648

The product will be ordered from the manufacturer for you. Depending on availability, longer delivery times are also possible. We'll let you know if that's the case. You can of course cancel your delivery at any time free of charge.

Available in 7-21 days

€319.95 1
REGINA HPE - CHAIN KIT - CBR1000RR 2017- 116/16/43
10017652

The item is in stock and will be delivered in 2-5 working days. Note: Stocks are updated online every hour on working days from 7 a.m. to 8 p.m., so there is a good chance that the products are available if they appear online.

Available

€329.95 1
REGINA HPE - CHAIN KIT - CRF1000 AF.15- 124/16/42
10017653

The item is in stock and will be delivered in 2-5 working days. Note: Stocks are updated online every hour on working days from 7 a.m. to 8 p.m., so there is a good chance that the products are available if they appear online.

Available

€345.95 1
REGINA HPE - CHAIN KIT - DIAVEL 1200 11- 118/15/43
10017645

The item is in stock and will be delivered in 2-5 working days. Note: Stocks are updated online every hour on working days from 7 a.m. to 8 p.m., so there is a good chance that the products are available if they appear online.

Available

€419.95 1
REGINA HPE - CHAIN KIT - DIAVEL 1260 19- 112/15/43
10017647

The item is in stock and will be delivered in 2-5 working days. Note: Stocks are updated online every hour on working days from 7 a.m. to 8 p.m., so there is a good chance that the products are available if they appear online.

Available

€399.95 1
REGINA HPE - CHAIN KIT - DL1000V-S 02-06 112/17/41
10017676

The product will be ordered from the manufacturer for you. Depending on availability, longer delivery times are also possible. We'll let you know if that's the case. You can of course cancel your delivery at any time free of charge.

Available in 7-21 days

€319.95 1
REGINA HPE - CHAIN KIT - DL1000V-STR.14-116/17/41
10017675

The item is in stock and will be delivered in 2-5 working days. Note: Stocks are updated online every hour on working days from 7 a.m. to 8 p.m., so there is a good chance that the products are available if they appear online.

Available

€329.95 1
REGINA HPE - CHAIN KIT - DL650 V-STR.07-118/15/47
10017674

The item is in stock and will be delivered in 2-5 working days. Note: Stocks are updated online every hour on working days from 7 a.m. to 8 p.m., so there is a good chance that the products are available if they appear online.

Available

€335.95 1
REGINA HPE - CHAIN KIT - DORSODURO 1200 108/16/40
10017627

The item is in stock and will be delivered in 2-5 working days. Note: Stocks are updated online every hour on working days from 7 a.m. to 8 p.m., so there is a good chance that the products are available if they appear online.

Available

€319.95 1
REGINA HPE - CHAIN KIT - F 700 GS 13- 116/17/42
10017692

The product will be ordered from the manufacturer for you. Depending on availability, longer delivery times are also possible. We'll let you know if that's the case. You can of course cancel your delivery at any time free of charge.

Available in 7-21 days

€339.95 1
REGINA HPE - CHAIN KIT - F 800 GS 09-18 116/16/42
10017626

The item is in stock and will be delivered in 2-5 working days. Note: Stocks are updated online every hour on working days from 7 a.m. to 8 p.m., so there is a good chance that the products are available if they appear online.

Available

€343.95 1
REGINA HPE - CHAIN KIT - F750GS 2018- 122/17/44
10017687

The product will be ordered from the manufacturer for you. Depending on availability, longer delivery times are also possible. We'll let you know if that's the case. You can of course cancel your delivery at any time free of charge.

Available in 7-21 days

€360.95 1
REGINA HPE - CHAIN KIT - F800R 2009-19 120/20/47
10017625

The item is in stock and will be delivered in 2-5 working days. Note: Stocks are updated online every hour on working days from 7 a.m. to 8 p.m., so there is a good chance that the products are available if they appear online.

Available

€359.95 1
REGINA HPE - CHAIN KIT - FZ8/S FAZER 10- 120/16/46
10017619

The product will be ordered from the manufacturer for you. Depending on availability, longer delivery times are also possible. We'll let you know if that's the case. You can of course cancel your delivery at any time free of charge.

Available in 7-21 days

€339.95 1
REGINA HPE - CHAIN KIT - GSF/GSX 650 07- 118/15/48
10017697

The product will be ordered from the manufacturer for you. Depending on availability, longer delivery times are also possible. We'll let you know if that's the case. You can of course cancel your delivery at any time free of charge.

Available in 7-21 days

€329.95 1
REGINA HPE - CHAIN KIT - GSR 600 BJ.06- 114/16/48
10017698

The product will be ordered from the manufacturer for you. Depending on availability, longer delivery times are also possible. We'll let you know if that's the case. You can of course cancel your delivery at any time free of charge.

Available in 7-21 days

€327.95 1
REGINA HPE - CHAIN KIT - GSR 750 BJ.11- 112/17/42
10017699

The product will be ordered from the manufacturer for you. Depending on availability, longer delivery times are also possible. We'll let you know if that's the case. You can of course cancel your delivery at any time free of charge.

Available in 7-21 days

€319.95 1
REGINA HPE - CHAIN KIT - GSX-R1000 2017- 120/17/45
10017677

The item is in stock and will be delivered in 2-5 working days. Note: Stocks are updated online every hour on working days from 7 a.m. to 8 p.m., so there is a good chance that the products are available if they appear online.

Available

€346.95 1
REGINA HPE - CHAIN KIT - GSX-S1000 2015- 116/17/44
10017678

The item is in stock and will be delivered in 2-5 working days. Note: Stocks are updated online every hour on working days from 7 a.m. to 8 p.m., so there is a good chance that the products are available if they appear online.

Available

€324.95 1
REGINA HPE - CHAIN KIT - INTERCEPTOR 100/15/38
10017689

The item is in stock and will be delivered in 2-5 working days. Note: Stocks are updated online every hour on working days from 7 a.m. to 8 p.m., so there is a good chance that the products are available if they appear online.

Available

€286.95 1
REGINA HPE - CHAIN KIT - KLV 1000 2005- 112/17/41
10017656

The product will be ordered from the manufacturer for you. Depending on availability, longer delivery times are also possible. We'll let you know if that's the case. You can of course cancel your delivery at any time free of charge.

Available in 7-21 days

€319.95 1
REGINA HPE - CHAIN KIT - MONSTER 1100/S 104/15/39
10017641

The item is in stock and will be delivered in 2-5 working days. Note: Stocks are updated online every hour on working days from 7 a.m. to 8 p.m., so there is a good chance that the products are available if they appear online.

Available

€389.95 1
REGINA HPE - CHAIN KIT - MONSTER 1200 16-108/15/41
10017646

The item is in stock and will be delivered in 2-5 working days. Note: Stocks are updated online every hour on working days from 7 a.m. to 8 p.m., so there is a good chance that the products are available if they appear online.

Available

€389.95 1
REGINA HPE - CHAIN KIT - MT-10 2016 - 114/16/43
10017683

The item is in stock and will be delivered in 2-5 working days. Note: Stocks are updated online every hour on working days from 7 a.m. to 8 p.m., so there is a good chance that the products are available if they appear online.

Available

€324.95 1
REGINA HPE - CHAIN KIT - MULTISTRADA 17- 114/15/43
10017637

The item is in stock and will be delivered in 2-5 working days. Note: Stocks are updated online every hour on working days from 7 a.m. to 8 p.m., so there is a good chance that the products are available if they appear online.

Available

€343.95 1
REGINA HPE - CHAIN KIT - NINJA H2 18- 122/18/44
10017691

The item is in stock and will be delivered in 2-5 working days. Note: Stocks are updated online every hour on working days from 7 a.m. to 8 p.m., so there is a good chance that the products are available if they appear online.

Available

€329.95 1
REGINA HPE - CHAIN KIT - PANIGALE 1199R 106/15/41
10017643

The product will be ordered from the manufacturer for you. Depending on availability, longer delivery times are also possible. We'll let you know if that's the case. You can of course cancel your delivery at any time free of charge.

Available in 7-21 days

€384.95 1
REGINA HPE - CHAIN KIT - PANIGALE 1199S 106/15/39
10017644

The product will be ordered from the manufacturer for you. Depending on availability, longer delivery times are also possible. We'll let you know if that's the case. You can of course cancel your delivery at any time free of charge.

Available in 7-21 days

€384.95 1
REGINA HPE - CHAIN KIT - PANIGALE V4 18- 114/16/41
10017642

The item is in stock and will be delivered in 2-5 working days. Note: Stocks are updated online every hour on working days from 7 a.m. to 8 p.m., so there is a good chance that the products are available if they appear online.

Available

€409.95 1
REGINA HPE - CHAIN KIT - RC8 2008- 108/17/37
10017665

The product will be ordered from the manufacturer for you. Depending on availability, longer delivery times are also possible. We'll let you know if that's the case. You can of course cancel your delivery at any time free of charge.

Available in 7-21 days

€317.95 1
REGINA HPE - CHAIN KIT - RSV 4 2009- 108/16/40
10017633

The item is in stock and will be delivered in 2-5 working days. Note: Stocks are updated online every hour on working days from 7 a.m. to 8 p.m., so there is a good chance that the products are available if they appear online.

Available

€315.95 1
REGINA HPE - CHAIN KIT - RSV MILE R 04- 106/16/40
10017632

The item is in stock and will be delivered in 2-5 working days. Note: Stocks are updated online every hour on working days from 7 a.m. to 8 p.m., so there is a good chance that the products are available if they appear online.

Available

€299.95 1
REGINA HPE - CHAIN KIT - RSV1000R, SP. 108/17/42
10017631

The product will be ordered from the manufacturer for you. Depending on availability, longer delivery times are also possible. We'll let you know if that's the case. You can of course cancel your delivery at any time free of charge.

Available in 7-21 days

€317.95 1
REGINA HPE - CHAIN KIT - RSV4/FACT. 21- 108/16/41
10017589

The product will be ordered from the manufacturer for you. Depending on availability, longer delivery times are also possible. We'll let you know if that's the case. You can of course cancel your delivery at any time free of charge.

Available in 7-21 days

€314.95 1
REGINA HPE - CHAIN KIT - S 1000 R 21- 120/17/45
10017591

The product will be ordered from the manufacturer for you. Depending on availability, longer delivery times are also possible. We'll let you know if that's the case. You can of course cancel your delivery at any time free of charge.

Available in 7-21 days

€359.95 1
REGINA HPE - CHAIN KIT - S1000R 2014-16 120/14/45
10017624

The item is in stock and will be delivered in 2-5 working days. Note: Stocks are updated online every hour on working days from 7 a.m. to 8 p.m., so there is a good chance that the products are available if they appear online.

Available

€372.95 1
REGINA HPE - CHAIN KIT - S1000RR 2009-14 118/17/44
10017623

The item is in stock and will be delivered in 2-5 working days. Note: Stocks are updated online every hour on working days from 7 a.m. to 8 p.m., so there is a good chance that the products are available if they appear online.

Available

€369.95 1
REGINA HPE - CHAIN KIT - S1000RR 2015-18 120/17/44
10017622

The item is in stock and will be delivered in 2-5 working days. Note: Stocks are updated online every hour on working days from 7 a.m. to 8 p.m., so there is a good chance that the products are available if they appear online.

Available

€369.95 1
REGINA HPE - CHAIN KIT - S1000RR 2019- 118/17/45
10017621

The item is in stock and will be delivered in 2-5 working days. Note: Stocks are updated online every hour on working days from 7 a.m. to 8 p.m., so there is a good chance that the products are available if they appear online.

Available

€369.95 1
REGINA HPE - CHAIN KIT - S1000XR 2016- 128/17/45
10017620

The item is in stock and will be delivered in 2-5 working days. Note: Stocks are updated online every hour on working days from 7 a.m. to 8 p.m., so there is a good chance that the products are available if they appear online.

Available

€389.95 1
REGINA HPE - CHAIN KIT - SCRAMBLER 1100 104/15/39
10017640

The item is in stock and will be delivered in 2-5 working days. Note: Stocks are updated online every hour on working days from 7 a.m. to 8 p.m., so there is a good chance that the products are available if they appear online.

Available

€295.95 1
REGINA HPE - CHAIN KIT - SCRAMBLER 1200 110/16/44
10017681

The item is in stock and will be delivered in 2-5 working days. Note: Stocks are updated online every hour on working days from 7 a.m. to 8 p.m., so there is a good chance that the products are available if they appear online.

Available

€319.95 1
REGINA HPE - CHAIN KIT - SL1000 FALCO 106/16/41
10017630

The item is in stock and will be delivered in 2-5 working days. Note: Stocks are updated online every hour on working days from 7 a.m. to 8 p.m., so there is a good chance that the products are available if they appear online.

Available

€302.95 1
REGINA HPE - CHAIN KIT - SPEED TWIN 900 102/16/42
10017690

The product will be ordered from the manufacturer for you. Depending on availability, longer delivery times are also possible. We'll let you know if that's the case. You can of course cancel your delivery at any time free of charge.

Available in 7-21 days

€299.95 1
REGINA HPE - CHAIN KIT - STREET TR. 21- 118/16/46
10017593

The product will be ordered from the manufacturer for you. Depending on availability, longer delivery times are also possible. We'll let you know if that's the case. You can of course cancel your delivery at any time free of charge.

Available in 7-21 days

€333.95 1
REGINA HPE - CHAIN KIT - SUPERD.990/R 110/17/38
10017669

The product will be ordered from the manufacturer for you. Depending on availability, longer delivery times are also possible. We'll let you know if that's the case. You can of course cancel your delivery at any time free of charge.

Available in 7-21 days

€322.95 1
REGINA HPE - CHAIN KIT - SUPERD.990/R 08-118/16/38
10017670

The product will be ordered from the manufacturer for you. Depending on availability, longer delivery times are also possible. We'll let you know if that's the case. You can of course cancel your delivery at any time free of charge.

Available in 7-21 days

€341.95 1
REGINA HPE - CHAIN KIT - SV 650 N 99-07 110/15/45
10017695

The product will be ordered from the manufacturer for you. Depending on availability, longer delivery times are also possible. We'll let you know if that's the case. You can of course cancel your delivery at any time free of charge.

Available in 7-21 days

€310.95 1
REGINA HPE - CHAIN KIT - SV 650 S 99-07 108/15/44
10017696

The product will be ordered from the manufacturer for you. Depending on availability, longer delivery times are also possible. We'll let you know if that's the case. You can of course cancel your delivery at any time free of charge.

Available in 7-21 days

€310.95 1
REGINA HPE - CHAIN KIT - TARCER 900/GT 118/16/45
10017618

The product will be ordered from the manufacturer for you. Depending on availability, longer delivery times are also possible. We'll let you know if that's the case. You can of course cancel your delivery at any time free of charge.

Available in 7-21 days

€319.95 1
REGINA HPE - CHAIN KIT - THRUXTON 1200 100/16/42
10017682

The item is in stock and will be delivered in 2-5 working days. Note: Stocks are updated online every hour on working days from 7 a.m. to 8 p.m., so there is a good chance that the products are available if they appear online.

Available

€295.95 1
REGINA HPE - CHAIN KIT - TIGER 800 11-16 122/16/50
10017679

The item is in stock and will be delivered in 2-5 working days. Note: Stocks are updated online every hour on working days from 7 a.m. to 8 p.m., so there is a good chance that the products are available if they appear online.

Available

€339.95 1
REGINA HPE - CHAIN KIT - TIGER 800XC 13-124/16/50
10017680

The item is in stock and will be delivered in 2-5 working days. Note: Stocks are updated online every hour on working days from 7 a.m. to 8 p.m., so there is a good chance that the products are available if they appear online.

Available

€344.95 1
REGINA HPE - CHAIN KIT - TRACER 7/GT 21- 116/16/45
10017594

The product will be ordered from the manufacturer for you. Depending on availability, longer delivery times are also possible. We'll let you know if that's the case. You can of course cancel your delivery at any time free of charge.

Available in 7-21 days

€329.95 1
REGINA HPE - CHAIN KIT - TRACER 700 21- 116/16/45
10017614

The product will be ordered from the manufacturer for you. Depending on availability, longer delivery times are also possible. We'll let you know if that's the case. You can of course cancel your delivery at any time free of charge.

Available in 7-21 days

€324.95 1
REGINA HPE - CHAIN KIT - TRACER 700/GT 114/16/45
10017617

The product will be ordered from the manufacturer for you. Depending on availability, longer delivery times are also possible. We'll let you know if that's the case. You can of course cancel your delivery at any time free of charge.

Available in 7-21 days

€324.95 1
REGINA HPE - CHAIN KIT - TUONO V4 1100 104/16/42
10017629

The item is in stock and will be delivered in 2-5 working days. Note: Stocks are updated online every hour on working days from 7 a.m. to 8 p.m., so there is a good chance that the products are available if they appear online.

Available

€308.95 1
REGINA HPE - CHAIN KIT - VERSYS 1000 12- 116/15/43
10017657

The item is in stock and will be delivered in 2-5 working days. Note: Stocks are updated online every hour on working days from 7 a.m. to 8 p.m., so there is a good chance that the products are available if they appear online.

Available

€328.95 1
REGINA HPE - CHAIN KIT - XL 1000 VARA. 112/16/47
10017654

The item is in stock and will be delivered in 2-5 working days. Note: Stocks are updated online every hour on working days from 7 a.m. to 8 p.m., so there is a good chance that the products are available if they appear online.

Available

€322.95 1
REGINA HPE - CHAIN KIT - XL600/XL700 89- 118/15/47
10017649

The item is in stock and will be delivered in 2-5 working days. Note: Stocks are updated online every hour on working days from 7 a.m. to 8 p.m., so there is a good chance that the products are available if they appear online.

Available

€337.95 1
REGINA HPE - CHAIN KIT - XL650TRANS.99- 118/15/48
10017650

The item is in stock and will be delivered in 2-5 working days. Note: Stocks are updated online every hour on working days from 7 a.m. to 8 p.m., so there is a good chance that the products are available if they appear online.

Available

€337.95 1
REGINA HPE - CHAIN KIT - YZF-R1 2015- 114/16/41
10017684

The product will be ordered from the manufacturer for you. Depending on availability, longer delivery times are also possible. We'll let you know if that's the case. You can of course cancel your delivery at any time free of charge.

Available in 7-21 days

€326.95 1
REGINA HPE - CHAIN KIT - YZF-R6 BJ.06- 114/16/45
10017616

The product will be ordered from the manufacturer for you. Depending on availability, longer delivery times are also possible. We'll let you know if that's the case. You can of course cancel your delivery at any time free of charge.

Available in 7-21 days

€324.95 1
REGINA HPE - CHAIN KIT - Z1000 2003-06 112/16/42
10017659

The product will be ordered from the manufacturer for you. Depending on availability, longer delivery times are also possible. We'll let you know if that's the case. You can of course cancel your delivery at any time free of charge.

Available in 7-21 days

€323.95 1
REGINA HPE - CHAIN KIT - Z1000 2007-09 110/15/40
10017660

The item is in stock and will be delivered in 2-5 working days. Note: Stocks are updated online every hour on working days from 7 a.m. to 8 p.m., so there is a good chance that the products are available if they appear online.

Available

€313.95 1
REGINA HPE - CHAIN KIT - Z1000/ABS 2010- 112/15/42
10017658

The item is in stock and will be delivered in 2-5 working days. Note: Stocks are updated online every hour on working days from 7 a.m. to 8 p.m., so there is a good chance that the products are available if they appear online.

Available

€318.95 1
REGINA HPE - CHAIN KIT - Z1000SX 2011- 112/15/41
10017662

The item is in stock and will be delivered in 2-5 working days. Note: Stocks are updated online every hour on working days from 7 a.m. to 8 p.m., so there is a good chance that the products are available if they appear online.

Available

€318.95 1
REGINA HPE - CHAIN KIT - Z900 2016 - 114/15/44
10017655

The item is in stock and will be delivered in 2-5 working days. Note: Stocks are updated online every hour on working days from 7 a.m. to 8 p.m., so there is a good chance that the products are available if they appear online.

Available

€323.95 1
REGINA HPE - CHAIN KIT - ZX-10R 2011-18 112/17/39
10017663

The item is in stock and will be delivered in 2-5 working days. Note: Stocks are updated online every hour on working days from 7 a.m. to 8 p.m., so there is a good chance that the products are available if they appear online.

Available

€322.95 1
REGINA HPE - CHAIN KIT - ZX-10R 2019- 114/17/39
10017664

The product will be ordered from the manufacturer for you. Depending on availability, longer delivery times are also possible. We'll let you know if that's the case. You can of course cancel your delivery at any time free of charge.

Available in 7-21 days

€326.95 1