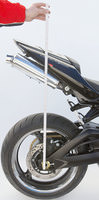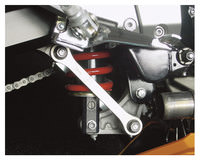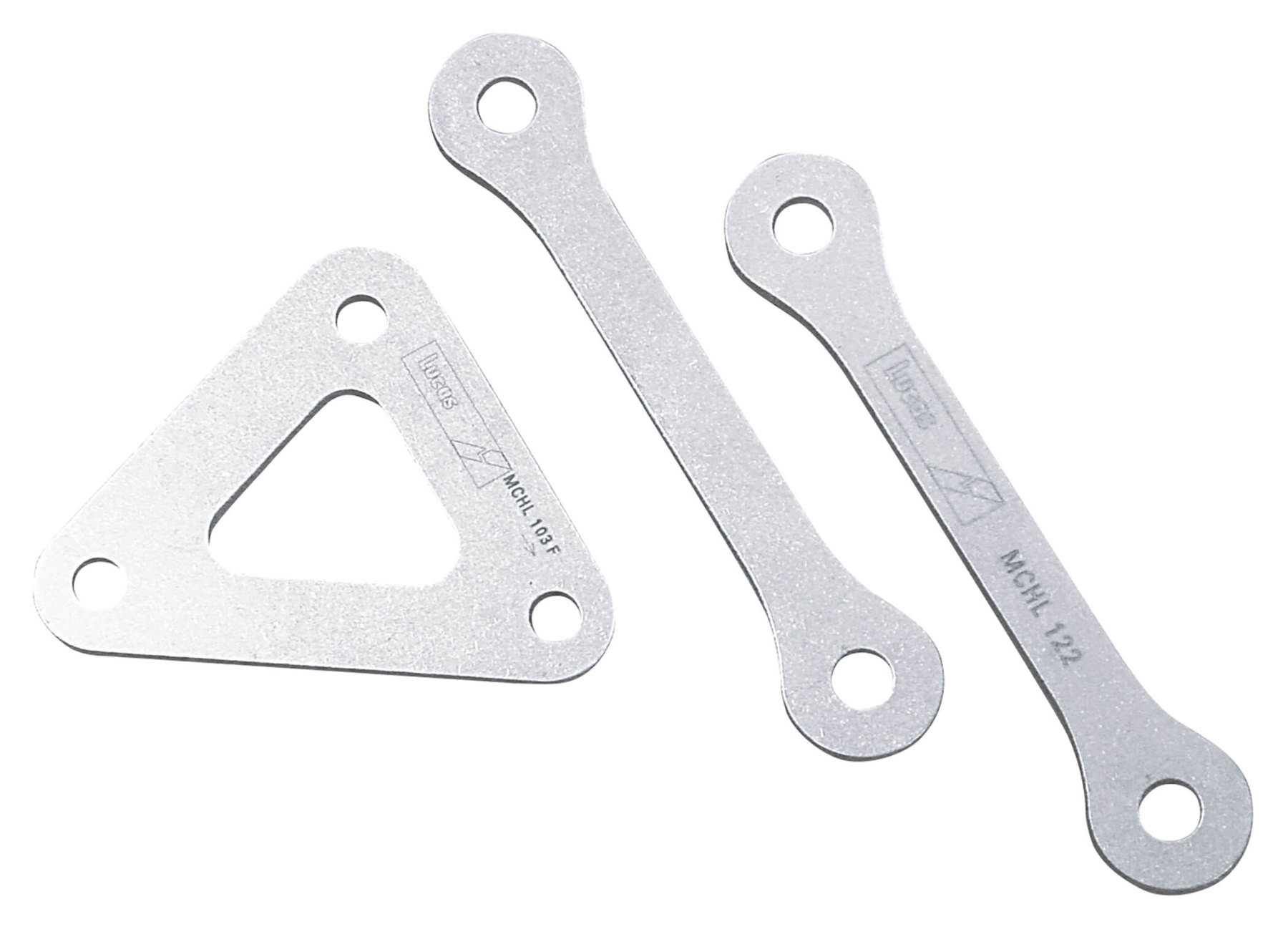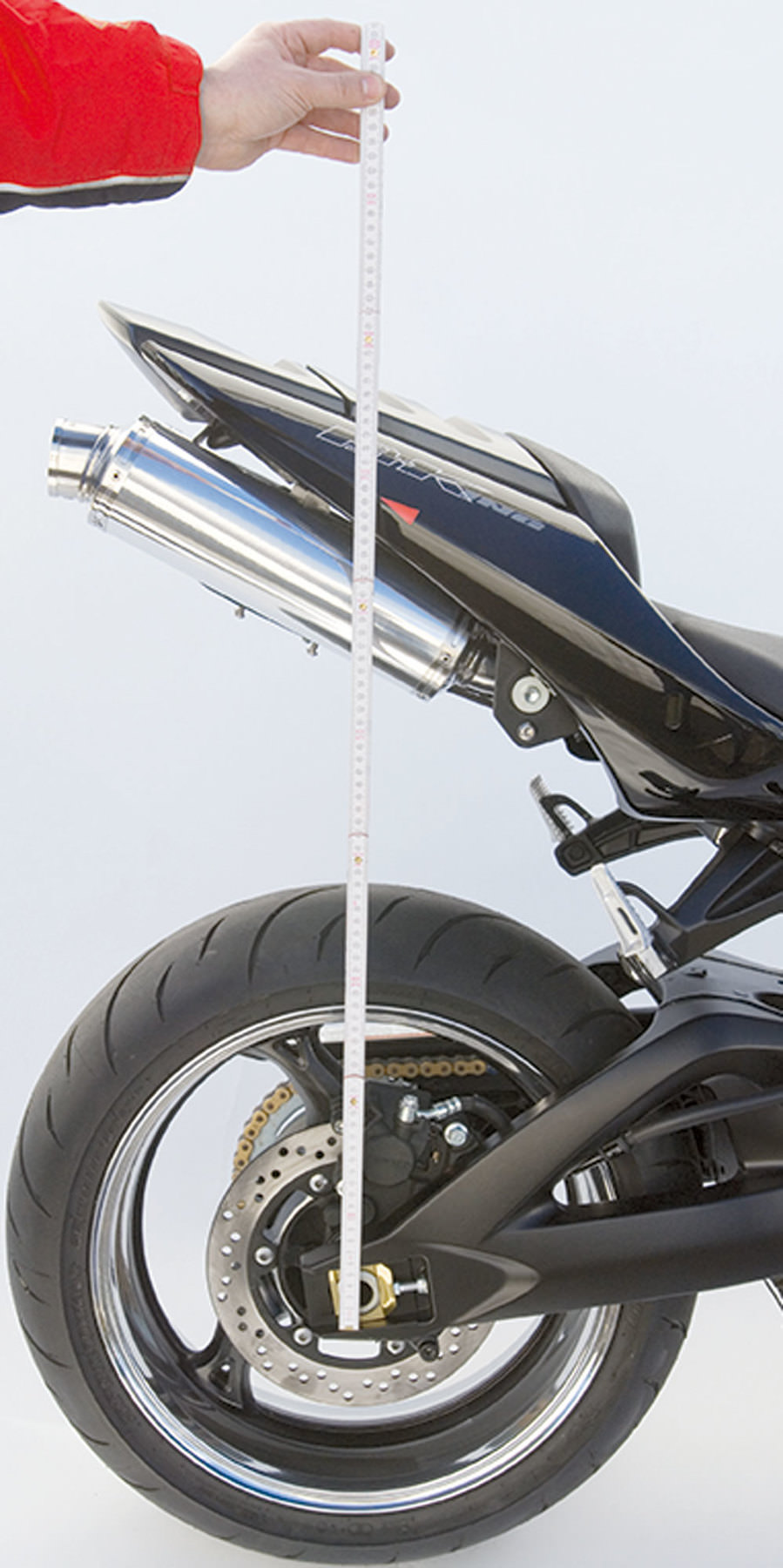 TRW JACK-UP KITS
VFR 800/ABS MCHL113
Important notes
The item is in stock and will be delivered in 2-5 working days. Note: Stocks are updated online every hour on working days from 7 a.m. to 8 p.m., so there is a good chance that the products are available if they appear online.
Available
Free delivery on orders over €199.00
2 year return policy
Fast delivery
TRW Lucas Jack-Up Kits
Type-approved for Germany
TRW rear jack-up kits:
Shorter levers for the linkage of the central suspension strut steepen the angle of the swing arm slightly and raise the rear. Not only does this look fantastic and give you greater cornering and ground clearance, it also optimises power transmission to the rear wheel thanks to the better leverage.
The rear dips less when accelerating and the chassis feels more responsive altogether. The Rear Jack-up Kits are made of pure stainless steel or CNC-milled aluminium, depending on the particular model.
Includes installation instructions and type approval for Germany.
Made in Germany.
Important:

To see the rear jack-up kits for your model in millimeters have a look at the button "Important notes".
These rear jack-up kits have been tested only for original shock absorbers.
Manufacturer details: TRW

Every second counts when you brake!

TRW Lucas has been manufacturing premium-quality motorbike spare parts since 1976 (ISO 9001, ISO/TS 16949) and is the German market leader for brake discs, brake pads and steel-braided lines. Every time that product tests have been carried out by trade publications over the past 30 years, they have confirmed the excellent quality of these products. They have won test after test. Every second counts when you brake! Don't settle for anything less than quality products from the market leader.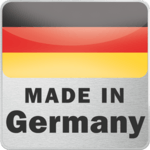 QUALITY MADE IN GERMANY!

By purchasing this item you have chosen a premium-quality product with superior German workmanship. This internationally acknowledged mark of quality means that this product is the result of efficiently coordinated development and production processes, technological expertise, continuous quality controls.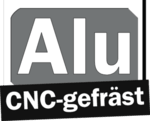 This product is made of high-quality CNC-machined aluminium and will look great on your motorbike.

To ensure that it gives you many years of service, please observe the following care instructions:

1. After installing the product, and each time you wash your motorbike, apply a wax-based care product, e.g. Procycle Polishing Wax, Order no. 10004923 for protection against wind and weather. You may need to repeat the application after an outing in winter weather, rain or salty air (near the coast).

2. Remove any corrosion as soon as possible using a standard aluminium polish (e.g. Autosol Aluminium Polish, Order no. 10004421).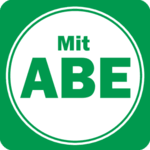 German type approval ("ABE)" allows the relevant accessory to be used on the vehicle models listed in the test report. Here it is the type abbreviation and not the maker's designation that is important for identifying the vehicle. The test report must be carried when riding in case it needs to be presented at a road-side check or vehicle safety inspection.
Accessories with type approval do not have to be registered in the vehicle documents! Those who do not want to carry the test report with them all the time can (for example) arrange to have the product registered by the Technical Inspection Association (subject to a charge).
If the accessory is to be used on a vehicle that is not listed in the type approval, an individual component approval is required. Although ABE type approval confirms the proper installation and safety of the product, it is the inspector who has to decide according to his technical expertise whether it is suitable for use on the vehicle.

An electric scooter with "ABE" approval has a type approval for Germany stating that the relevant vehicle satisfies all the relevant requirements of the eKFV (Small Electric Vehicle Ordinance in Germany) for the approval. In addition, insurance of the electric scooter is compulsory and use on pavements is forbidden. It can only be ridden on cycle paths and on the road (if a cycle path is not available). The minimum age for riding an electric scooter is 14 years. Although a driving license and helmet are not mandatory, they are highly recommended. An electric scooter must always be ridden solo.

Professional technical expertise is essential to fit this article. We therefore urge you to have it installed by a motorcycle workshop!
Test certificates (TÜV, ABE, material)
Instructions/Guides
Product
Art. No.
Availability
Price
Actions
TRW JACK-UP KITS - BMW MCHL167

Important notes

10026384

The item is in stock and will be delivered in 2-5 working days. Note: Stocks are updated online every hour on working days from 7 a.m. to 8 p.m., so there is a good chance that the products are available if they appear online.

Available

€99.95 1
TRW JACK-UP KITS - CB600 HOR.,98-06 MCHL111*

Important notes

10026361

The item is in stock and will be delivered in 2-5 working days. Note: Stocks are updated online every hour on working days from 7 a.m. to 8 p.m., so there is a good chance that the products are available if they appear online.

Available

€141.95 1
TRW JACK-UP KITS - CBR 600 BJ. 99- MCHL117

Important notes

10026307

The item is in stock and will be delivered in 2-5 working days. Note: Stocks are updated online every hour on working days from 7 a.m. to 8 p.m., so there is a good chance that the products are available if they appear online.

Available

€99.95 1
TRW JACK-UP KITS - CBR1000 RR SC59 MCHL 162

Important notes

10026399

The item is in stock and will be delivered in 2-5 working days. Note: Stocks are updated online every hour on working days from 7 a.m. to 8 p.m., so there is a good chance that the products are available if they appear online.

Available

€99.95 1
TRW JACK-UP KITS - CBR600 RR,BJ.07- MCHL161

Important notes

10026398

The item is in stock and will be delivered in 2-5 working days. Note: Stocks are updated online every hour on working days from 7 a.m. to 8 p.m., so there is a good chance that the products are available if they appear online.

Available

€99.95 1
TRW JACK-UP KITS - CBR900 RR (00-01) MCHL102

Important notes

10026302

The item is in stock and will be delivered in 2-5 working days. Note: Stocks are updated online every hour on working days from 7 a.m. to 8 p.m., so there is a good chance that the products are available if they appear online.

Available

€99.95 1
TRW JACK-UP KITS - CBR900RR (92-95) MCHL100

Important notes

10026300

The item is in stock and will be delivered in 2-5 working days. Note: Stocks are updated online every hour on working days from 7 a.m. to 8 p.m., so there is a good chance that the products are available if they appear online.

Available

€99.95 1
TRW JACK-UP KITS - CBR900RR (96-99)MCHL101

Important notes

10026301

The item is in stock and will be delivered in 2-5 working days. Note: Stocks are updated online every hour on working days from 7 a.m. to 8 p.m., so there is a good chance that the products are available if they appear online.

Available

€99.95 1
TRW JACK-UP KITS - CROSSRUNNER 800 MCHL 185

Important notes

10020208

The item is in stock and will be delivered in 2-5 working days. Note: Stocks are updated online every hour on working days from 7 a.m. to 8 p.m., so there is a good chance that the products are available if they appear online.

Available

€99.95 1
TRW JACK-UP KITS - CROSSTOURER 1200 MCHL 171

Important notes

10026357

The product will be ordered from the manufacturer for you. Depending on availability, longer delivery times are also possible. We'll let you know if that's the case. You can of course cancel your delivery at any time free of charge.

Available in 7-21 days

€99.95 1
TRW JACK-UP KITS - DL1000 V-STROM 14-MCHL173

Important notes

10026849

The product will be ordered from the manufacturer for you. Depending on availability, longer delivery times are also possible. We'll let you know if that's the case. You can of course cancel your delivery at any time free of charge.

Available in 7-21 days

€99.95 1
TRW JACK-UP KITS - DUKE 125/200/390 MCHL 172

Important notes

jack-up: 30 mm

Shock absorber must be pressed off, only mountable with OEM standard shock absorber

10026358

The item is in stock and will be delivered in 2-5 working days. Note: Stocks are updated online every hour on working days from 7 a.m. to 8 p.m., so there is a good chance that the products are available if they appear online.

Available

€139.95

1 €89.99 1
TRW JACK-UP KITS - GSX-R 1000 09- MCHL 107

Important notes

10026359

The product will be ordered from the manufacturer for you. Depending on availability, longer delivery times are also possible. We'll let you know if that's the case. You can of course cancel your delivery at any time free of charge.

Available in 7-21 days

€99.95 1
TRW JACK-UP KITS - GSX-R1000/R 17- MCHL 182

Important notes

10020244

The item is in stock and will be delivered in 2-5 working days. Note: Stocks are updated online every hour on working days from 7 a.m. to 8 p.m., so there is a good chance that the products are available if they appear online.

Available

€99.95 1
TRW JACK-UP KITS - GSX-R1300/BT 1100 MCHL131

Important notes

10026327

The item is in stock and will be delivered in 2-5 working days. Note: Stocks are updated online every hour on working days from 7 a.m. to 8 p.m., so there is a good chance that the products are available if they appear online.

Available

€99.95 1
TRW JACK-UP KITS - GSX-R750/1100 MCHL125

Important notes

10026324

The item is in stock and will be delivered in 2-5 working days. Note: Stocks are updated online every hour on working days from 7 a.m. to 8 p.m., so there is a good chance that the products are available if they appear online.

Available

€99.95

1 €49.99 1
TRW JACK-UP KITS - GSX-S1000 15- MCHL 178

Important notes

10020246

The item is in stock and will be delivered in 2-5 working days. Note: Stocks are updated online every hour on working days from 7 a.m. to 8 p.m., so there is a good chance that the products are available if they appear online.

Available

€99.95 1
TRW JACK-UP KITS - GSXR600/750/1000 MCHL 137

Important notes

jack up: 25 mm

Shock absorber must be pressed off, only mountable with OEM standard shock absorber

10026331

The item is in stock and will be delivered in 2-5 working days. Note: Stocks are updated online every hour on working days from 7 a.m. to 8 p.m., so there is a good chance that the products are available if they appear online.

Available

€139.95 1
TRW JACK-UP KITS - KAWA/SUZ./YAM. MCHL110

Important notes

jack-up kit: Suzuki WVBK + BK + Kawasaki ZRT00A: 25 mm; Suzuki GM51A/B + GU75C/WVA9 + WVCB + WVCH: 35 mm.

jack-up kit: 30mm = ZX600G/H/J + ZX600K/N/P + ZX636A/B/C + ZR750J + ZX750N/P + ZX900D/H + ZRT00A + ZXT00C/D/E + ZXT20A

10026310

The item is in stock and will be delivered in 2-5 working days. Note: Stocks are updated online every hour on working days from 7 a.m. to 8 p.m., so there is a good chance that the products are available if they appear online.

Available

€99.95 1
TRW JACK-UP KITS - KAWASAKI MCHL164

Important notes

10026312

The item is in stock and will be delivered in 2-5 working days. Note: Stocks are updated online every hour on working days from 7 a.m. to 8 p.m., so there is a good chance that the products are available if they appear online.

Available

€99.95 1
TRW JACK-UP KITS - KTM LC4 BJ. 98- MCHL154

Important notes

10026365

The item is in stock and will be delivered in 2-5 working days. Note: Stocks are updated online every hour on working days from 7 a.m. to 8 p.m., so there is a good chance that the products are available if they appear online.

Available

€99.95 1
TRW JACK-UP KITS - MT-09 BJ. 13- MCHL176

Important notes

10026853

The item is in stock and will be delivered in 2-5 working days. Note: Stocks are updated online every hour on working days from 7 a.m. to 8 p.m., so there is a good chance that the products are available if they appear online.

Available

€99.95 1
TRW JACK-UP KITS - MT125/YZF125 MCHL 175

Important notes

Elevation MT125: +25 mm. YZF125 R: +35 mm.

10020291

The item is in stock and will be delivered in 2-5 working days. Note: Stocks are updated online every hour on working days from 7 a.m. to 8 p.m., so there is a good chance that the products are available if they appear online.

Available

€99.95 1
TRW JACK-UP KITS - NC 700/750S/X,12-,MCHL168

Important notes

10026387

The item is in stock and will be delivered in 2-5 working days. Note: Stocks are updated online every hour on working days from 7 a.m. to 8 p.m., so there is a good chance that the products are available if they appear online.

Available

€99.95 1
TRW JACK-UP KITS - NINJA H2 18- MCHL 195

Important notes

10020217

The item is in stock and will be delivered in 2-5 working days. Note: Stocks are updated online every hour on working days from 7 a.m. to 8 p.m., so there is a good chance that the products are available if they appear online.

Available

€99.95 1
TRW JACK-UP KITS - SFV650 GLAD.30MM MCHL106

Important notes

10026318

The item is in stock and will be delivered in 2-5 working days. Note: Stocks are updated online every hour on working days from 7 a.m. to 8 p.m., so there is a good chance that the products are available if they appear online.

Available

€99.95 1
TRW JACK-UP KITS - STREET TRIP.765 MCHL 198

Important notes

10020247

The product will be ordered from the manufacturer for you. Depending on availability, longer delivery times are also possible. We'll let you know if that's the case. You can of course cancel your delivery at any time free of charge.

Available in 7-21 days

€99.95 1
TRW JACK-UP KITS - SUZ./YAM. 25MM MCHL 123

Important notes

10026322

The item is in stock and will be delivered in 2-5 working days. Note: Stocks are updated online every hour on working days from 7 a.m. to 8 p.m., so there is a good chance that the products are available if they appear online.

Available

€99.95 1
TRW JACK-UP KITS - SUZ.SV 650 (99-02)MCHL124

Important notes

10026323

The item is in stock and will be delivered in 2-5 working days. Note: Stocks are updated online every hour on working days from 7 a.m. to 8 p.m., so there is a good chance that the products are available if they appear online.

Available

€99.95 1
TRW JACK-UP KITS - SUZUKI MCHL127

Important notes

10026332

The item is in stock and will be delivered in 2-5 working days. Note: Stocks are updated online every hour on working days from 7 a.m. to 8 p.m., so there is a good chance that the products are available if they appear online.

Available

€99.95 1
TRW JACK-UP KITS - SUZUKI/KAWASAKI MCHL120

Important notes

10026320

The item is in stock and will be delivered in 2-5 working days. Note: Stocks are updated online every hour on working days from 7 a.m. to 8 p.m., so there is a good chance that the products are available if they appear online.

Available

€99.95 1
TRW JACK-UP KITS - SUZUKI/TRIUM/YAM. MCHL122

Important notes

10026321

The item is in stock and will be delivered in 2-5 working days. Note: Stocks are updated online every hour on working days from 7 a.m. to 8 p.m., so there is a good chance that the products are available if they appear online.

Available

€99.95 1
TRW JACK-UP KITS - TIGER 1200 MCTL 192

Important notes

10020289

The product will be ordered from the manufacturer for you. Depending on availability, longer delivery times are also possible. We'll let you know if that's the case. You can of course cancel your delivery at any time free of charge.

Available in 7-21 days

€99.95 1
TRW JACK-UP KITS - TIGER 800 15- MCHL 180

Important notes

10020287

The product will be ordered from the manufacturer for you. Depending on availability, longer delivery times are also possible. We'll let you know if that's the case. You can of course cancel your delivery at any time free of charge.

Available in 7-21 days

€99.95 1
TRW JACK-UP KITS - VAR. KA/SU/YA MCHL 105

Important notes

10026350

The item is in stock and will be delivered in 2-5 working days. Note: Stocks are updated online every hour on working days from 7 a.m. to 8 p.m., so there is a good chance that the products are available if they appear online.

Available

€99.95 1
TRW JACK-UP KITS - VAR. KA/YA MCHL 163

Important notes

10026313

The item is in stock and will be delivered in 2-5 working days. Note: Stocks are updated online every hour on working days from 7 a.m. to 8 p.m., so there is a good chance that the products are available if they appear online.

Available

€99.95 1
TRW JACK-UP KITS - VAR. KAWASAKI MCHL 188

Important notes

jack-up: 30 mm

Ninja 650: Mount the supplied bushes between the shock mount and TRW unit.

10020209

The item is in stock and will be delivered in 2-5 working days. Note: Stocks are updated online every hour on working days from 7 a.m. to 8 p.m., so there is a good chance that the products are available if they appear online.

Available

€99.95

1 €59.99 1
TRW JACK-UP KITS - VAR. KTM/HUSQV. MCHL 181

Important notes

Elevation: 20 mm

KTM models: Shock absorber must be pressed off, can only be mounted with OEM standard shock absorber.

10020242

The product will be ordered from the manufacturer for you. Depending on availability, longer delivery times are also possible. We'll let you know if that's the case. You can of course cancel your delivery at any time free of charge.

Available in 7-21 days

€144.95 1
TRW JACK-UP KITS - VAR. YAM./SUZUKI MCHL141

Important notes

10026341

The item is in stock and will be delivered in 2-5 working days. Note: Stocks are updated online every hour on working days from 7 a.m. to 8 p.m., so there is a good chance that the products are available if they appear online.

Available

€99.95 1
TRW JACK-UP KITS - VAR.BMW-MODELS MCHL158

Important notes

10026385

The product will be ordered from the manufacturer for you. Depending on availability, longer delivery times are also possible. We'll let you know if that's the case. You can of course cancel your delivery at any time free of charge.

Available in 7-21 days

€299.95 1
TRW JACK-UP KITS - VAR.HONDA-MOD. MCHL116 *

Important notes

Can only be installed by a professional workshop, as a special tool is required to compress the suspension (e.g. a coil spring compressor).

jack-up: 30 mm

10026308

The item is in stock and will be delivered in 2-5 working days. Note: Stocks are updated online every hour on working days from 7 a.m. to 8 p.m., so there is a good chance that the products are available if they appear online.

Available

€141.95 1
TRW JACK-UP KITS - VAR.KAWA/SUZ./YAM.MCHL144

Important notes

10026344

The item is in stock and will be delivered in 2-5 working days. Note: Stocks are updated online every hour on working days from 7 a.m. to 8 p.m., so there is a good chance that the products are available if they appear online.

Available

€99.95 1
TRW JACK-UP KITS - VAR.YAMAHA-MOD. MCHL143

Important notes

10026343

The item is in stock and will be delivered in 2-5 working days. Note: Stocks are updated online every hour on working days from 7 a.m. to 8 p.m., so there is a good chance that the products are available if they appear online.

Available

€99.95 1
TRW JACK-UP KITS - VARIOUS TRIUMPH MCHL139

Important notes

10026380

The product will be ordered from the manufacturer for you. Depending on availability, longer delivery times are also possible. We'll let you know if that's the case. You can of course cancel your delivery at any time free of charge.

Available in 7-21 days

€99.95 1
TRW JACK-UP KITS - VFR 800/ABS MCHL113

Important notes

10026305

The item is in stock and will be delivered in 2-5 working days. Note: Stocks are updated online every hour on working days from 7 a.m. to 8 p.m., so there is a good chance that the products are available if they appear online.

Available

€107.95 1
TRW JACK-UP KITS - VFR1200 F 10-16 MCHL 165

Important notes

jack-up: 30 mm

Main stand must be modified

10026389

The product will be ordered from the manufacturer for you. Depending on availability, longer delivery times are also possible. We'll let you know if that's the case. You can of course cancel your delivery at any time free of charge.

Available in 7-21 days

€99.95 1
TRW JACK-UP KITS - XJR 1300 98- MCHL 145

Important notes

jack-up: 30 mm

These rear jack-up kits does not fit when it is ex factory equipped with Öhlins shock absorber.

10026349

The item is in stock and will be delivered in 2-5 working days. Note: Stocks are updated online every hour on working days from 7 a.m. to 8 p.m., so there is a good chance that the products are available if they appear online.

Available

€159.95 1
TRW JACK-UP KITS - XL1000 V 99-13 MCHL 114

Important notes

10026306

The item is in stock and will be delivered in 2-5 working days. Note: Stocks are updated online every hour on working days from 7 a.m. to 8 p.m., so there is a good chance that the products are available if they appear online.

Available

€107.95 1
TRW JACK-UP KITS - XT 1200 ZE 14- MCHL179

Important notes

10015699

The item is in stock and will be delivered in 2-5 working days. Note: Stocks are updated online every hour on working days from 7 a.m. to 8 p.m., so there is a good chance that the products are available if they appear online.

Available

€99.95 1
TRW JACK-UP KITS - XT1200 S.TENERE14-MCHL170

Important notes

10026854

The item is in stock and will be delivered in 2-5 working days. Note: Stocks are updated online every hour on working days from 7 a.m. to 8 p.m., so there is a good chance that the products are available if they appear online.

Available

€99.95

1 €59.99 1
TRW JACK-UP KITS - YAM.FZ1/FAZER MCHL149

Important notes

10026351

The item is in stock and will be delivered in 2-5 working days. Note: Stocks are updated online every hour on working days from 7 a.m. to 8 p.m., so there is a good chance that the products are available if they appear online.

Available

€99.95 1
TRW JACK-UP KITS - YAM.FZ6/FAZER MCHL119 *

Important notes

Can only be installed by a professional workshop, as a special tool is required to compress the suspension (e.g. a coil spring compressor).

jack-up: 35 mm

10026352

The item is in stock and will be delivered in 2-5 working days. Note: Stocks are updated online every hour on working days from 7 a.m. to 8 p.m., so there is a good chance that the products are available if they appear online.

Available

€141.95 1
TRW JACK-UP KITS - YAM.YZF-R6 (99-02)MCHL142

Important notes

10026342

The product will be ordered from the manufacturer for you. Depending on availability, longer delivery times are also possible. We'll let you know if that's the case. You can of course cancel your delivery at any time free of charge.

Available in 7-21 days

€149.95 1
TRW JACK-UP KITS - YZF-R1 RN01/4/22 MCHL 146

Important notes

Elevation YZF-R1: RN01/RN04: + 25 mm. RN22: + 35 mm

10026345

The product will be ordered from the manufacturer for you. Depending on availability, longer delivery times are also possible. We'll let you know if that's the case. You can of course cancel your delivery at any time free of charge.

Available in 7-21 days

€159.95 1
TRW JACK-UP KITS - Z900/RS MCHL 183

Important notes

10020213

The item is in stock and will be delivered in 2-5 working days. Note: Stocks are updated online every hour on working days from 7 a.m. to 8 p.m., so there is a good chance that the products are available if they appear online.

Available

€99.95 1
TRW JACK-UP KITS - ZX-10R/RR 16- MCHL 187

Important notes

10020215

The product will be ordered from the manufacturer for you. Depending on availability, longer delivery times are also possible. We'll let you know if that's the case. You can of course cancel your delivery at any time free of charge.

Available in 7-21 days

€99.95 1
TRW REAR JACK-UP KIT - Z1000 2014- MCHL169

Important notes

10026848

The item is in stock and will be delivered in 2-5 working days. Note: Stocks are updated online every hour on working days from 7 a.m. to 8 p.m., so there is a good chance that the products are available if they appear online.

Available

€107.95 1