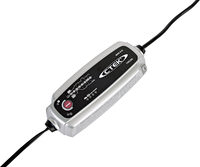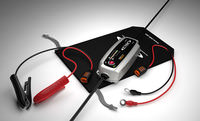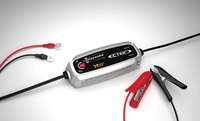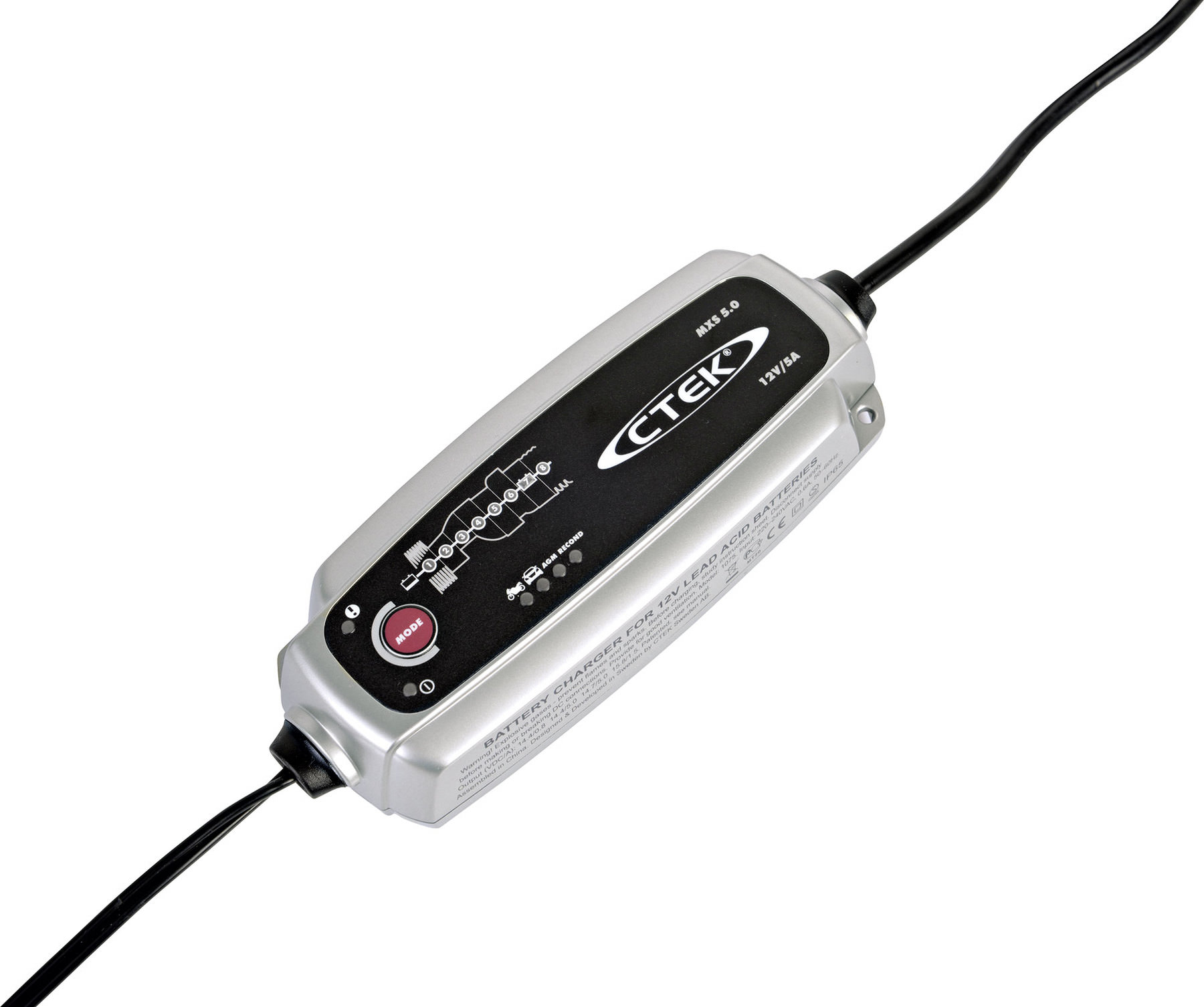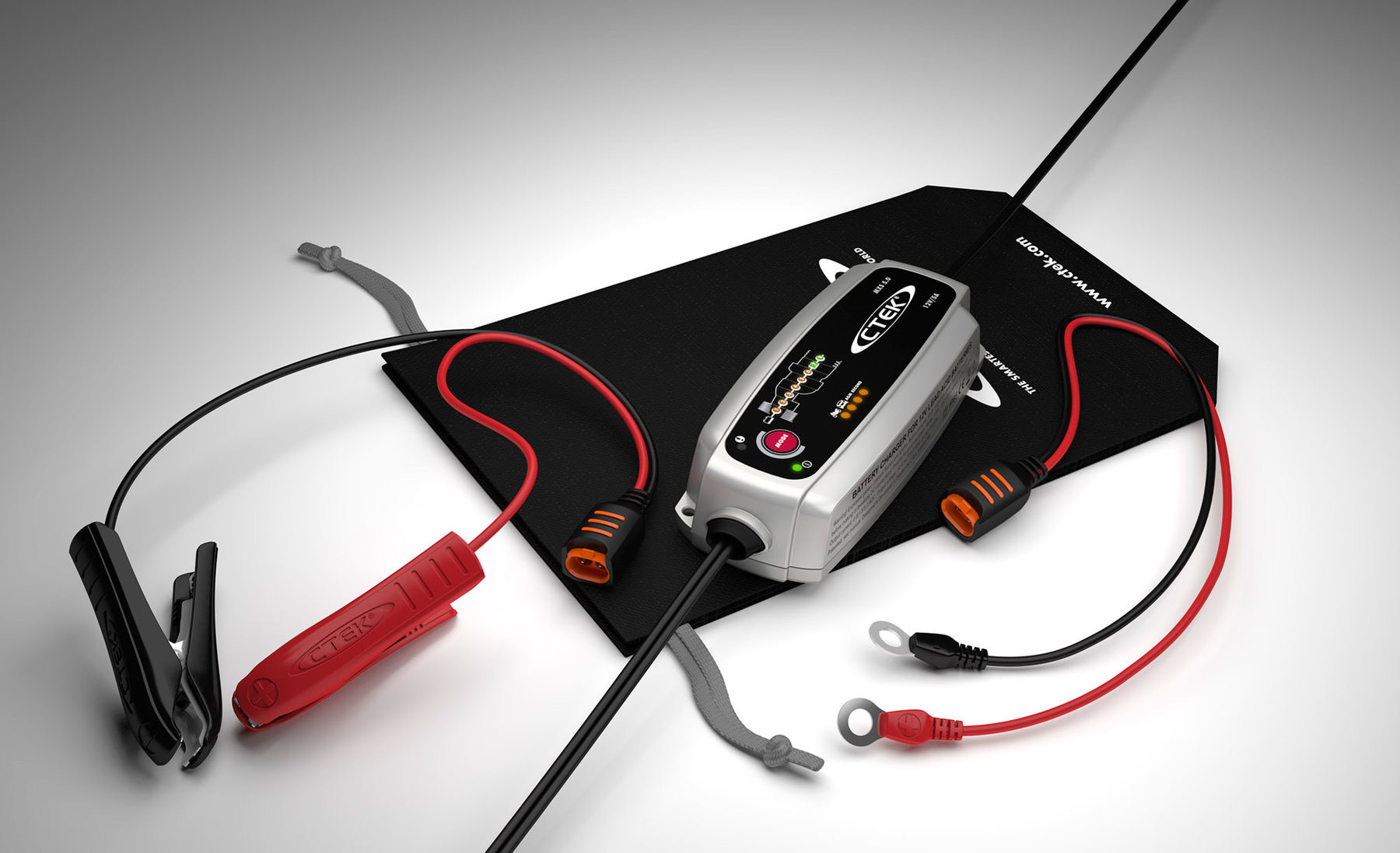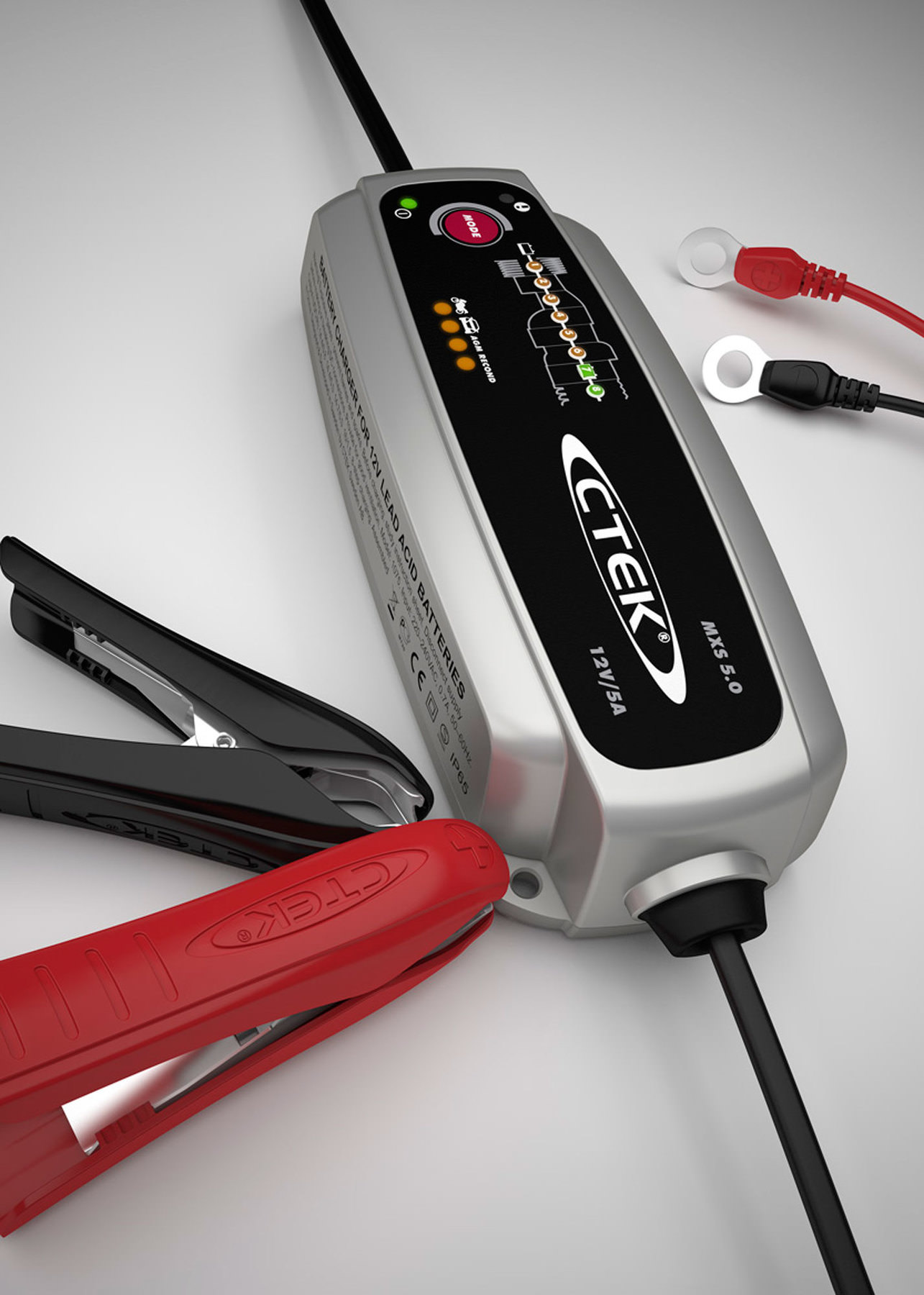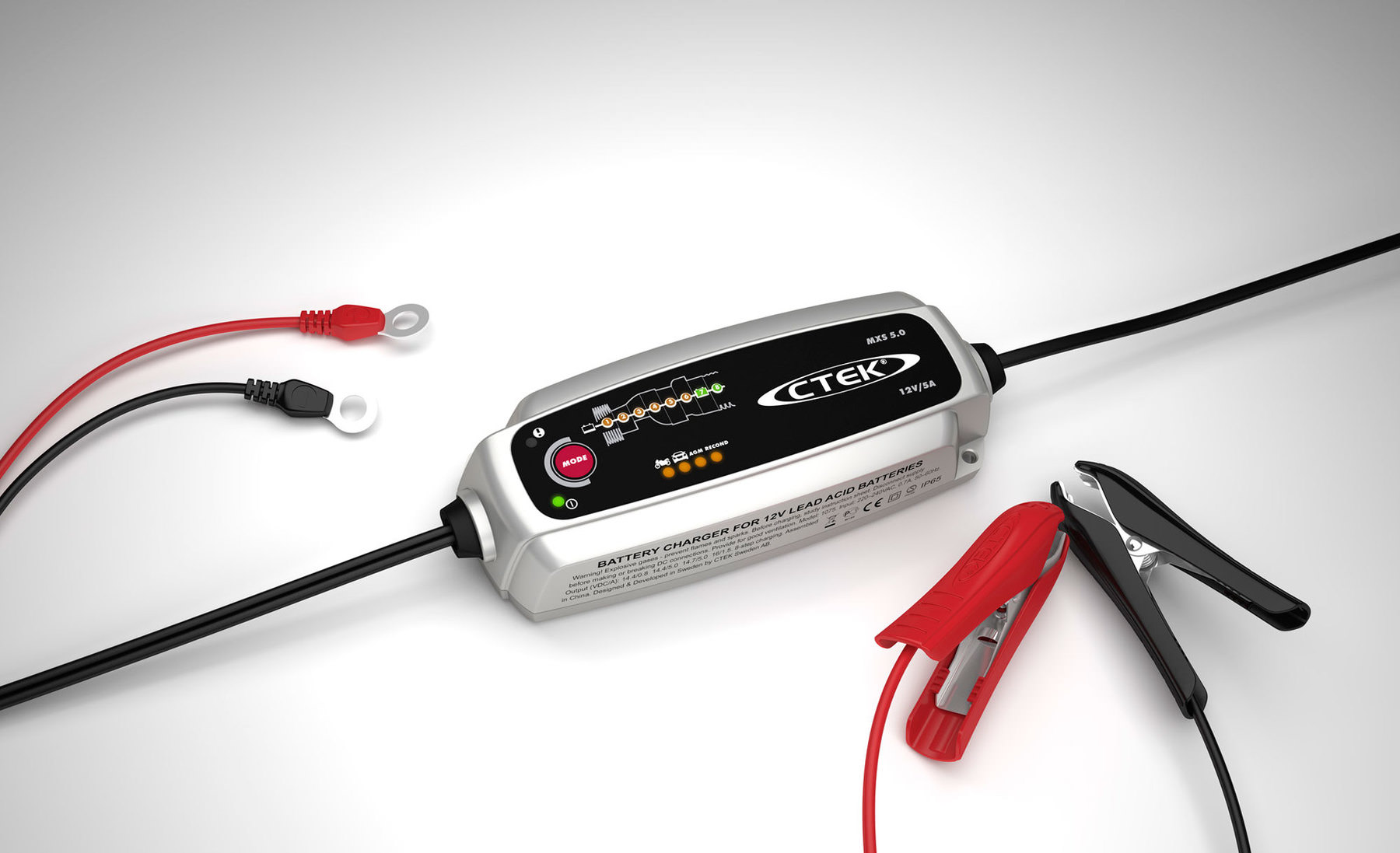 CTEK MXS 5.0
BATTERY CHARGER
You have placed the following items in the shopping basket:
CTEK MXS 5.0
BATTERY CHARGER
The CTEK MXS 5.0 is a fully automatic, microprocessor-controlled battery charger with integrated, automatic temperature compensation. For charging small and normal-size 12 V standard lead-acid batteries and all maintenance-free gel and AGM batteries (VLRA), from 1.2 Ah to 110 Ah, as used in scooters, motorcycles and cars, for example. Informative LED display enables you to monitor the entire 8-step charging process.

The functions of the MXS 5.0 comprise diagnosis to establish whether the battery is in a fit state to take and hold the charge, a patented automatic desulphation step and a special reconditioning function, which restores stratified and deeply discharged batteries.
The AGM option is ideal for maximising the performance and service life of most start-stop batteries. The built-in temperature compensation operates automatically to adjust the charging voltage according to the ambient temperature, and guarantees optimal charging in extremely cold or hot weather. Patented Float/Pulse maintenance charging makes the MXS 5.0 ideal for long-term battery maintenance.

The entire process of battery testing, charging and maintenance is simple to monitor on the easy-to-read LED display. The MXS 5.0 is splashproof and dustproof (IP65), safe and easy to operate, spark-free, reverse polarity protected and short-circuit-proof.

Features:

Charging current selectable between 0.8 A max. and 5.0 A max.
Desulphating function for restoring the battery capacity
Reconditioning function for deeply discharged batteries
Charging program for cold ambient temperatures and AGM batteries
Integrated temperature compensation - automatic charging voltage adjustment, depending on ambient temperature
Float/Pulse maintenance charging
Splashproof and dustproof (IP65)
Reverse polarity protected and short-circuit-proof
Operating voltage: 220-240 V
Usable temperature range: -20°C to +50°C
Dimensions: (WxHxD): approx. 16.8 x 3.8 x 6.5 cm
Comprises:

CTEK MXS 5.0 Battery Charger
Cable set with clip connectors for quick connection
Cable set with ring terminals (M6) for permanent connection to the battery
Multilingual operating instructions
Delivery without british power plug! If you nead an adapter, please also order item 10037394.
Manufacturer details: CTEK

Professional battery care

Flat battery? Help is on the way, care of CTEK, a leading developer of highly efficient battery chargers for motorbikes and other vehicles. By using patented technology, battery chargers from CTEK don't just fulfill the increasing charging needs of modern batteries; they condition and maintain them too. In this way, their life expectancy is raised, and the user saves money. Safety, simplicity and flexibility are the key words here, which apply to all of the products and solutions developed by CTEK.
Product details
Number of LED status indicators:

14 LED´s

Charging characteristic:

IUoUp

Charging current (max.):

800 mA and 5.000 mA (switchable)

Suitable to starter batteries with:

12V
Overview of product features
Suitable for conventional lead acid batteries
Suitable for maintenance-free gel batteries
Suitable for maintenance-free AGM batteries
Suitable for pure lead batteries
Intelligent charging technology
Short-circuit proof
Automatic charging current adaptation
Automatic charging shutdown
Reactivation of deeply discharged batteries
Trickle charging
Desulphation function
Automatic battery test before charging
Write a review for CTEK MXS 5.0
We offer you the opportunity to rate products purchased from Louis and to share your experiences with them publicly.

To ensure that your objective and truthful report will be really beneficial to all readers, please observe the following rules.


Please only rate products that you have personally used for their intended purpose.
Please give reasons for your positive and negative criticisms. Only then will they benefit other customers and allow us to improve the product if necessary.
Please don't copy content that has already been published elsewhere. It's your personal experience which counts.
Data protection: Please don't include your own and other people's addresses, telephone numbers or URLs or even the names of third parties (people as well as companies) in your review.
In your product review, please don't make comparisons with third party product ranges. Regardless of whether you judge these positively or negatively, you, or we as operators of this online shop, would be violating competition law.
Fair play: Please follow these rules so that we don't have to shorten or delete your rating.
Your product rating has been saved. It will be displayed in a few minutes
Your previous input will be lost!
Do you really want to cancel your entry?
Issue 50-2013
In its 50-2013 issue, "Auto Bild" magazine tested eight chargers. The CTEK MXS 5.0 was voted Test Winner. The following features were given special mention:

- Charges even deeply discharged batteries
- Outstanding charging performance
- Perfect for AGM batteries
Issue 4-2016
"Autobild" magazine tested three chargers in its April 2016 issue. The CTEK MXS 5.0 came out on top with 4.5 out of a possible 5 points. In addition, it was judged to be very versatile.
Issue 3-2015
"Motorrad" magazine tested eight chargers in its 3-2016 issue. The CTEK MXS 5.0 was awarded a VERY GOOD rating and was thus the Best in Test. The following features were given special mention:

- Sturdy terminal clamps
- Very robust and high quality
- Can be used outdoors

Issue 2-2015
In its 2/2015 issue, "Dream Machines" magazine presented a test of eight battery chargers, which was conducted by the technical inspectorate GTÜ. The CTEK MXS 5.0 gained the highest points, and was the only charger to be awarded the distinction "HIGHLY RECOMMENDED". The following features were given special mention:

- Particularly good charging and maintenance charging characteristics
- Battery can remain permanently connected
- Includes recovery function
- Also suitable for AGM batteries


Issue 01-15
In its January 2015 issue, "Autobild" magazine presents a test of eight battery chargers, which was conducted by the technical inspectorate GTÜ. The CTEK MXS 5.0 gained the highest points, and was the only charger to be awarded the distinction " HIGHLY RECOMMENDED". The following features were given special mention:

- Particularly good charging and trickle charging characteristics
- Battery can remain permanently connected
- Includes recovery function
- Also suitable for AGM batteries

+400 brands
2-year right of return
Fast delivery
Worldwide shipping