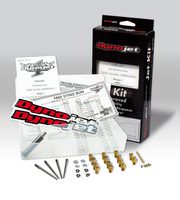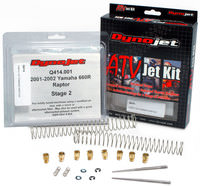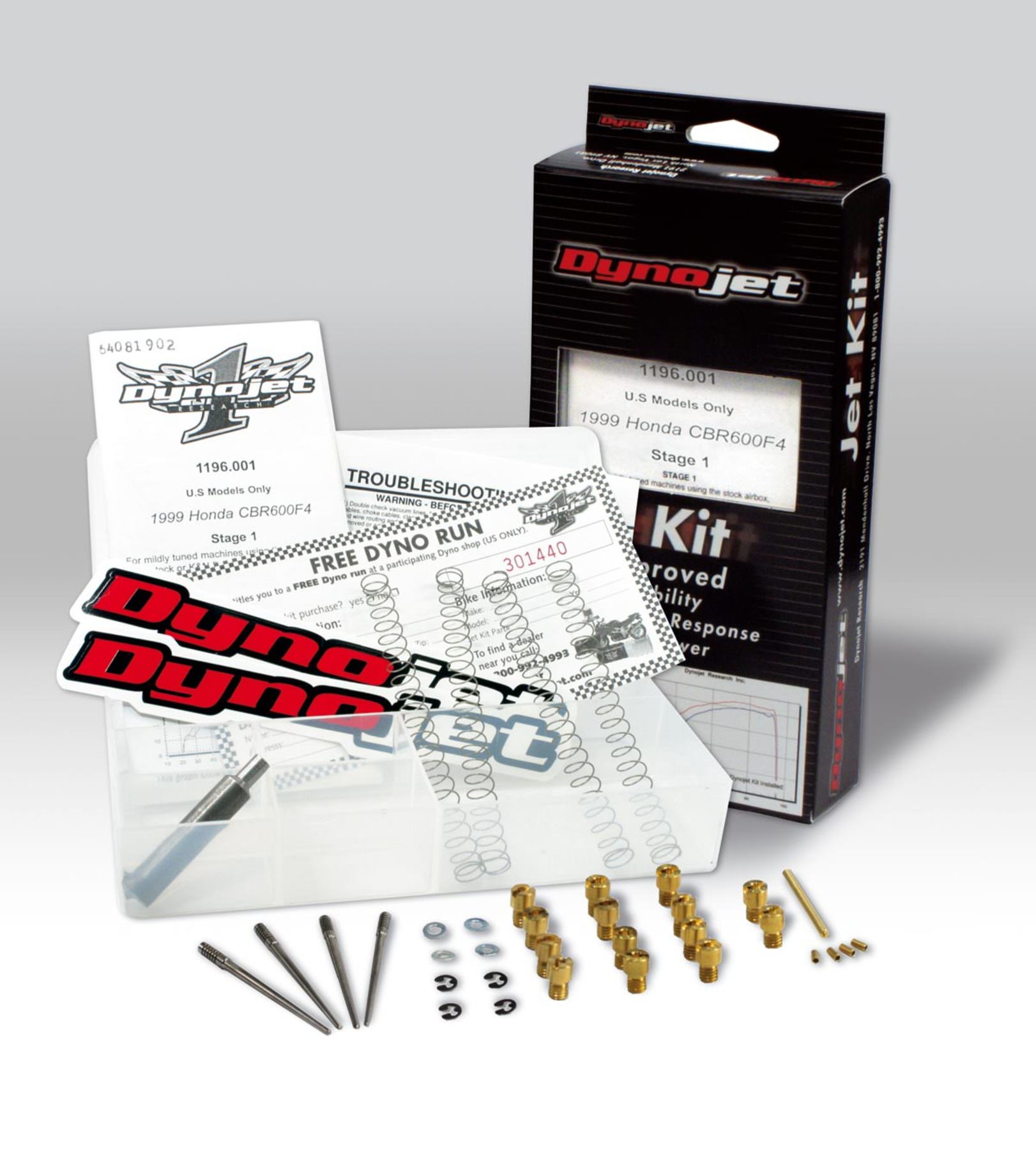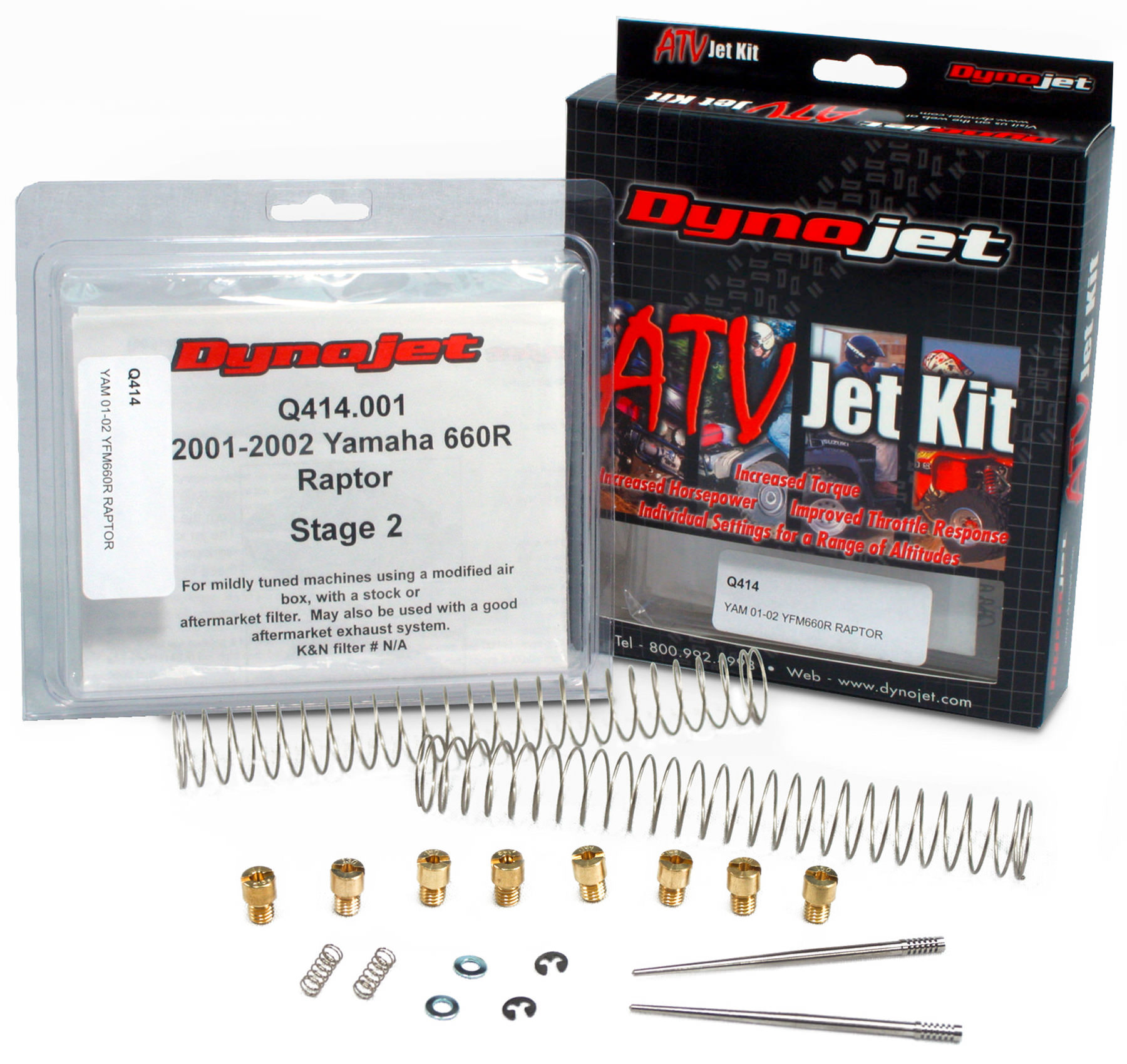 Dynojet Carburetor Kits for motorcycles,
Quads and ATV
You have placed the following items in the shopping basket:
Dynojet Carburetor Kits for motorcycles,
Quads and ATV
Backfiring, flat spots, poor torque, judder at steady speed, engine overheating - with many motorbikes and quads, the carburettors are set very lean at the factory. When you install an aftermarket exhaust or a different air filter, if not before, the need to tune your carbs will become all too apparent. Fuel consumption rises and power output drops when a carburettor's jets and needles become worn
In both cases, the carburettors should be overhauled. With a Dynojet Carburettor Kit, your engine will at last get exactly the mixture that it needs for optimal performance. The kits undergo lengthy testing with the vehicle on the test bed. They contain not only new main jets, but usually also specially shaped fuel needles, which deliver the correct quantity of fuel in the middle (part throttle) engine speed range, thus helping to prevent flat spots when accelerating. To ensure optimal throttle response, the kits also include air correction jets (depending on the requirements of the particular engine.

Air correction jets:
This jet regulates the rate at which air is fed to the needle jets. On some models, Dynojet modifies the main air correction jets in order to achieve the best possible air/fuel mixture.
"Idling jets: 100% of idling and 25% of the transition from idling to part throttle is influenced by the idle system. In some models, the idle jets are replaced in order to optimise fuel consumption. But, even then, correct synchronisation of the carburettor system is always essential for "stable" idle.

All the kits come with installation instructions which describe every step in detail. In order to cover all applications as far as possible, Dynojet supplies carburettor kits with various upgrades. These kits are manufactured with extreme precision.

Stage 1 kits:
Developed for motorbikes with stock engine, original airbox and factory exhaust. These stage 1 kits are suitable for tuning street-legal aftermarket exhaust systems with dB absorber and aftermarket air filter elements. Stage 1 kits improve throttle response, rideability and torque. As a rule, a performance boost of up to 5% across the entire speed range can be achieved.

Stage 2 kits:
Developed for motorbikes with stock or slightly tuned engines and equipped with sport exhausts and modified airboxes with an extended air intake (e.g. Ducati bikes with the airbox cover removed). They should not be used for carburettor systems with open individual air filters. As a rule, performance increase of up to 8% is achievable.

Stage 3 kits:
Developed for motorbikes with stock or tuned engines which have K&N individual air filters and stock or sport exhaust systems. In most cases, a performance increase of 10%-15% is realistic, but with some short-stroke sport engines, there may, in extreme cases, be some loss of rideability in certain speed ranges.
Please note:
Due to the performance enhancement, these carburettor kits are not approved for road use under the German Road Traffic Licensing Regulations (StVZO).



These reflective decals are can be used on many types of vehicle, but they do not have EC type approval ("E" mark), German type approval, TÜV test certificate or any other approval mark. Therefore their use on public roads is not permitted under the German Road Traffic Licensing Regulations (StVZO) They must only be fitted to your vehicle and used for race, competition and show purposes (classic and collectors' motorcycles). Before using them on public roads, it is obligatory to first obtain individual component approval at your local TÜV test centre, or equivalent. We give no guarantee that such individual component approval is possible. You should also refer to our information about licensing regulations (Item III), e.g. in our Standard Terms & Conditions (T&C). This also applies outside of Germany.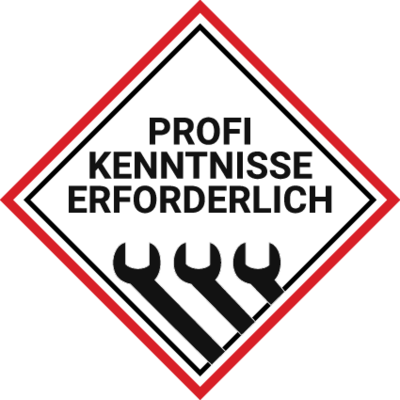 Professional technical expertise is essential to fit this article. We therefore urge you to have it installed by a motorcycle workshop!
The ratings will be available to you again soon.
+400 brands
2-year right of return
Fast delivery
Worldwide shipping