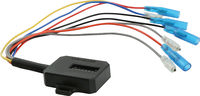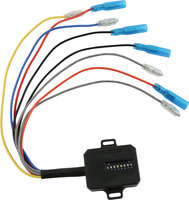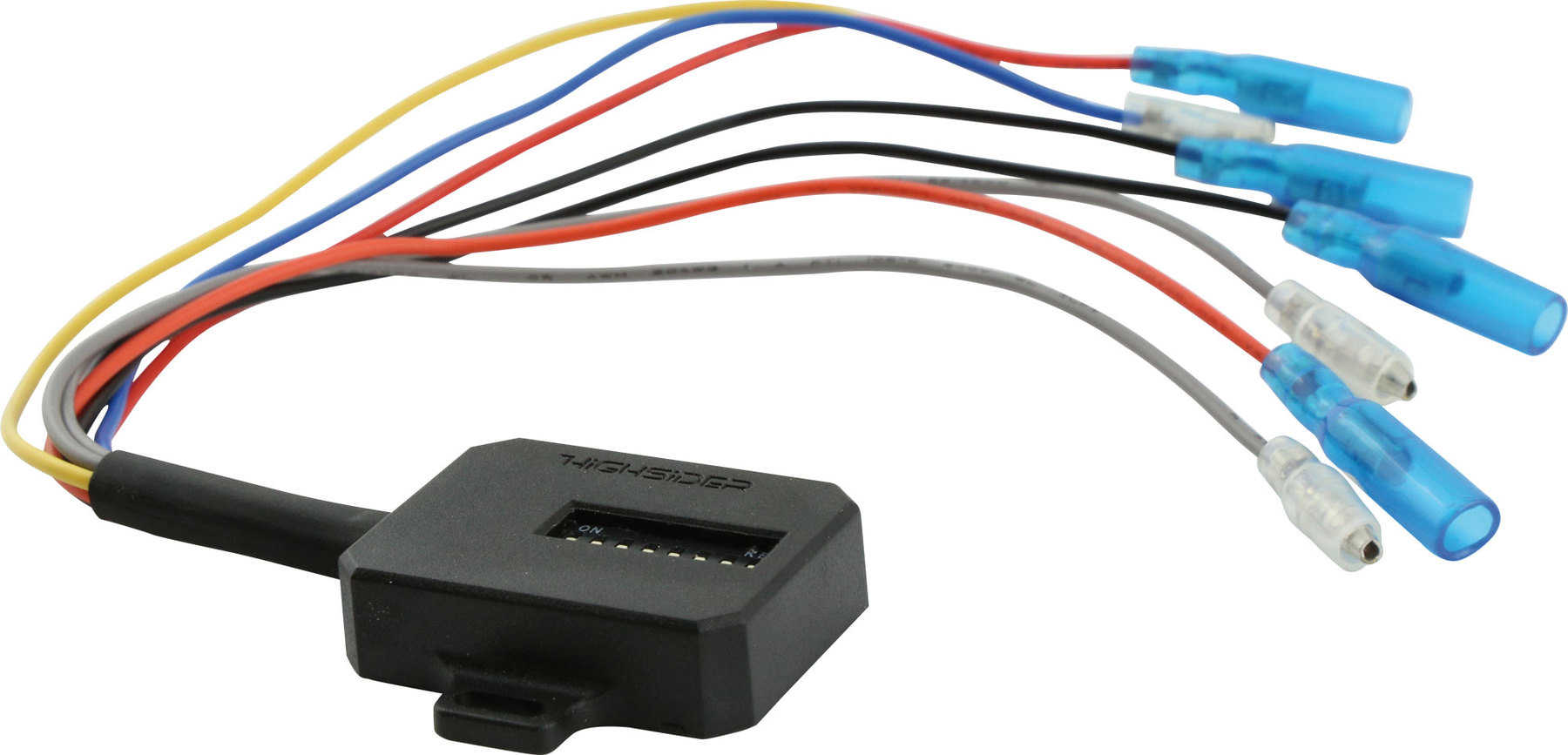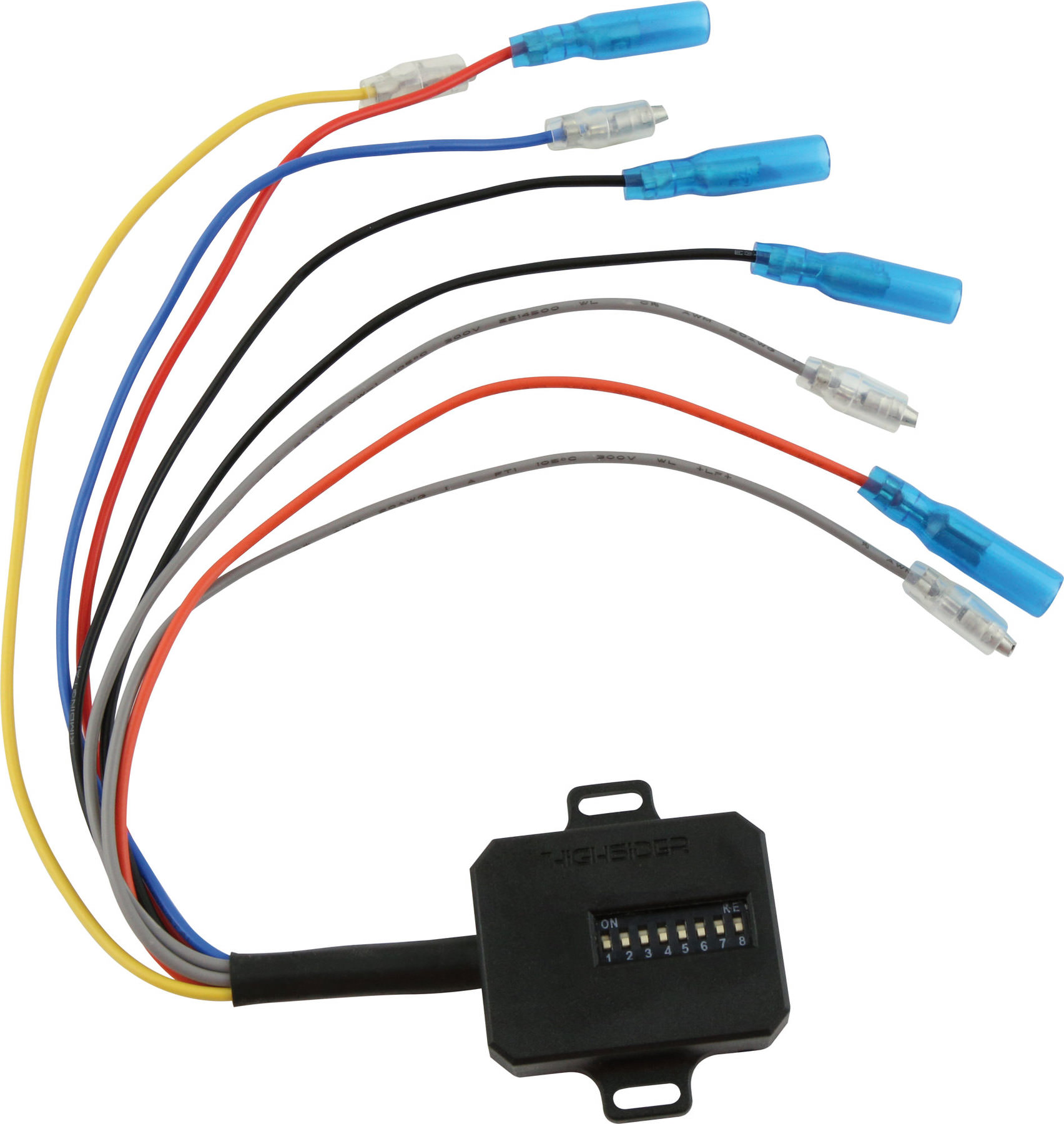 HIGHSIDER CBW1
CAN-BUS RESISTOR
You have placed the following items in the shopping basket:
HIGHSIDER CBW1
CAN-BUS RESISTOR
Converting to LED turn signals can produce some unwelcome surprises on motorcycles with CAN-BUS systems. The flashing frequency is wrong, and error messages appear on the cockpit display. The likely cause is that the turn signals do not place a sufficient load on the bike's electrical system. When this happens, it's a strong argument for using the Highsider CAN-BUS *CBW1* resistor. It even has DIP switches which allow you to set 7 different resistances.
The *CBW1* resistor creates the necessary electrical load for your vehicle. When the DIP switches are set correctly, this load ensures that you will not get any error messages in the cockpit when you connect aftermarket LED turn signals.
If the new turn signals on your bike should stop working, due to an electrical fault, for example, an error message is immediately displayed in the cockpit.

Two channels, each with one load, can be assigned on the CAN-BUS resistor, for example, rear left turn signal and rear right turn signal.
The following resistances can be set:
150 ohms
170 ohms
240 ohms
300 ohms
400 ohms
600 ohms
1200 ohms
Height = 11 mm
Width = 31 mm (not incl. tabs)
Width = 46 mm (incl. tabs)
Length = 40 mm
Cable length = 200 mm with pins
Yellow = Input Channel 1 (+)
Orange = Output Channel 1 (+)
Blue = Input Channel 2 (+)
Red = Output Channel 2 (+)
Grey = Input Earth (-)
Black = Output Earth (-)
Comprises: 1 CBW1 resistor
Manufacturer details: Highsider

Headlights, turn signals, rearview mirrors and accessories

The German brand Highsider is most notably known for innovative lighting technology. Among other things, the Highsider range includes probably the smallest approved LED turn signal, combined turn signals/tail lights and LED headlights with low beam, high beam and parking light featuring state-of-the-art LED technology. Thanks to high-quality materials, meticulous workmanship and harmonious design, Highsider products provide the perfect individual finishing touch for all motorcycles. That also goes for the Highsider rearview mirror range. And best of all: Highsider products are incredibly reasonably priced in view of what they offer.
Write a review for HIGHSIDER CBW1
We offer you the opportunity to rate products purchased from Louis and to share your experiences with them publicly.

To ensure that your objective and truthful report will be really beneficial to all readers, please observe the following rules.


Please only rate products that you have personally used for their intended purpose.
Please give reasons for your positive and negative criticisms. Only then will they benefit other customers and allow us to improve the product if necessary.
Please don't copy content that has already been published elsewhere. It's your personal experience which counts.
Data protection: Please don't include your own and other people's addresses, telephone numbers or URLs or even the names of third parties (people as well as companies) in your review.
In your product review, please don't make comparisons with third party product ranges. Regardless of whether you judge these positively or negatively, you, or we as operators of this online shop, would be violating competition law.
Fair play: Please follow these rules so that we don't have to shorten or delete your rating.
Your product rating has been saved. It will be displayed in a few minutes
Your previous input will be lost!
Do you really want to cancel your entry?
+400 brands
2-year right of return
Fast delivery
Worldwide shipping