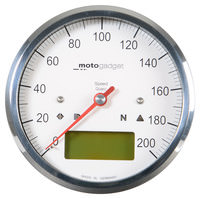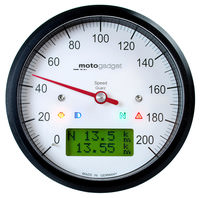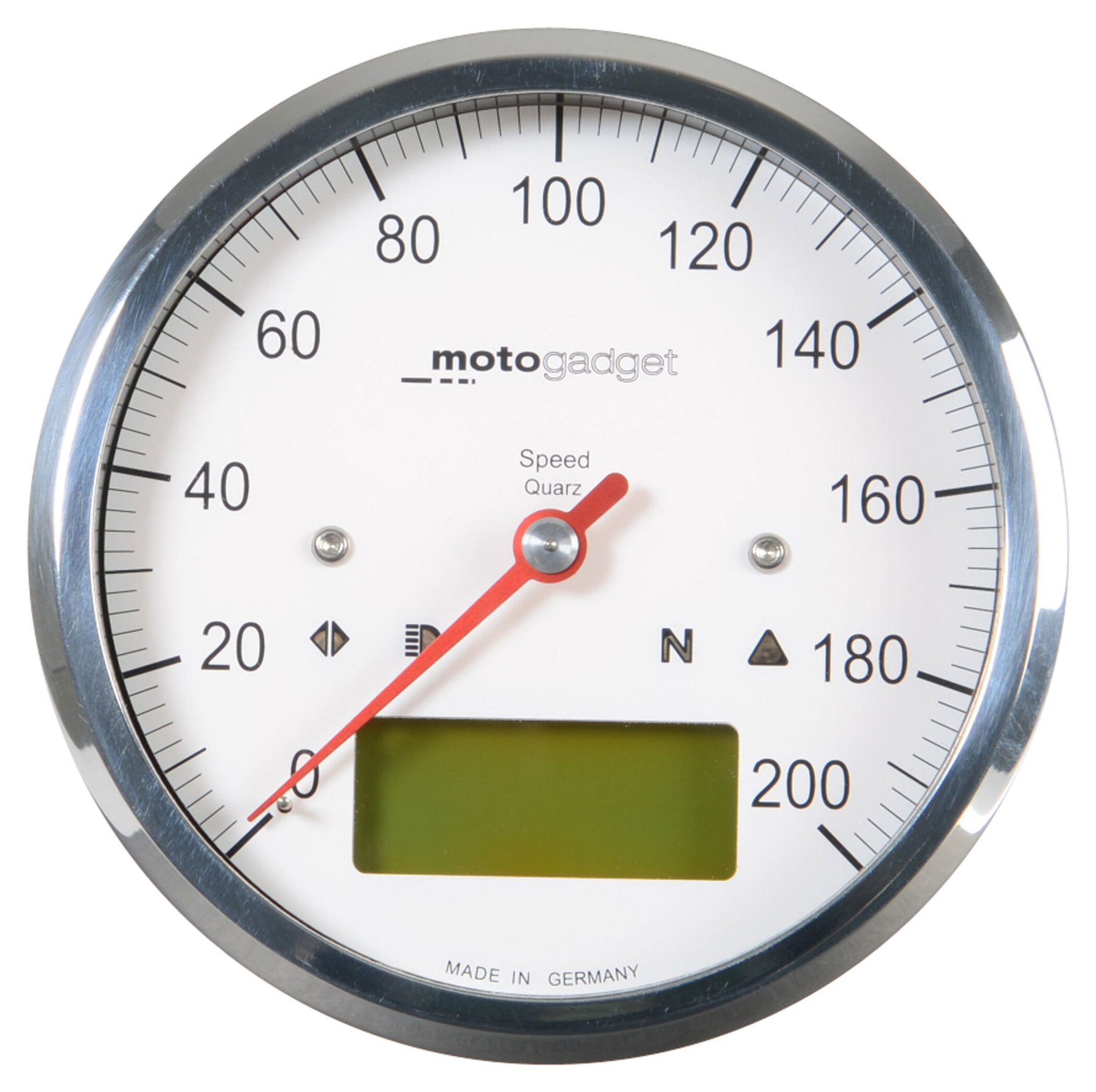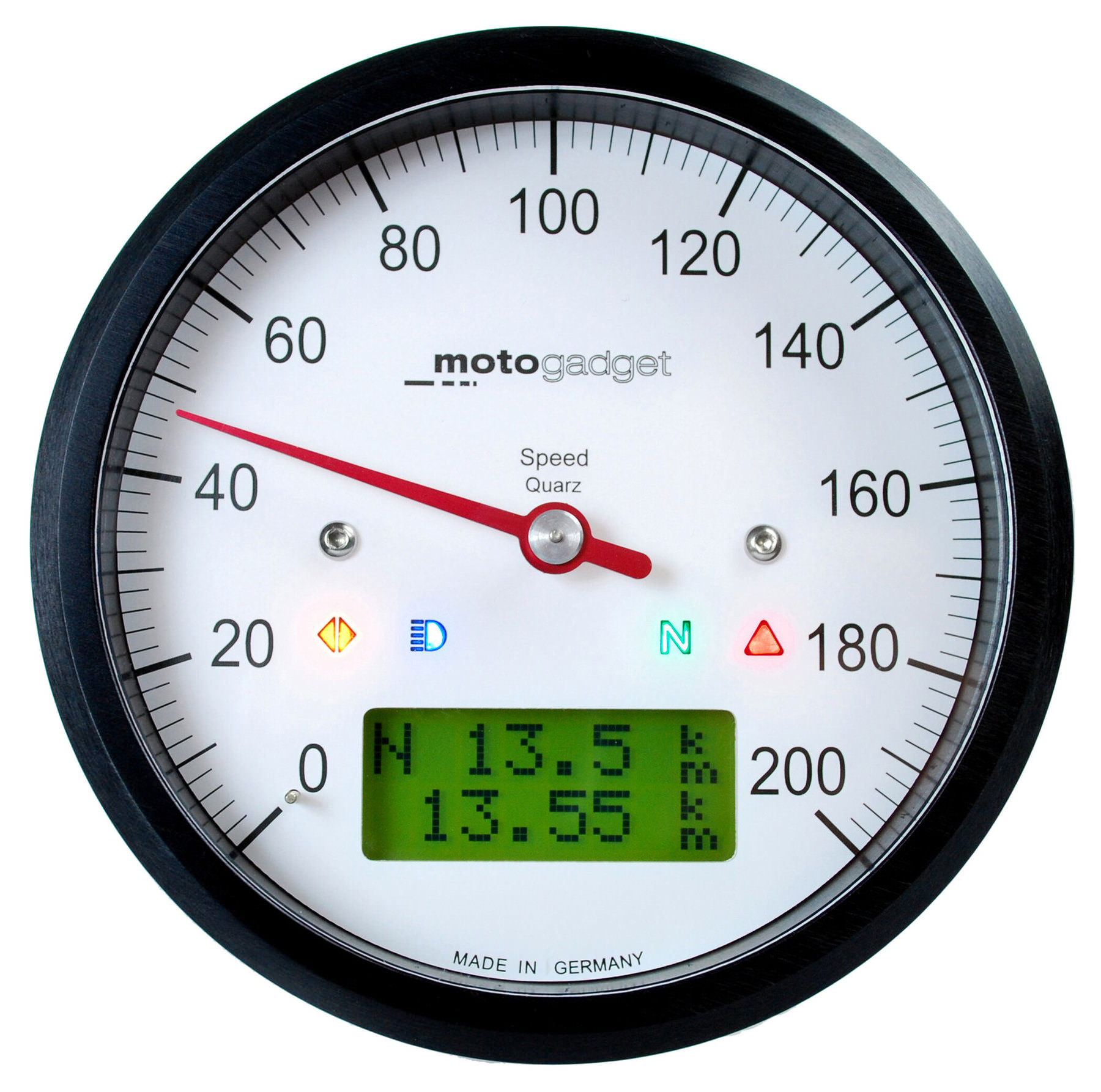 motogadget Analogue Speedometer
Motoscope Classic
You have placed the following items in the shopping basket:
motogadget Analogue Speedometer
Motoscope Classic
motogadget motoscope classic speedo:

The motoscope classic speedo from motogadget is an analogue speedometer with many additional digital features in a classic round casing. The analogue speedometer has a white dial and red pointer driven by a precision stepper motor. An LCD and four indicator LEDs display the other functions accurately and reliably.

This compact instrument opens up new styling options for your motorbike. The design is perfect for any conversion or original motorbike, whether classic or modern classic, custom bike or sports bike. High-end materials, final assembly by hand, and scrupulous quality control guarantee top quality in functionality and looks. The casing is made of high-grade aluminium, turned and CNC-machined from solid billet. The surface is black anodised and comes with a choice of black or polished outer ring. The casing is completely watertight. The speedometer glass is made of a scratchproof special plastic. The widely used 80 mm mounting dimension means that original instruments are often very easy to replace.
The readability of the speed is optimal due to the red pointer on the white dial. The innovative all-over background illumination enables maximum utilisation of the dial area. The LCD display is easy to read and illuminated even in direct sunlight.

Versions:
Black/Black: Black housing/black outer ring
Black/Polished: Black housing/polished outer ring

Functions:

Speedometer (analogue display)
Tachometer (digital display)
Electrical system voltage 9 V - 18 V
Undervoltage warning
Air or water temperature
Oil temperature
Oil pressure
Time measurement
Current acceleration
Average speed
Max. speed
Max. rpm
Max. positive acceleration
Max. negative acceleration
Gear shift indicator (neutral, gears 1-6)
Green indicator LED Neutral (N)
Yellow indicator LED Turn signal left/right
Blue indicator LED High beam
Red warning LED Various warning functions
Output for external gearshift indicator
Comprises:

Instrument with approx. 55 cm connection cable
Complete plug-in connector
Fuse
Speedometer sensor M5 x 0.5 (fine thread) with 150 cm connection cable
2 magnets
Mini push button
3 x M4 bolts (stainless steel)
Detailed installation and operating instructions
Manufacturer details: Motogadget

High Class Instruments & Accessories - MADE IN GERMANY

Anyone who is serious about customising cannot fail to appreciate the quality of motogadget products. In no time at all, the Berlin-based manufacturer has achieved virtually cult status with its high-class instruments. The reason is the exceptional functionality of motogadget products, but most importantly their extremely clean design, high-quality materials, top engineering and absolute reliability.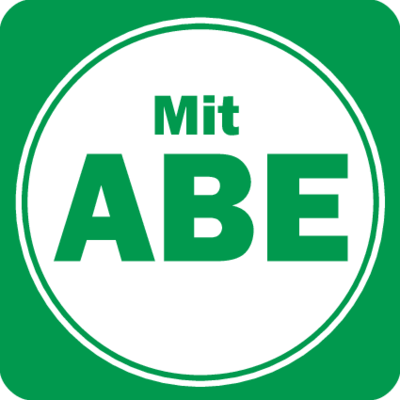 The German "Allgemeine Betriebserlaubnis (ABE)" (general type approval) authorises the use of the relevant accessories on the vehicle models listed in the certificate booklet. The certificate booklet must be carried along when driving and must be presented on request in the event of a traffic control or the main inspection (HU).
Accessories with an ABE do not have to be registered in the vehicle documents. However, if you do not want to carry the certificate with you at all times, you can have it registered (at a charge) by the TÜV, for example.
If the accessories are to be used on a vehicle that is not listed in the ABE, an individual approval is necessary.

The regulations in other countries may differ. Before ordering a product, please make sure that it may be used in road traffic in your region, your country.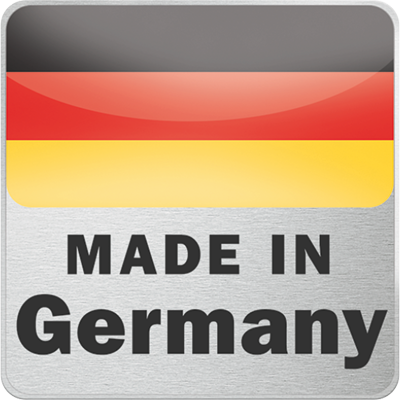 QUALITY MADE IN GERMANY!

By purchasing this item you have chosen a premium-quality product with superior German workmanship. This internationally acknowledged mark of quality means that this product is the result of efficiently coordinated development and production processes, technological expertise, continuous quality controls.
Write a review for CLASSIC INSTRUMENT
We offer you the opportunity to rate products purchased from Louis and to share your experiences with them publicly.

To ensure that your objective and truthful report will be really beneficial to all readers, please observe the following rules.


Please only rate products that you have personally used for their intended purpose.
Please give reasons for your positive and negative criticisms. Only then will they benefit other customers and allow us to improve the product if necessary.
Please don't copy content that has already been published elsewhere. It's your personal experience which counts.
Data protection: Please don't include your own and other people's addresses, telephone numbers or URLs or even the names of third parties (people as well as companies) in your review.
In your product review, please don't make comparisons with third party product ranges. Regardless of whether you judge these positively or negatively, you, or we as operators of this online shop, would be violating competition law.
Fair play: Please follow these rules so that we don't have to shorten or delete your rating.
Your product rating has been saved. It will be displayed in a few minutes
Your previous input will be lost!
Do you really want to cancel your entry?
+400 brands
2-year right of return
Fast delivery
Worldwide shipping