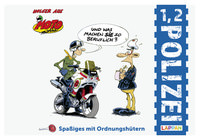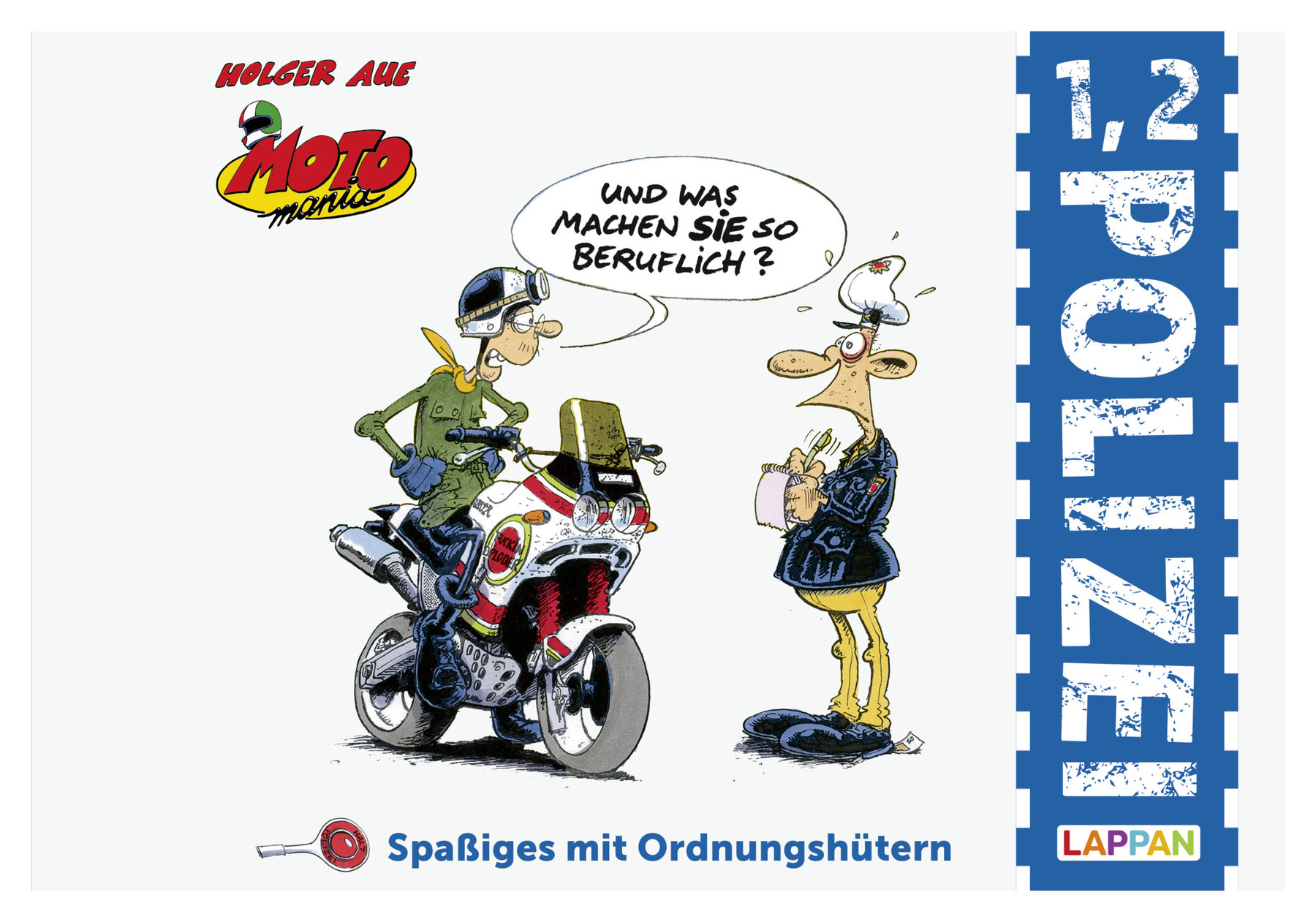 MOTOMANIA CARTOON 1.2
POLICE, 48 PAGES
You have placed the following items in the shopping basket:
MOTOMANIA CARTOON 1.2
POLICE, 48 PAGES
Caution - Danger of laughing fits! Holger Aue has brought out yet another great MOTOmania comic book with 48 pages of fun: *1,2 - Polizei* (*1,2 - Police*). Lovingly drawn comic strips packed with detail, all about bikers vs. the police. Hot bikes, cool characters, passion for motorcycles and a whole lot of fun. That's what you get with this unique volume of stories about Holli Hatzenbach and his biker friends. MOTOmania fans simply can't get enough.
A great gift for any motorcycle rider.
MOTOmania *1,2 - Polizei* comic book
Hardcover
48 pages
Size: 178 x 126 mm
Manufacturer details: Motomania

Officially recognised Motomania dealer

NEW! Now at Louis, you can get the full Motomania range: comics, T-shirts, coffee mugs and lots more! Motorbike comics featuring a bunch of crazy bikers and the day-to-day pitfalls of biking. These comics, carefully illustrated by Holger Aue with an obsession for detail, portray the world of motorbike fanatics more authentically than any other in Germany. And it's no wonder, because cartoonist Holger Aue is not just a talented creator of comic strips. He is equally skilful and passionate when it comes to riding a motorbike - whether as an instructor on the "Nordschleife" (Northern Loop) of the Nürburgring, as a competitor in various race classes or simply on the road.Official MotoMania dealer
Write a review for MOTOMANIA CARTOON 1.2
We offer you the opportunity to rate products purchased from Louis and to share your experiences with them publicly.

To ensure that your objective and truthful report will be really beneficial to all readers, please observe the following rules.


Please only rate products that you have personally used for their intended purpose.
Please give reasons for your positive and negative criticisms. Only then will they benefit other customers and allow us to improve the product if necessary.
Please don't copy content that has already been published elsewhere. It's your personal experience which counts.
Data protection: Please don't include your own and other people's addresses, telephone numbers or URLs or even the names of third parties (people as well as companies) in your review.
In your product review, please don't make comparisons with third party product ranges. Regardless of whether you judge these positively or negatively, you, or we as operators of this online shop, would be violating competition law.
Fair play: Please follow these rules so that we don't have to shorten or delete your rating.
Your product rating has been saved. It will be displayed in a few minutes
Your previous input will be lost!
Do you really want to cancel your entry?
+400 brands
2-year right of return
Fast delivery
Worldwide shipping