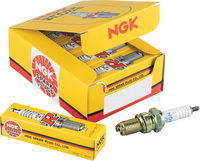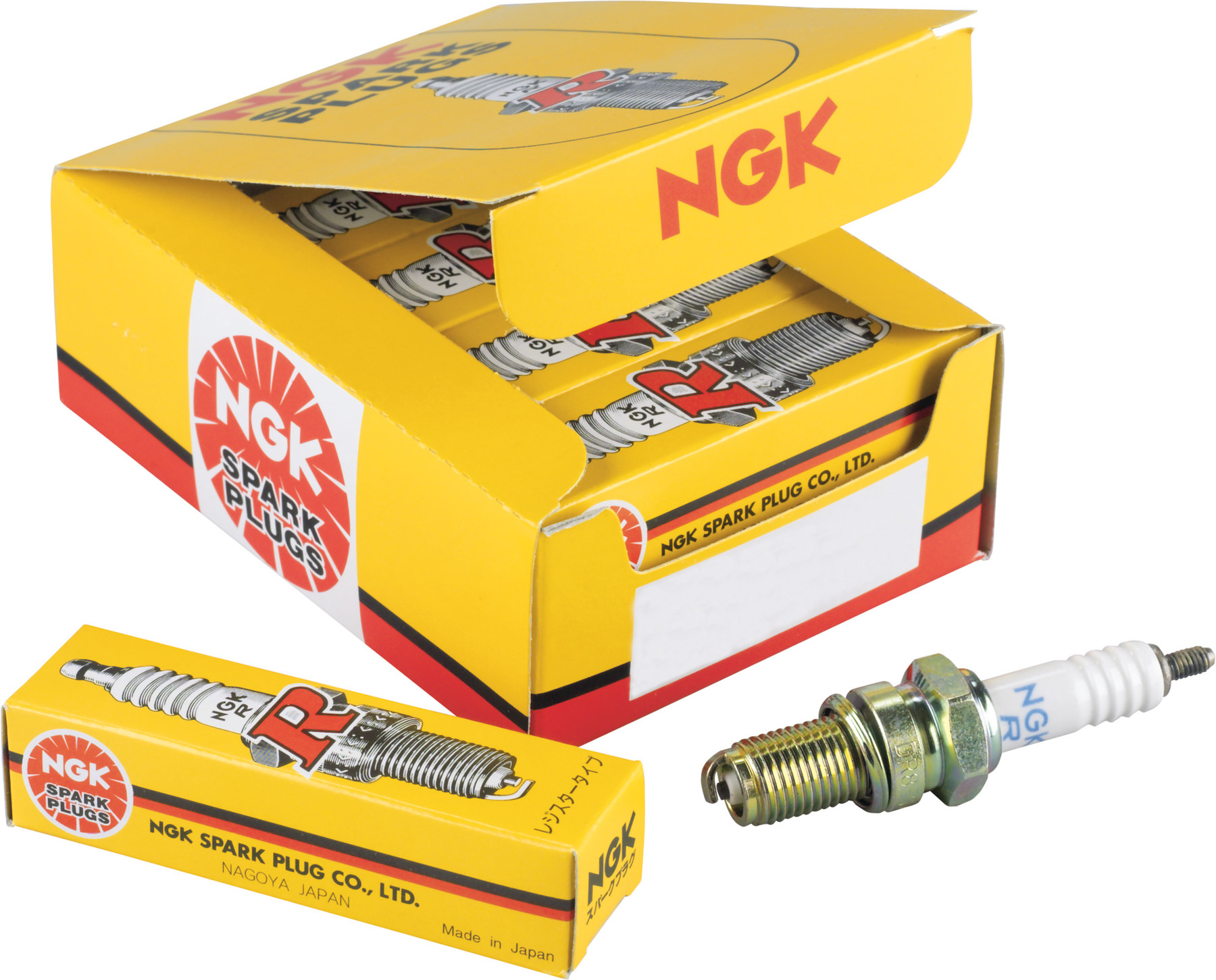 NGK Spark Plug Set, 10 Pcs.
You have placed the following items in the shopping basket:
NGK Spark Plug Set, 10 Pcs.
Pack of 10 NGK-SPARK PLUGS.
Take advantage of the huge saving. Ideal for groups, clubs and smart shoppers. It's always cheaper to buy in bulk!
Spark plugs from NGK are a guarantee of premium quality! More than 90% of all Japanese motorcycles are factory-fitted with NGK products! A spark plug may seem a rather humble component, but its effect on consumption, startability and engine performance is huge. Vehicle manufacturers conduct exhaustive tests to find the optimal spark plug for a particular bike, so be sure to adhere to the factory specification! Only very rarely is a different heat range advisable: in town riding or during the running-in phase, spark plugs sometimes do not burn themselves clean, and they then develop a black to greyish-white deposit (fouling), which results in the bike being difficult to start. If the carburettor is adjusted correctly, then a lower heat range may improve this situation. IMPORTANT: A plug with too low a heat range can lead to engine damage! You should therefore always check first with your authorised repair shop. All spark plugs marked "R" have an integrated 5 kOhm interference-suppression resistor, which is only necessary if 5 kOhm suppressor caps are not already used. In general, 5 kOhm suppression per cylinder is sufficient; more than 10 kOhm can reduce spark ignition energy. If you are having trouble finding the right spark plug for your vehicle, please use our product listing under "My Bike" (top navigation bar).
IMPORTANT NOTE: Before (!) you purchase and before (!) you install spark plugs, you must always ensure that the spark plugs you have chosen exactly meet all the requirements and criteria in the manufacturer's manual! If you cannot find your owner's manual, contact your local motorcycle workshop or the motorcycle manufacturer! Only use products and specifications approved for your vehicle! Failure to do so can cause serious damage to your vehicle, for which we reject all responsibility and liability in advance!
Manufacturer details: NGK

No.1 on the street, in motorsport and in series production

NGK puts the spark in your motorbike. The Japanese spark plug manufacturer is committed to research and development. That's why NGK has become the OEM for a large number of renowned car and motorbike makers. The big names in racing, too, choose technology from the global market leader.
Write a review for SPARK PLUG SET NGK
We offer you the opportunity to rate products purchased from Louis and to share your experiences with them publicly.

To ensure that your objective and truthful report will be really beneficial to all readers, please observe the following rules.


Please only rate products that you have personally used for their intended purpose.
Please give reasons for your positive and negative criticisms. Only then will they benefit other customers and allow us to improve the product if necessary.
Please don't copy content that has already been published elsewhere. It's your personal experience which counts.
Data protection: Please don't include your own and other people's addresses, telephone numbers or URLs or even the names of third parties (people as well as companies) in your review.
In your product review, please don't make comparisons with third party product ranges. Regardless of whether you judge these positively or negatively, you, or we as operators of this online shop, would be violating competition law.
Fair play: Please follow these rules so that we don't have to shorten or delete your rating.
Your product rating has been saved. It will be displayed in a few minutes
Your previous input will be lost!
Do you really want to cancel your entry?
+400 brands
2-year right of return
Fast delivery
Worldwide shipping