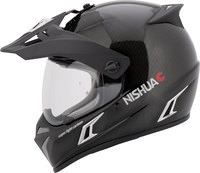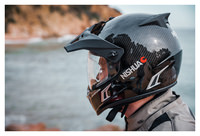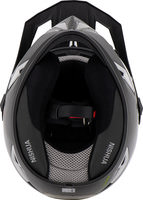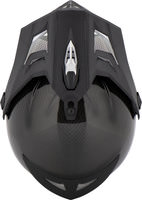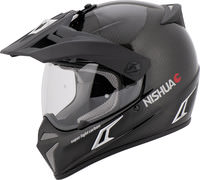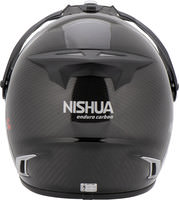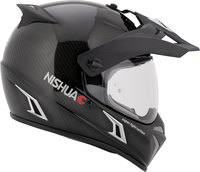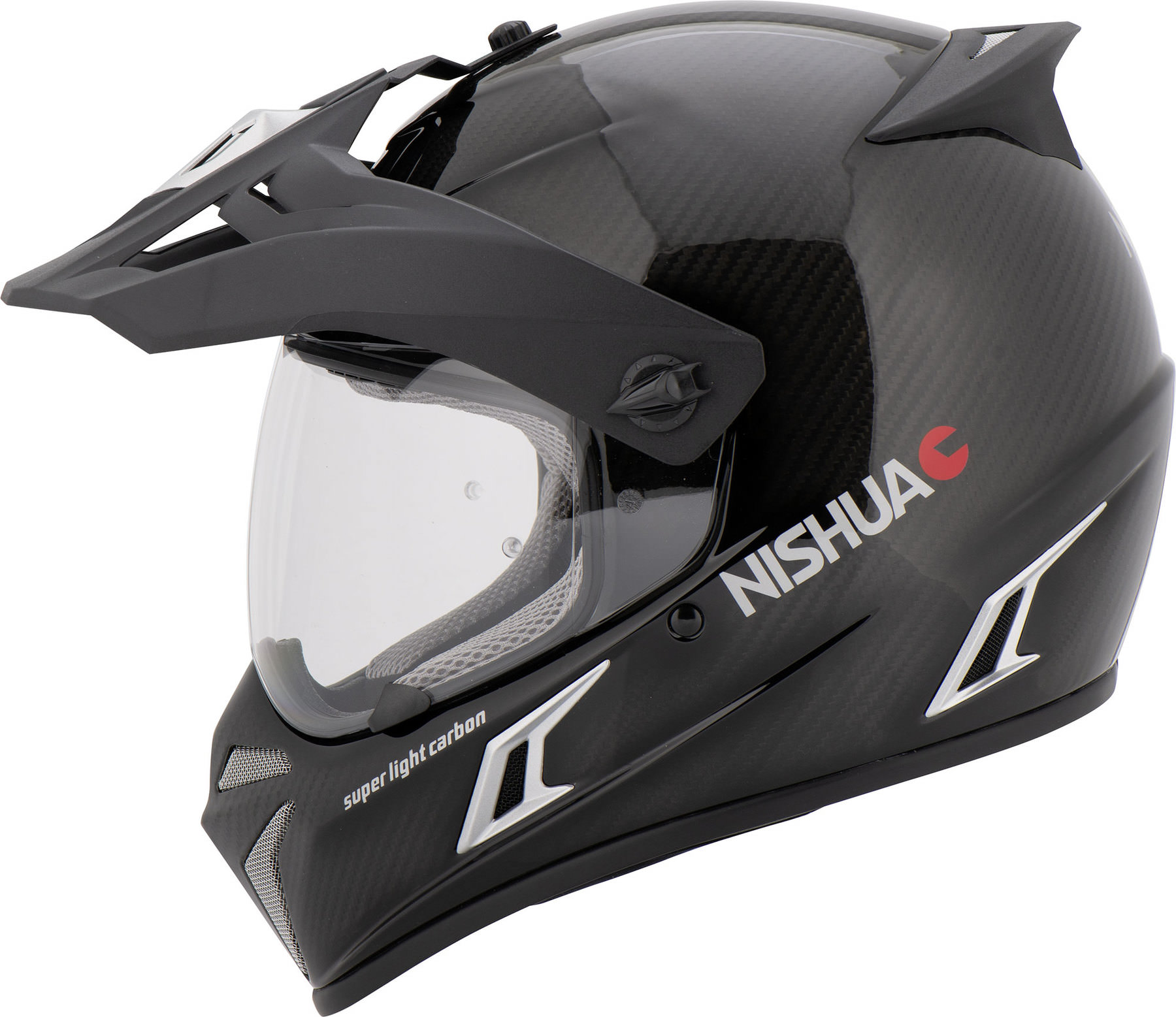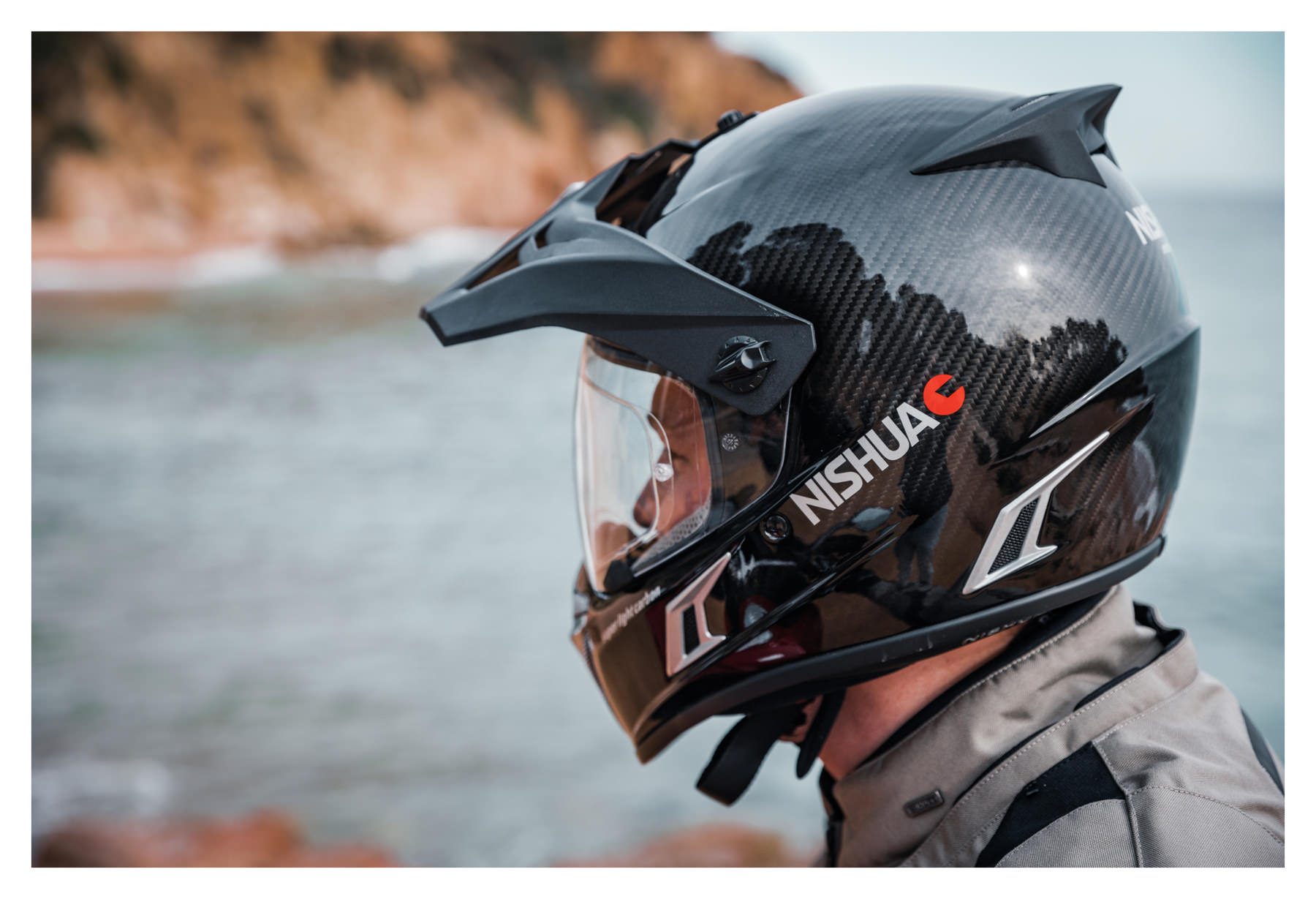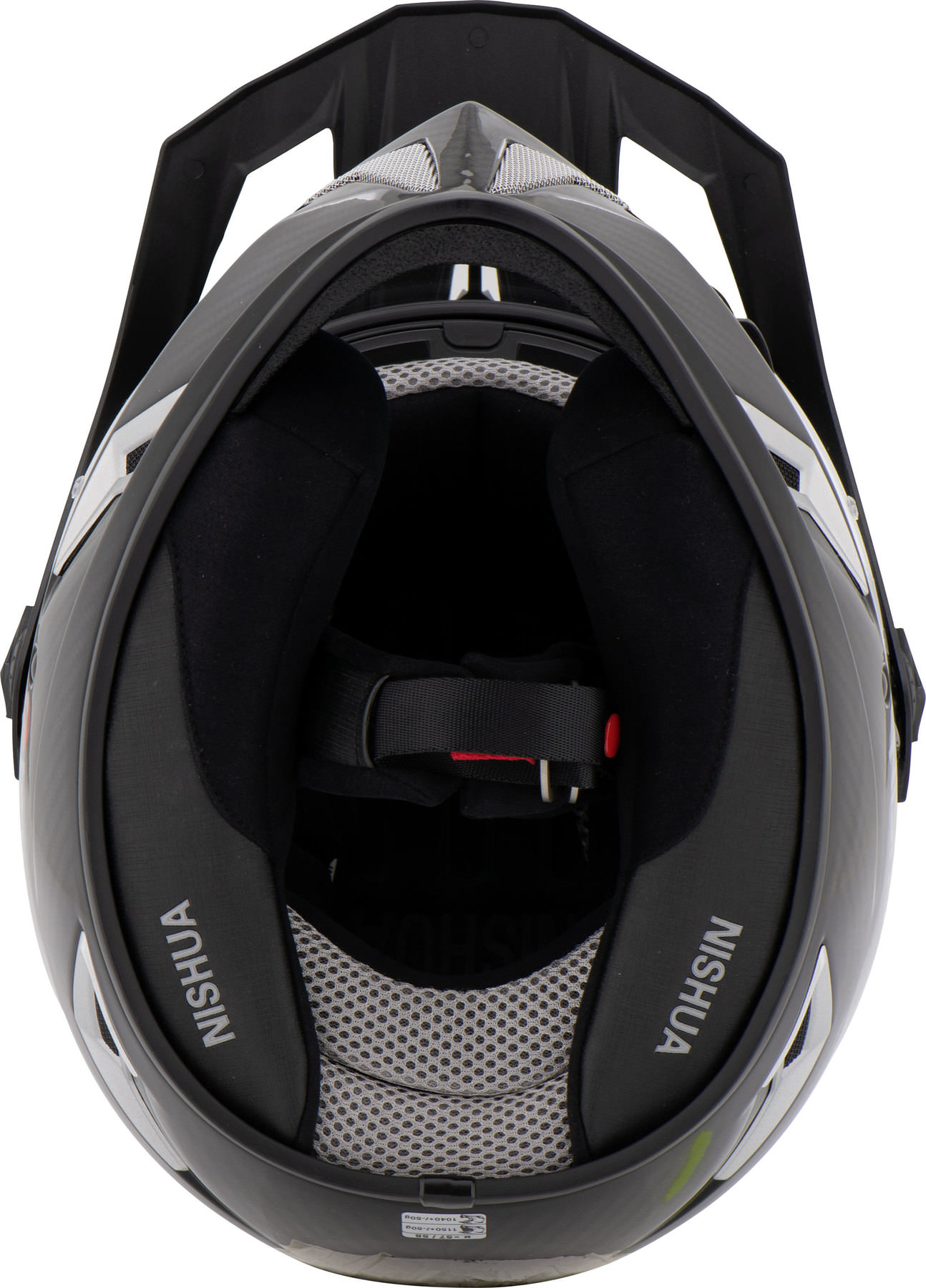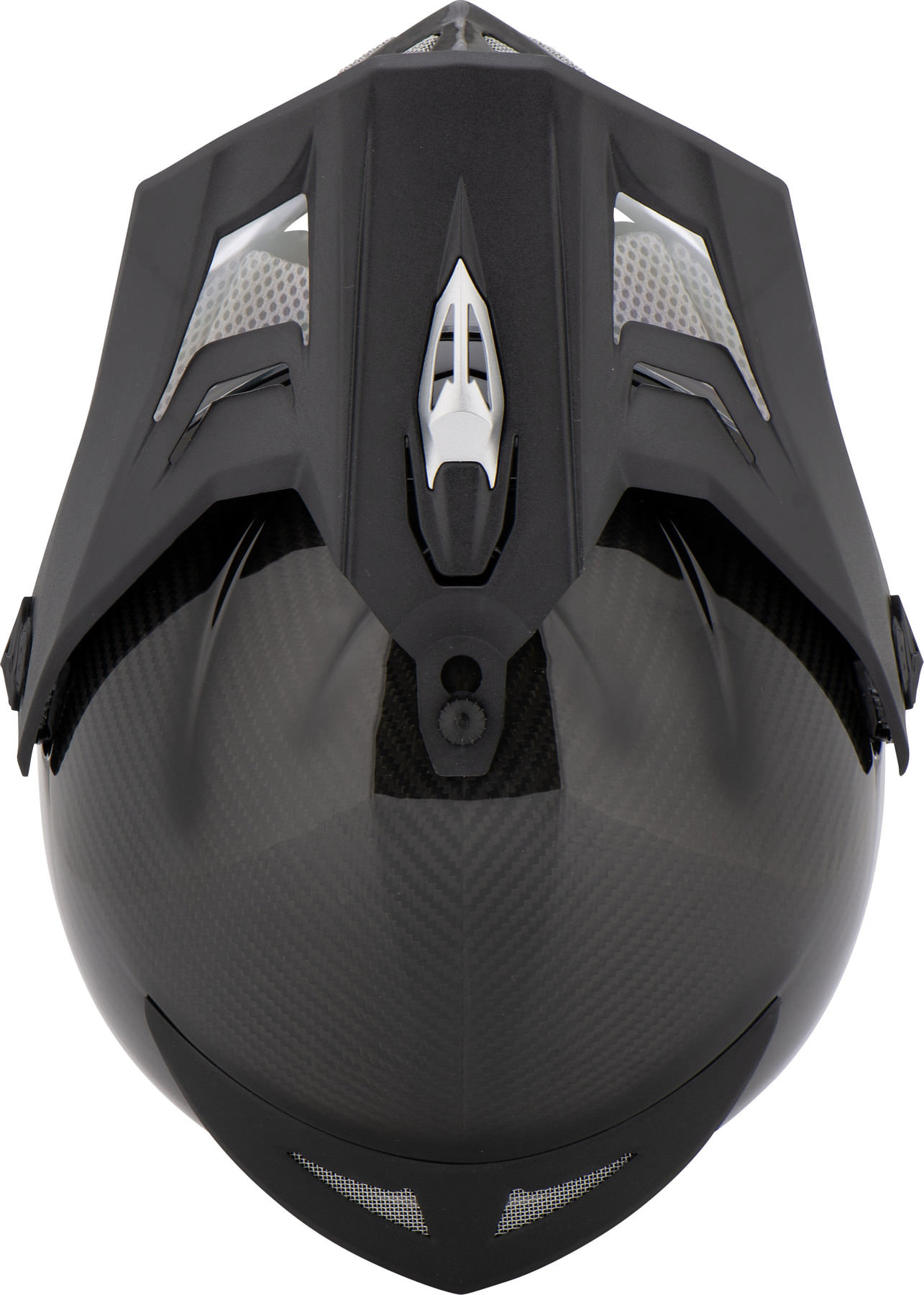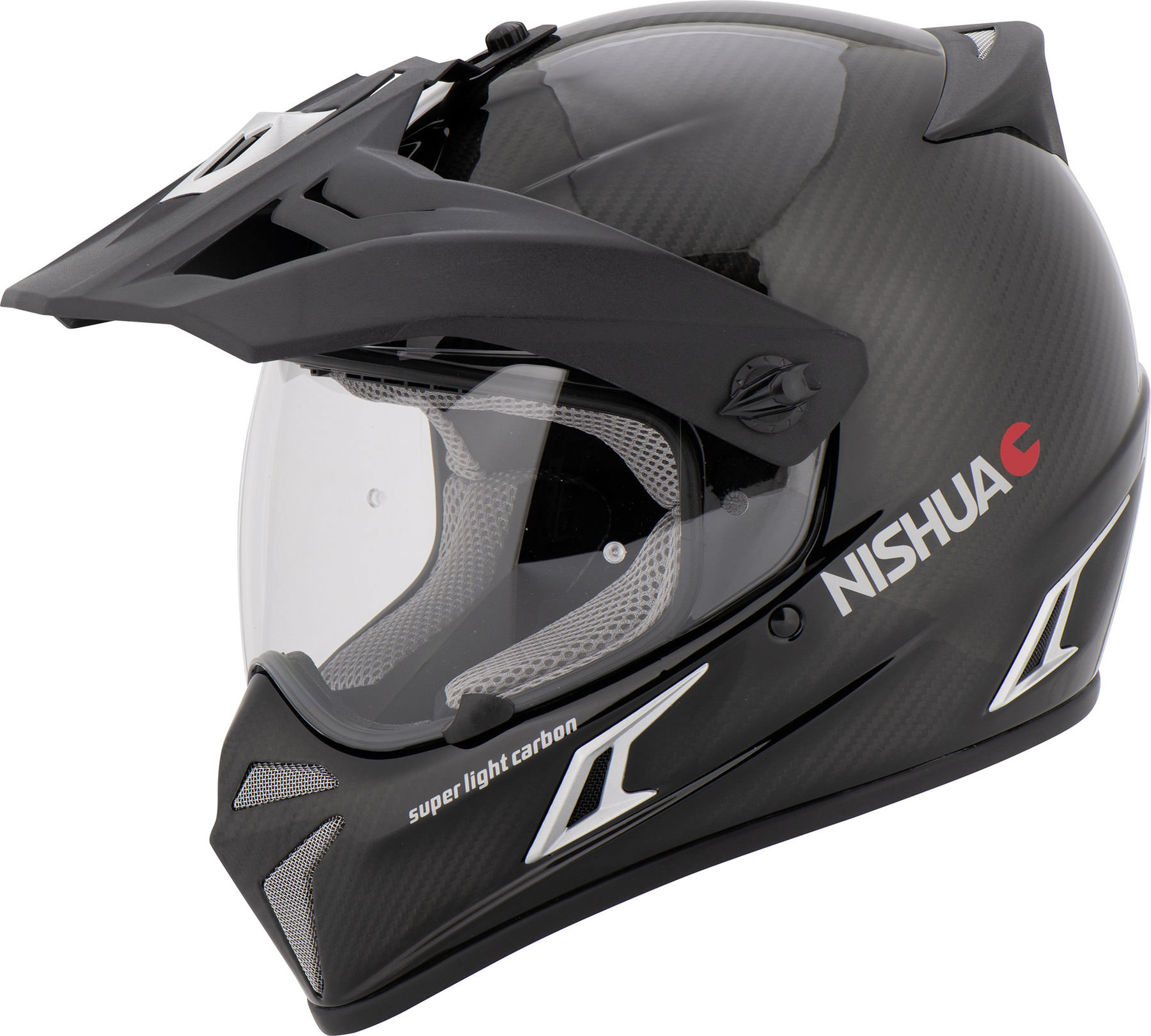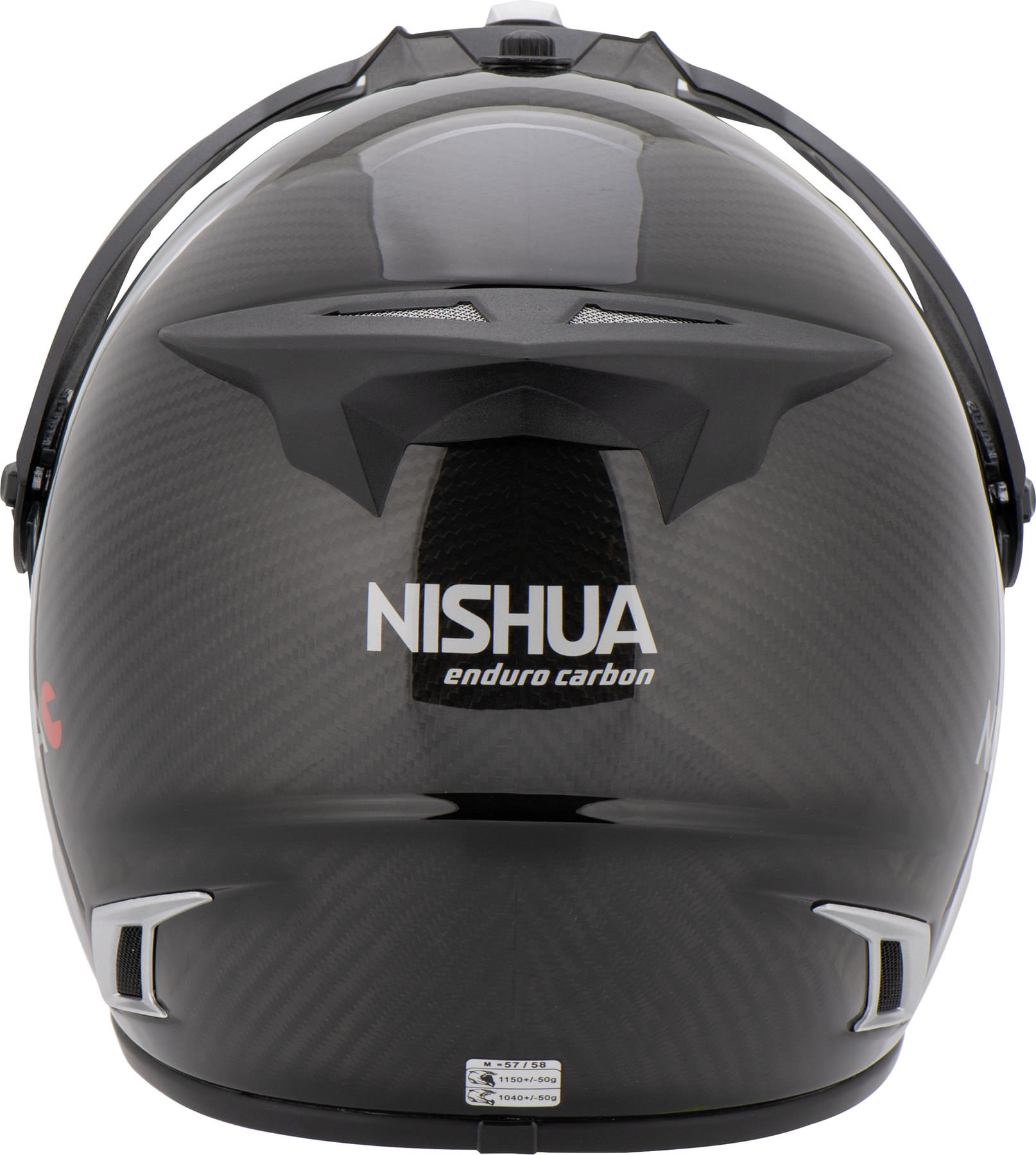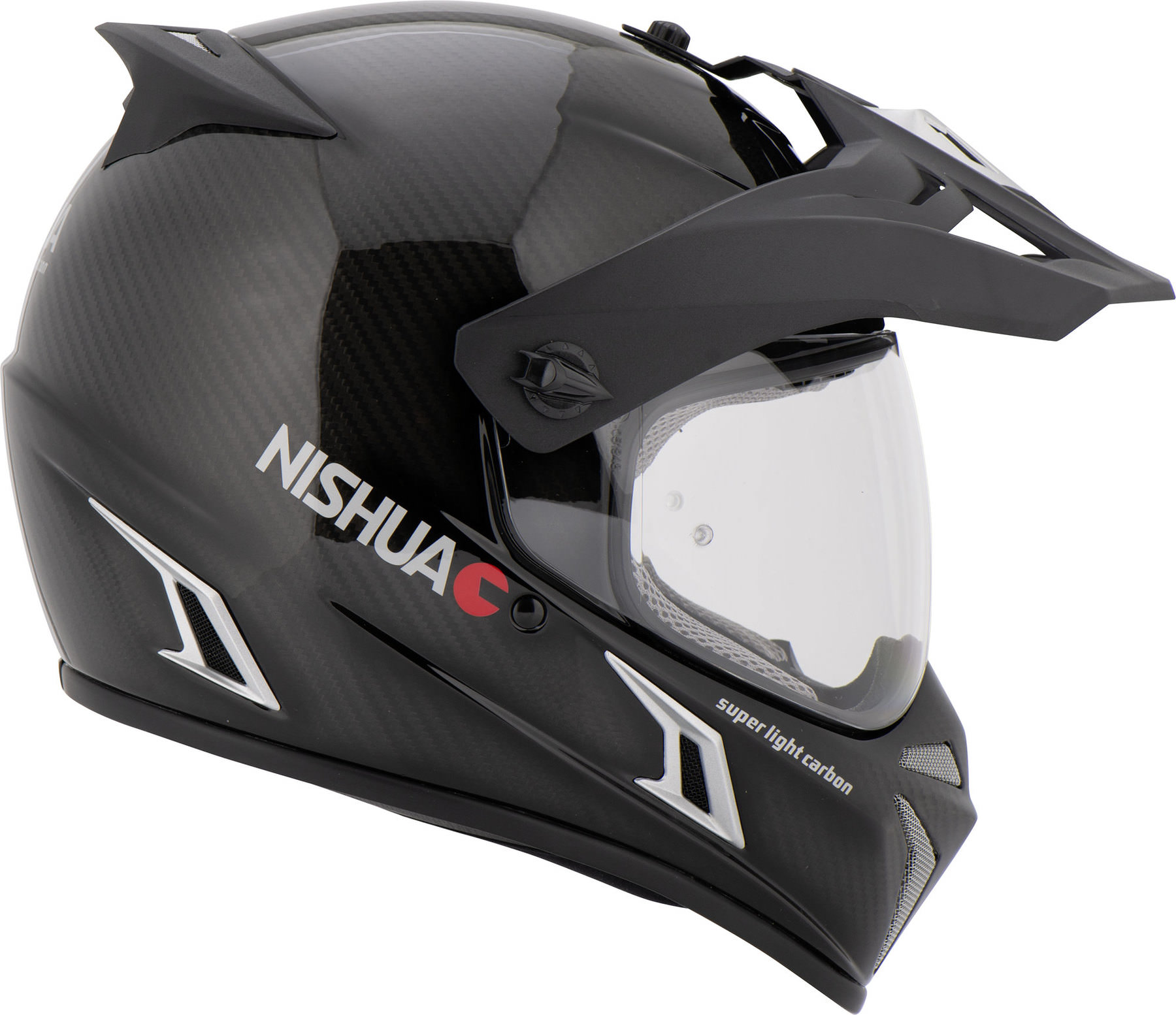 Nishua Enduro Carbon Enduro Helmet
Size chart
Clothes/Shoe size - Helmets
You have placed the following items in the shopping basket:
Nishua Enduro Carbon Enduro Helmet
Our test winner, Nishua Enduro Carbon, is a multifunctional helmet that converts effortlessly between enduro, motocross and streetfighter. The peak and visor are removable. The light weight, outstanding fit, with two different outer shell sizes, and optimal impact absorption make this helmet a great protector for any terrain.
Visor: clear, with Pinlock anti-fog visor insert
Material: carbon/carbon
Outer shell sizes: 2 (XS-M, L-XL)
Fastener: Double 'D' fastener made of titanium (lightweight + indestructible)
Weight: approx. 1,040 g/1,150 g (incl. visor + peak)
Lining: hypoallergenic, climate-regulating COOLMAX lining, fully removable and washable
Ventilation: Adjustable forehead vent plus chin inlet and air flow rear extraction
Includes wind deflector, spare top screw for the peak, spare side screw for the peak, side covers for use without peak
Certificates: ECE 22.05
NOTE: Helmet comes with clear visor. Note: Please regularly tighten the screws that secure the helmet shield.
Good to know:

NISHUA have produced a real gem with this helmet. To come away as the sole test winner with a "Very Good" rating from the "MOTORRAD" magazine editors is quite an achievement. Something to be proud of, and a good motivation for forthcoming product developments. The distinction was well earned, as testified by the features singled out for special mention by the magazine:
- Outstanding impact absorption
- Very easy to put on and take off
- Very lightweight
- Highly suitable for spectacle wearers
- Outstanding fit
- Very comfortable lining
- Very good aerodynamics
- Remains stable at high speeds
- Relatively quiet
- Good ventilation
- Intuitive ventilation switches
- Very large field of view
- Easy-to-change visor
- Well engineered
We would like to give special mention to the double 'D' fastener made of titanium. The use of titanium typifies the special quality of this helmet. And that's "good to know" in our opinion.
Manufacturer details: Nishua

Carbon helmets

NISHUA offers sportier riders everything they need, both for the race track and everyday life. The focus here is on active and passive safety. The super light and extremely strong helmet shell made of carbon fibre composite material, or prepreg fibreglass, is at the centre of the engineering concept. In line with the high-tech concept are the puristic look and the high-quality features, with details such as the double 'D' fastener suitable for the race track.

If you're looking to equip your new helmet with a new communication and entertainment system, why not let us carry out the installation for you professionally before we ship the helmet to you. This will save you time, and the system is ready to use immediately. Simply add this service (Order no. 10000130) to your shopping basket when you place your order.

You will find a list of all the communication systems that are compatible with your helmet under "Features" on the relevant helmet page.

For just EUR 24,99 per helmet, our experts will be pleased to provide this service.

Fabrics with COOLMAX technology transport moisture away from the body to keep the wearer cool and dry on hot days, special fibre structures provide insulation on colder days. The material is very easy-care, air-permeable and is characterised by excellent wash and fabric durability.
Product details
Weight approx:

1040 gram

Visor:

clear anti-fog thanks to Pinlock system

Lining:

Comfort lining

Country of manufacture:

China

Compatible with Sena communication system:

3S-W and 3S-WB

Compatible with Cardo communication system:

Freecom 1+, Freecom 2+, Freecom 4+

additional features:

None

fastener:

Closed with double 'D' ring

Helmet shell sizes:

2 shells

certificates:

ECE 22.05

shell material:

Carbon SLC

type of helmet:

Full-face and Motocross helmet
Overview of product features
Visor anti-fog
Visor mechanism with cover
Visor replacement without tools
Chin ventilation
Forehead ventilation
Back vent
Removable lining
Removable cheek pads
Wind deflector is included
Glasses channel integrated
Write a review for NISHUA ENDURO CARBON
We offer you the opportunity to rate products purchased from Louis and to share your experiences with them publicly.

To ensure that your objective and truthful report will be really beneficial to all readers, please observe the following rules.


Please only rate products that you have personally used for their intended purpose.
Please give reasons for your positive and negative criticisms. Only then will they benefit other customers and allow us to improve the product if necessary.
Please don't copy content that has already been published elsewhere. It's your personal experience which counts.
Data protection: Please don't include your own and other people's addresses, telephone numbers or URLs or even the names of third parties (people as well as companies) in your review.
In your product review, please don't make comparisons with third party product ranges. Regardless of whether you judge these positively or negatively, you, or we as operators of this online shop, would be violating competition law.
Fair play: Please follow these rules so that we don't have to shorten or delete your rating.
Your product rating has been saved. It will be displayed in a few minutes
Your previous input will be lost!
Do you really want to cancel your entry?
Issue 10-2020
"Motorrad" magazine tested ten adventure helmets in its 10-2020 issue. The Nishua Enduro Carbon was rated VERY GOOD and voted the only Test Winner. The following features were given special mention:

- Easy to put on and take off
- Good to very good fit
- Clearly defined, yet comfortable
- Highly suitable for spectacle wearers
- Biker-friendly chin strap
- Large eye port
- Easy visor operation, clear lock-in position, simple to replace
- Adjustable peak
- Good aerodynamics and acoustics
- Good ventilation
- Very well engineered
- Outstanding impact absorption
- Extremely lightweight
Issue 12-2017
"Motorradfahrer" magazine tested various lightweight motorcycle helmets in its 12-2017 issue. The Nishua Enduro Carbon is the lightest of the enduro helmets with visor. The following features were given special mention:

- Great price
- Well featured
- Visor can be changed without tools
Issue 2-2017
"Tourenfahrer" magazine tested seven enduro helmets in its 2/2017 issue. The Nishua Enduro Carbon was the only one to be awarded a BEST BUY. The following features were given special mention:

- Good protection, good to very good impact performance
- Relatively quiet
- Airy, superb ventilation
- Snug fit
- Lightweight
- Good aerodynamics
- High quality and function
- Good price
- Thoroughly recommended
Issue 11-2016
"Motorradfahrer" magazine tested seven enduro helmets in its 11-2016 issue. The Nishua Enduro was awarded a MOTORRADFAHRER BEST BUY RECOMMENDATION. The following features were given special mention:

- Airy
- The lightest helmet we tested
- Safety: good impact test results
- Relatively quiet
- Perfect for stress-free touring
- High quality and functionality at a good price
Issue 4-2016
"Motorrad Abenteuer" magazine tested seven hybrid helmets in its 4/2016 issue. The Nishua Enduro Carbon was the only one to be awarded a BEST BUY. The following features were given special mention:

- A highly recommended helmet in every respect
- Comfortable, snug fit
- The lightest helmet we tested
- Good aerodynamics
- Good chin ventilation, good circulation
- Good to very good impact test performance and quality of engineering
- Relatively quiet
Issue 4-2015
"Motorrad Abenteuer" magazine tested the Nishua Enduro in its 4-2015 issue. The following features were given special mention:

- A real lightweight
- Good fit, good aerodynamics
- Comfortable, fatigue-free biking
- Comfortable lining
- Also suitable for people who wear glasses
- Pinlock functions well
- Minimal wind noise
- Sturdy, well engineered helmet
Issue 21-14
The magazine "Motorrad" tested thirteen On- / Off-road helmets in their edition 21-2014. The Nishua Enduro Carbon is rated VERY GOOD and named the sole TEST WINNER. The following features are highlighted positive:

- Excellent shock absorption
- Very easy to put on and off
- Very light
- Very good glasses suitability
- Excellent fit
- Very pleasant lining
- Very good aerodynamics
- Is stable even at higher speeds
- Relatively quiet
- Good ventilation
- Practical ventilation slide
- Very large field of view
- Easy visor replacement
- Proper tailoring
+400 brands
2-year right of return
Fast delivery
Worldwide shipping