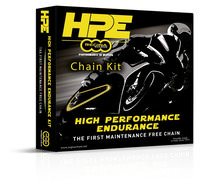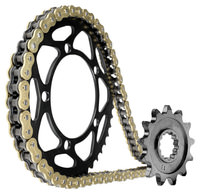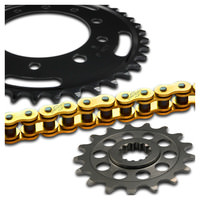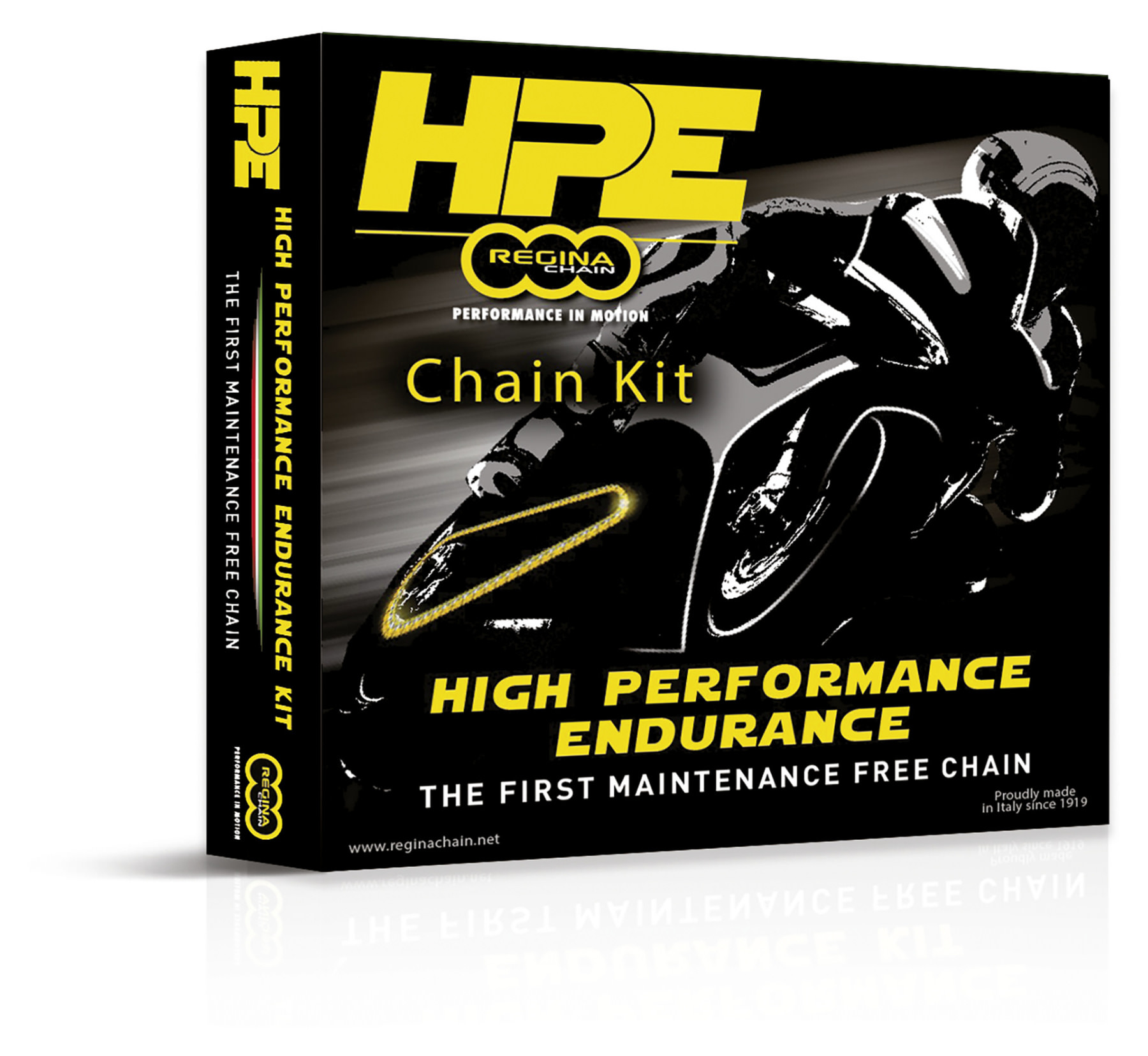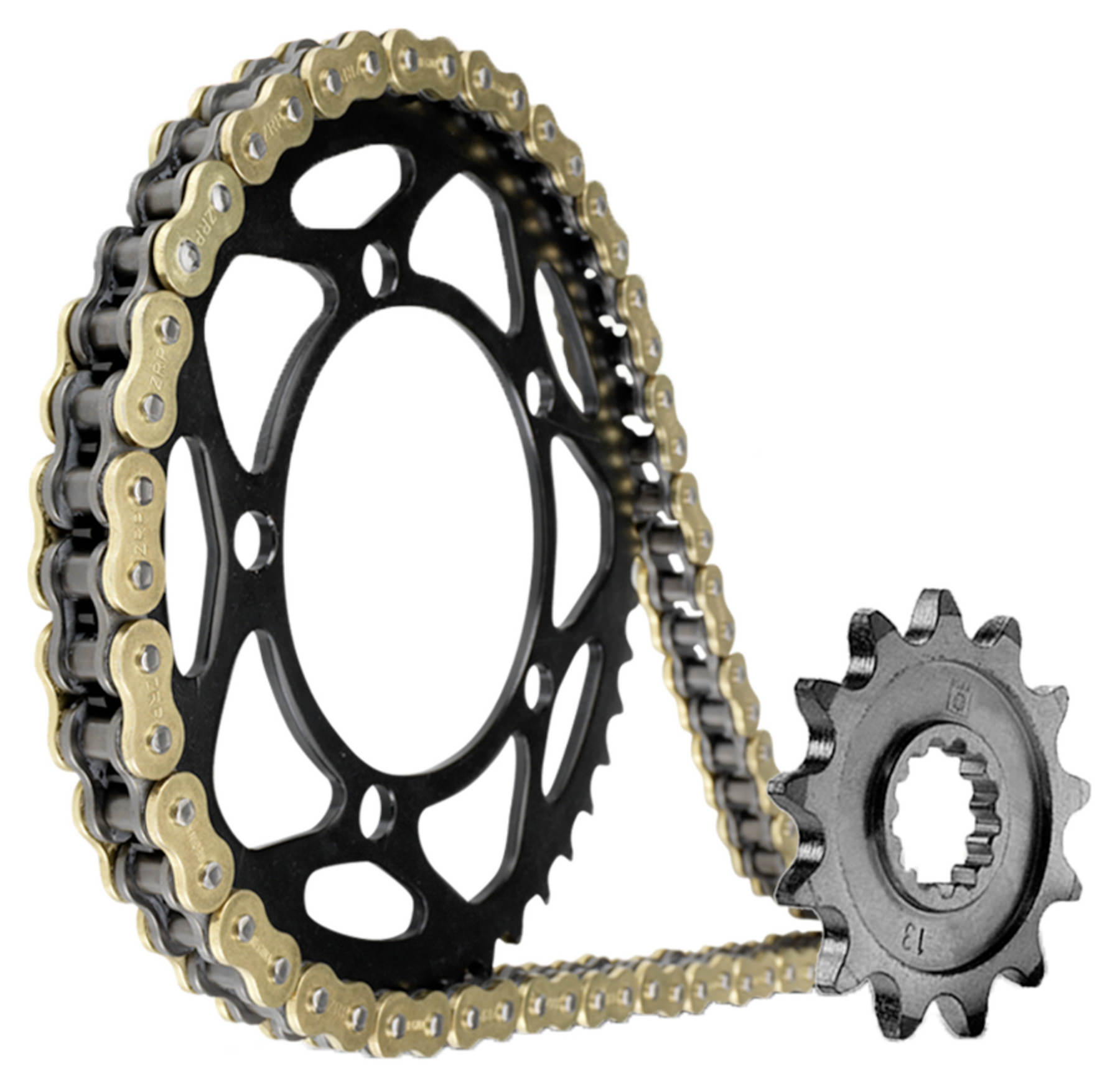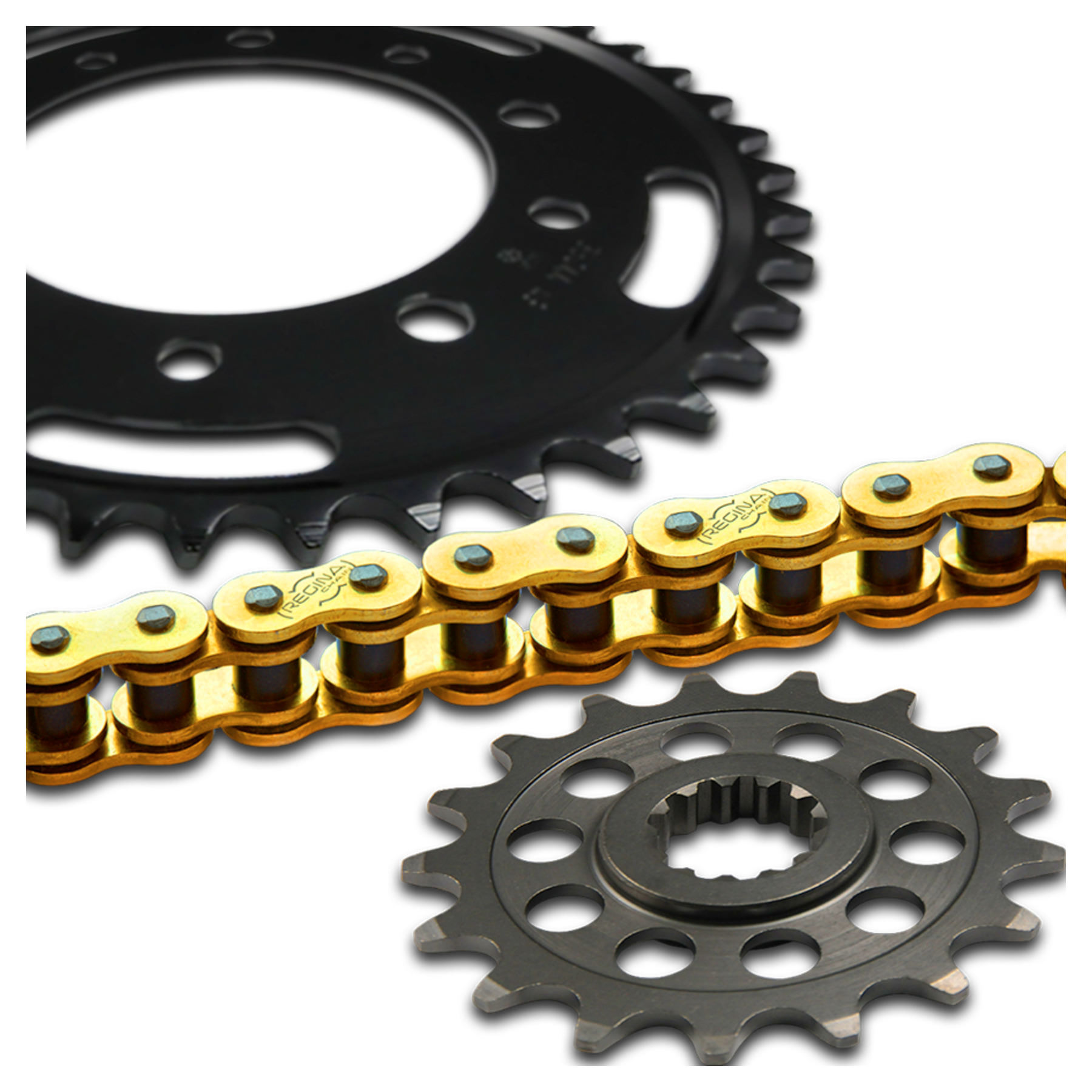 REGINA HPE - CHAIN KIT
DL1000V-STR.14-116/17/41
You have placed the following items in the shopping basket:
REGINA HPE - CHAIN KIT
DL1000V-STR.14-116/17/41
A world first for motorbikes with chain drive: the virtually maintenance-free motorbike drive chains from the Italian chain specialist Regina, the innovative *High Performance Endurance* (HPE) chains. And here as a complete chain set with sprocket and pinion in original equipment quality from gear professional ESJOT.

One thing is certain: probably the most annoying thing about a motorbike with chain drive is the recurring maintenance of the drive unit chain, sprocket and gear. And the rule is: it's better to clean once more and grease again. That way you'll get more out of your chain set - even if it's a pain.

It's different with the Regina *HPE* chain sets. The exceptional *HPE* chain is coated with hydrogen-free, amorphous, tetrahedral carbon (ta-C) on the surfaces of the rollers and bushings - also known as "industrial diamond". This coating reduces power loss and increases efficiency. In addition, the Regina *HPE* eliminates the need for chain cleaning and lubrication. This is not only less labour intensive, but also more environmentally friendly. But the best thing about this type of chain set is that it matches the durability of a well-maintained regular seal ring chain set.
innovative world first
chain sprocket and pinion in original equipment quality
no cleaning and lubrication
coating on rollers and bushes with ta-C
less power loss
long service life
environmentally friendly
You can find out which chain set is suitable for your vehicle under "All variants" and under "My bike".
Care instructions:
To guarantee the function and aesthetics, please follow 3 simple rules:
Clean and relubricate the chain:
after washing the motorbike
after a ride in wet and/or salty or dusty conditions
Before storing the motorbike at the end of the season (winter).
regrease the chain once a year
Check the chain tension every 3,000 km.
List of compatible motorcycles
Manufacturer details: Regina

Chain-kit

Regina ? Queen. A fitting name for a chain that has played its part in many World Championships, spanning every motorcycle racing discipline. Since 1874 Regina, based in Merate, near Milan, has specialised in making drive chains. Legends such as Mike Hailwood and Giacomo Agostini benefited from the manufacturer's continuous pursuit of optimum function and maximum reliability. Joey Dunlop and Carl Fogarty rode to TT victory with Regina chains. To this day, ongoing development ensures that Regina chains hold pole position, both on and off the racetrack.
Write a review for REGINA HPE - CHAIN KIT
We offer you the opportunity to rate products purchased from Louis and to share your experiences with them publicly.

To ensure that your objective and truthful report will be really beneficial to all readers, please observe the following rules.


Please only rate products that you have personally used for their intended purpose.
Please give reasons for your positive and negative criticisms. Only then will they benefit other customers and allow us to improve the product if necessary.
Please don't copy content that has already been published elsewhere. It's your personal experience which counts.
Data protection: Please don't include your own and other people's addresses, telephone numbers or URLs or even the names of third parties (people as well as companies) in your review.
In your product review, please don't make comparisons with third party product ranges. Regardless of whether you judge these positively or negatively, you, or we as operators of this online shop, would be violating competition law.
Fair play: Please follow these rules so that we don't have to shorten or delete your rating.
Your product rating has been saved. It will be displayed in a few minutes
Your previous input will be lost!
Do you really want to cancel your entry?
+400 brands
2-year right of return
Fast delivery
Worldwide shipping