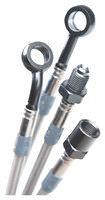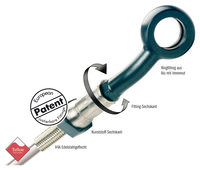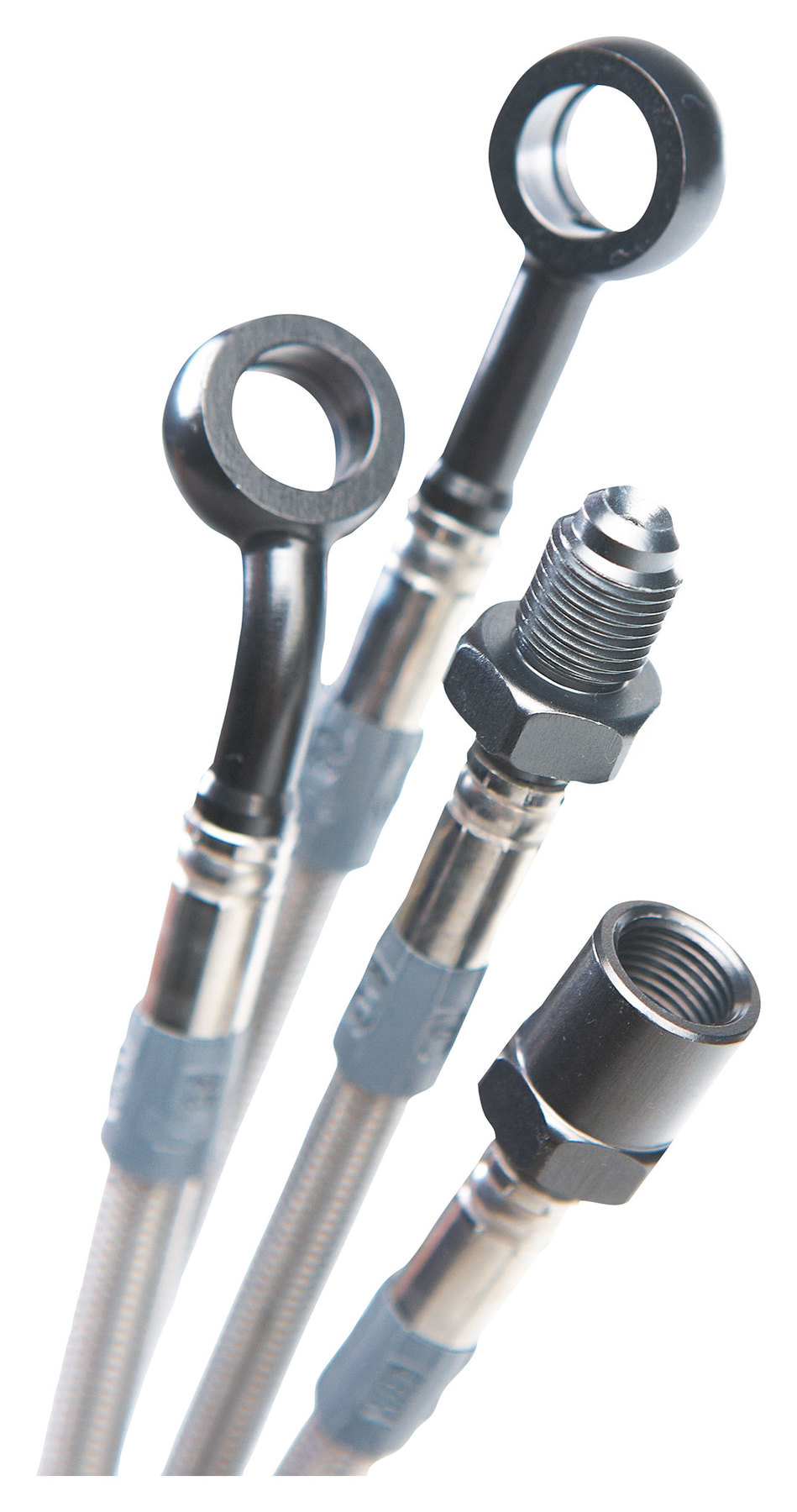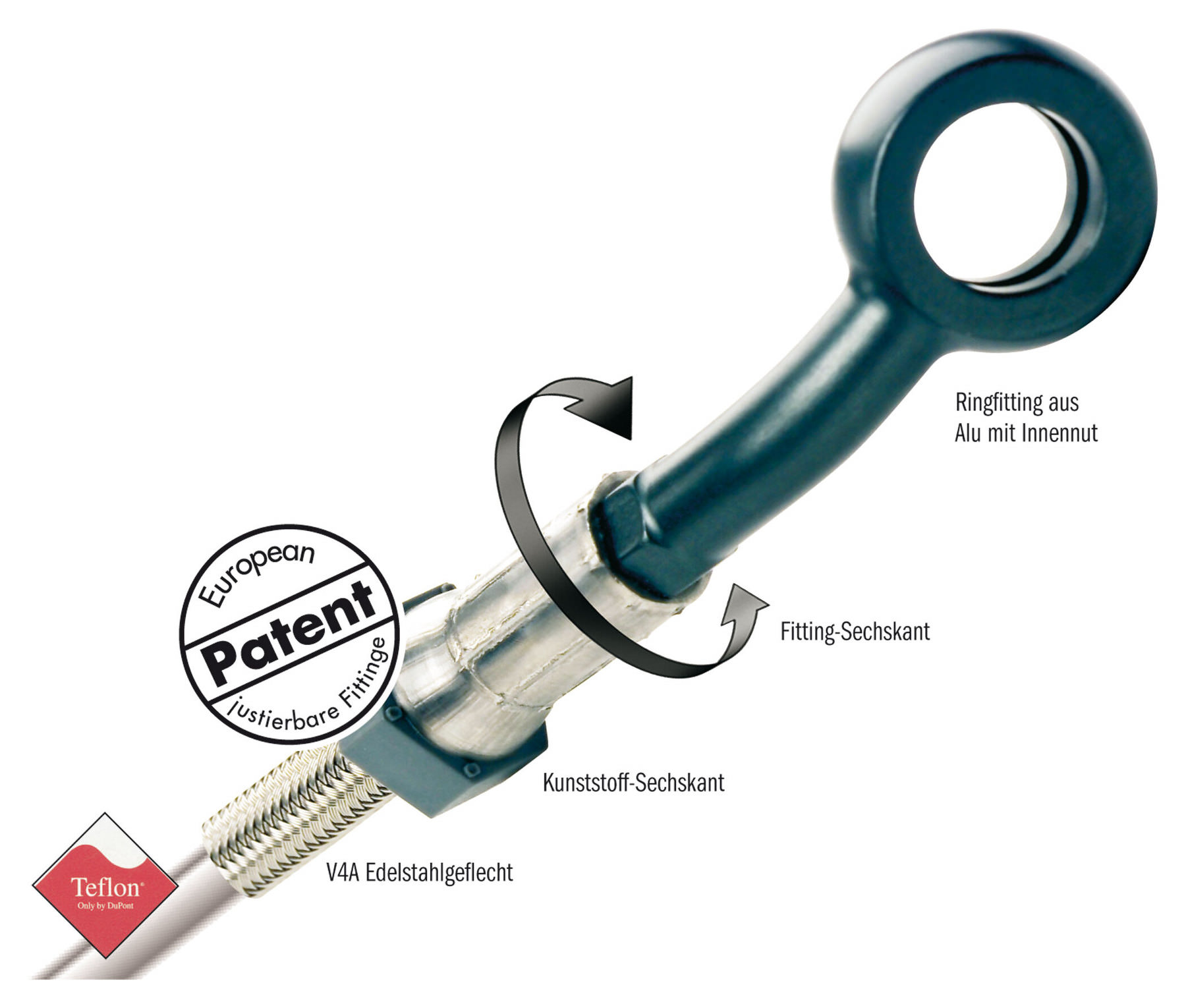 TRW BRAKE-LINE KITS
FRONT MCH 848 V5
You have placed the following items in the shopping basket:
TRW BRAKE-LINE KITS
FRONT MCH 848 V5
Safety, durability, optimised braking - TRW brake lines for front brakes are steel-braided hoses which combine exactly these key characteristics. These brake lines are an intelligent solution made in Germany.
The connections of the steel-braided lines are rotatable
The steel-braided lines have a transparent sheath
Marked improvement of the brake's pressure point and response
The standard colour of the connections is titanium
The steel-braided lines come as a complete set for each axle
Longer brake fluid change interval is possible
The steel-braided lines come complete with seals/gaskets. You will need to order the banjo bolts separately (see Recommendations for this product)
With type approval in Germany: the brake lines are marked with a KBA (German Motor Transport Authority) number
By the way,
TRW is Germany's market leader for steel-braided brake lines, and gives a long-term guarantee on materials and workmanship. Each line carries a registered serial number and the manufacturer's code.

Please note: You can find installation instructions and the type approval for Germany in the "Documents" section. They can be viewed or printed out in pdf format.

Installation instructions:
Some motorcycles have a permanently welded distributor as standard. It cannot be used if you install steel-braided brake lines. For these models, we supply a two-piece kit, which enables two lines to be secured to the hand-pump by means of the double banjo bolt supplied.
Manufacturer details: TRW
Every second counts when you brake!

TRW Lucas has been manufacturing premium-quality motorbike spare parts since 1976 (ISO 9001, ISO/TS 16949) and is the German market leader for brake discs, brake pads and steel-braided lines. Every time that product tests have been carried out by trade publications over the past 30 years, they have confirmed the excellent quality of these products. They have won test after test. Every second counts when you brake! Don't settle for anything less than quality products from the market leader.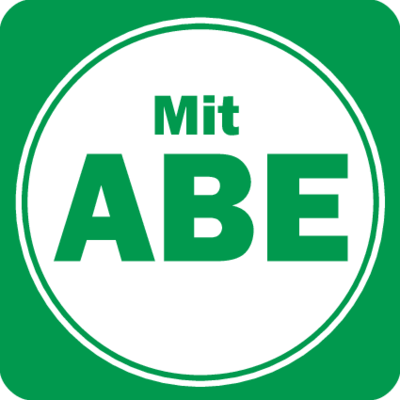 German type approval ("ABE)" allows the relevant accessory to be used on the vehicle models listed in the test report. Here it is the type abbreviation and not the maker's designation that is important for identifying the vehicle. The test report must be carried when riding in case it needs to be presented at a road-side check or vehicle safety inspection.
Accessories with type approval do not have to be registered in the vehicle documents! Those who do not want to carry the test report with them all the time can (for example) arrange to have the product registered by the Technical Inspection Association (subject to a charge).
If the accessory is to be used on a vehicle that is not listed in the type approval, an individual component approval is required. Although ABE type approval confirms the proper installation and safety of the product, it is the inspector who has to decide according to his technical expertise whether it is suitable for use on the vehicle.

An electric scooter with "ABE" approval has a type approval for Germany stating that the relevant vehicle satisfies all the relevant requirements of the eKFV (Small Electric Vehicle Ordinance in Germany) for the approval. In addition, insurance of the electric scooter is compulsory and use on pavements is forbidden. It can only be ridden on cycle paths and on the road (if a cycle path is not available). The minimum age for riding an electric scooter is 14 years. Although a driving license and helmet are not mandatory, they are highly recommended. An electric scooter must always be ridden solo.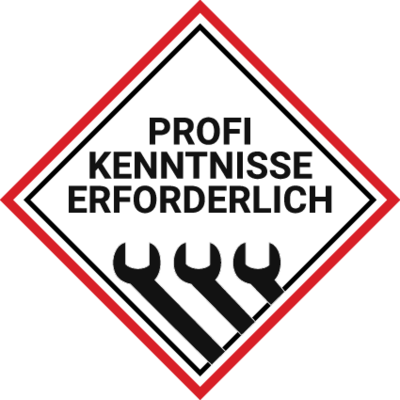 Professional technical expertise is essential to fit this article. We therefore urge you to have it installed by a motorcycle workshop!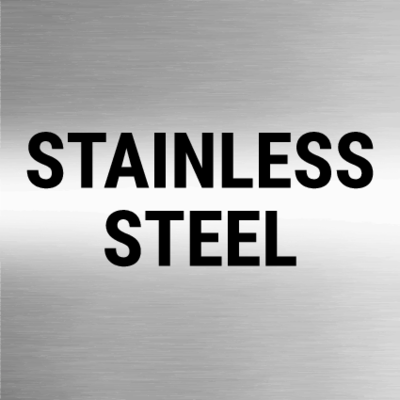 Stainless steel is a collective term for rustproof steel. It is much more resistant to corrosion than non-alloyed steels. Stainless steel does not deteriorate, and is hygienic, UV-resistant, non-corroding, fracture-proof, non-toxic and environmentally friendly. It does not weather and can be recycled in its entirety, even after many years. Technically, the term "stainless steel" refers to corrosion-resistant steel alloys with a wide variety of compositions but always containing a high percentage of chromium (usually a minimum of 10.5%)

.

MAINTENANCE:
Stainless steel should be cleaned regularly like all other materials, especially after exposure to salty air (near the coast), and also at regular intervals.
Water can easily collect in corners, edges and screw connections, resulting in corrosion. So careful cleaning is important, and if necessary screws should be undone in order to clean the parts thoroughly.
Do not leave rusty steel parts against stainless steel to avoid the rust "contamination".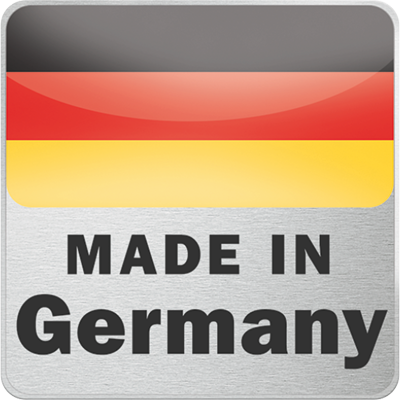 QUALITY MADE IN GERMANY!

By purchasing this item you have chosen a premium-quality product with superior German workmanship. This internationally acknowledged mark of quality means that this product is the result of efficiently coordinated development and production processes, technological expertise, continuous quality controls.
Writing review is not available
We are currently working on the implementation. The feature will be available soon.
+400 brands
2-year right of return
Fast delivery
Worldwide shipping