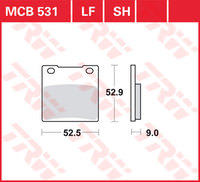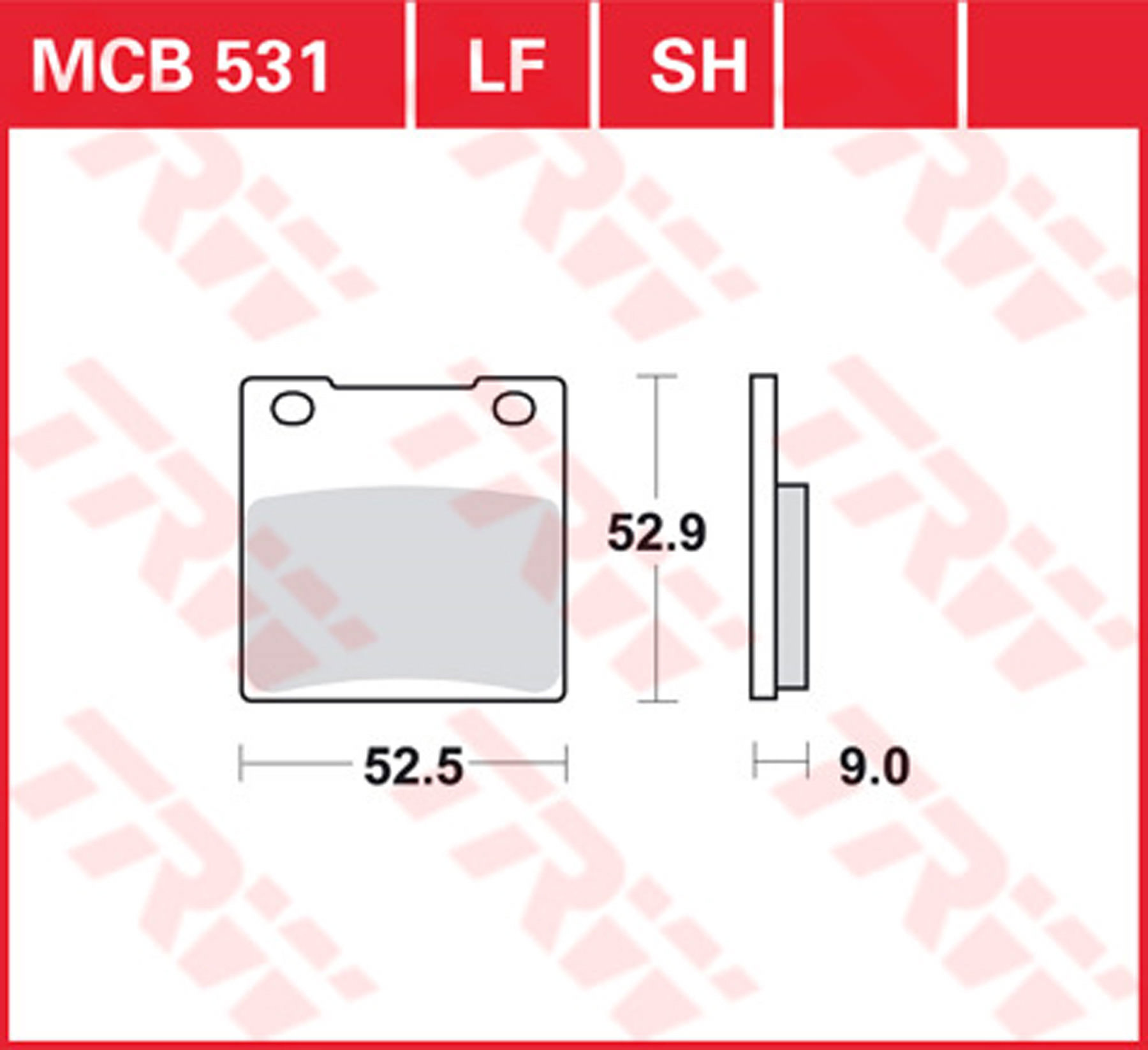 TRW BRAKE-PADS SINTER
MCB 531 SH
You have placed the following items in the shopping basket:
TRW BRAKE-PADS SINTER
MCB 531 SH
Stop right there! Those are the sintered metal brake pads from TRW. Recommended by leading motorcycle magazines for years now, and of course with type approval for Germany. The KBA (German Motor Transport Authority) number on the brake pad plate is your guarantee. These brake pads are top-quality products offering high braking performance and great durability.
Features

Direct brake response with good controllability
Only minimal hand force required; well-balanced friction coefficient at front and rear axle
Solid metal individual components, free of heavy metals
Outstanding wet braking
Good disc compatibility - suitable for all steel brake discs
The exact dimensions of the brake pads are given in the "Documents" section.
The price is per set for one brake disc, if you have 2 discs, please order 2x.
Be sure to watch the Louis Video *How to change brake pads*. Our tips and tricks make it a very simple job!

It is essential to follow the safety instructions printed on the packaging. Organic brake pads can be found in a separate section.
List of compatible motorcycles
Manufacturer details: TRW
Every second counts when you brake!

TRW Lucas has been manufacturing premium-quality motorbike spare parts since 1976 (ISO 9001, ISO/TS 16949) and is the German market leader for brake discs, brake pads and steel-braided lines. Every time that product tests have been carried out by trade publications over the past 30 years, they have confirmed the excellent quality of these products. They have won test after test. Every second counts when you brake! Don't settle for anything less than quality products from the market leader.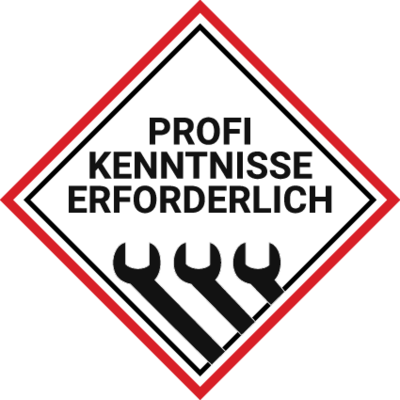 Professional technical expertise is essential to fit this article. We therefore urge you to have it installed by a motorcycle workshop!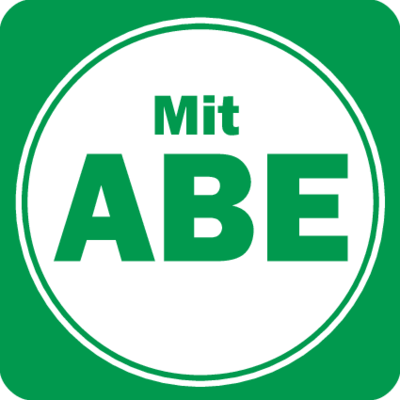 The German "Allgemeine Betriebserlaubnis (ABE)" (general type approval) authorises the use of the relevant accessories on the vehicle models listed in the certificate booklet. The certificate booklet must be carried along when driving and must be presented on request in the event of a traffic control or the main inspection (HU).
Accessories with an ABE do not have to be registered in the vehicle documents. However, if you do not want to carry the certificate with you at all times, you can have it registered (at a charge) by the TÜV, for example.
If the accessories are to be used on a vehicle that is not listed in the ABE, an individual approval is necessary.

The regulations in other countries may differ. Before ordering a product, please make sure that it may be used in road traffic in your region, your country.
Write a review for TRW BRAKE-PADS SINTER
We offer you the opportunity to rate products purchased from Louis and to share your experiences with them publicly.

To ensure that your objective and truthful report will be really beneficial to all readers, please observe the following rules.


Please only rate products that you have personally used for their intended purpose.
Please give reasons for your positive and negative criticisms. Only then will they benefit other customers and allow us to improve the product if necessary.
Please don't copy content that has already been published elsewhere. It's your personal experience which counts.
Data protection: Please don't include your own and other people's addresses, telephone numbers or URLs or even the names of third parties (people as well as companies) in your review.
In your product review, please don't make comparisons with third party product ranges. Regardless of whether you judge these positively or negatively, you, or we as operators of this online shop, would be violating competition law.
Fair play: Please follow these rules so that we don't have to shorten or delete your rating.
Your product rating has been saved. It will be displayed in a few minutes
Your previous input will be lost!
Do you really want to cancel your entry?
Issue 23-2019
In its 23-2019 issue, "Motorrad" magazine tested the Lucas Sintered Brake Pad on the Harley Davidson Heritage Classic 114 and awarded it a Practical Recommendation. The following features were given special mention:

- Improves braking appreciably after the bedding-in period
- Harder, more constant pressure point

Issue 12-2018
In its 12-2018 issue, "Tourenfahrer" magazine tested various brake pads on the Suzuki GSX-S750. Lucas sintered brake pads (and one rival brand) were awarded a TOURENFAHRER RECOMMENDATION. The following features were given special mention:

- Very predictable braking performance
- Good brake control
- Consistent pressure point
- Top performance, low price
Issue 5-2017
In its 5-2017 issue, "Motorrad News" magazine tested eight brake pads on the Kawasaki Z650. Lucas Sintered Metal Brake Pads (together with one competitor) was awarded a "MOTORRAD NEWS RECOMMENDATION". The following features were given special mention:

- Very good controllability of braking force, very good response
- Moderate hand force
- Minimal fade
- Very short braking distance
- Very long life
- Good value for money
Issue 3-2016
In its 23-2016 issue, MO magazine tested Lucas TRW Sinter Brake Pads on the Suzuki GSX-S 1000 and awarded them an MO BEST BUY recommendation.
Special mention was given to the noticeably stronger braking performance and lower price compared to the original brake pads.
Issue 6-2014
In its 6/2014 issue, "Motorradfahrer" magazine tested a variety of accessories on the Suzuki GSR 750. TRW Sinter Brake Pads were awarded a MOTORRADFAHRER RECOMMENDATION.

"The sintered metal brake pads from TRW transform the toothless GSR braking system into a real stopper". A must-have for this motorbike because, after fitting new pads, you can easily operate the GSR lever with two fingers into the ABS control range. When slowing down, the bite increases with rising temperature, so it is not too aggressive at first, which makes these pads suitable for everyday use. TRW thus offers the perfect brake pad composition for the vexed issue of the GSR brake."

Issue 5-2012
"Dream Machines" magazine tested nine brake pads in its 5/2012 issue. Lucas TRW sintered metal brake pads were awarded a BEST BUY recommendation. The following features were give special mention:

- Very good braking performance with moderate hand force
- Clear pressure point
- Very smooth braking
- Low price

(Four out of nine brake pads tested were awarded a Best Buy, and one received a Value for Money recommendation)
Issue 14-2008
Extract from the winning test report on the BMW R 1200 GS:
Immediate response, very accurately controllable, very low operating force (one finger is enough); very good braking effect whether cold or hot; even after four emergency stops in succession, absolutely no fading in the test; very low brake disc wear.
Verdict: "....the Lucas brake pads suit the GS-BMW perfectly. The perfect controllability, low hand force and excellent fading resistance give these brake pads, along with the Brembo, a well-deserved first place in this comparative test.
Issue 04-2007
The magazine "Dream Machines" 04/2007 tested brake pads from eight manufacturers. "Lucas" brake pads were given top rating. Verdict:
Top-class linings with outstanding braking performance
Very trustworthy
Hardly any fade
Genuine "one-finger-brakers"
Highly recommended
(Linings from eight manufacturers were tested; five were given top rating)
Issue 20-2004
Verdict on the test on the Suzuki GSX-R 1000:

The Lucas brake pads score points for the very low hand forces and the reliable braking control in particular. In addition, they brake brilliantly when hot, and their resistance to brake fade is beyond reproach. They also perform well in the wet.
Issue 08-2003
What "MOTipp" said: "If you find the original pads over-aggressive, you will prefer the Lucas pads. The sintered metal pads brake much more softly. Plus they make your bike immune to overbraking. A shade slower than the originals, but you won't crash the first time you hit the brakes hard!
+400 brands
2-year right of return
Fast delivery
Worldwide shipping