Kawasaki ER-6n – Louis Special Custom Bike
Quite a transformation: The Louis mechanic team's extreme conversion turns the run-of-the-mill ER-6 into a high-class show bike.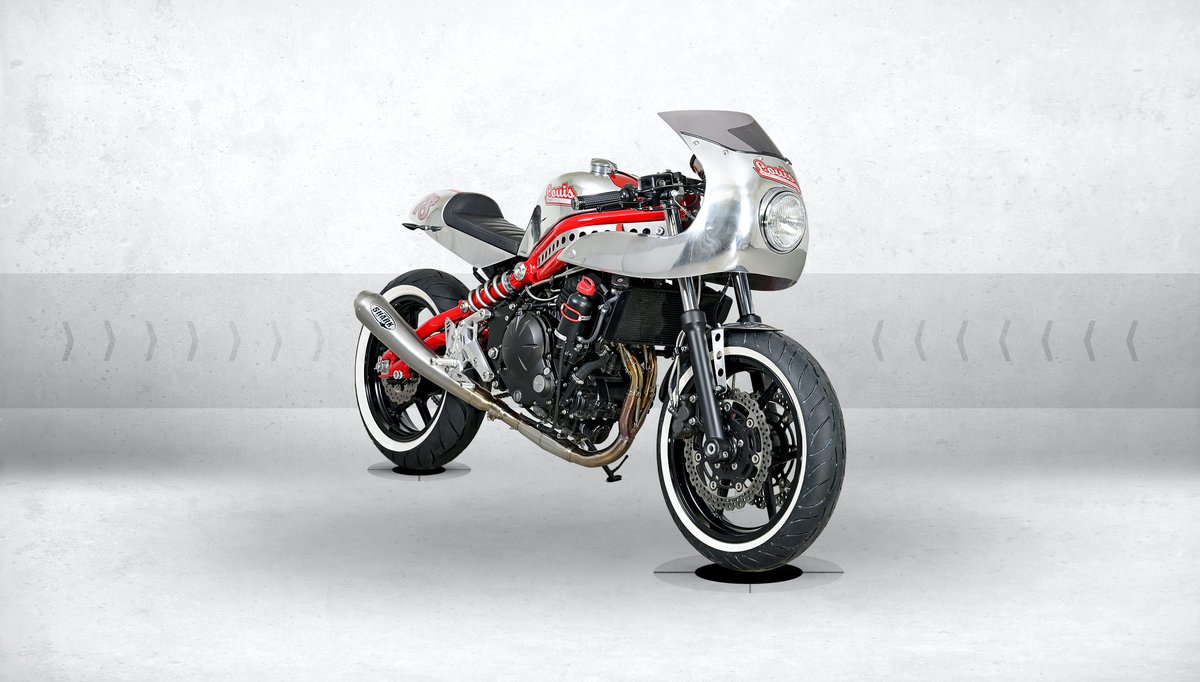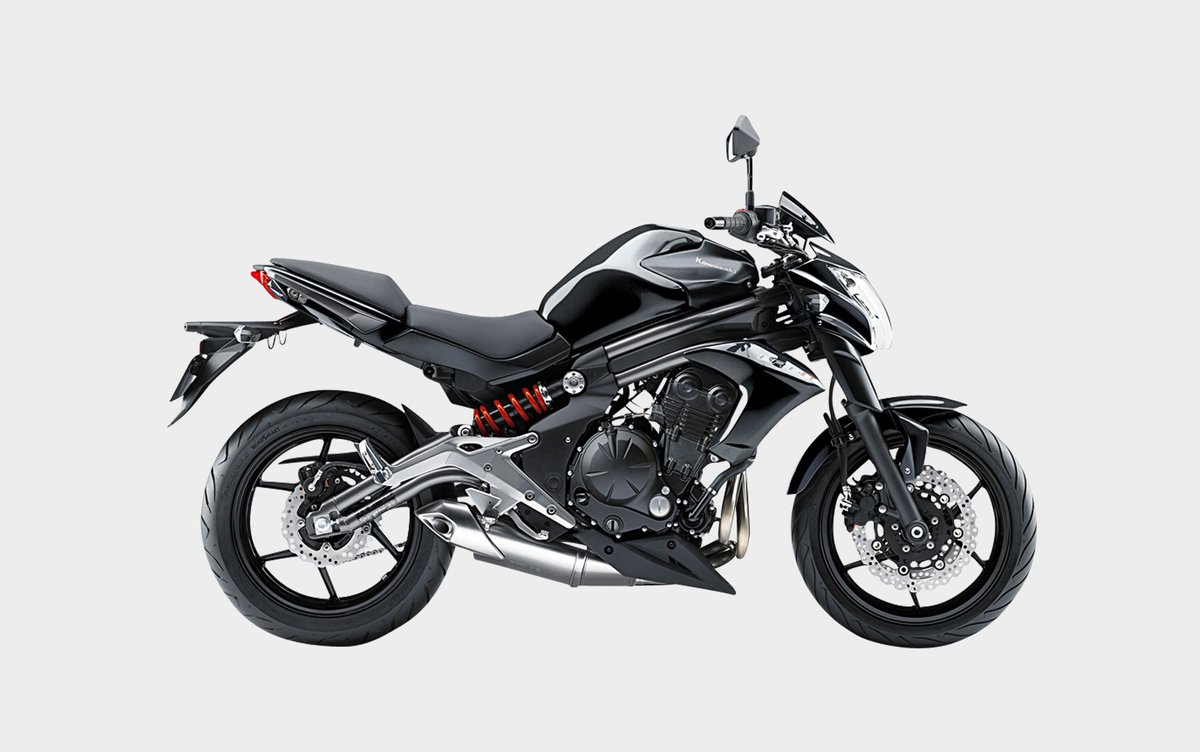 Kawasaki ER-6n
As a bike for learners and as a trusty everyday machine, the attractive ER-6 has been very popular, and Kawasaki's top seller, for years now.
Extravagant – Louis Kawasaki ER-6n
The Kawasaki ER-6 is a hugely successful motorcycle, with around 25,000 of them on the road in Germany alone. And with good reason. For a very affordable price, you get a well engineered 72 bhp all-round machine. The performance and modest weight of just 206 kg add up to a lot of fun, especially on the open road. Then there's the 48 bhp version, which is ideal for motorcycle training schools and first-time bikers.
So it seems a strange idea for the Louis mechanic crew to think about converting a motorcycle that does its job so well. But the thing is, our team made an interesting discovery. Hidden beneath the various covers, mounts and fairing components, the model that has been on the market since 2012 actually has an extremely elegant frame. In fact, the sort of frame that could have come from a bespoke frame builder like Spondon. It would be a crying shame not to let everybody see it in all its glory. So everything that concealed the frame was duly removed. And while they were at it, our team also took away anything that seemed too bulky or simply surplus to requirement. To put it in a nutshell, what was left was the frame, wheels, swing arm, forks and engine.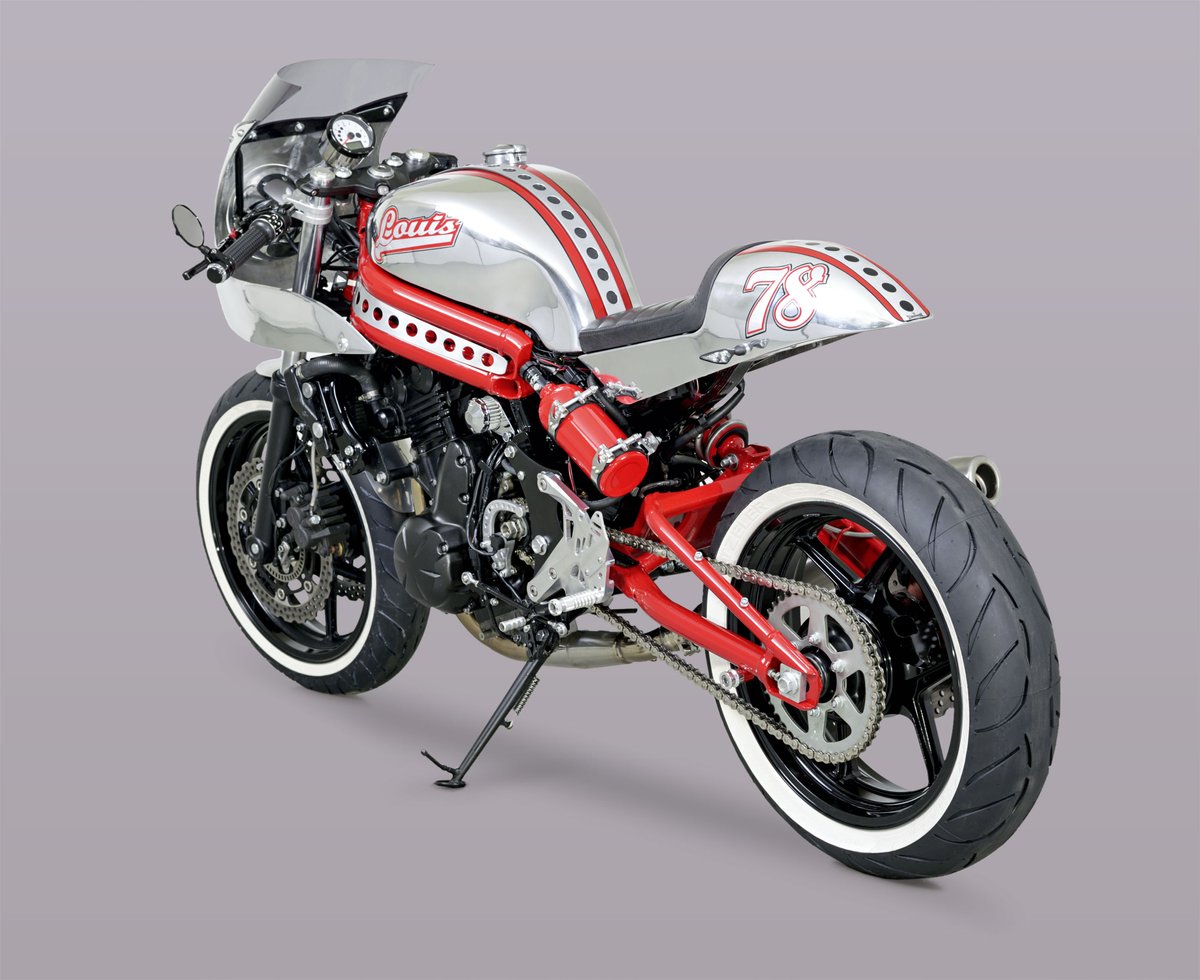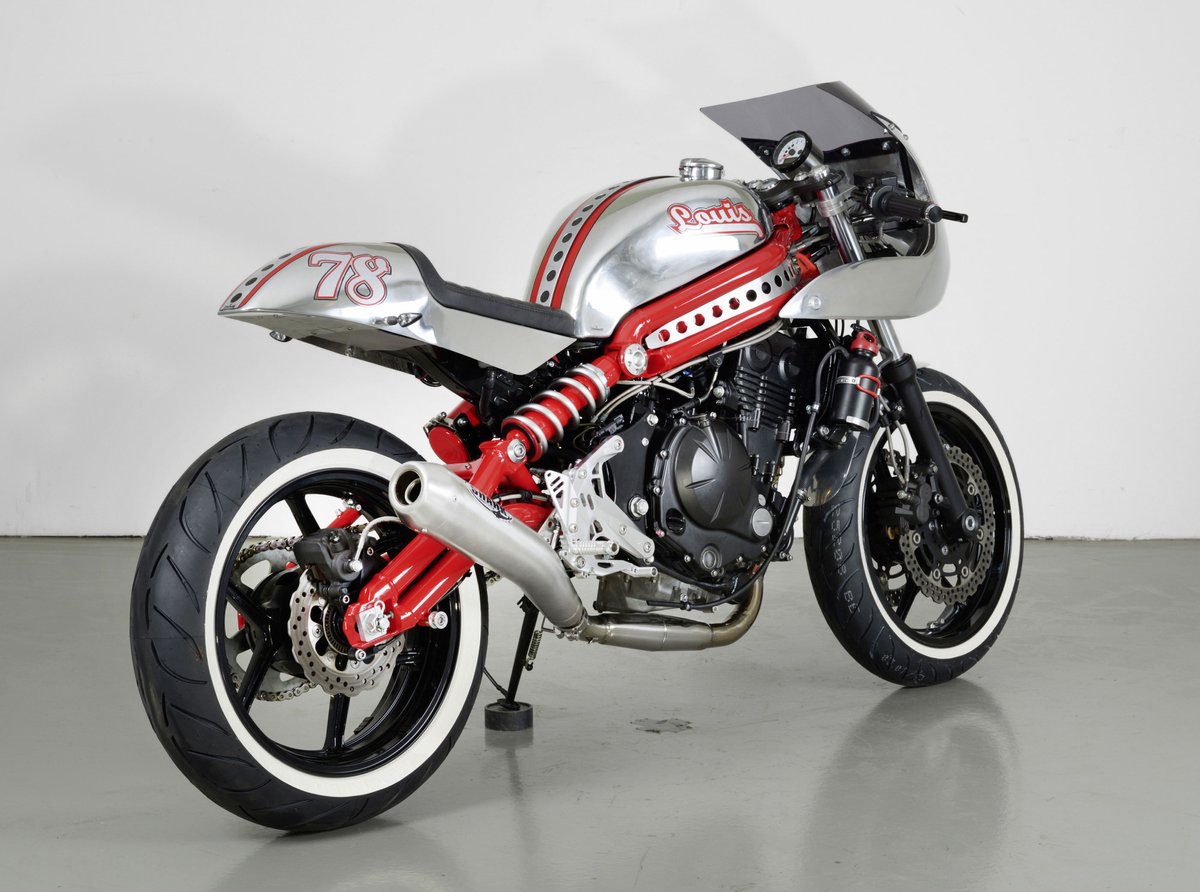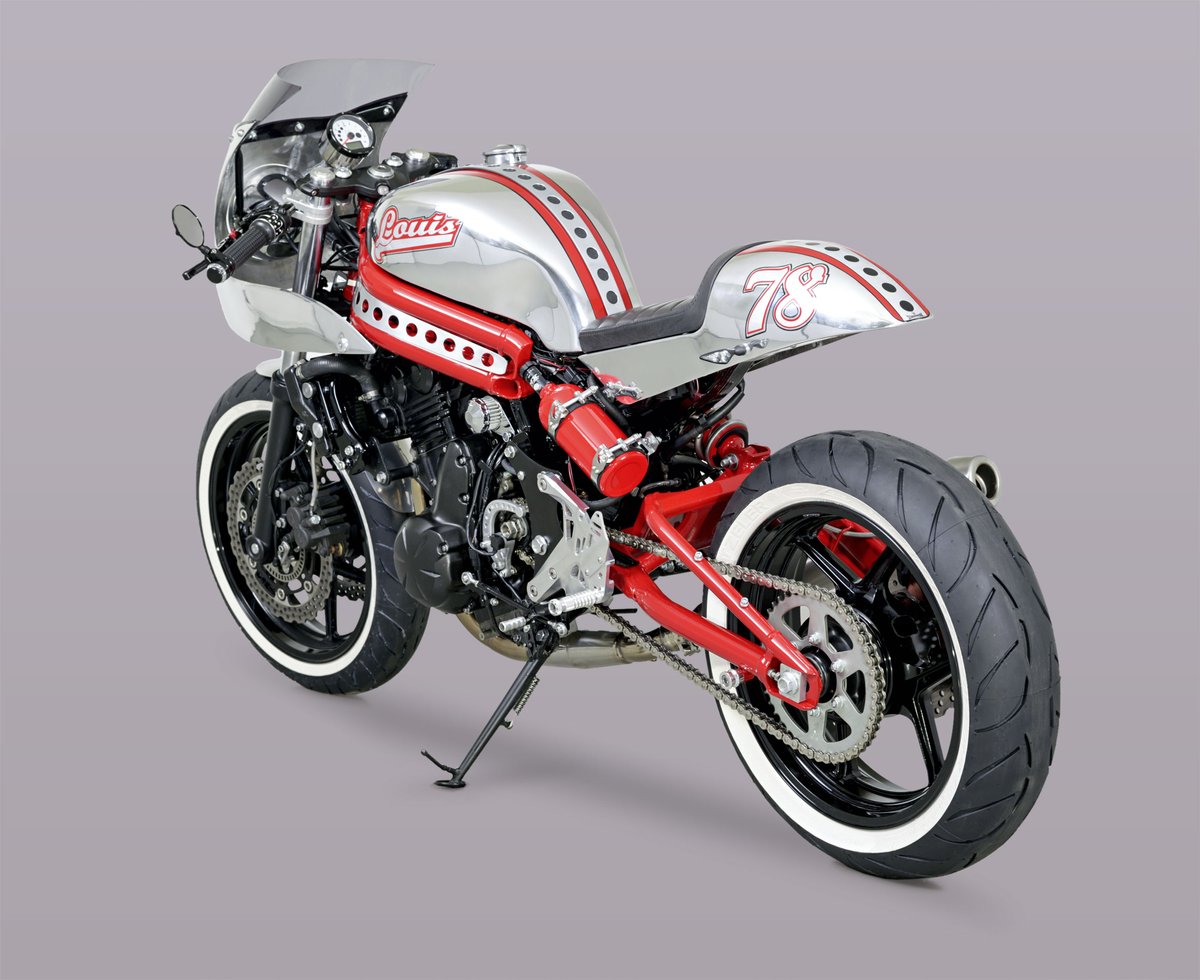 Entirely hand-crafted: Fairing, tank, seat
Metal guru Friedhelm Lammers then set about building a completely new aluminium bodywork to the mechanic crew's specifications, comprised of fairing, tank, seat and front mudguard. The single-seat tail unit meant that the rear of the frame had to be shortened. Of course, the go-ahead was first obtained from a local TÜV test centre. As befitted its new starring role, the clean-look frame was given a striking red paint job. As with the Dominator, this challenge, and also the tasteful addition of a little colour to the aluminium parts, was entrusted to none other than Danny Schramm.
An explosive combination: ER-6 with nitrous injection
An extravagant exterior needs to be matched by something rather special underneath. When it comes to extracting the most out of an engine, Ulf Penner from Bremen is regarded as a sort of human geiger counter. Using an adapted intake manifold from a Kawa ZX-10, performance cam shafts, machined cylinder head, high-compression forged pistons and a Power Commander, he turned the 72 bhp of the stock unit into precisely 99.9 bhp. As if that wasn't enough, the mechanic team together with Ulf then decided to install nitrous injection, giving a theoretical boost of up to another 40 bhp. The dynamometer showed 130 bhp – for around two seconds. Then a con rod failed and completely demolished the engine. To avoid any repetition, it was decided that 101.5 bhp would be quite enough for the replacement engine.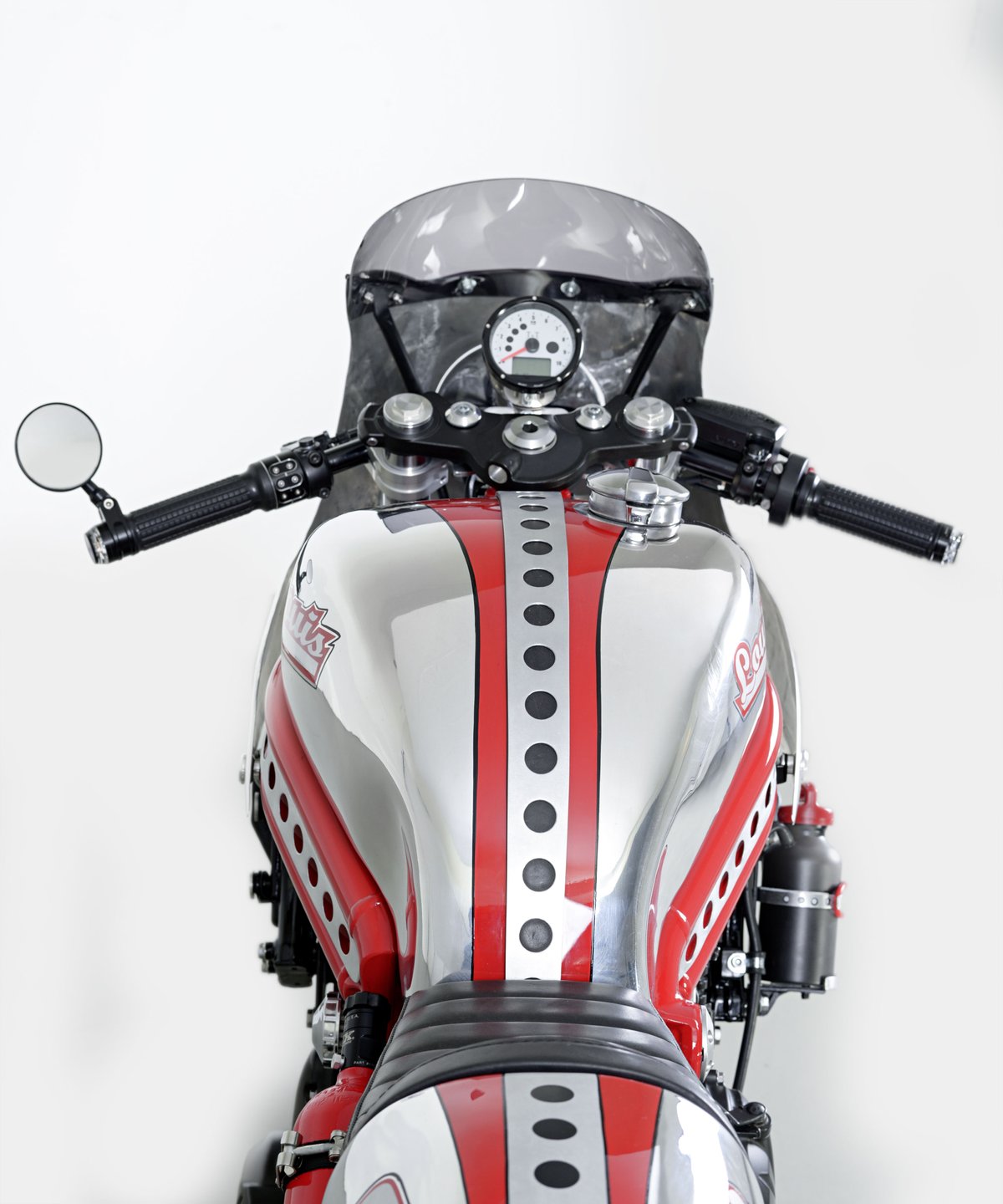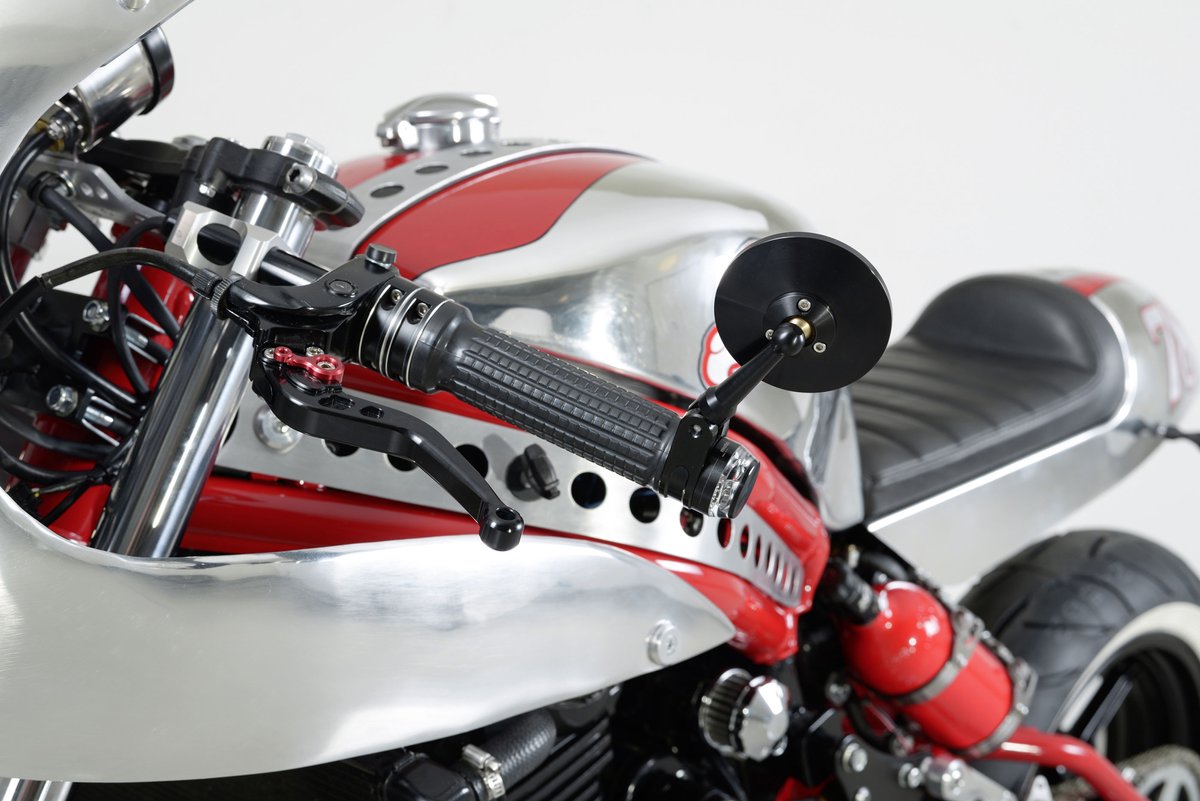 Final assembly: Elegant accessories for the high-class Kawasaki
Now the crew were ready to put the finishing touches to the bike. An MRA spoiler screen and a mini-headlight were integrated into the fairing. The exhaust system comprises Shark manifolds combined with the Conic rear silencer of a Suzi GSX-R (also from Shark). Therefore without EC type approval and, unfortunately, not street legal, or only with individual test centre approval. The super-elegant footrest system is from Gilles Tooling, while Motogadget supplied the micro handlebar switch complete with control unit, grips and bar-end turn signals and mirrors. The clip-ons and levers are from LSL. Pride of place in the centre of the cockpit is given to a single T&T multifunctional instrument, which tells you everything you need to know. It may look as if there is no tail light, but in fact there are two, both integrated into the turn signal/tail light combination from Kellermann. The nickel-plated drive chain from D.I.D is a real gem, as are the Ariete angled valve stems. The nitrous injection from Nitrous-Express can, if required, be operated via a Foliatec Kill Switch On/Off. Skilfully concealed in the rear fairing is an ultra-compact lithium iron phosphate battery from MBF.
---
---