Ticino for when you park your bike up
Ticino from a slightly different angle
How about taking a look at Ticino from a different perspective? The best way to do this is to jump on one of the circular boat trips that are available on Lake Lugano and Lake Maggiore.

The cable-car trip up to Alpe Foppa on Monte Tamaro is also highly recommended. Santa Maria degli Angeli church, designed by Ticino's star architect, Mario Botta, is a masterpiece of contemporary architecture.

You can then go higher still by taking the narrow-gauge cog railway up to Monte Generoso to the north of Mendrisio. The view from there over the whole of Lake Lugano is about as spectacular as they come. Monte Generoso is closed at present, but by the time it reopens in 2017 there will be a fantastic new Mario Botta building on the summit.
Gastronomy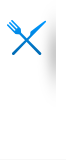 Eating and drinking in Ticino
A typical establishment in which to enjoy Ticino specialities is one of the 'grotti', which are mainly simple, rustic restaurants that will serve you local specialities such as braised meat with polenta or risotto. Plus a 'Gazosa Ticinese' (a sparkling lemonade, typical of the region and served in a flip-top bottle) to wash your meal down.

Sweet dreams from the south
In the Grand Café Al Porto in Lugano it feels as if you have been transported back in time to the nineteen-twenties. Then there is the Gelateria Venturini, where they have perfected the art of producing ice cream over generations – and you really can taste all that experience!
Further information

Culinary specialities
As well as the traditional 'grotti', Ticino also has a few other culinary specialities to offer:

Travelling in Ticino
Information on all aspects of travelling in Ticino