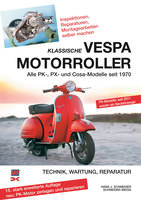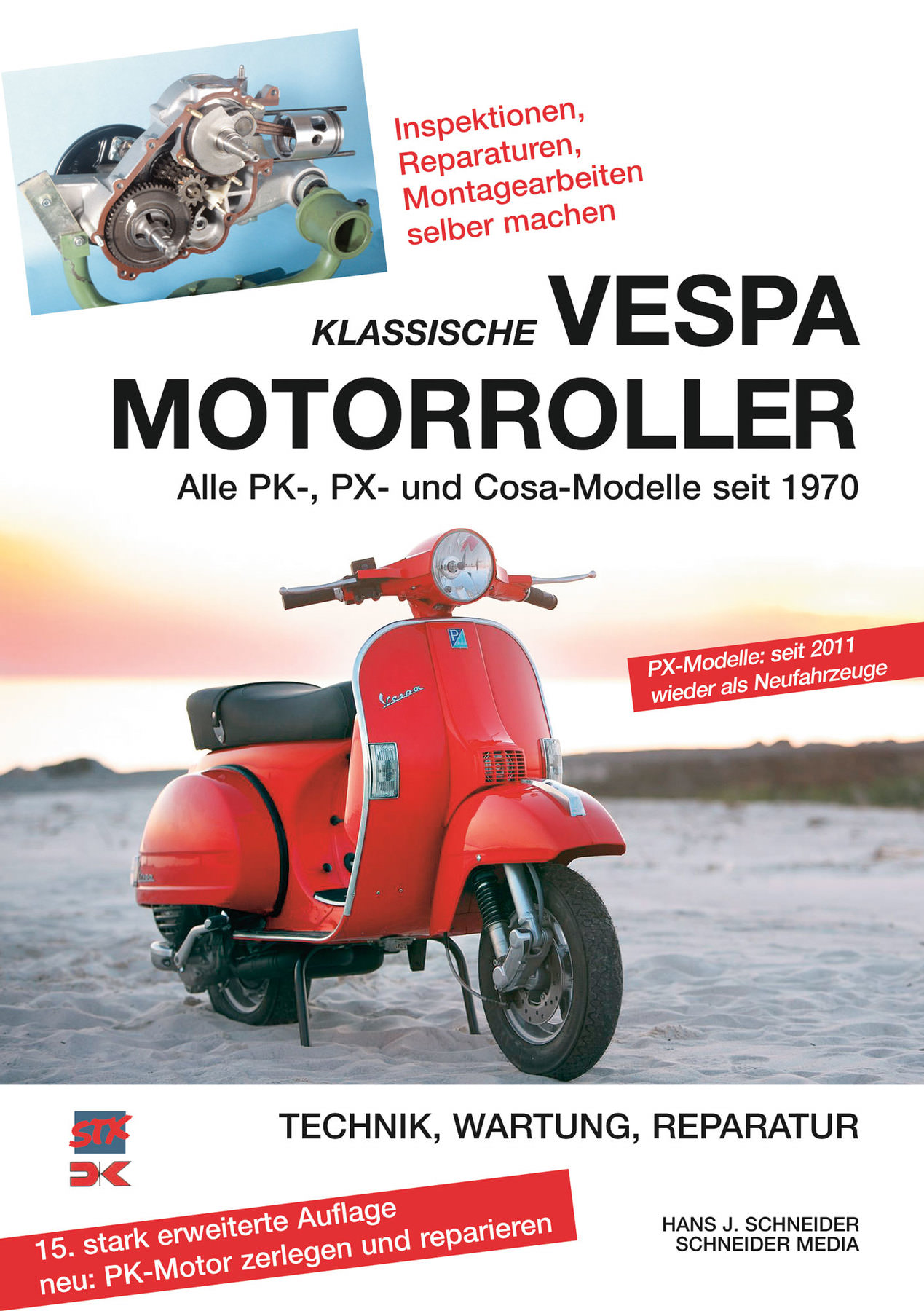 BOOK: VESPA MOTORROLLER
PK-/PX-/COSA MOD SINCE 70
You have placed the following items in the shopping basket:
BOOK: VESPA MOTORROLLER
PK-/PX-/COSA MOD SINCE 70
Technical details - Maintenance - Repair

All the PK, PX and Cosa models since 1970.
Detailed explanations, with numerous colour photos, on how to take apart and service the engine, clutch and gearbox. Clear headings and bold print for easy reference.
Short picture captions summarise the essentials.
Tips on buying a second-hand scooter, a brief history of each model and information on tools and tyres complete the contents.
There are also colour circuit diagrams, technical data, torque values, troubleshooting table and an index.
200 pages, 450 colour illustrations, size 14.9 x 21 cm, paperback
Only in German language!
When Piaggio presented the first Vespa in 1946, no one could possibly imageine that this scooter would still hold a fascination for the young and young at heart even in the new millennium.
Yet, there are sound reasons for the continuing popularity of this legendary scooter despite its rather antiquated technology. Besides the nostalgic curves, people still love its excellent everyday usefulness and ease of maintenance. Anyone with a little technical knowledge can easily service and repair this scooter themselves. And this book has been a big help ever since the mid 1980s.
In 200 pages and more than 450 mostly colour illustrations, it describes all the steps for correctly servicing the engine, bodywork, chassis and electrics of the Vespa PK, PX and Cosa series.
List of compatible motorcycles
Manufacturer details: Delius Klasing Verlag

Go to Delius Klasing Verlag articles
The publishing house Delius Klasing was founded by Johannes Klasing and Konrad Delius in 1911, with the business already focusing on special-interest topics such as flying, motorboats and automobiles. The war then prompted a move from Berlin to Bielefeld.
It was here that Konrad-Wilhelm Delius, the co-founder's 29-year-old son, started up the business again in 1945.
From 1963 it was under the joint management of the brothers Konrad-Wilhelm and Kurt Delius. During the 1970s and 80s the firm began publishing numerous special-interest magazines that are market leaders today.
It is also expanded its publication of books,
and in the 1980s broke into the soft media sector, selling videos and also computer software.
In 1982 Konrad Delius took over management of the firm as the fourth generation of the family. Today some 220 staff are hard at work living up to the principles of the company, which is among the top 20 in the publishing industry.
The ratings will be available to you again soon.
+400 brands
2-year right of return
Fast delivery
Worldwide shipping