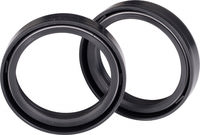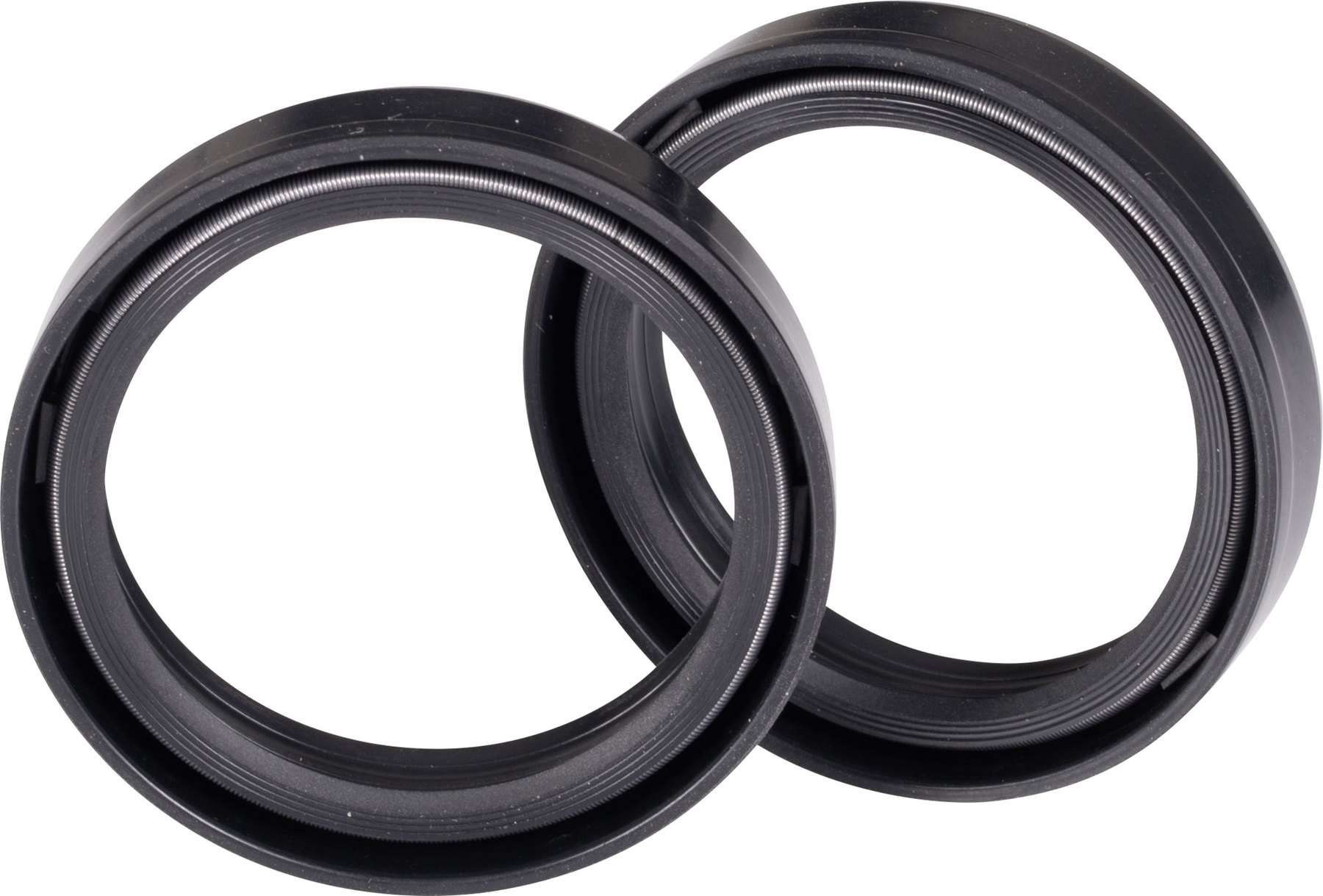 FORK SEAL SET SAITO
DIMENSION: 41X53X8/10,5*
The item is in stock and will be delivered in 2-5 working days. Note: Stocks are updated online every hour on working days from 7 a.m. to 8 p.m., so there is a good chance that the products are available if they appear online.
Available
Free delivery on orders over €199.00
2 year return policy
Fast delivery
Fork Seal Set
Diverse Sizes
fork seal sets:

If dirt and insects collect on the fork tubes, they may cause damage over a period of time, possibly resulting in dangerous oil leakage and inadequate damping. So if seals begin to leak, they should be replaced at the earliest opportunity. Each set contains two brand-name fork seals for the fork tube.

Important: If your fork tubes have any perceptible unevenness (e.g. small rust spots or marks caused by stone impact), these should be smoothed out as far as possible with chrome polish or emery cloth. Otherwise the fork tubes should be replaced, because even a small unevenness can quickly damage the new seals and cause an oil leak. The sealing lip must always be lightly greased when installing seals.
Available for many models
Top OEM quality - Made in EU
The illustration is only intended as an example.
Note: Seal sets marked with * after the dimension contain a double spring.
Instructions/Guides
Links to product
Product
Art. No.
Availability
Price
Actions
FORK SEAL SET ATHENA - A 43X52,9X9/11,4MM
10042111

The item is in stock and will be delivered in 2-5 working days. Note: Stocks are updated online every hour on working days from 7 a.m. to 8 p.m., so there is a good chance that the products are available if they appear online.

Available

€11.99 1
FORK SEAL SET SAITO - DIM. 43X55X9,5/10,5
10042183

The item is in stock and will be delivered in 2-5 working days. Note: Stocks are updated online every hour on working days from 7 a.m. to 8 p.m., so there is a good chance that the products are available if they appear online.

Available

€14.99 1
FORK SEAL SET SAITO - DIM:43X52,7/53,1X9,5/10,3
10042733

The item is in stock and will be delivered in 2-5 working days. Note: Stocks are updated online every hour on working days from 7 a.m. to 8 p.m., so there is a good chance that the products are available if they appear online.

Available

€9.99 1
FORK SEAL SET SAITO - DIMENS.: 37X49/49,4X8/9,5
10042628

The item is in stock and will be delivered in 2-5 working days. Note: Stocks are updated online every hour on working days from 7 a.m. to 8 p.m., so there is a good chance that the products are available if they appear online.

Available

€9.99 1
FORK SEAL SET SAITO - DIMENSION: 33X45X10
10042185

The item is in stock and will be delivered in 2-5 working days. Note: Stocks are updated online every hour on working days from 7 a.m. to 8 p.m., so there is a good chance that the products are available if they appear online.

Available

€14.99 1
FORK SEAL SET SAITO - DIMENSION: 33X46X10,5
10042204

The item is in stock and will be delivered in 2-5 working days. Note: Stocks are updated online every hour on working days from 7 a.m. to 8 p.m., so there is a good chance that the products are available if they appear online.

Available

€9.99 1
FORK SEAL SET SAITO - DIMENSION: 35X48X10,5
10042718

The item is in stock and will be delivered in 2-5 working days. Note: Stocks are updated online every hour on working days from 7 a.m. to 8 p.m., so there is a good chance that the products are available if they appear online.

Available

€9.99 1
FORK SEAL SET SAITO - DIMENSION: 35X48X11 *
10042203

The item is in stock and will be delivered in 2-5 working days. Note: Stocks are updated online every hour on working days from 7 a.m. to 8 p.m., so there is a good chance that the products are available if they appear online.

Available

€9.99 1
FORK SEAL SET SAITO - DIMENSION: 36X48X10,5
10042301

The item is in stock and will be delivered in 2-5 working days. Note: Stocks are updated online every hour on working days from 7 a.m. to 8 p.m., so there is a good chance that the products are available if they appear online.

Available

€9.99 1
FORK SEAL SET SAITO - DIMENSION: 36X48X8/9,5
10042716

The item is in stock and will be delivered in 2-5 working days. Note: Stocks are updated online every hour on working days from 7 a.m. to 8 p.m., so there is a good chance that the products are available if they appear online.

Available

€9.99 1
FORK SEAL SET SAITO - DIMENSION: 37X49X8/10
10042189

The item is in stock and will be delivered in 2-5 working days. Note: Stocks are updated online every hour on working days from 7 a.m. to 8 p.m., so there is a good chance that the products are available if they appear online.

Available

€12.99 1
FORK SEAL SET SAITO - DIMENSION: 37X50X11
10042200

The item is in stock and will be delivered in 2-5 working days. Note: Stocks are updated online every hour on working days from 7 a.m. to 8 p.m., so there is a good chance that the products are available if they appear online.

Available

€12.99 1
FORK SEAL SET SAITO - DIMENSION: 38X50X8/9,5
10042303

The item is in stock and will be delivered in 2-5 working days. Note: Stocks are updated online every hour on working days from 7 a.m. to 8 p.m., so there is a good chance that the products are available if they appear online.

Available

€9.99 1
FORK SEAL SET SAITO - DIMENSION: 39X51X8/10,5
10042180

The item is in stock and will be delivered in 2-5 working days. Note: Stocks are updated online every hour on working days from 7 a.m. to 8 p.m., so there is a good chance that the products are available if they appear online.

Available

€9.99 1
FORK SEAL SET SAITO - DIMENSION: 39X52X11
10042201

The item is in stock and will be delivered in 2-5 working days. Note: Stocks are updated online every hour on working days from 7 a.m. to 8 p.m., so there is a good chance that the products are available if they appear online.

Available

€12.99 1
FORK SEAL SET SAITO - DIMENSION: 40X52X8/10,5
10042196

The item is in stock and will be delivered in 2-5 working days. Note: Stocks are updated online every hour on working days from 7 a.m. to 8 p.m., so there is a good chance that the products are available if they appear online.

Available

€9.99 1
FORK SEAL SET SAITO - DIMENSION: 41X52.2X11
10042184

The item is in stock and will be delivered in 2-5 working days. Note: Stocks are updated online every hour on working days from 7 a.m. to 8 p.m., so there is a good chance that the products are available if they appear online.

Available

€14.99 1
FORK SEAL SET SAITO - DIMENSION: 41X53X10,5
10042195

The item is in stock and will be delivered in 2-5 working days. Note: Stocks are updated online every hour on working days from 7 a.m. to 8 p.m., so there is a good chance that the products are available if they appear online.

Available

€9.99 1
FORK SEAL SET SAITO - DIMENSION: 41X53X8/10,5*
10042319

The item is in stock and will be delivered in 2-5 working days. Note: Stocks are updated online every hour on working days from 7 a.m. to 8 p.m., so there is a good chance that the products are available if they appear online.

Available

€12.99 1
FORK SEAL SET SAITO - DIMENSION: 41X53X8/9,5
10042192

The item is in stock and will be delivered in 2-5 working days. Note: Stocks are updated online every hour on working days from 7 a.m. to 8 p.m., so there is a good chance that the products are available if they appear online.

Available

€9.99 1
FORK SEAL SET SAITO - DIMENSION: 41X54X11
10042187

The item is in stock and will be delivered in 2-5 working days. Note: Stocks are updated online every hour on working days from 7 a.m. to 8 p.m., so there is a good chance that the products are available if they appear online.

Available

€12.99 1
FORK SEAL SET SAITO - DIMENSION: 43X54X11
10042186

The item is in stock and will be delivered in 2-5 working days. Note: Stocks are updated online every hour on working days from 7 a.m. to 8 p.m., so there is a good chance that the products are available if they appear online.

Available

€9.99 1
FORK SEAL SET SAITO - DIMENSION: 43X55X11/14.5
10042730

The item is in stock and will be delivered in 2-5 working days. Note: Stocks are updated online every hour on working days from 7 a.m. to 8 p.m., so there is a good chance that the products are available if they appear online.

Available

€9.99 1
FORK SEAL SET SAITO - DIMENSION: 45X57X11
10042316

The item is in stock and will be delivered in 2-5 working days. Note: Stocks are updated online every hour on working days from 7 a.m. to 8 p.m., so there is a good chance that the products are available if they appear online.

Available

€9.99 1
FORK SEAL SET SAITO - DIMENSION: 46X58X10,5 *
10042732

The item is in stock and will be delivered in 2-5 working days. Note: Stocks are updated online every hour on working days from 7 a.m. to 8 p.m., so there is a good chance that the products are available if they appear online.

Available

€12.99 1
FORK SEAL SET SAITO - DIMENSION:36X48X11/12,5
10042302

The item is in stock and will be delivered in 2-5 working days. Note: Stocks are updated online every hour on working days from 7 a.m. to 8 p.m., so there is a good chance that the products are available if they appear online.

Available

€9.99 1
FORK SEAL SET SAITO - DIMENSION:43X55X10,5/12
10042193

The item is in stock and will be delivered in 2-5 working days. Note: Stocks are updated online every hour on working days from 7 a.m. to 8 p.m., so there is a good chance that the products are available if they appear online.

Available

€9.99 1
FORK SEAL SET SAITO - DIMENSU. 43X55,1X9,5/10,5
10042191

The item is in stock and will be delivered in 2-5 working days. Note: Stocks are updated online every hour on working days from 7 a.m. to 8 p.m., so there is a good chance that the products are available if they appear online.

Available

€9.99 1