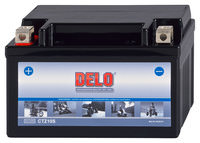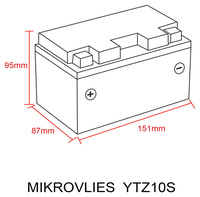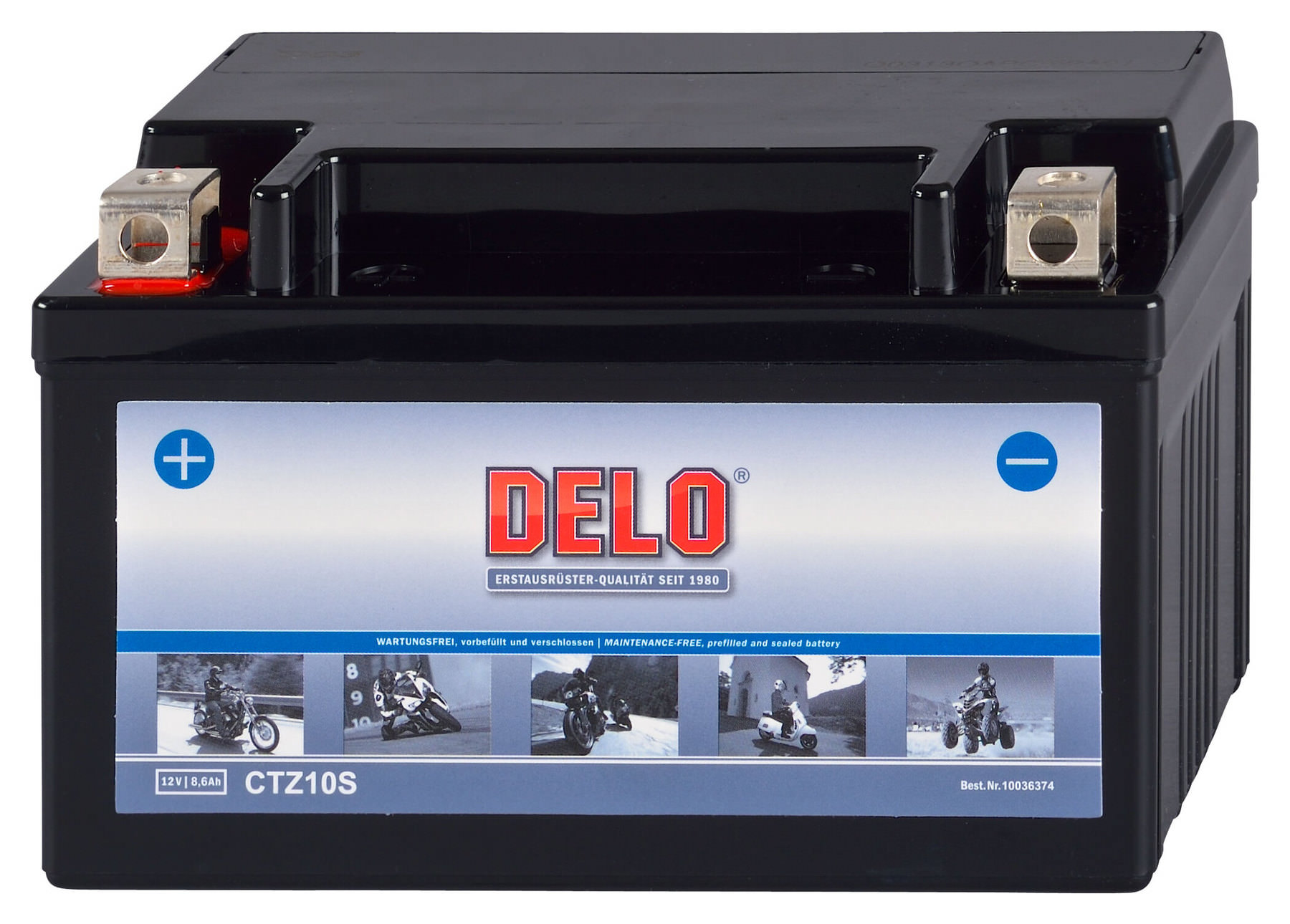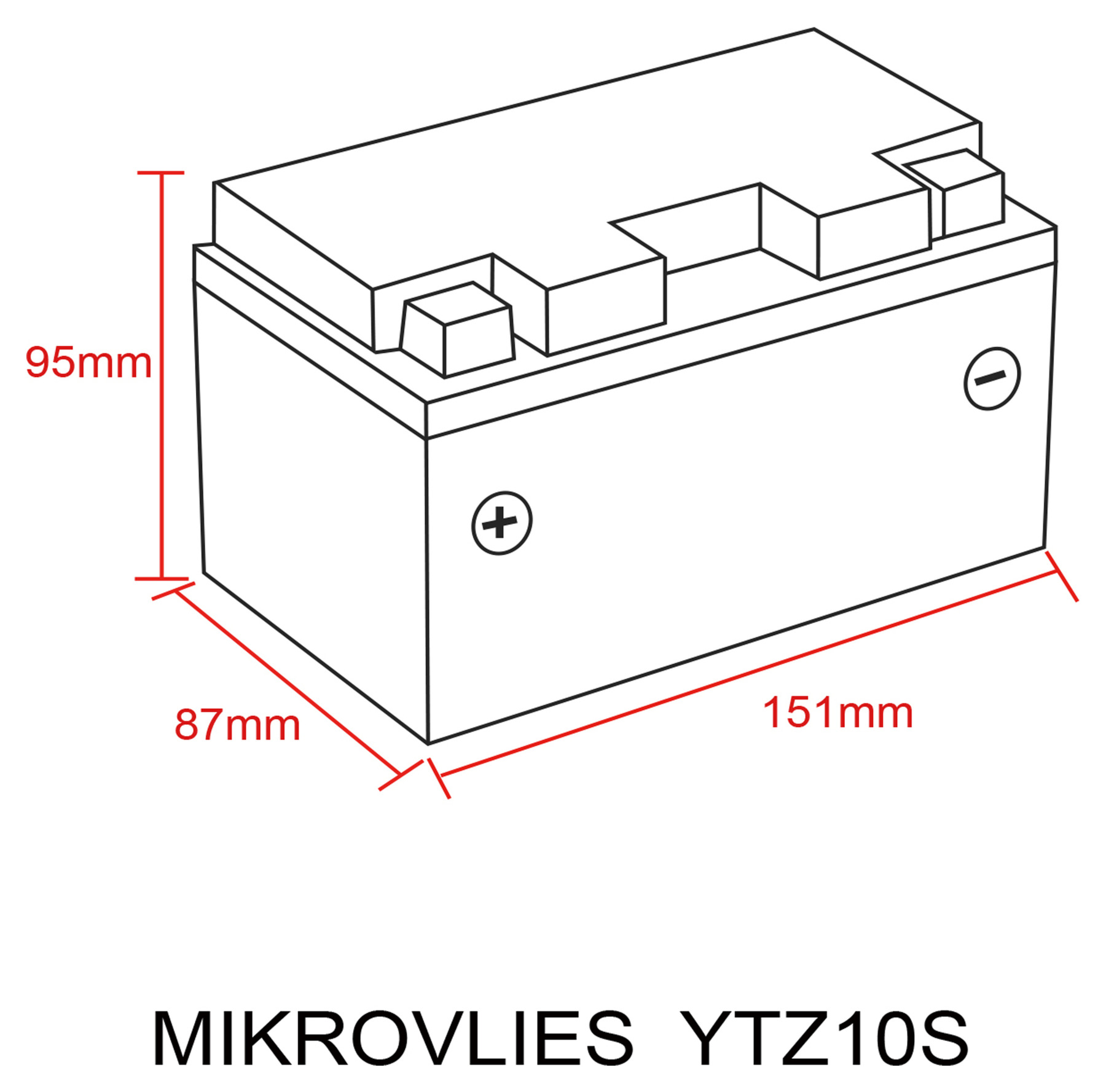 DELO BATTERY MAINT.-FREE
YTZ10S 12V/8,6AH SAE 120A
You have placed the following items in the shopping basket:
DELO BATTERY MAINT.-FREE
YTZ10S 12V/8,6AH SAE 120A
DELO AGM motorcycle batteries in OEM quality are maintenance-free and are supplied ready filled with acid and sealed.

The high-quality manufacturing process is evident from these batteries' enormously long service life, very high cranking power and major power reserves. On the inside they use A-grade lead plates.

This battery model comes with the bolts, and nuts if required, terminal grease and detailed instructions for use.

Very important: Maintenance-free AGM batteries are mostly found in more recent motorbikes and should not be confused with gel batteries. Their characteristic feature is that they are completely sealed. This type of battery is precharged but requires a top-up charge before installation, for which only special chargers like the ProCharger may be used.

Good to know:
If you are having trouble finding the right battery for your vehicle, please use our product listing in the "Bike database" (top navigation bar)! As a general rule, the motorcycle manufacturer specifies the right type of battery for your motorcycle. If you are unsure, all you usually have to do is take a look at your motorcycle owner's manual or the label on your old battery.

Before installation, it is essential to check that the battery fits in your vehicle (size), that the terminals are in the correct position, and the voltage (V) and capacity (Ah) are correct. Please carefully read the package insert and the safety instructions it contains!

Please find further information in the Documents area.
Manufacturer details: Delo

Our appreciation of power

Delo starter batteries are made exclusively for Louis at one of the most cutting-edge battery manufacturers in the world. In order to guarantee the high quality standards of Delo starter batteries, only the highest quality materials are used in their production. Furthermore, each batch is then also thoroughly tried and tested in our Louis test laboratory before going to market. Delo has proven a million times over that it stands for motorcycle battery excellence in OEM quality. Key features of these batteries are their reliability, their cold start performance and their outstanding service life. Not for nothing have Delo starter batteries proven themselves in a multitude of tests ...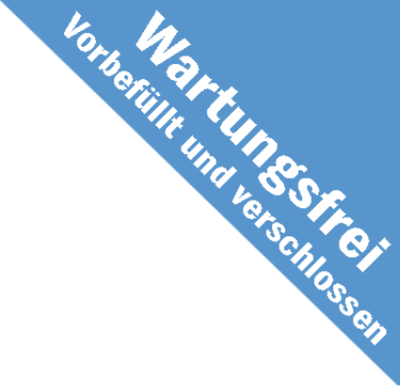 Maintenance-free batteries are prefilled and sealed
They are factory activated (partially precharged) and always need to be fully charged with a suitable battery charger.
They do not have to be filled with acid and must never be opened by force and acid added, as they have already been prefilled (acid absorbed in fibreglass mat). They are ready for installation apart from charging.
These batteries will remain maintenance-free for their entire life and must not be opened by force under any circumstances.
It is strictly forbidden to add distilled water or acid, as this would destroy the battery.
Write a review for DELO BATTERY MAINT.-FREE
We offer you the opportunity to rate products purchased from Louis and to share your experiences with them publicly.

To ensure that your objective and truthful report will be really beneficial to all readers, please observe the following rules.


Please only rate products that you have personally used for their intended purpose.
Please give reasons for your positive and negative criticisms. Only then will they benefit other customers and allow us to improve the product if necessary.
Please don't copy content that has already been published elsewhere. It's your personal experience which counts.
Data protection: Please don't include your own and other people's addresses, telephone numbers or URLs or even the names of third parties (people as well as companies) in your review.
In your product review, please don't make comparisons with third party product ranges. Regardless of whether you judge these positively or negatively, you, or we as operators of this online shop, would be violating competition law.
Fair play: Please follow these rules so that we don't have to shorten or delete your rating.
Your product rating has been saved. It will be displayed in a few minutes
Your previous input will be lost!
Do you really want to cancel your entry?
+400 brands
2-year right of return
Fast delivery
Worldwide shipping