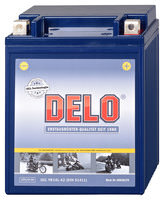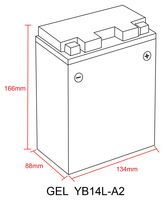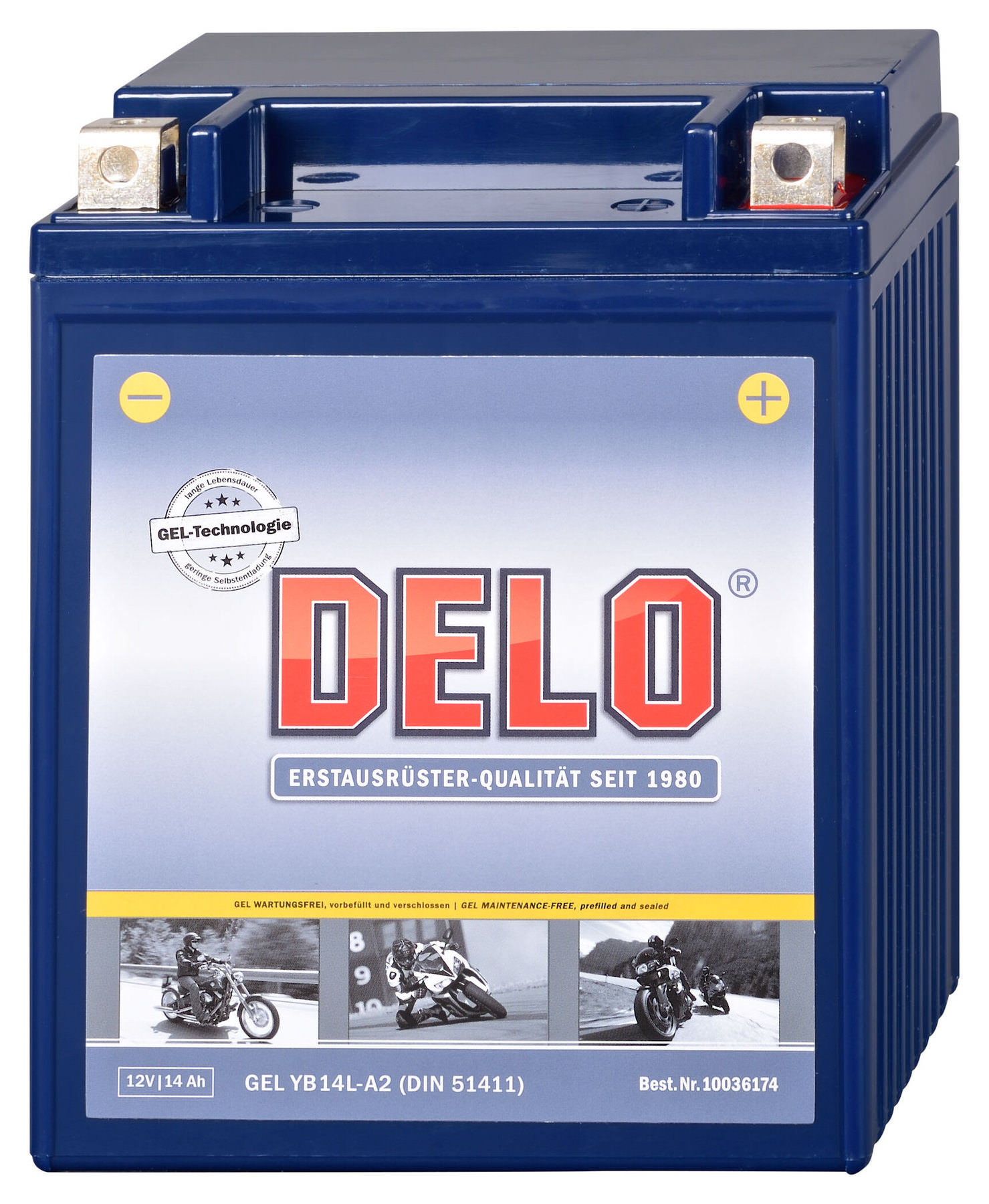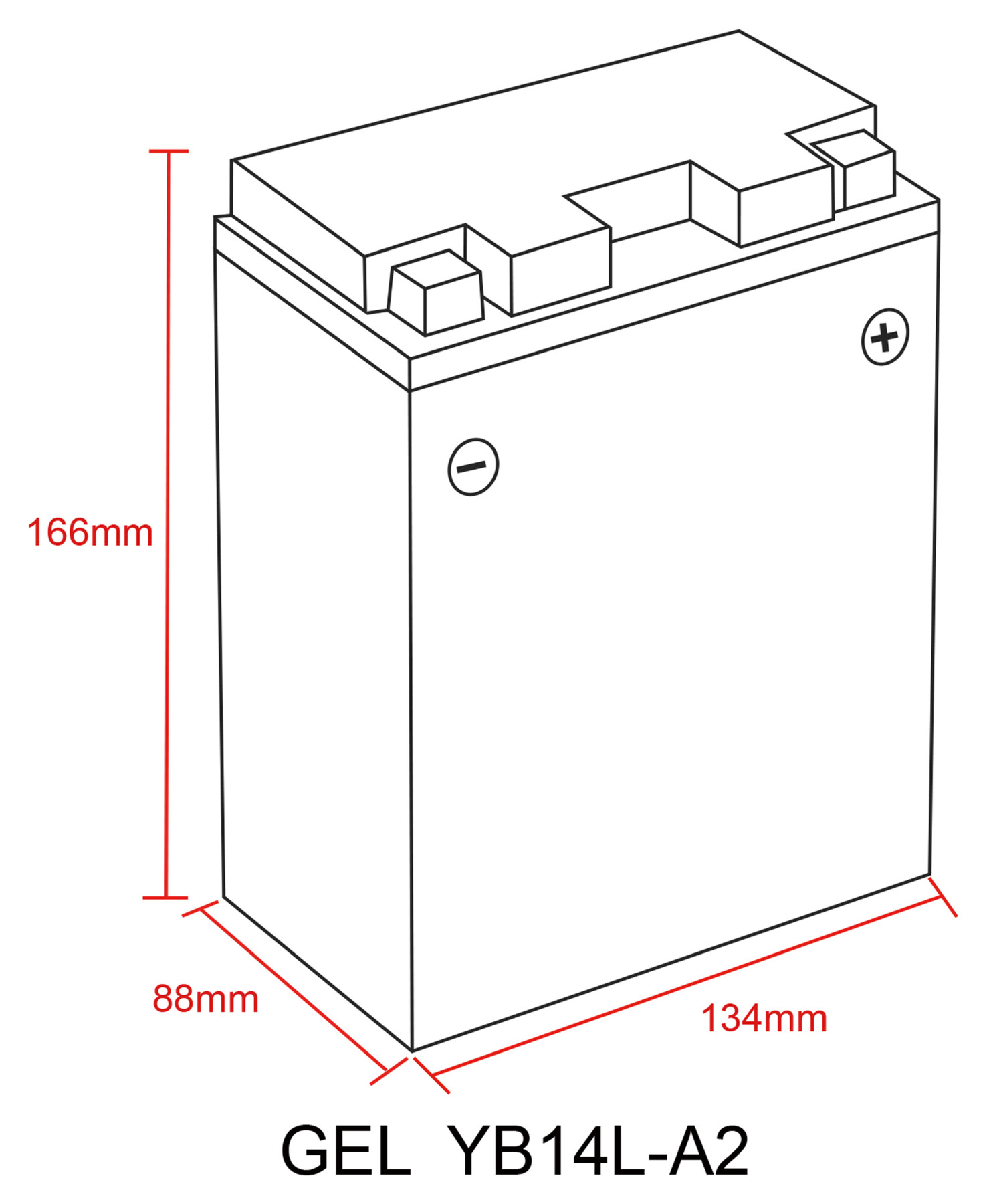 DELO GEL MF-BATTERY
YB14L-A2 12V/14AH SAE230A
You have placed the following items in the shopping basket:
DELO GEL MF-BATTERY
YB14L-A2 12V/14AH SAE230A
DELO GEL Motorcycle Batteries - maintenance-free - ready filled and sealed
Powerful, maintenance-free and extremely long life! Superior cranking power and minimal self-discharge make DELO GEL batteries the perfect alternative to standard motorcycle batteries. Every DELO GEL battery offers fantastic reliability for many years to come.

Additional benefits:

Battery fluid bound in a gel substance
Hermetically sealed and leakproof housing
Superior cranking power compared to conventional motorcycle batteries
Minimal self-discharge
Extremely long service life
Can be installed in any position
High vibration resistance
Includes bolts, nuts if necessary, and detailed operating instructions.
DELO Gel batteries are designed to operate with up to 14.35 V alternator charging voltage, so they can very often be used as a replacement for standard or AGM batteries! Over the winter, it is sufficient to connect the battery up to a charger once every 4 to 6 weeks.
Please observe the following instructions, which will save you the hassle of push-starting and other unwelcome surprises. If you are having trouble finding the right battery for your vehicle, please use our product listing in the "Bike database" (top navigation bar)! As a general rule, the motorcycle manufacturer specifies the right type of battery for your motorcycle. If you're unsure, simply take a look in your motorcycle owner's manual or check the label on your old battery.
What you should also know about gel batteries:
Maintenance-free gel batteries are completely sealed. This type of battery is precharged but requires a top-up charge before installation, for which only special chargers - like the ProCharger series - may be used.
Before installation, please check that the battery fits your vehicle (size); the terminals are in the correct position, and the voltage (V) and capacity (Ah) are correct. Please carefully read the package insert and the safety instructions it contains!

Please find further information in the Documents area.
List of compatible motorcycles
Manufacturer details: Delo

Our appreciation of power

Delo starter batteries are made exclusively for Louis at one of the most cutting-edge battery manufacturers in the world. In order to guarantee the high quality standards of Delo starter batteries, only the highest quality materials are used in their production. Furthermore, each batch is then also thoroughly tried and tested in our Louis test laboratory before going to market. Delo has proven a million times over that it stands for motorcycle battery excellence in OEM quality. Key features of these batteries are their reliability, their cold start performance and their outstanding service life. Not for nothing have Delo starter batteries proven themselves in a multitude of tests ...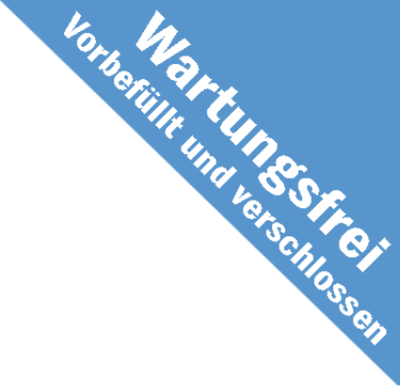 Maintenance-free batteries are prefilled and sealed
They are factory activated (partially precharged) and always need to be fully charged with a suitable battery charger.
They do not have to be filled with acid and must never be opened by force and acid added, as they have already been prefilled (acid absorbed in fibreglass mat). They are ready for installation apart from charging.
These batteries will remain maintenance-free for their entire life and must not be opened by force under any circumstances.
It is strictly forbidden to add distilled water or acid, as this would destroy the battery.
Writing review is not available
We are currently working on the implementation. The feature will be available soon.
+400 brands
2-year right of return
Fast delivery
Worldwide shipping