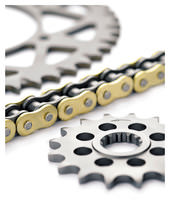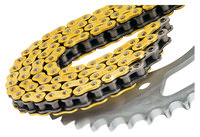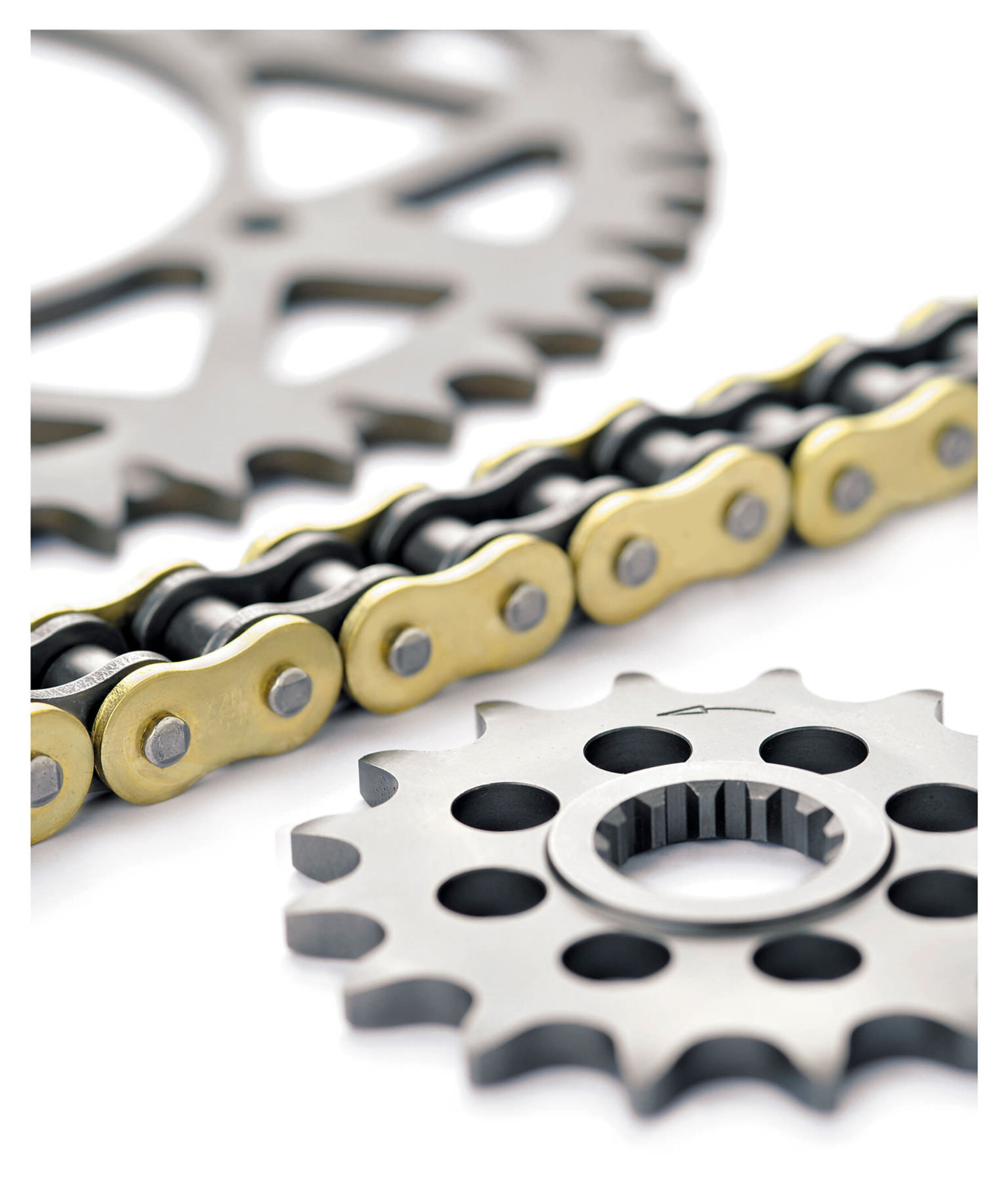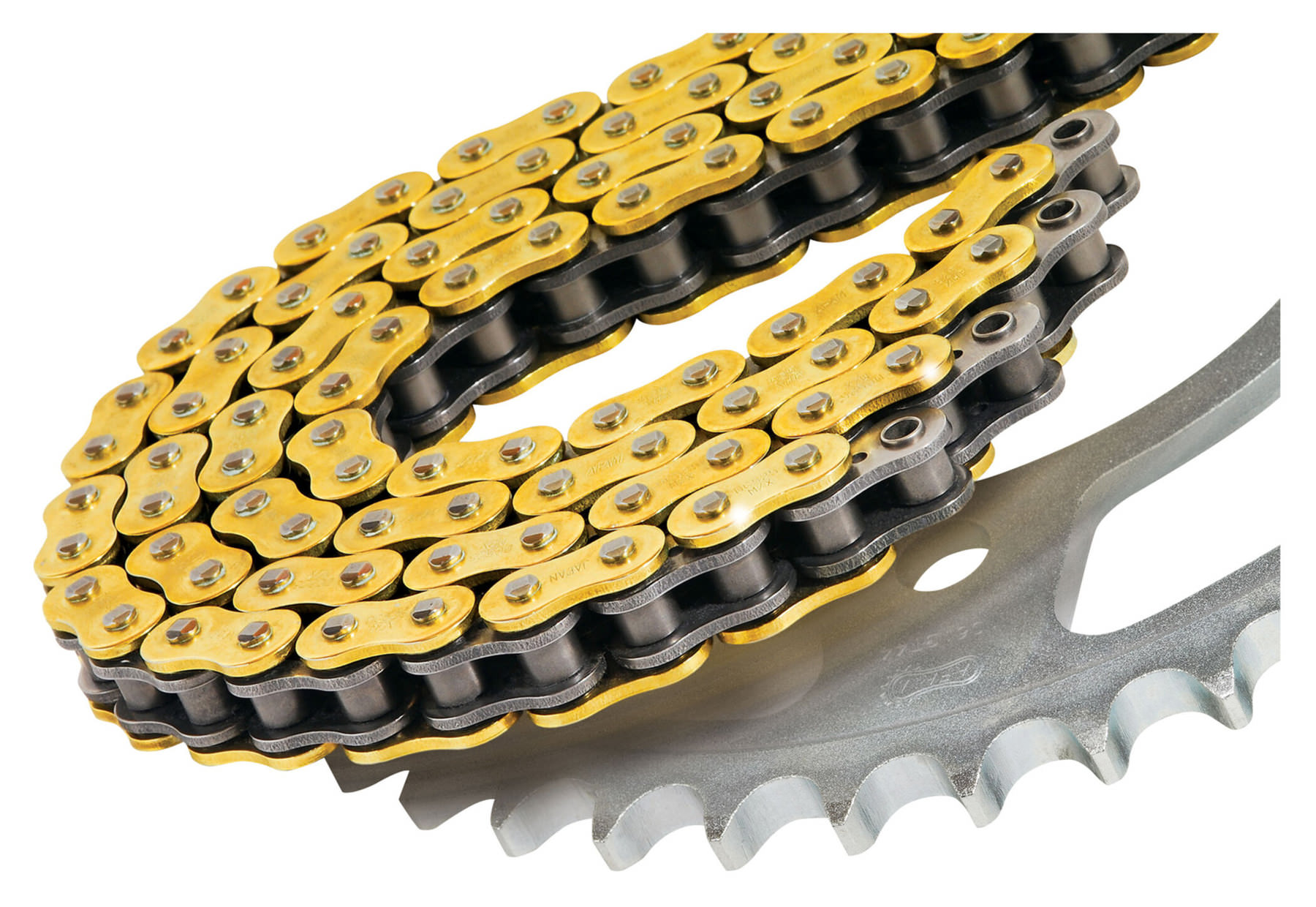 CHAIN KIT AFAM 520
KTM 250 SX-F 116/13/50
You have placed the following items in the shopping basket:
CHAIN KIT AFAM 520
KTM 250 SX-F 116/13/50
AFAM is a Belgian company that is simply world class and sets the standard in the manufacture of motorcycle drive chains, sprockets and, of course, complete chain and sprocket kits. With AFAM, everything comes from a single source. The dimensions and tolerances of all the drive products are perfectly harmonised. And you can experience this for yourself, just like many motorcycle racers on race tracks around the world. With an AFAM X-ring chain and sprocket kit, for example.
This kit consists of front and rear sprockets, X-ring chain and master link.

AFAM sprockets and chains are manufactured from the best steel alloys, and often surpass the quality of original parts.

The Xs rubber ring on the chain plays a key role. It improves the sealing and internal lubrication performance of the chain. The unusual shape of the Xs ring gives each individual chain link added flexibility. There is less friction, and the entire chain and sprocket kit operates more smoothly, delivering improved performance.

AFAM chain and sprocket kits guarantee ultra-efficient power transmission from engine to rear wheel. The chains are lighter, yet they have a higher tensile strength and longer service life.

This means you benefit from less wear, less noise (e.g. friction noise, etc.), lower fuel consumption and ultimately higher chain mileage.

Whether road bike, sports bike, off-road bike, race bike or ATV, you can be sure that AFAM always has the best chain and sprocket kit for your machine.

Comprises:
1 rear sprocket
1 front sprocket
1 Xs-ring chain
1 master link
Tips for choosing your AFAM chain and sprocket kit:
AFAM chains in the OEM kits are always supplied in accordance with the vehicle manufacturer's specifications. The kit contains a chain with rivet master link.
Manufacturer details: AFAM

Top-quality chain and sprocket kits from Belgium
A small Belgian town called Nazareth, near Ghent, is home to AFAM, manufacturer of exquisite drive technology. Many renowned chain manufacturers buy in sprockets and chain wheels from other companies, but with AFAM, everything comes from a single source. The advantage for you: All parts of the drive system work in perfect harmony, which means maximised power transmission efficiency and high chain mileage. It's hardly surprising that a manufacturer of this quality is also heavily involved in motor sport at an international level: AFAM not only wins races in MotoGP, Superbike and Motocross, but also gains valuable experience, which it channels into its ongoing developments for production bikes.
Write a review for CHAIN KIT AFAM 520
We offer you the opportunity to rate products purchased from Louis and to share your experiences with them publicly.

To ensure that your objective and truthful report will be really beneficial to all readers, please observe the following rules.


Please only rate products that you have personally used for their intended purpose.
Please give reasons for your positive and negative criticisms. Only then will they benefit other customers and allow us to improve the product if necessary.
Please don't copy content that has already been published elsewhere. It's your personal experience which counts.
Data protection: Please don't include your own and other people's addresses, telephone numbers or URLs or even the names of third parties (people as well as companies) in your review.
In your product review, please don't make comparisons with third party product ranges. Regardless of whether you judge these positively or negatively, you, or we as operators of this online shop, would be violating competition law.
Fair play: Please follow these rules so that we don't have to shorten or delete your rating.
Your product rating has been saved. It will be displayed in a few minutes
Your previous input will be lost!
Do you really want to cancel your entry?
+400 brands
2-year right of return
Fast delivery
Worldwide shipping