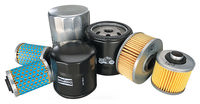 OIL FILTER TWO-PIECE
VARIOUS HONDA / HF303
Important notes
Suitable oil filter wrench (Order no. 10003451) should also be ordered, if required.
You have placed the following items in the shopping basket:
OIL FILTER TWO-PIECE
VARIOUS HONDA / HF303
CHAMPION OIL FILTERS
All the metal components of these high-quality brand-name oil filters are galvanised or otherwise treated to protect against corrosion.
The filter paper is pleated, hardened and mechanically joined to ensure 100% filtration.
The filter element valve has metal end plates and contains a bypass valve to ensure a perfect seal.
Important: The oil filter installation instructions MUST be followed. These can be found by clicking on "Documents´".
The F301 oil filter (Order no. 10050448) is replaced by F306 (Order no. 10050403). Please note the special installation instructions for the F306 (Order no. 10050403). All the relevant information can be found in our download area.
Due to production constraints at champion the following part numbers (10050452, 10050424) being replaced by the oil filter of the brand Hiflo.
If you are having trouble finding the right oil filter for your vehicle, please use our product listing in the bike database (right navigation bar).
Manufacturer details: Champion

High-grade filter technology in OEM quality!

When it comes to filter technology for high-performance engines, Champion is the brand of choice. Decades of experience ensure the top quality and reliable function of both air and oil filters. So it's no wonder that Champion is OEM for Ducati and a technology partner of the Italian manufacturer for the Superbike World Championship.
Write a review for OIL FILTER TWO-PIECE
We offer you the opportunity to rate products purchased from Louis and to share your experiences with them publicly.

To ensure that your objective and truthful report will be really beneficial to all readers, please observe the following rules.


Please only rate products that you have personally used for their intended purpose.
Please give reasons for your positive and negative criticisms. Only then will they benefit other customers and allow us to improve the product if necessary.
Please don't copy content that has already been published elsewhere. It's your personal experience which counts.
Data protection: Please don't include your own and other people's addresses, telephone numbers or URLs or even the names of third parties (people as well as companies) in your review.
In your product review, please don't make comparisons with third party product ranges. Regardless of whether you judge these positively or negatively, you, or we as operators of this online shop, would be violating competition law.
Fair play: Please follow these rules so that we don't have to shorten or delete your rating.
Your product rating has been saved. It will be displayed in a few minutes
Your previous input will be lost!
Do you really want to cancel your entry?
+400 brands
2-year right of return
Fast delivery
Worldwide shipping