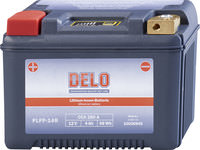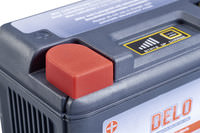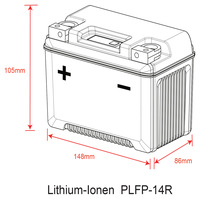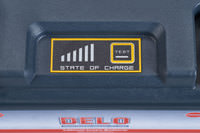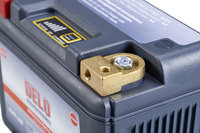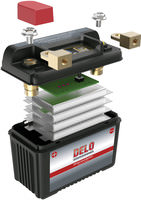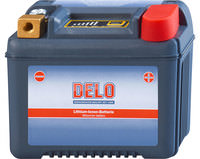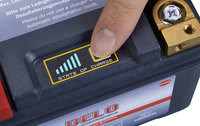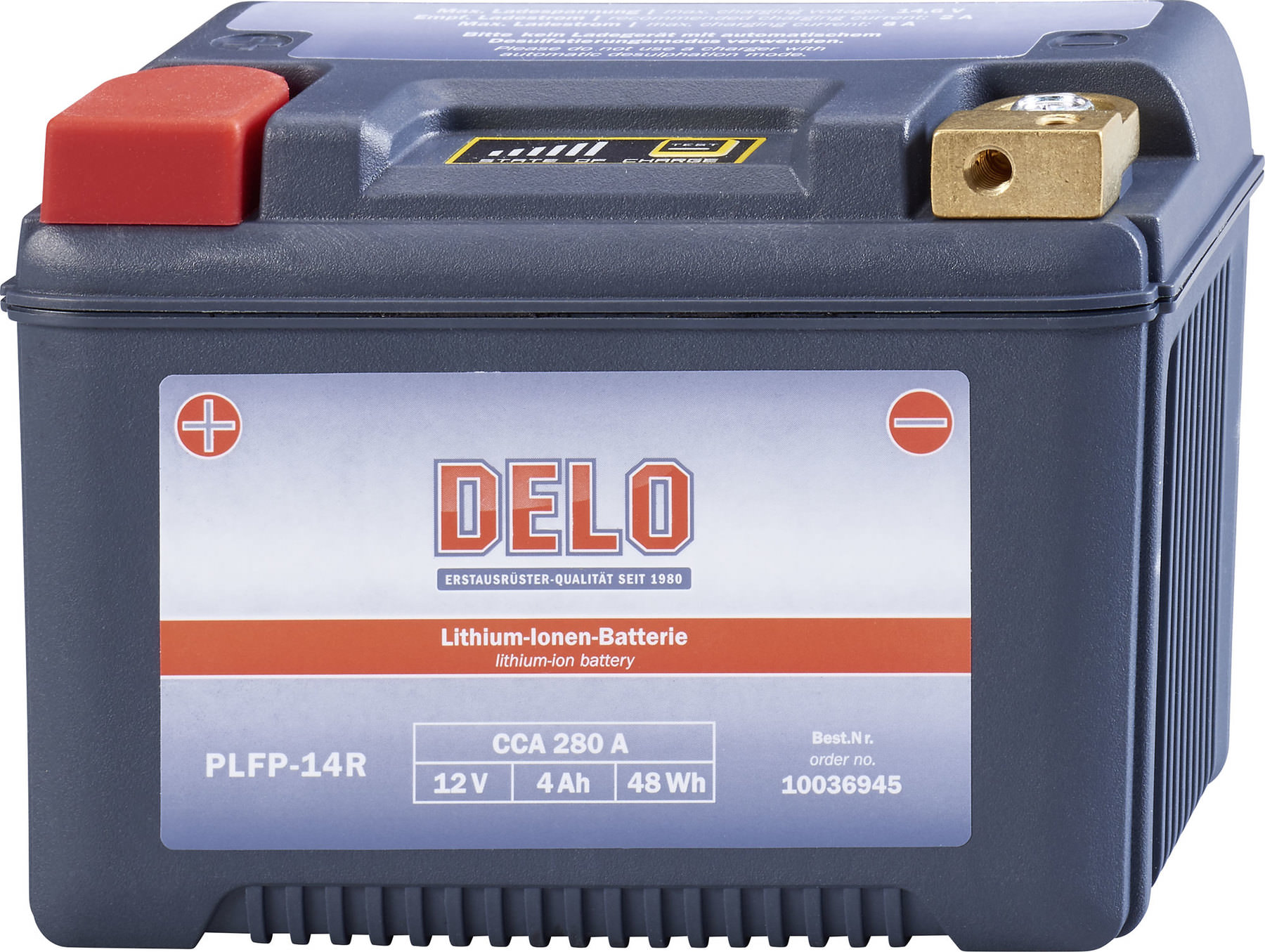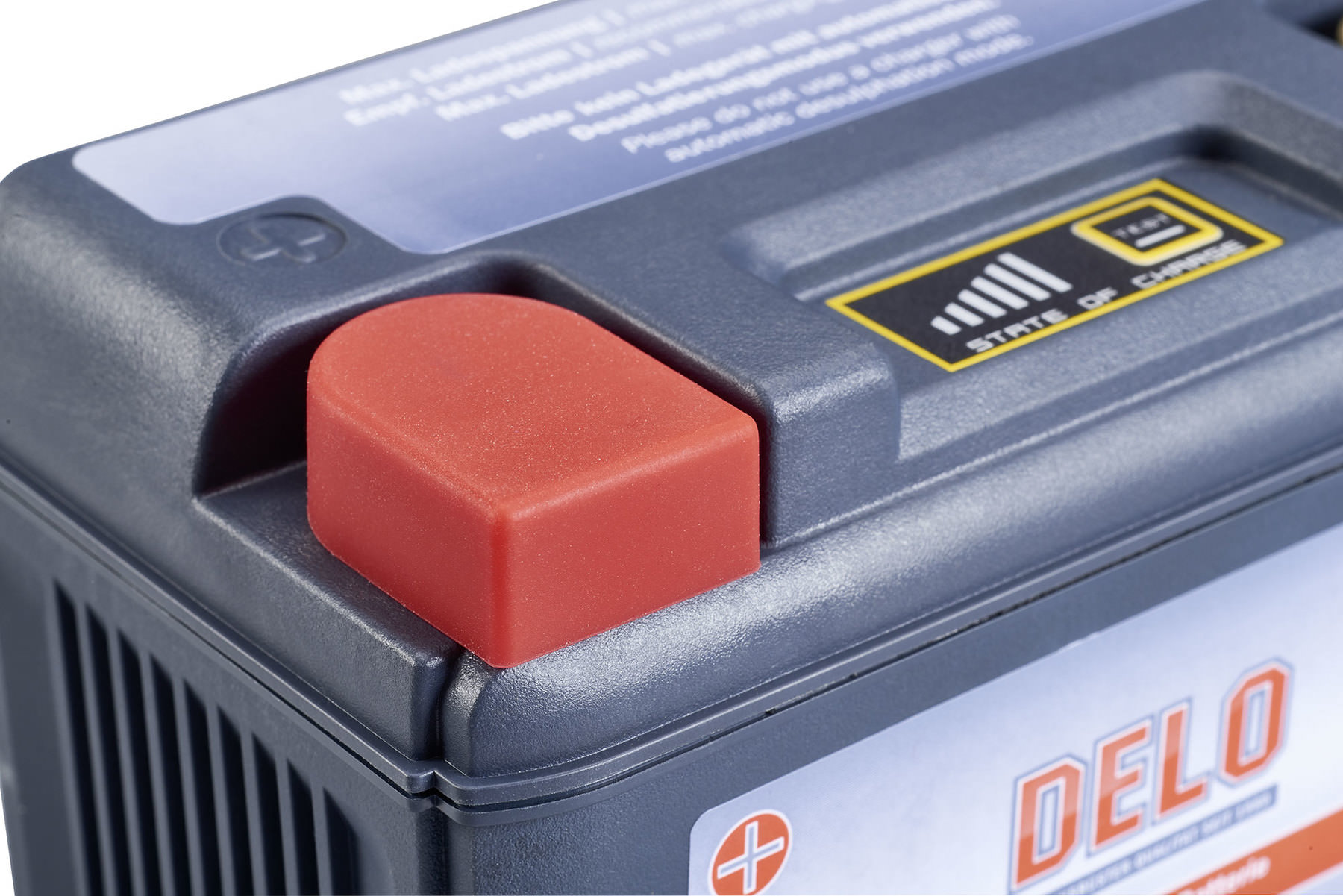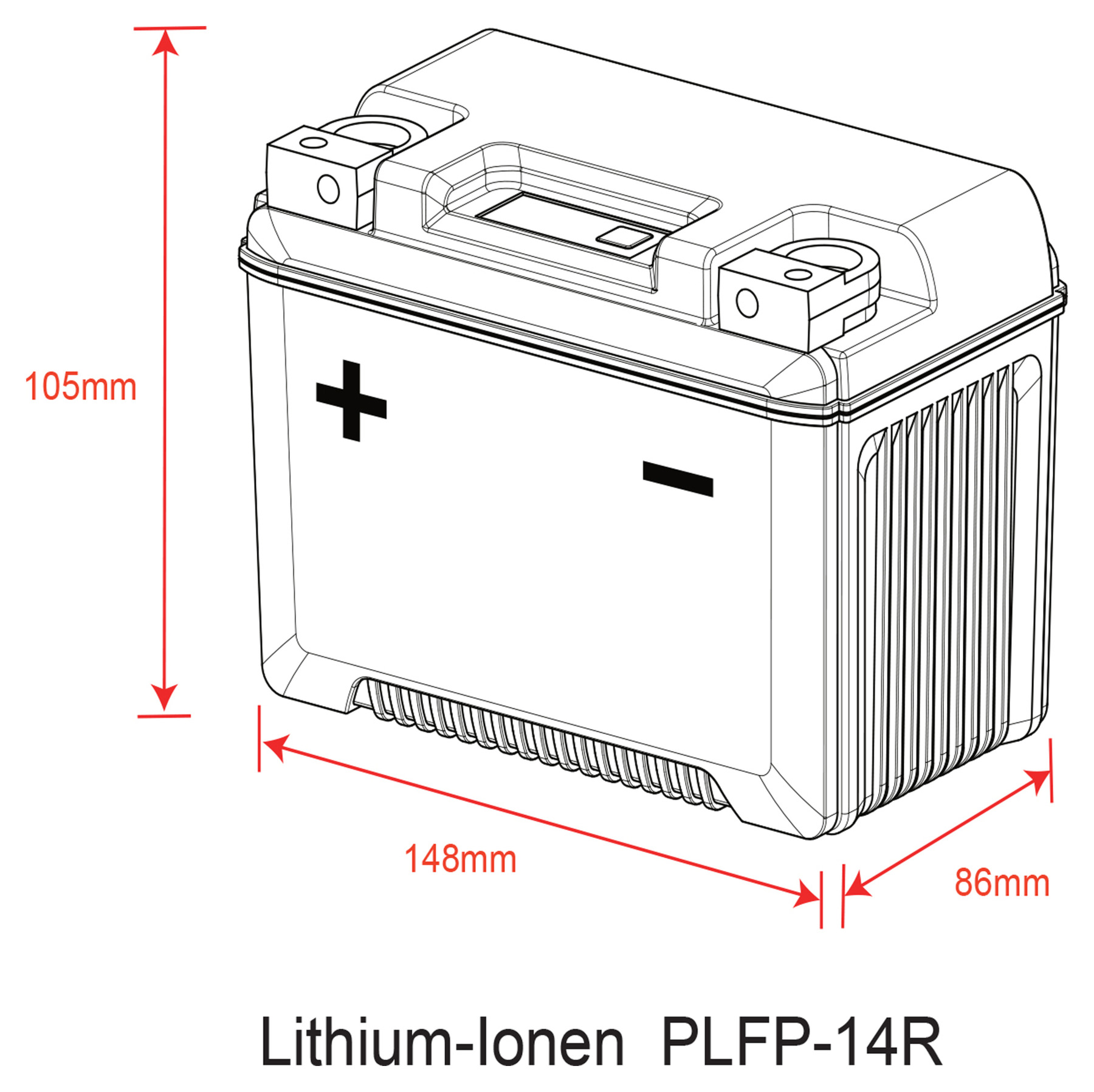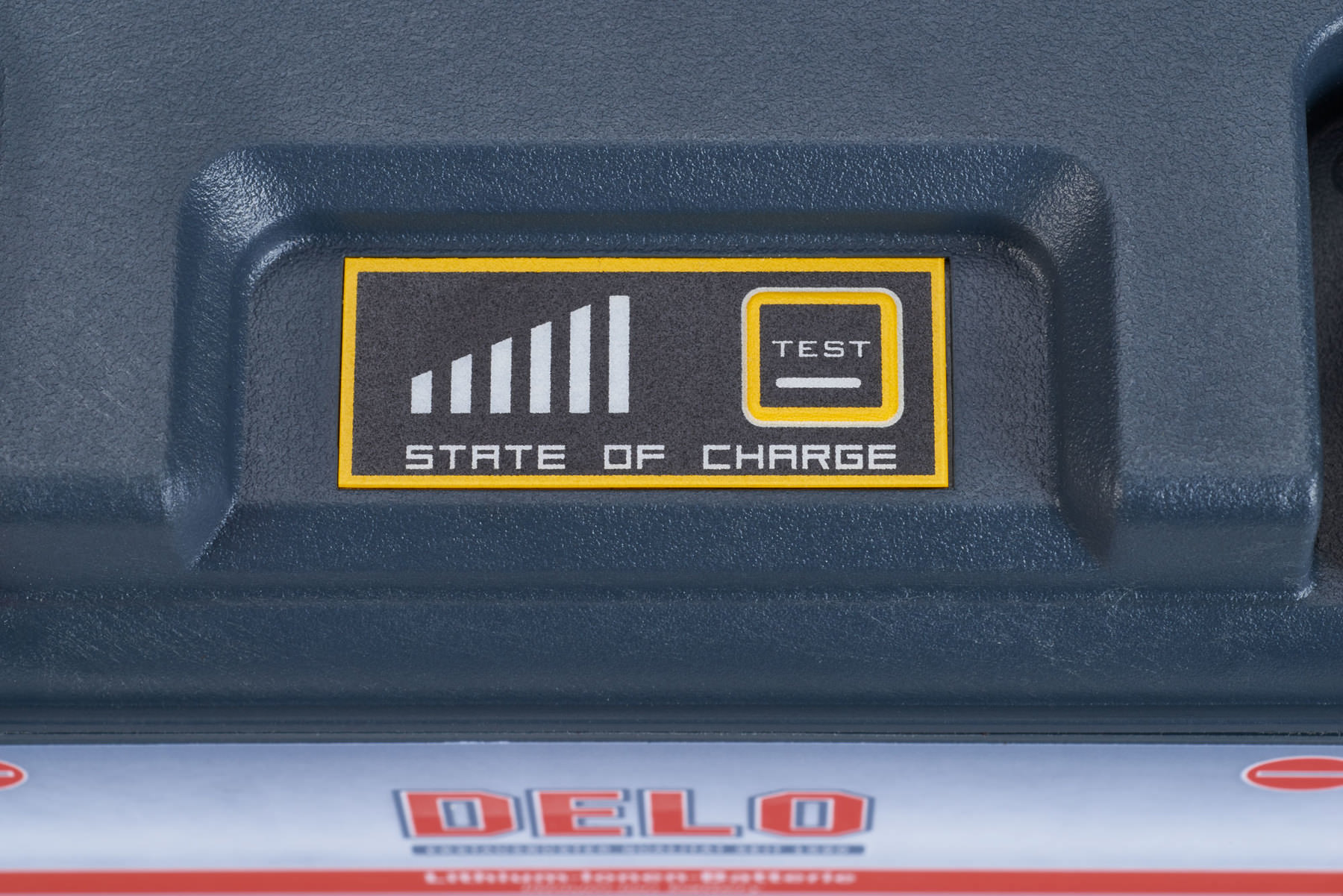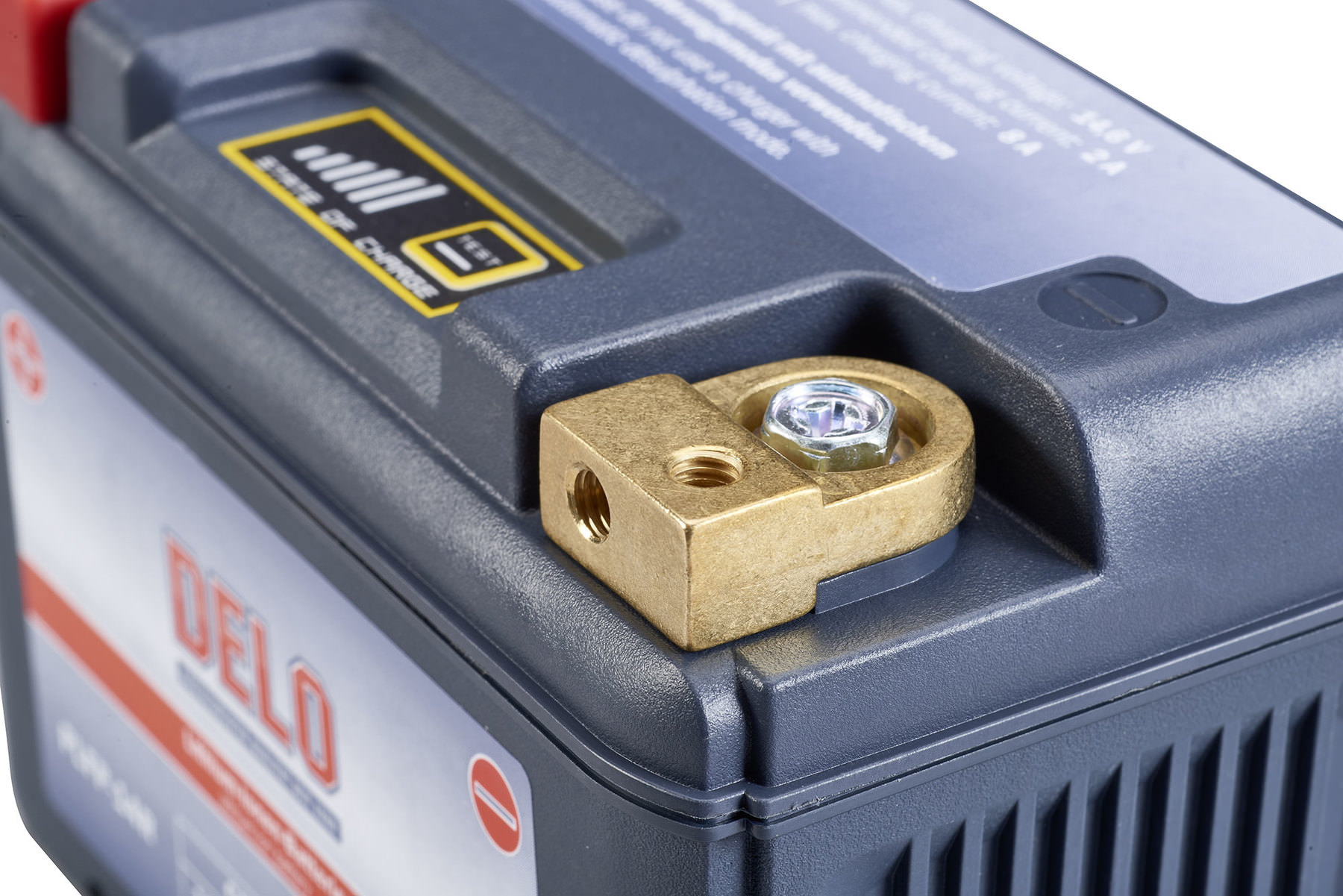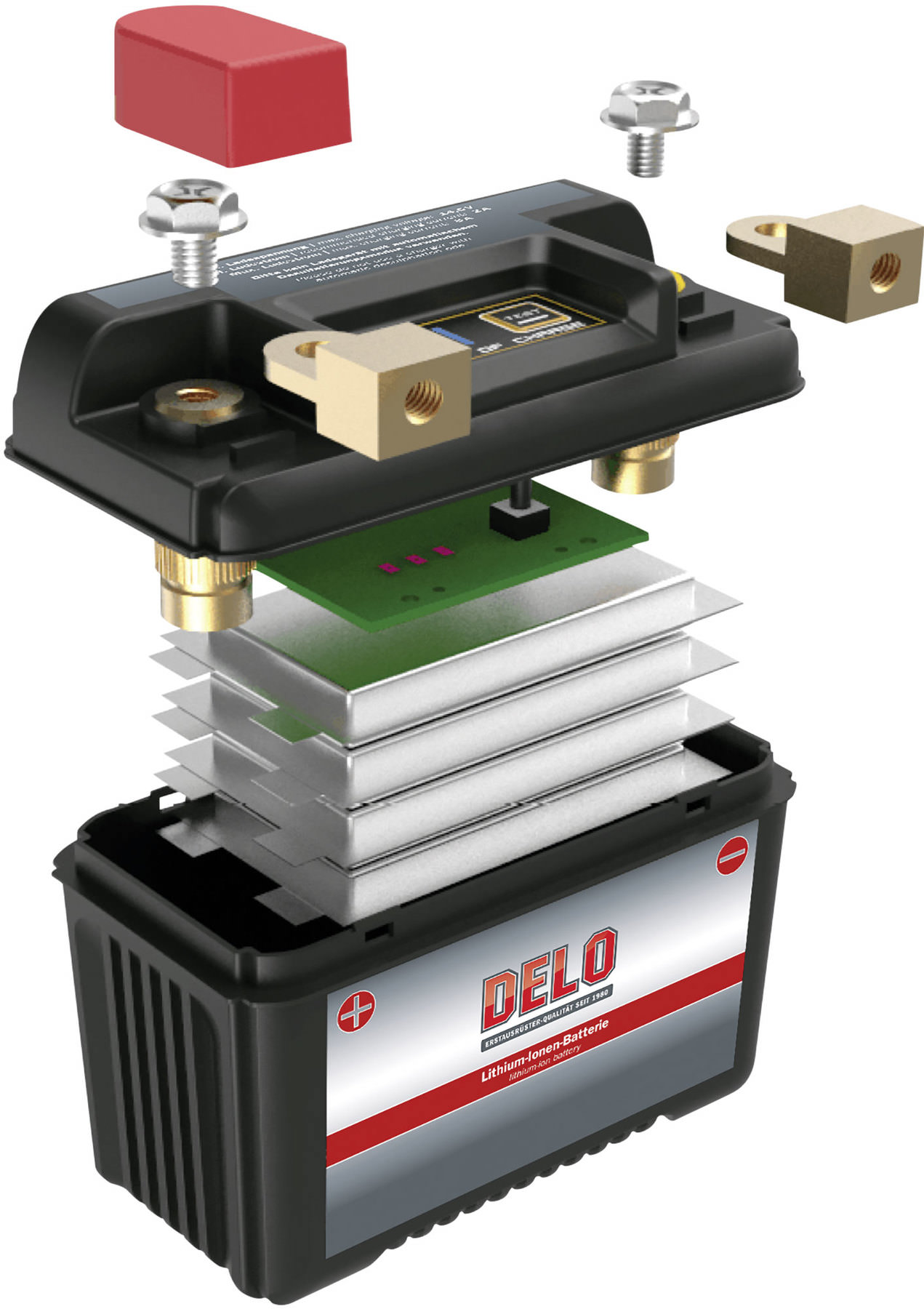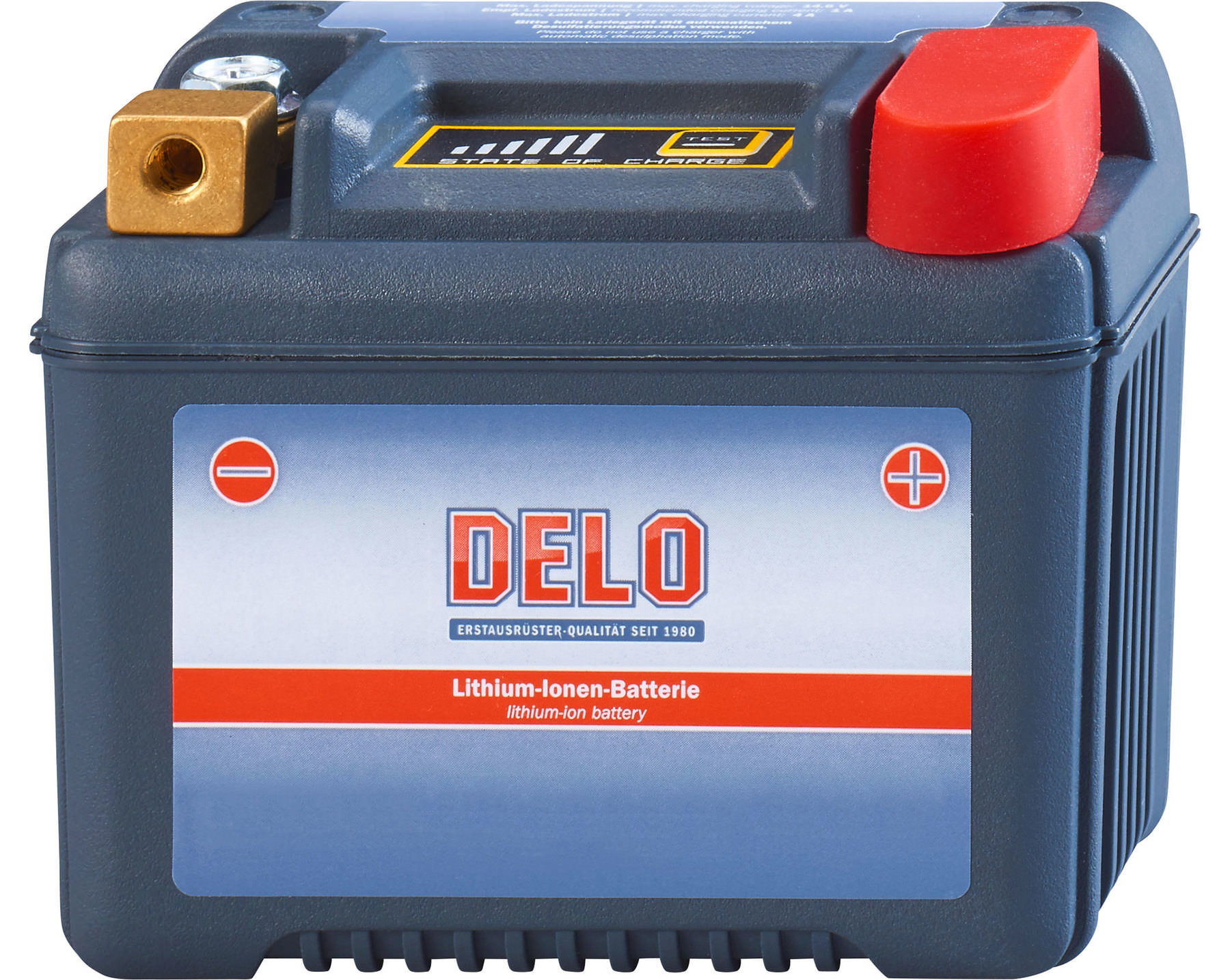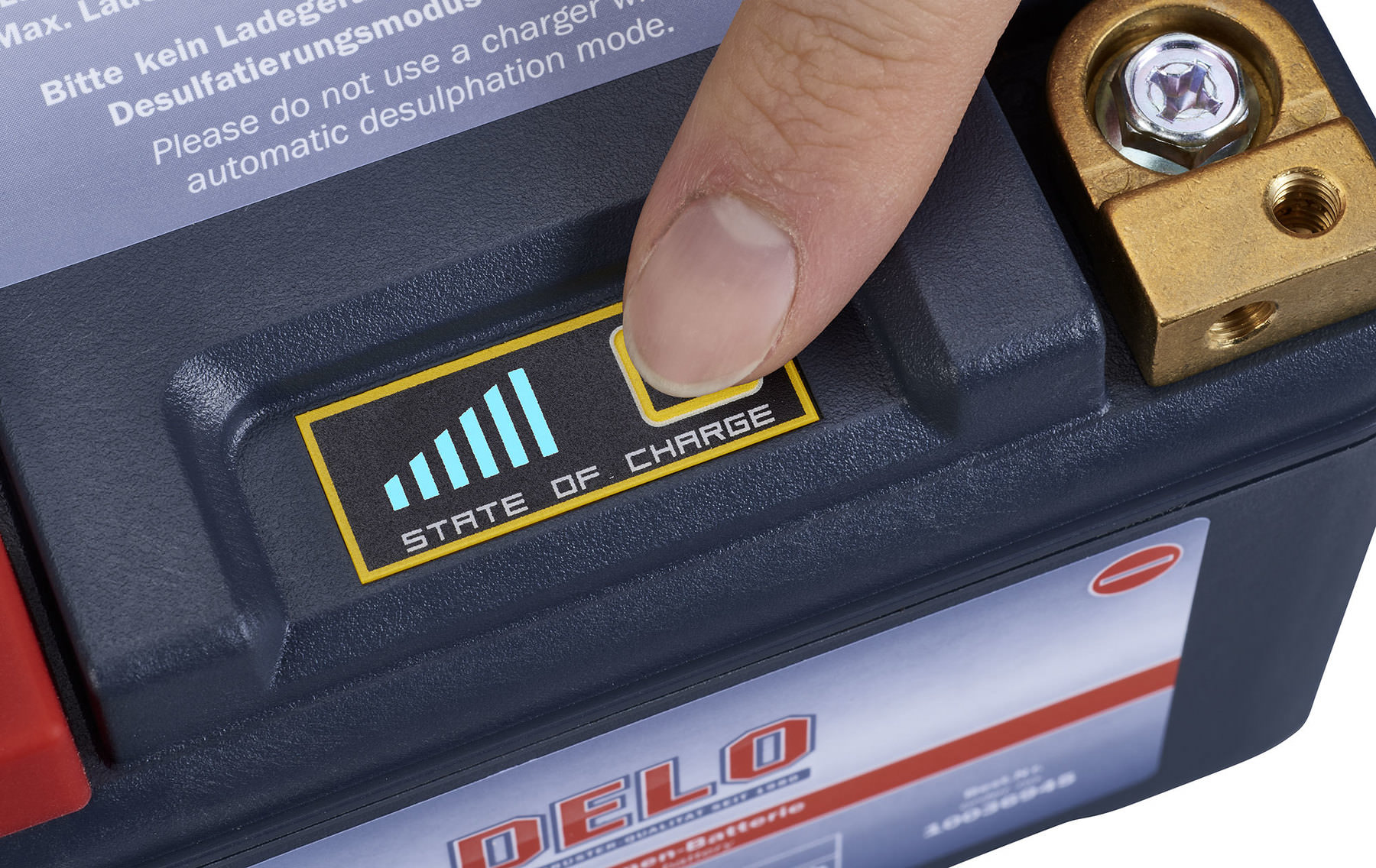 DELO LITHIUM-ION BATTERY
PLFP-14R 12V/4AH,CCA 280A
You have placed the following items in the shopping basket:
DELO LITHIUM-ION BATTERY
PLFP-14R 12V/4AH,CCA 280A
Welcome to the premium motorcycle batteries from DELO! DELO lithium-ion batteries are stronger and also significantly lighter than conventional lead-acid batteries. They feature a special, robust nylon housing and have brass terminals to guarantee optimal conductivity.
These powerhouses are designed so that up to 100% of their capacity can be utilised.
Further details:

The state of charge is controlled via a processor (balancer) and ensures the highest level of safety among current lithium-ion batteries
Up to 60% lighter than conventional lead batteries
Compact dimensions - in conjunction with the accompanying adhesive pads, these batteries are extremely versatile
Up to six times longer life than a conventional lead-acid battery
No memory effect
Can also be installed upside down as there is no acid to leak out
Fast charging with a high charging current is possible
Very low self-discharge (5% per month at most)
Good to know:

The design of lead-acid batteries means that they are only able to use 30% of their capacity, whereas lithium-ion batteries utilise virtually 100%.

For this reason, the lithium batteries from DELO only require 1/3 of the capacity (lower ampere hours) to produce the same cranking power as a comparable lead-acid battery.

Indicator
All the batteries are equipped with a charge level indicator.

Important! Never use a charger which attempts to desulphate deep-discharged batteries under 10 V by applying a voltage in excess of 14.6 V before it begins with actual charging.

The maximum charging voltage of 14.6 V must never be exceeded.

We therefore recommend using the chargers illustrated below ("Compatible products").

For further information, please check our Documents section.
Manufacturer details: Delo

Our appreciation of power

Delo starter batteries are made exclusively for Louis at one of the most cutting-edge battery manufacturers in the world. In order to guarantee the high quality standards of Delo starter batteries, only the highest quality materials are used in their production. Furthermore, each batch is then also thoroughly tried and tested in our Louis test laboratory before going to market. Delo has proven a million times over that it stands for motorcycle battery excellence in OEM quality. Key features of these batteries are their reliability, their cold start performance and their outstanding service life. Not for nothing have Delo starter batteries proven themselves in a multitude of tests ...
Write a review for DELO LITHIUM-ION BATTERY
We offer you the opportunity to rate products purchased from Louis and to share your experiences with them publicly.

To ensure that your objective and truthful report will be really beneficial to all readers, please observe the following rules.


Please only rate products that you have personally used for their intended purpose.
Please give reasons for your positive and negative criticisms. Only then will they benefit other customers and allow us to improve the product if necessary.
Please don't copy content that has already been published elsewhere. It's your personal experience which counts.
Data protection: Please don't include your own and other people's addresses, telephone numbers or URLs or even the names of third parties (people as well as companies) in your review.
In your product review, please don't make comparisons with third party product ranges. Regardless of whether you judge these positively or negatively, you, or we as operators of this online shop, would be violating competition law.
Fair play: Please follow these rules so that we don't have to shorten or delete your rating.
Your product rating has been saved. It will be displayed in a few minutes
Your previous input will be lost!
Do you really want to cancel your entry?
Issue 91-2019
"Motorrad & Reisen" magazine tested the Delo Li-ion batteries in its 91 issue and rated them VERY GOOD. The following features were given special mention:

- Small
- Lightweight
- Can be installed in any position
- Very little self-discharge
- Foam pads are included
- Includes charge state indicator
- Starts the bike, even after a week in the cold
Issue 10-2020
"PS" magazine tested the Delo lithium-ion battery for KTM SMC-R in the "Tested" section of its 10/20 issue and awarded its top score.
The following features were given special mention:

- light weight (950 g compared to the 3150 g original)
- only needed to be recharged once with the charger over a 9-month period
- durable and reliable
- versatile, simple installation

+400 brands
2-year right of return
Fast delivery
Worldwide shipping