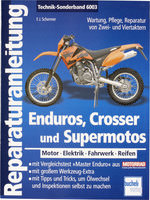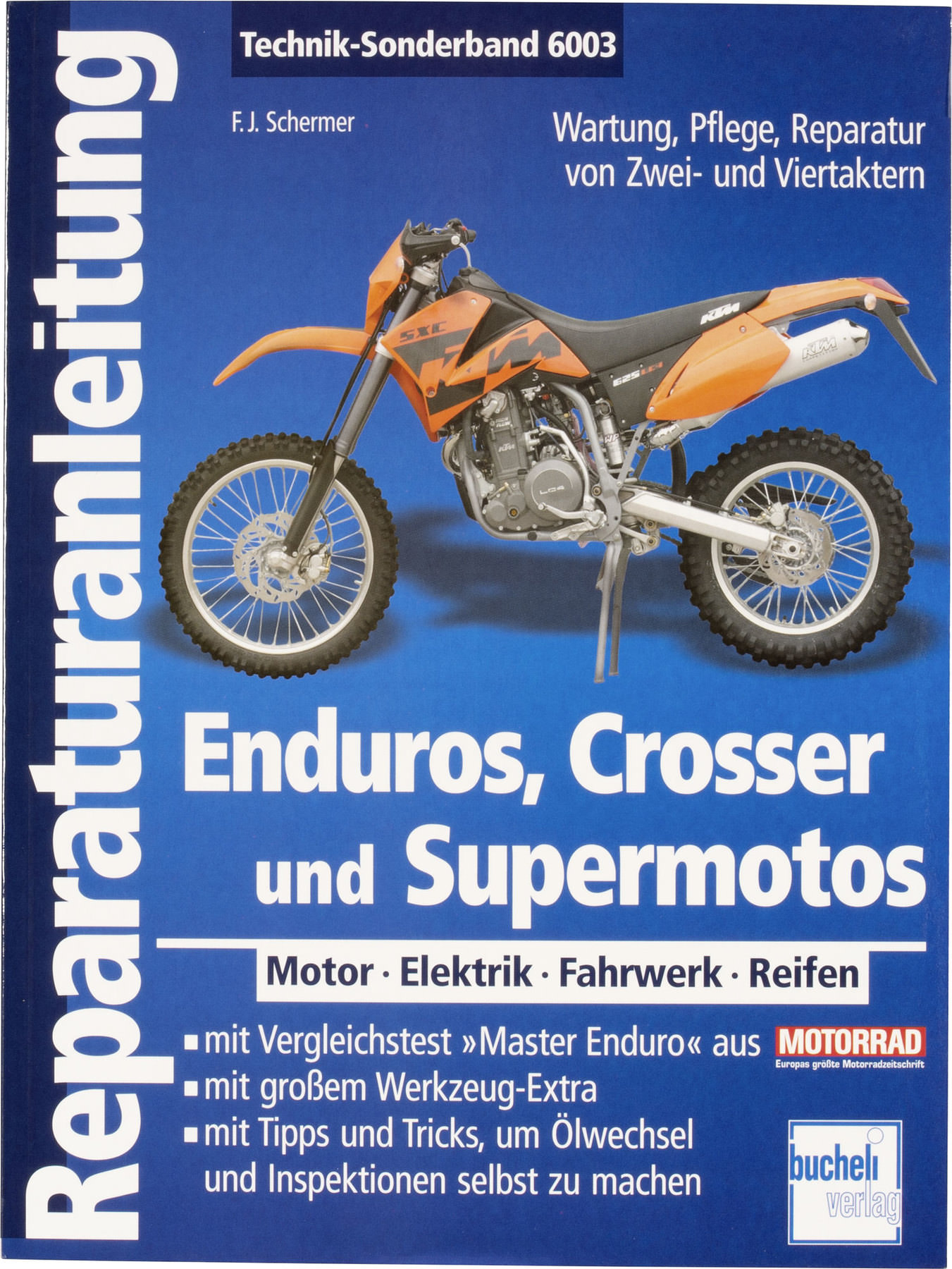 ENDURO REPAIR MANUAL
MECHANICS SPEC. ED., 176P
You have placed the following items in the shopping basket:
ENDURO REPAIR MANUAL
MECHANICS SPEC. ED., 176P
Enduro, motocross and supermoto riders, whether on- or off-road, are more reliant on technical information than other bikers.

The authors of this manual give an insight into all the important servicing, maintenance and repair work for these off-road bikes.
They provide detailed, professional tips and pay special attention to the weak points of individual models and engine sizes.
The reader will find valuable information on the workings of small and big motocross bikes made by KTM, Honda, Kawasaki, Suzuki, Yamaha, etc.
176 pages, 250 illustrations, paperback
Only in german language
Manufacturer details: Motorbuch Verlag

Go to Motorbuch Verlag articles
The Paul Pietsch publishing group brings together the individual publishing companies Motorbuch Verlag, Pietsch, Müller Rüschlikon and Transpress plus the Swiss partner firm Bucheli, under one roof.

With a range of around 1,200 published guides, we offer our readers a wealth of knowledge and information on the subjects of mobility, technology and active leisure.

The Paul Pietsch group is named after the company founder, Paul Pietsch. Formerly one of Germany's top racing drivers, he set up the publishing group back in 1962. Since then, the portfolio has grown continuously through the establishment of new firms and takeover of other publishers.
Write a review for ENDURO REPAIR MANUAL
We offer you the opportunity to rate products purchased from Louis and to share your experiences with them publicly.

To ensure that your objective and truthful report will be really beneficial to all readers, please observe the following rules.


Please only rate products that you have personally used for their intended purpose.
Please give reasons for your positive and negative criticisms. Only then will they benefit other customers and allow us to improve the product if necessary.
Please don't copy content that has already been published elsewhere. It's your personal experience which counts.
Data protection: Please don't include your own and other people's addresses, telephone numbers or URLs or even the names of third parties (people as well as companies) in your review.
In your product review, please don't make comparisons with third party product ranges. Regardless of whether you judge these positively or negatively, you, or we as operators of this online shop, would be violating competition law.
Fair play: Please follow these rules so that we don't have to shorten or delete your rating.
Your product rating has been saved. It will be displayed in a few minutes
Your previous input will be lost!
Do you really want to cancel your entry?
+400 brands
2-year right of return
Fast delivery
Worldwide shipping